Five Point Move is proud to host USA Greco-Roman National Team head coach Matt Lindland each week for Coach Lindland's Report. Here is where you will find detailed perspectives from Coach Lindland pertaining to recent results, upcoming events, training plans, and other Greco-related news that isn't available anywhere else. ALSO — if you would like to donate directly to the US Greco-Roman program, just click here. Your support is appreciated!
Fresh off of returning from Ottawa, Canada where four United States Greco-Roman athletes qualified their weight categories for the 2020 Olympic Games, National Team head coach Matt Lindland is here with a pronounced assessment of what transpired. Each of the four wrestlers who achieved their objective — Ildar Hafizov (60 kg), Alex Sancho (67 kg), Joe Rau (87 kg), and G'Angelo Hancock (97 kg, Sunkist) — is highlighted individually, as are the training plan, the previous week's Pan-Am Championships, and the environment in which the athletes operated.


The entire team performance at the Qualifier is covered, as well. Though Patrick Smith (77 kg, Minnesota Storm) and '18 World silver Adam Coon (130 kg, NYAC/Cliff Keen) fell just short of breaking through in Ottawa, they both demonstrated immense character during this process, a fact Lindland made sure to address. The conversation closes with some of the coach's thoughts regarding the recent developments surrounding the domestic competitive schedule and how he feels athletes should perceive this time in-between the Team selection process.
5PM: How did you use the week in-between tournaments knowing that you were going to have guys going against the same opponents from the Pan-Am Championships? What was the game-plan as far as making little tweaks and things like that with having a week from one tournament to the next?
Coach Matt Lindland: The original plan was always to take the athletes in the week before. We knew going into the Championships that we were going to try to peak at the Qualification event. We came straight from the training camp and trained right up to the Championships.
So, we knew right away that we planned on going up there. We had a training plan in place before we arrived. We mostly wanted to take the guys after they made weight and keep their weights down so they could focus on staying really hydrated. A lot of the science now with regards to cutting weight requires a lot of hydration, which is something those of us from the old school used to do wrong. I really believe that. I started learning how to do it this way more towards the end of my fighting career. The science was just starting to catch up to weight-cutting in combat sports.
We focused on really hydrating. There was good food available. The Shaw Centre was connected to our hotel, the hotel was on the other side connected to a mall that had a health food store. It was a great environment for us. We couldn't have asked for a better environment. The sixth floor had a scale, sauna, pool, Jacuzzi, and all of the strength-training and cardio equipment.
After the Pan Am Championships, the guys were able to rest and recover that Sunday, and maybe connect to their support systems back home, such as their personal coaches. Or watch film with National coaches, whatever. On Monday, the guys chose to get together as a Team and play a little basketball inside one of these squash courts. They got a nice game in, got a full sweat. Most of them came in after that and got a drill in, a little play-wrestling, and then called it a day.
We started our morning walks on Tuesday, which again, was something the athletes opted to do. I just asked them if that was something they wanted to do, and they all jumped on it. It was, Yeah, we want to get up at 8:00am, do our walks, and get on a good time schedule. They didn't want to be staying up late. They wanted to get up early so they could get on a schedule and stay with consistent habits.
We had practice at 5:30 in the afternoon since that is when the tournament finals were scheduled. The next day we walked again and then guys had a 20-minute practice so they could get in what they needed. That took us to Thursday and we were competing on Friday. Thursday was a lot of individual time, getting down to weight and stuff like that. None of our athletes had any trouble making their weights. They were all prepared and professional, and it really showed in their performances.
That's what the week looked like. It went fast. You'd think that sitting up there in Canada where all you're doing is hearing about the panic going on back home, and the panic in Europe… Things that we had no control over were things we didn't need to be worrying about. We needed to be focused on one thing, which was getting our weight classes qualified and wrestling up to our abilities. You have to be healthy in mind, body, spirit — everything. I think it was a really important week. It would have absolutely sucked if we had to travel. It was a great option to stay there and I think it worked out well.
5PM: For the five guys in the Olympic weights who went back-to-back weeks, did you take their performances from the Championships as a really good sign since that was the last "train-up-to" event prior to the Qualifier?
ML: Yeah, that is really how I looked at it, I think. The way you said it, our last training "up to" a major competition, although it was a competition. We weren't tapering for the Championships, we were going to taper the following week for the qualification tournament.
But yeah, it's always a little scary (laughs). Like, They wrestled so well this week, I hope that wasn't their good tournament, I hope it's next weekend. Those thoughts come into your head but you just have to get rid of them and go, You know, the guys wrestled great, and they're going to wrestle even better next week because now they know what they're capable of. It gave them confidence, which is what happened. Everyone went into that tournament feeling like they knew they could beat the rest of the guys on our continent.
They really did perform well. Pat (Smith) ran into a really tough Cuban opponent (Yosvanys Pena Flores) who we know Pat can beat and has. He got scored on in par terre. That's the difference in that match. It's the same thing with Adam. It was a matter of him not getting into the ties he wanted and where he could score from positionally. Getting turned on the bottom didn't help him, either, so that is something we'll continue to look at and work on, our par terre defense.
But I feel awful for those two athletes because they were doing a lot of things right preparing for this tournament. They were getting their minds and bodies right, and things didn't go the way they had hoped. But I still think it was a really great performance for the US Greco-Roman program that will continue to move us forward in the right direction. And it is definitely a good time to have things going well. And I still have a lot of confidence we can qualify those two weight classes, even if we have to go to Bulgaria to get it done.
5PM: It goes without saying that all of the semifinal matches at the Qualifier were the most critical, but not all opponents and situations are created equal. I want to get your take on which matches were maybe the biggest for each US athlete, semifinal or otherwise, starting of course with Ildar. 
ML: For Ildar, it was obviously (Andres) Montano (Arroyo) first-round. He is a very talented and capable athlete, and was probably the best guy in that bracket on either side. We knew he was going to get drawn in since he didn't have the "ranking points" to move forward. Ildar knew that and chose to not wrestle in the Championships knowing that it was going to be a draw either way. He felt like he would have a better performance if he rested and prepared just for the Qualification tournament. We have those conversations with all of our athletes. I will definitely share my opinions, but ultimately, it's up the athletes who are going out there to get the job done to make the decision about what is best for them. And that was the best decision for Ildar. Maybe for Pat it wouldn't have been, but we don't question that decision. I also don't think that was the factor for Pat.
Ildar just came out and wrestled a brilliant match against Montano. He scored in clutch situations. He was dead-to-rights in that high-dive and just got his underhooks and elevated and threw… And somehow, they came out with a 4-1 score. Spenser (Mango) was sitting in the corner and I didn't know if he could see that the foot had landed out of bounds and both feet had left the air. There was a lot going on in that split-second. I was sitting in the bleachers but literally four feet from the action, and I'm yelling to throw the cube. They (the officials) were throwing 4-1 and I'm like, There is no sequence in the world that scores this 4-1. Worst-case scenario, we're coming out of this with one point — and it should have been two.
There is a minute-and-a-half left in the bout and Montano comes out with another high-dive and Ildar shut him down — and shut him down for the rest of the match. The kid just didn't have the energy. It was the first time he made that weight since the Pan-American Games, and before that was in 2016 at 59 kilograms. He has been up to 63 ever since outside of that one weight cut. That's why we were hoping to get him in the first-round, to take advantage of that weight cut. With Ildar being the disciplined athlete that he is, his weight is always on target, he is extremely disciplined with all of his training habits, his diet. That was big.
5PM: Rau also drew a very tough name for his first bout, which was not a surprise. 
Coach Matt Lindland: Rau's biggest match is always Venezuela (Luis Avendano Rojas). He lost to him in the Games but we beat him the week before at the Championships. We knew that we were capable of beating him but he is a very tough and seasoned guy, and was the Pan Am Games champ last year. We drew him first-round, as well. It was an incredible performance and Rau came through in a clutch situation. It was scary as hell when he got his arm trapped (laughs). I'm just like, Clear your arm! Anything but the arm! Get that out. We all know how deadly a trap-arm gutwrench can be, it can end a match pretty quickly sometimes.
Joe cleared his arm, gave up some points, and got back to his feet. It seemed like after that initial score, Venezuela just didn't have a lot left for Joe. Joe just kind of put it on him. That was exciting.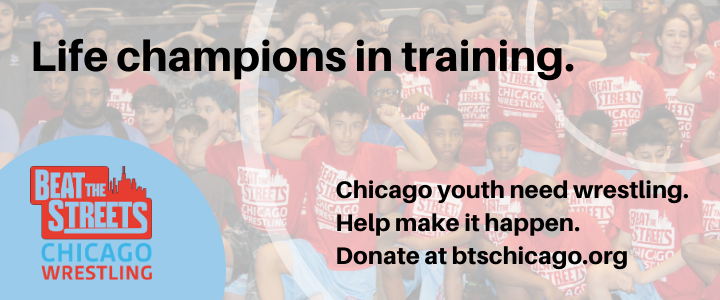 5PM: Sancho kind of just raced through the bracket. 
ML: With Alex, we saw it and were like, Wow, great draw. We had the Dominican first (Enyer Feliciano) and Mexico (Manuel Lopez Salcedo) second. Now, I know I'm biased. I think Alex is a really talented guy and I also think he could score more from the feet. But he played it smart and got his points in par terre when he needed to and made it count. Great work by Alex for getting the job done, and those lifts were looking really, really sharp.
5PM: Tracy qualifying was not a surprise by any stretch but he did require four bouts. 
ML: Yeah, he did. Mexico (Luis Rivera Alvarado) was a great first-round for Tracy, and next was Venezuela (Luillys Perez Mora), who had given him a better match the week before. Tracy just stayed consistent. He didn't overlook any of his opponents, he just kept attacking and scoring points. Ultimately, he was ending matches via tech fall. He had (Thomas) Barreiro third, who wasn't a very strong opponent for Tracy. But you know, Kevin (Mejia Castillo) from Honduras is very good…
5PM: I wanted to ask you about that. It seemed almost apropos that it was Castillo who was Tracy's qualifying match. In '16, it was Castillo who kind of introduced Tracy to the international level and beat him twice. Now, Tracy has beaten him since, but it just felt right that a full quad later, Tracy needed to beat him to qualify the weight, and what's more, was expected to do so. Did that occur to you at all?
ML: Yeah, definitely. That was the beginning of Tracy's career, he was barely 18. I think he beat Tracy at Schultz and Pinto, right? And like you said, that was when Tracy was first coming onto the international scene, he was a young man, and he has really taken off as far as his abilities, skill level, technique, and tactics. But Kevin is still so good, he almost beat the Cuban (Gabriel Rosillo) and had beaten him before. For Tracy, Kevin was not a close match, but at the same time, he did not overlook his opponent whatsoever. He took him as a threat and went out there, had a plan, and executed that plan.
Then Tracy and the Cuban had that epic match in the finals. It was a lot of fun to watch. Those are the types of matches our sport needs. It needs action like that, especially since you don't usually see any of that in the upper-weight classes. From 97 kilos to 130, the scores go down and everyone is just waiting for par terre. I mean, there were actions on the feet that were very impressive. If there was an attack, there was another, and a score. It was a brilliant match and so much fun to watch. That kind of match is going to bring Tracy so many more fans because people realize that he wrestles like that, and he could be one of the greatest ever.
Guys like that, you can't wait to watch. I remember every tournament I went to where Armen Nazaryan was also competing, we would be like, Oh, we're going to watch this. And all he really had was a reverse lift. "All he really had", I mean, he was pretty damn good, but we were just waiting for him to mess somebody up and bomb them. You knew it was going to be a high-scoring match and pretty one-sided, no matter who the opponent was.
5PM: All of this leaves out Pat (Smith) and Adam (Coon), who really competed hard and have been a part of this process since practically last summer. We feel for both of them, and even in disappointment, both came back to wrestle hard for bronze. 
Coach Matt Lindland: Pat, obviously his match against the Cuban didn't get him through, but he came back and wrestled a solid match against the Colombian (Jair Cuero Munoz). Knowing that you're not qualified yet and still have to wrestle for bronze was just clutch professionalism at its finest. But it also isn't a surprise. We all know that Pat is just a classy individual.
My heart goes out to Adam and Patrick. They are both capable of doing it, it just wasn't their day. We have to figure out how to get it done here really soon.
5PM: Did you say much to Pat and Adam afterwards?
ML: I'm going to tell you exactly what I said to both of them: What do you need and how I can help you? Let's get some rest and then get back to work on what we're trying to do. Which for them is to make a Team and qualify the weight class.
I mean, there's not a lot you can say to a guy. He feels like he let down our country, or let himself down, or whatever it is at that moment. But that's not the case. The guys were all completely supportive of one another. They treated each other very well and took care of each other throughout the two tournaments and week of training. It was an absolute pleasure to work with these athletes, every one of them.
5PM: When you think back on this process, which in its own way started 18 months ago, but post-Kazakhstan and with the way this year was structured with the trips and the camps in preparation of this past week, do you feel satisfied with how the training plan worked and came to fruition? The athletes on Friday, if they were anything, they were fresh. That must feel pretty good, I would think. 
ML: Thank you for noticing that they looked fresh and well-prepared, because that was definitely the intent of the training plan and the goal. The goal was to go in there hungry and get some weights qualified, and to feel fresh and ready to compete.
Staying up in Canada for an extra week can hurt you or it can help you. It depends on the way you approach that. There was a lot of stuff going on in the world with the coronavirus and things like that. It wasn't just in America or Canada, it was in Europe. Just globally, we were dealing with this. Everyone seems to be having a spirit of fear, and I needed my athletes to go out there with a spirit of boldness and confidence, and feeling fresh and looking fresh.
They did a great job of focusing on the things they could control, which was the way they recovered, the way they rested, and how many ounces of fluid they were putting in their bodies to keep the water moving, and the kinds of food they were eating, the meal choices they were making — all of the things they were in charge of and in control of. There were a lot of things going on around us that we were not in charge of whatsoever, in any way, shape, or form. We focused on the things we had control of.
The first workout session, I had literally went up to the tournament director and said, Next week when everyone is training, can we get a schedule? So we would get an hour of mat time daily. No, it's not going to be a problem. Well, there were two mats, so of course it was going to be a problem. I can foresee these things, and if you get out in front of problems it is usually better than having to fix them on the back-end. I tried to get out in front of that. It wasn't an option. What they said was, Oh, whenever you guys come up there will be plenty of room. When we got to the first practice, it was completely chaotic, so we went into the arena and worked out on the two open mats the tournament used. Somebody walked in asking who gave us permission. No one gave us permission, so we decided to optimize our training by using these two open mats. And they walked away.
The next day we went to use those arena mats again and the door was locked. Our insurance doesn't cover training on these mats (laughs). What insurance company did these guys have? I didn't understand that. It sounded like a lie. But we made the most of it. We squeezed out onto the mats and got our work done, and the guys handled that chaotic situation really well.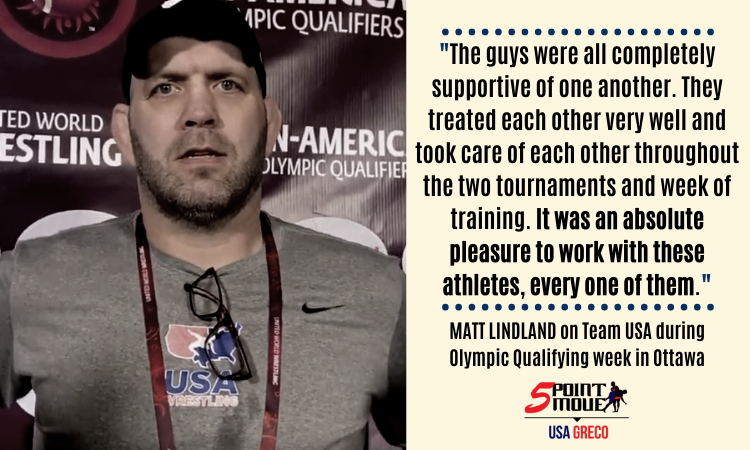 To answer your question, I was very pleased with how fresh the guys were going into this tournament and how their minds were right. Mind, body, and spirit all seemed to be clicking for us this weekend when they needed to be. I think we had been developing good habits with communication for a couple of years now. Things went well. We have a lot of leaders in our program. We have been developing leaders within our program, and every one of those athletes who were there responded like a leader. Every single of them. From the guys who wrestled the week before and helped with our training, the Marines who stayed all week, to the guys who doubled up. No one complained. We knew what we needed to get done. It was a stressful situation. Instead of moaning about it and complaining about it, we focused on what we could control and got the job done. Hopefully, everyone recognized why that worked. It was because they did such a great job of being prepared.
Fortunately, we also had a lot of great coaches on our staff. Spenser was there, Gary (Mayabb), Coach (Jason) Loukides, Brandon (Paulson), and Shon Lewis. We had great support staff from the USOPTC (US Olympic & Paralympic Training Center), training staff and medical staff. We were also fortunate and blessed to have a massage therapist there between the two tournaments to help the guys recover. There were a lot of resources, a lot of discipline from our athletes, and a lot of hard work involved from everyone in the entire program.
With all that being said, yes, it was a great week. We qualified four weight classes. We were praying for all six to be qualified knowing that it would possibly need a miracle, but we believe in miracles and we were willing to go with that. But any less than four and I would have been devastated personally, because I set the goal as four being our minimum knowing that we were capable of qualifying all six weights or getting at least five. There is always something that happens unforseen that is out of your control, such as the way a ref might score points. If we hadn't challenged that Ildar match, maybe we would have ended up with only three qualified. The refs had gotten that wrong. Fortunately, we challenged it and the video proved we were right. We were blessed in that situation.
Long answer short, I am super-proud of the athletes and how they handled both weeks, the training, and the preparation leading up to this.
5PM: In the short-term, I guess and hope, there is a lot of confusion and uncertainty about some things. The Trials are pushed back, other events and concerns have been, as well. How have you had to deal with this since you came back from Canada?
Coach Matt Lindland: A lot of the stuff was going on during camp between tournaments. I was between training sessions and film sessions messaging and calling our EAP (Elite Accelerator Program) resident athletes and talking with our coaches back at the (Olympic & Paralympic) Training Center. Just communicating with everyone regarding what's going on and how we needed to respond.
Honestly, we don't know right now what's going on with the Training Center and whether or not it is going to stay open. We were asked to recommend that all of our athletes move off complex in anticipation of the OTC maybe getting shut down. The Trials have been postponed, the European and Asian Olympic Qualifiers have been postponed, and our Last Chance Qualifier, as well. Everything has been pushed back at least a month. Not all dates are confirmed. I think we'll find out more this week and in the coming weeks.
There is a lot of panic going on in the world right now. It's a terrible situation and I am not making light of the situation whatsoever. But — I think having media 24/7 on your phone and in your pocket, you are just being bombarded with fear and scare, and I really don't feel that this is the end times. But, it could be. If it is, as Paul once said, "To live as Christ, and to die is gain." (Philippians 1:21). If that happens, at least I know where I'm going in the end.
Look, we're going to figure this out. The Olympics are not going to be canceled. I just don't see there is any way that ever happens. And if it does get canceled, we will survive that. There is nothing we can do about it. I take the same advice I give my athletes: control what I can. That means adjusting the training plans and preparing our guys to compete up to the best of their abilities. And as you can see from this past weekend, we have very high abilities and great athletes.
It's a lot of responsibility to keep their minds right, help them train properly, and give them the best experience and preparation they can possibly have going into the Games. This is something these guys have worked most of their lives for. A lot of them, half of their lives have been devoted to training and preparing for these Games. It is important to them. It's pretty important worldwide. There are a lot of countries outside of the US that really, really appreciate the Olympic Games and what they mean. I know that we will continue to move forward. Maybe that means I'm an optimist, but maybe being an optimist is the right way to go. It's better than the alternative.
Follow Coach Matt Lindland on Facebook and Twitter for updates on the USA Greco-Roman Wrestling program.


Listen to "5PM34: Terrence Zaleski" on Spreaker.
SUBSCRIBE TO THE FIVE POINT MOVE PODCAST
iTunes | Stitcher | Spreaker | Google Play Music