Five Point Move is proud to host USA Greco-Roman National Team head coach Matt Lindland each week for Coach Lindland's Report. Here is where you will find detailed perspectives from Coach Lindland pertaining to recent results, upcoming events, training plans, and other Greco-related news that isn't available anywhere else. ALSO — if you would like to donate directly to the US Greco-Roman program, just click here. Your support is appreciated!
The US Senior Nationals have come and gone, and while that event's implications are still discussed, this edition of the Coach Lindland's Report starts off with a breakdown of the 2019 Pan American Championships. For those who have been following along, the Pan Ams this year took on high priority for the US program given the qualifying concerns for the Pan Am Games coming up this summer. Well, that mission was accomplished and then some by the US team, and National Team head coach Matt Lindland shares how he felt about the tournament and the officiating. The conversation then pivots back to the US Open and a few of the more noteworthy performances that stood out, as well as how the schedule might play a factor for the World Team selection process.
5PM: The Pan Ams was an emphasized tournament for the Seniors this year more so than in the past. Did you feel an element of relief with how it went even though everything unfolded pretty smoothly?
Coach Matt Lindland: Well certainly, we put a lot of emphasis on it with taking our #1's in most weight classes where we had them available. We did a nice two-week preparation camp and worked on a lot of skills in that camp, as well as prepped the guys with some live wrestling. There were a lot of opportunities to develop some fundamental stuff that I really wanted to see us improve on. For elite athletes, I think it is very critical that we keep going back to the fundamentals, to the basics, and building that foundation even stronger for these athletes. They all have great technique and know how to wrestle, but I think the longer we keep them in these foundational areas — building our stance better, getting stronger on par terre defense — the better.


One of the areas we really focused on was that scramble from a turn and you saw Max Nowry win that match earlier in the tournament. He got put down, got turned, but scrambled back on top and received a one-point reversal before getting his own turn, and that's how he won. And that is exactly why we covered that area. We wanted to put a lot of emphasis on that.
And then I go to the US Open and didn't see a lot of guys utilizing as often as I would have hoped. Maybe it was some of the guys who weren't at our camp, but for sure, the guys who came to that camp understood what we were trying to accomplish and had a great performance.
I think the biggest thing that I was really excited about, though it doesn't get recorded in the boxscores, is that the guys really came together and wrestled as team. They wrestled for one another. We are becoming a much better, stronger team. This was the first tournament where I saw the three guys who didn't wrestle the first day come and watch their teammates. The next day when those first seven guys were done, they came back and supported their three teammates who were there to support them the day before. That was huge.
The athletes need to come together and care about one another. They have to build those connections and care about the program. They're not just connecting their heads, they are connecting their hearts when they support each other on and off the mat, and that really helps us pull together as a team, when we all know that we're on the same mission together.
5PM: When it came to the Olympic weights that needed to do well to qualify those spots for the Pan Am Games, there were some good matches and there were also some tough matches that were victimized by confusing if not really bad officiating — be it the matches for Dalton Roberts, Kamal (Bey), or Tracy (G'Angelo Hancock). What do you say to the athletes when they get done kind of being hosed at an event where the deck seems a little stacked against them?
ML: It's hard to say if it's lack of experience or competence — or if the officials are really out to get certain nations. When you're down there wrestling in the Pan Americans, it definitely feels like it is the continent versus the United States. For sure. You can even hear it in the crowds when they're booing for calls. They gave points and put them up the board (in Bey's final), and those points were confirmed all the way around, and then they have a conference and take the points away, took the par terre opportunity away. I think that would have been the right thing to do there; we're still losing the match, give the athlete his chance on top. His opponent was backing out. He could have actually hit him for negative wrestling and I think that was the right call — but they changed the call.
And then later on, they made an even bigger call which was the negative wrestling call, and they allowed the Cuban coach to challenge that :30 after the match resumed. Which was absolutely ridiculous and not part of the rules.
I don't know how you fight that stuff because there's no recourse for our guys. You just have to tell them to stay focused and wrestle through those situations, to overcome them. When you're wrestling in these tight matches against some of the best guys in the world, it is hard to overcome those adversities. But you still have to stay in the fight. The referees are still making the calls and you have to deal with it. But yeah, really all I could say was Man, I'm sorry that happened to you because that was the wrong call, but we still have to score more points than our opponents to get our hand raised at the end of the match. But yes, it was poorly officiated, for sure.
5PM: Even though Adam Coon didn't have the bronze-medal winning monsters from Cuba and Chile, the fact is he hadn't wrestled a Greco match since the Worlds. Obviously you like that he won the tournament, but what did you like about what he was doing in there? He was pretty dominating. 
ML: First of all, I really liked the way he went out there and imposed his will on his opponents. He got to his ties, his positions, and scored from his best positions. He was challenged in that match against the Cuban (Angel Romero). The Cuban kept getting double underhooks and we talked about that slightly before the match, just making some adjustments to where if the guy got to those positions, for Adam to make the guy carry his weight and move him around in there. Don't let him get to his best positions. And as you saw, Adam did a really good job of controlling that situation when he was under threat with the Cuban opponent getting double underhooks.
He made some good adjustments in there. He was patient; he didn't rush things or feel like he had to score right away. Adam took his simple one-point push-out early; and then he got his opponent tired by making him carry his weight, and them imposed his will later in the match. It was really nice to see him compete so well.
5PM: What did you think of Ellis' (Coleman) match versus (Ismael) Borrero in the final? It looked like even though Ellis lost decisively on the scoreboard, he was right there with him, it was a high hold on a front head that gave Borrero a clean shot to the body that did him in. If Ellis were to find his way onto this World Team, he'll be looked at as one of the US' best medal threats, so what'd you take away from his showing against one of the top two athletes in the sport?
ML: I think Ellis is wrestling great, I like the way he is competing right now. His top offense, we went over some things in January and reviewed stuff again here in this last camp before the Pan Ams. I spent a lot of time working one-on-one with Ellis, I had the opportunity to do that and enjoyed that. We tightened up his top par terre. The one area I see with Ellis is that he gets to these great positions with his underhooks and then he lets those positions go sometimes, instead of just staying in there and getting to the body. Because, I am really confident with the way that Ellis has been competing that he can score on the best guys in the world. On the feet and certainly in par terre, Ellis has really improved his offense. He has improved his offense in par terre a lot.
Right now, we just have to continue to work on his defense because there's a good chance we're going down at some point in the match and we have to defend every time we go down on bottom. That is going to be the biggest point of emphasis we'll work on with Ellis — making sure he doesn't get turned; and that when he does get his chance on top, he finishes matches from par terre.
5PM: Okay, so the Open. We'll broadbrush it to begin. What did you like about the tournament and which performances surprised you the most?
Coach Matt Lindland: I can tell you that I really liked the way Raymond Bunker competed. He has put a lot of time and work in, and to see him have such a success like that was great because I would like to see all of our athletes compete with the same intensity and that kind of spirit.
What I didn't like was that a lot of our athletes appeared timid out there. They weren't talking a lot of risk, they were thinking on the mat, and they were concerned about the wins and losses instead of competing to the best of their abilities. I would have liked to see a lot more points scored in Greco-Roman. I think our rule-set is incredible. The officials did a pretty good job this year. There were some things they missed; like guys getting thrown off the mat and when the action should be over, the other guy scored on a reversal or something like that. The action should definitely end when it's outside of the circle, like a step-out or even a throw.
We can continue to improve on the officiating but I feel like they are getting better. They are starting to understand our sport a little more. We've had the rules since the beginning of 2018 and I think it helps that we're not changing the rules a lot for the officials. They are becoming accustomed to how calls are supposed to be made a little better.
But I would have liked to see our athletes take a little more risk and compete up to their abilities without worrying about the wins and losses. I know that's hard to say because you want to win. Everyone wants to win, but what are you going to do to win? Are you going to attack and score points? We kind of let the refs in the matches too much, they had opportunities to put guys on top. And then you had people saying, I don't think I should have gotten put down. Okay, well then score some points and you won't.
We could have competed better out there and not been so timid. We competed better against our international opponents at the Pan American Championships. Maybe guys were tired. Last year, we went straight from the Open and five days later we were in Peru. This year, it was flipped. But that only counts for the guys who went to the Pan Ams. The rest of the guys were a little timid I felt.
5PM: Kamal and Pat (Smith) delivered a really entertaining match. Craziness aside, and without keeping score or the officials becoming confused apparently, it was just a lot of fun to watch. Were you surprised that their styles wound up complementing one another's so well considering how stylistically different they are?
ML: Yeah, I was a little surprised at what was such an exciting match because there was a lot going on. There was a lot of controversy, there was a lot of scoring. Even though the match ended 7-5, it seemed like there was a lot of scoring out there for those guys.
Stylistically, everyone knows what both of those athletes wants to do. Pat wants to grind you out, score a step-out, score on a takedown; Kamal wants to get to the body and put on a show. It made for a very compelling match. It was very exciting and interesting to watch for the fans. I was as entertained as anybody watching that match. It's nice to see. 77 has a lot of depth. It has a lot of depth in the world, it has a lot of depth in our country. There are many guys in that weight class who are really good. It was fun to watch. I think the two best guys that weekend made the finals and it made for a very entertaining match to watch.
5PM: That 60-kilogram field seems like they can all beat each other on any given day, especially with the trio of Roberts, Ildar (Hafizov), and Mike Fuenffinger. There doesn't seem to be any real distance between them. I was very impressed with Fuenffinger, do you think his title run carries a lot weight for him in regards to further establishing his presence as a top guy?
ML: I hope it gives him a lot of confidence, he's a very talented athlete. I do know him, he lives in town here (Colorado Springs) and he comes to all of our camps. I've gotten to watch Mike train a lot. You know, he's a slow-and-steady progress guy. He's not a flash in the pan kind of guy. He's going to keep working, keep improving, keep getting better. And he is consistent. I like guys who have consistency and I appreciate that he has consistently improved at every tournament and every camp where I've had the chance to work with him. Mike is always getting better and that's what it takes.
There's no magic formula. There's no overnight pill. It's consistency, dedication, and focus. On top of that, Mike is a very athletic competitor. He's a fierce competitor. He was a lot of fun to watch because he was trying to score points.
So going back to that question where you asked me about what did I like about the tournament? I liked 60 kilos. I liked watching Fuenffinger emerge in that weight class because I've seen him put the time and work in. You mentioned how all of three of those guys can beat each other on any given day. Well, now we've got some excitement going on. We're building depth across the board. We talked about 77 having a lot of depth, well, look at 60. You said the top-three, I'm thinking the top five. You throw (Randon) Miranda in there, you throw (Taylor) LaMont in there, and there are really five guys who can beat each other on any given day, not just three.
That's what I liked. We also had some new guys coming into our program at the Open. Jarod Verkleeren at 67 kilos, he broke in with a top-five finish in his first Greco tournament, which was exciting to see. So, there were a ton of positives out there in Vegas, I think I was just disappointed because I know what our athletes are capable of doing. I've seen them compete, I have watched them compete, and just felt like for as good as our guys are, they wrestled a little too timid last weekend.
And I hope that's not what we see at the challenge tournament. I hope we see guys who are willing to fight and claw their way into those remaining Final X spots. I'm excited to watch them compete again. There is a pretty close turnaround.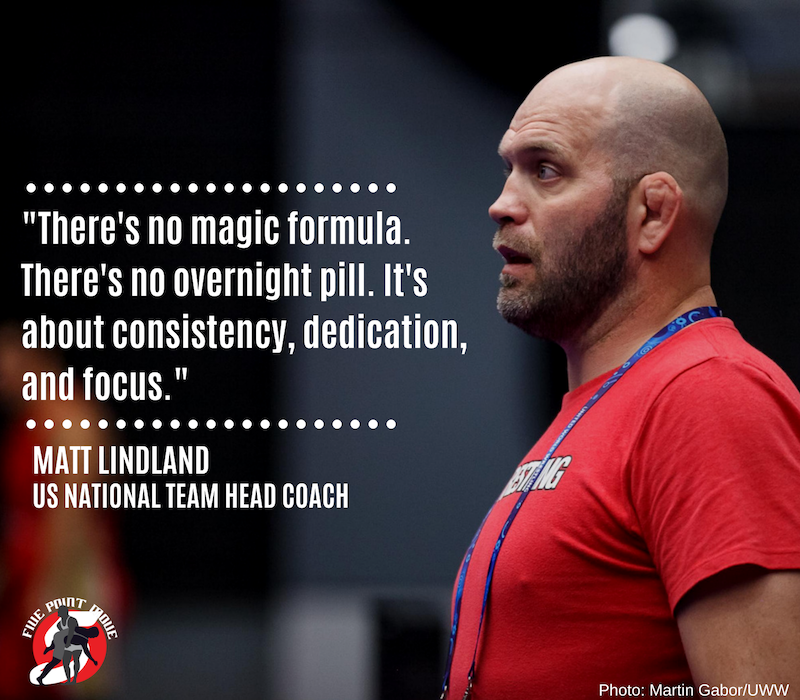 5PM: 87 kilos as far as credentials go, will be the most stacked weight in North Carolina. But it is also a weight class that lends itself to low scores and who is going to win the pummel game. If there isn't a lot of distance at 60 kilos, at 87 there is potentially even less. Was there anything that stood out about that weight where Joe Rau won over Pat (Martinez) in the final?
ML: Nah, I mean, you look at that weight class and whoever has the best day is going to emerge. On that day, it was Joe Rau. And again, those matches were 1-1, 2-1, and 3-1 in the finals. We didn't have guys scoring big points in that weight. Even in the early rounds, there weren't a ton of tech falls. I think maybe (Ben) Provisor got a tech, Rau did, and Pat in the quarters. But once they got to the semis, things really tightened up.
I think it's going to be the guy who wants to win and is willing to go out there, impose his will, and wants to score more points than his opponent. I personally would not want to leave it up to the officials; you know, pummel it out and see who is going to get on top and get their turn. Because, that's really what it came down to, wasn't it? Who got on top and then who could turn the other guy. And we didn't see multiple combinations off the turn. Once you open up that turn, you should really be trying to finish that match because you may not get another opportunity since you hadn't taken enough risks on the feet.
5PM: How do you think the split-up between the Open and the Final X Series will affect athletes who win the Trials challenge tournament? Is there at all an advantage to having to go through the entire gauntlet?
ML: That's a great question. I don't know. I would imagine we're going to see someone or even a few guys come out of the challenge tournament and seriously contend for a spot on the World Team, that's for sure. It worked out pretty well for freestyle last year, they put a great team together with the Nationals, challenge tournament, and Final X Series format.
I think the Final X is a great tool to market and promote the athletes. I'm kind of in-between because last year was the first year we did it with the men and women freestyle programs. But they certainly had great results from this process. I don't know if this contributed to it, or if they just have such a stacked group of athletes going out on the mat. Whomever they're sending out there right now seems to be winning.
But I like it. Everyone is excited about the whole hype with the Final X. It gives everyone something to talk about going into this challenge tournament. Everyone wants to watch and see who is going to come out of it and go to the Final X. I think it's definitely the right thing to do. It's building a lot of hype. It is also a lot harder because you have guys in the Final X who are going to have a completely different training plan than your athletes who still have to go through the challenge tournament.
But I do think there is an advantage to getting yourself into the finals early, whether that's from winning a World medal and automatically putting yourself in the finals, or from just going out there and imposing your will at the US Open. The way Hancock did it, he didn't get his medal at the last World Championships so he imposed his will on everyone he competed against at the US Open and really established himself as the #1 guy.
I think there are other guys like a Raymond Bunker or Fuenffinger, who I'm really excited about because we're building depth and these guys are getting better. I think I want to see some changes and challenges for everybody, because, then everybody has to raise their levels and raise their games. The guys who were #3's and #4's are now #1, and that is shaking things up and it's going to make everyone across the board have to raise their level. When someone is raising their level, if you want that spot you have to raise yours, as well.
Follow Coach Matt Lindland on Facebook and Twitter for updates on the USA Greco-Roman Wrestling program.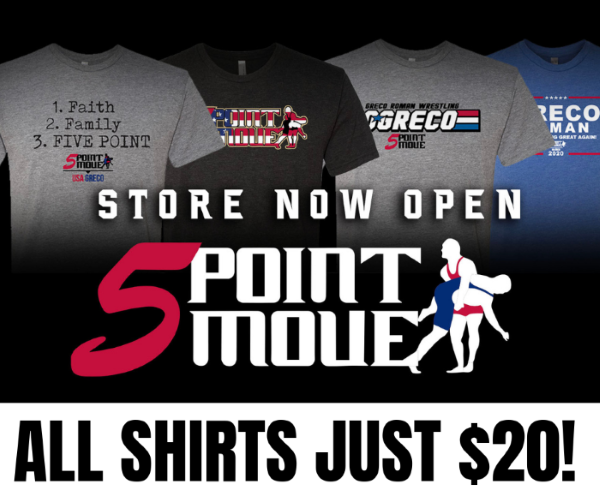 Listen to "5PM22: Sammy Jones guest co-hosts as Five Point Move visits with Lucas Sheridan and Sam Hazewinkel" on Spreaker.
SUBSCRIBE TO THE FIVE POINT MOVE PODCAST
iTunes | Stitcher | Spreaker | Google Play Music | RSS
Notice
: Trying to get property 'term_id' of non-object in
/home/fivepointwp/webapps/fivepointwp/wp-content/themes/flex-mag/functions.php
on line
999