Five Point Move is proud to host USA Greco-Roman National Team head coach Matt Lindland each week for Coach Lindland's Report. Here is where you will find detailed perspectives from Coach Lindland pertaining to recent results, upcoming events, training plans, and other Greco-related news that isn't available anywhere else. ALSO — if you would like to donate directly to the US Greco-Roman program, just click here. Your support is appreciated!
The same weekend a large group of Senior Greco athletes set sail to Eastern Europe for training camp, Matt Lindland flew over to Japan for some sightseeing. The US National Team head coach was fortunate enough to catch an early glimpse of the Olympic site in Tokyo, and we start off this report with Lindland's detailed account of what he saw. Meanwhile, we have checked one Olympic Trials qualifying tournament off the list with the Bill Farrell Memorial. Lindland, who flew to Japan the next day, didn't make it out to New York, but did catch a lot of the action. He relays his perspectives regarding what was a very compelling event.


To wrap up this Report, Lindland provides his thoughts on training plans for the upcoming US Nationals, and briefly overviews the recent chaos surrounding the World Cup.
5PM: If you could, describe what you saw in Tokyo, the Olympic site, and really just your initial impressions of how it is all laid out. 
Coach Matt Lindland: My overall initial impression is the same as it was before I went there: the Japanese are going to run an incredible event. They don't even have to build the city up or change anything. They have the infrastructure in place. It's unbelievable how organized and detailed the Japanese are. I have been over there many times during the Pride days. My first UFC fight was in Japan, that was my first experience over there. But going over there for over a decade and just knowing the culture — and it is a culture I admire, appreciate, and really enjoy — I just knew they were going to do a great job.
It's going to be tough because of transportation, how far the village is from the venue and all that. We're making concessions for all of those things. We're coming into Tokyo and then heading up to Nakatsugawa. And I can tell you, the entire city of Nakatsugawa is behind USA Wrestling. They are giving us the city's civic center, which can probably hold about 16 mats and we're going to have four down. It is a beautiful facility. They have locker rooms, they're going to have a cold plunge, they are going to put a sauna up…washers so we can clean our clothes after practice.
The hotel is probably a ten minute drive from that venue. The strength facility and the cardio equipment is about halfway in between our hotel and the center. We'll be staying in Nakatsugawa after we arrive in Japan. We'll head into Tokyo and then straight into Nakatsugawa, and then come back the day before the Opening Ceremonies when the guys will stay in the village and get their processing done. The day after the Opening Ceremonies we'll head back up to Nakatsugawa for the rest of our acclimation training. We come back down to Tokyo for competition days.
The hotel we're putting the guys in is literally a five-minute walk from the competition venues. It sounds like they are going to have 16 mats in one of the halls that is a part of the competition venue. There will be multiple sports going on there, as well.
From what I'm gathering, it sounds like the entire Games will be spread out around Tokyo. As a fan, you're probably going to have to pick the sports you want to watch. But as far as the competitors and especially our athletes, when we get back into Tokyo we're kind of in a suburb. I'm really excited, it is such a beautiful facility.
5PM: Not to necessarily diss Brazil, but is it fair to say that you left Tokyo with a very different feeling compared to Rio and the construction that was going on at that time?
ML: Well, certainly. When we went to check out the Rio facilities, things weren't even built yet. They were all concepts, pictures, and diagrams. Between that visit and when the Games started, they kind of slapped some things together and made it work. They pulled it off, which was really hard to imagine. Being over there in Rio for that site visit, it was hard to imagine they were going to pull it off. But they did, but I also don't think it was the most organized Games we've ever seen, and I feel it is going to be a stark contrast compared to what we see in Tokyo.
5PM: Did you get the chance to watch any of NYAC (Bill Farrell Memorial), and if so, what was your main takeaway from the tournament?
ML: Yes, I did. I actually watched all of the matches I could. I had two mats going on, I had two windows open and tried to pan back-and-forth between two different mats the whole tournament. Since then, I have received all of the video footage and am kind of going through it.
I think there are mixed feelings. There are some guys who did an outstanding job. It was nice to see Adam (Coon) have some great matches, working on that gutwrench and some other tactics we were working on in Michigan. It was nice to see him using some of those things. (Alex) Sancho was on fire. That was probably my biggest takeaway. I've always told you how good he is, that kid is amazing. If his mind is in the right spot, look out. He is a very tough dude. He looked great out there.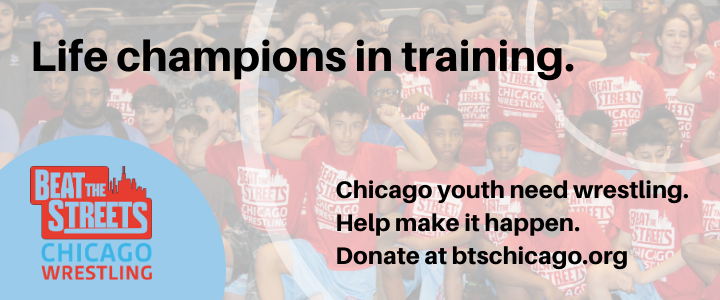 It was kind of nice to see Joe (Warren) out there and get on the mats with those guys. I think he realizes that he was a ways to go right now as far as getting back to where he was in 2006, for sure. But he's working hard and putting the time in. He really wants to help Greco, however that is. I think he's looking at it like, If that is wrestling and I can help by making a Team, or if I can push these guys and add some depth to the weights. But if Sancho is wrestling like he is, he is going to be a tough guy to beat.
Overall, I thought it was a good tournament. NYAC did a great job. They kept to a great schedule, they kept the matches running. There was no downtime when I was watching. I had just gotten back from Tokyo, went over to the office to get some work done, and mostly just watched wrestling all day anyway (laughs). It was kind of hard to get much more done because there were some interesting matches going on.
I was pleased. I enjoyed watching the tournament. Sometimes I think it's a better seat watching on the computer with a screen. It's also really nice to be out at the events, but I didn't have the opportunity just because of the travel schedule. But I was very pleased with how the event was ran and I liked watching the guys compete. It was fun.
5PM: What is your biggest recommendation to athletes, particularly those who did not travel abroad, regarding preparation for the December Olympic Trials qualifier?
ML: For the guys who did not travel overseas I would say that I hope you have a great plan, and you have some good workout partners and are preparing well. Everyone should be gearing up pretty hard right now. The way we laid the plan out here at the (Olympic) Training Center is we built a really good base. After the Teams returned from the World Championships, we have been working on a lot of technique.
While I was traveling, Mohamed (Abdelfatah) worked with World Team members from different locations all across the country. Mohamed was one-on-one with his resident athletes running individual technical sessions. There was a week-and-a-half when he didn't have practices scheduled, he had individual practices scheduled throughout the day. Guys were coming in 45 minutes at a time with a partner and working specifically as individuals.
I think that is really important, athletes spending individual time with their coaches and good training partners — not just working on what they want to accomplish and how they want to perform, but also on how they are going to perform, what they are going to do, how they are going to score on the feet, how they're going to move on the bottom, how they're going to stop turns. Conversely on top, getting their lifts set. Now it is about sharpening up the skills and really honing in on what they want to do specifically.
That is what I would say to the guys who didn't get overseas. Right now, this time is about getting with your coaches and training partners, and determining how you want to compete in each one of your matches. I am excited to go out there and see how things shake out. I know we're going to be missing some athletes. I know there are some guys who are qualified but I am hoping they wrestle, as well, because I am looking forward to seeing how these weight classes are stacking up. It seems like going to six weights has really strengthened the depth of our program. It is the same guys, but ten weights shrunk down to six and it feels like it has strengthened our depth, for sure.
5PM: The World Cup has been postponed due to apparent security concerns expressed from thus far unnamed nations who were set to participate. You dealt with a similar situation two years ago when the US was scheduled for the Clubs Cup. Security and visa shenanigans were the main issues then, but that notwithstanding, are you surprised Iran keeps getting opportunities to host big international events given the geopolitical climate, despite the obvious fact its wrestling fanbase is terrific?
Coach Matt Lindland: Well that's true, they certainly have an incredible fanbase. Whatever stadium they put an event in, they will fill it up. They have incredible fans, for sure. But yeah, it is a little hard to believe. Right now with what's going on, it is so difficult for nations to get in there with visas. There is a lot of unrest in that region right now. I don't want to get too political, but that is a regime the people in that country are not supportive of. They are not supportive of that regime.
I would hope that UWW (United World Wrestling) would start moving events away from there because I think things could get a little more volatile in the coming months and years here until things change. They are Sharia Law; they run their government the same way. But it's a different world now. People have access to the internet, they see the freedoms other countries have. I still know that the United States has more freedoms than anywhere else in the world and we need to keep our freedoms. It would be nice to see the Iranian people become blessed with some of those same freedoms.
Follow Coach Matt Lindland on Facebook and Twitter for updates on the USA Greco-Roman Wrestling program.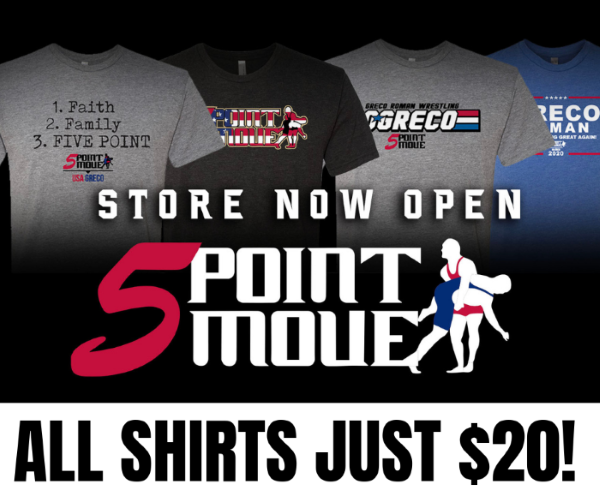 Listen to "5PM31: Happy Thanksgiving with Dennis Hall" on Spreaker.
SUBSCRIBE TO THE FIVE POINT MOVE PODCAST
iTunes | Stitcher | Spreaker | Google Play Music | RSS
Notice
: Trying to get property 'term_id' of non-object in
/home/fivepointwp/webapps/fivepointwp/wp-content/themes/flex-mag/functions.php
on line
999