Five Point Move is proud to host USA Greco-Roman National Team head coach Matt Lindland each week for Coach Lindland's Report. Here is where you will find detailed perspectives from Coach Lindland pertaining to recent results, upcoming events, training plans, and other Greco-related news that isn't available anywhere else. ALSO — if you would like to donate directly to the US Greco-Roman program, just click here. Your support is appreciated!
The US Nationals/Olympic Trials Qualifier is, as they say, history, but that is actually not the entire focus of this report. There are also other impending concerns deserving of discussion, including the allotment of overseas activity in which US Seniors are about to engage, as well the now-in-progress January Camp in Colorado Springs. US National Team head coach Matt Lindland starts off by offering his perspective on the Nationals and speaks to several individual performances, while also sharing what he thought of the venue. Then everything gets brought up to speed.
Though January Camp serves as a kickstarter ahead of the first Ranking Series tournament in Italy, it isn't just that. Coach Lindland plans to use some of the time in Springs by going over what his New Year's resolutions are for the program. In between, we hit the rewind button to find out what were some of Lindland's favorite countries and tournaments he visited back when he was still an active competitor.
5PM: What was your reaction to the Haparanda Cup and how, for a single-elimination tournament overseas, there were so many US vs. US matchups in the first round?
Coach Matt Lindland: (Laughs) It's awful when you head overseas and get into an international competition and you end up wrestling a domestic guy in the first round, for sure. I know the guys had a lot of adversity on that trip. Everyone got sick over in Georgia and probably just didn't have really good performances because they were recovering from some illnesses and some tough travel. That's just, I mean, that's part of the process. This isn't easy, but you have to go in with a mindset of, Plan for the worst but be thankful for the best.


Plan that you're going to get delayed and make a contingency that you're going to get sick on this trip, or they're not going to have the right food to eat, they're not going to have a weight room, or whatever. You've got to plan for all those things just knowing that going in. We always hope for the best and plan for the worst, but you know, we always try to make the the accommodations the best we can. Just sometimes, those things happen.
From what I understand, the food was pretty decent in Georgia. The accommodations were tough, the guys were triple in rooms. It was tough, but certainly that was probably the worst part about the whole trip, getting all these guys to Sweden where there were so many matchups in that first round.
5PM: The stakes were high for the Nationals, everyone knew that since last season ended. Considering there were Olympic Trials qualifiers tickets on the line, and that there were also several pre-qualified guys competing, did you like the level of intensity present in the tournament?
ML: I thought the intensity level was very appropriate, especially concerning what's on the line for a lot of these guys just to get into that Olympic Trials spot, for sure. I I thought there were tons of great matches and I saw improvement across the board from a lot of guys.
I saw some some toughness and some guys wanted to fight. I mean, there were some incredible matches. You and I were talking offline about (Xavier) Johnson and (Nolan) Baker scoring 19 points in the first period. I mean, that's how you showcase our sport and that's what gets people watching.
There was a crowd of fans in there to watch and a lot of them were there to watch women and freestyle; but when matches like that start going on, people start looking over and checking out the Greco-Roman. I loved everything about the way the guys competed, the way they fought, and the tournament in general — but the venue lacked. It was kind of big and spacious, pretty open. It kind of reminded me of the the old the Las Vegas Convention Center.
It's tough, especially right before Christmas. We are not going to draw a bunch of fans, but we've got to do a better job of presenting our sport and just make it look more professional instead of just in a big open gym. It doesn't present our sport as well as it could when we don't build the venue appropriately, but the guys wrestled incredible.
I enjoyed watching all the matches, though. Even right now, I am rewatching this match between (Michael) Hooker and (Jamel) Johnson you were talking about and I just saw a heabutt (laughs).
5PM: There were several individual performances that were either very impressive, very surprising, or both. Alex Sancho looked really, really tough, and Jake Fisher, maybe he was a surprise to some…
ML: Jake Fisher was a little surprising. Honestly, he looked like he never stopped competing. He came back and wrestled very smart and he gave Kamal (Bey) a very tough match.
I also really enjoyed the way Kamal performed, particularly. I felt like he he looked like he was having a lot of fun out there, like he was enjoying the process. And that's really what it takes. The only thing I kept thinking was, Man, he looks like he's wrestling with a lot of joy and having a lot of fun out there.
I certainly hope he did because he made it look as though he was, and he probably made some some appropriate adjustments tactically and technically. He didn't force scores when they weren't there, but did when he needed them. And then when he got a chance to score, he really opened up and scored multiple points on different opportunities. When he got a two, it went from two to two more, and then to four, and matches were ending via tech fall. But he didn't force things, so that was nice to see, Kamal making some mature investments in his wrestling career.
5PM: At most, each bracket at the Olympic Trials can take on three more athletes. That is 18 in total, which means the brackets for the Trials are mostly set. When you look at who is qualified thus far, do you think the weights are representative of the kind of formidable depth you were hoping for?
ML: When you take 10 weight classes and condense it all down to six, it really does seem to add a lot of depth to our program. It puts a lot of really tough guys in some weight classes. 60 kilos is stacked; 67 is not quite as deep but then there is some really good talent coming out of that weight class who stepped up at this past tournament. Guys who have moved down from 72 are really tough competitors and are dangerous opponents for some of our top 67 kilo guys, for sure.
We already know 77 has depth, definitely. 87, we kind of know who's going to be the top three or four guys in the argument. 97 kilos, it was nice to to see Lucas (Sheridan) and (Daniel) Miller going back and forth again. They just keep beating each other, and in the process, they both keep getting better.
So all things considered, what a great tournament. At heavyweight, we saw Cohlton (Schultz) win a match against Jacob (Mitchell) the finals, and that weight class didn't change too much. There are not a whole lot of guys moving into that weight class but there is some talent at 130, and guys like like Robby (Smith) and Adam (Coon) weren't even at the tournament, so it was nice to see all around.
I really enjoyed the experience in Dallas. It's a great town and the local organizers put on a great event despite the fact that I felt the venue was lacking.
5PM: Now that we're about to embark on the overseas portion of the schedule this winter, I figured I would bring up your own career. A lot of current athletes have favorite countries they enjoy visiting. What were yours as an active athlete?
Coach Matt Lindland: I don't know if I could say I have one in particular. I definitely liked Europe. During that era, the Poles were the best team in the world and we spent a lot of time in Poland. But —  I always enjoyed my February Cuba trip, which that tournament has not I guess maintained the level of talent that it had back in the 90's and early 2000's. Still, Cuba in February is always a nice break when you're living in Lincoln, Nebraska and you're used to traveling all over Europe in the winter months. So, that was nice, but I certainly enjoyed my travels all over the Eastern part of Europe, for sure. I would say Poland was probably one of the places where I spent a lot of my time during during that stage of my career.
5PM: How about just a favorite tournament?
ML: Do you mean a tournament I looked forward to as a competitor? Or my favorite tournament overall?
5PM: Answer both. 
ML: Alright, well, I guess the tournament I looked forward to every year was was usually the (Wladyslaw) Pytlasinski (Poland) because it was our pre-World tour and you were going to test yourself and see what last-minute adjustments you needed to make. Or maybe you got an opportunity to wrestle one of the top guys who you were looking to to chase down and beat, and maybe get a win over him before the World Championships. So, that was certainly one tournament I always looked forward to just because of the timing and toughness of that event, and the quality of competitors.
The tournament I probably enjoyed the most was one I only went to once, which was the Takhti Cup in Tehran. It was just absolutely the best wrestling environment I've ever stepped foot into. It was a huge arena, entirely sold out. I don't know if things have changed much in Iran, but only men could be in the arena. I think 2013 was the first time I saw a woman enter the arena, and that was our team leader at the time (Kiki Kelley).
But it was not that there were only men, it was just the fact that it was a full venue and those fans were very knowledgeable about the sport of wrestling and they really appreciated the art. Win, lose, or draw, they just wanted to see good fights and good competition. It was a very interesting time to go to Iran and and participate in that tournament, so I really appreciated that experience and loved that opportunity. Plus, I came back with 15 pieces of gold, so that wasn't bad, either.
5PM: 15 pieces of gold?
ML: Well, I was planning on getting a Persian rug because that had always been the prize for winning the Takhti Cup, but I didn't see them bringing those big rugs out. You sit on the stand holding this giant rug and somehow you figured out a way to bring it back because it was a Persian rug you won at the Takhti tournament. That's something you could lay out on your floor, and when people walk in, they could then admire your beautiful Persian rug and you can tell them the story about how you won it at the Takhti Cup.
But they didn't have those rugs, so they came out with this little small box. When I opened it up, I realized inside of it were 15 pieces of gold, so I was pretty stoked about that, as well.
5PM: Comparative to last year's Ranking Series trip, is there a different kind of directive this time? Is there a more serious vibe surrounding this tournament than there was for the two ranking series tournaments in Europe last year given what the points might mean?
Coach Matt Lindland:  I think based on the sense of urgency that there might be a different vibe. I feel like we have had our five areas of focus that we wanted to work on, and sense of urgency seems to keep moving up the ladder as we get closer to Tokyo. So yeah, I think that might be a factor leading into this tournament.
The guys are healthy who will be going. They will be prepared. We're going to have a little mini-camp here starting this week just to put some final adjustments and touches on things. Really, it's just a great time of the year to to meet with everybody, to get everybody on the same page and get us all on the same mat together, training together, doing morning briefings together, and just so we're all communicating well with each other.
Everyone is getting the same message, so it's unfortunate when some guys can't make it or they choose to have a different training opportunity, though I do respect and understand that, as well. That's definitely within their opportunity to do that,  it's just some guys I would love to have here since they can bring a lot to the camp. But we have a bunch of great guys coming in, so I'm excited for the camp.
But back to the the Ranking Series, there are less of those tournaments this year, so I think that also increases that sense of urgency part that we need to get this done, especially if we want to get points before the Pan American Olympic Games Qualifier. This is one of two chances to do that. We definitely want to separate the best two guys (at the Pan Am Qualifier), and hopefully, the best two guys includes one of our guys. Points could be a big factor for qualification, they could potentially be a factor even at the Olympic Games.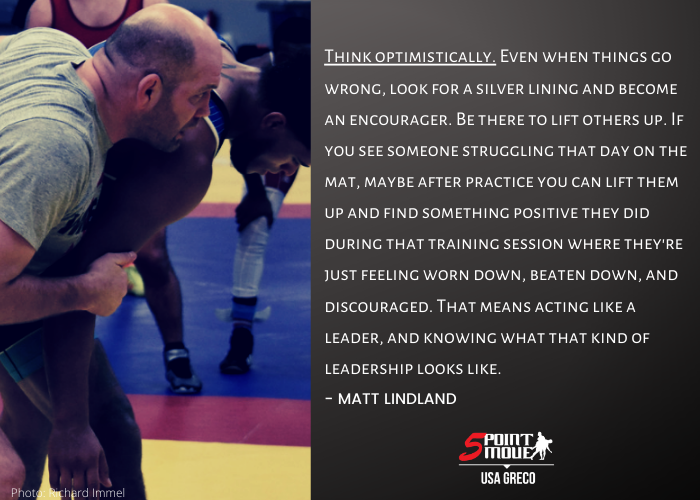 5PM: It has been a few years since there was a January camp that is right after a December Nationals. Do you like that? Do guys come in sharper since many of them just got done competing in a big domestic tournament? 
ML: For us, a December Nationals probably makes more sense. I think the reason we do it in April, honestly, is because we're trying to attract some college wrestlers and to build some depth into our program, and that's something that we have to work around in the United States. Because unlike every other nation, we put a huge emphasis on this college folkstyle wrestling that they do from November to March, and it takes up a huge portion of our time and wears these guys down so much that by the time April comes around, they might not even be able to compete.
But the fact is that we're always trying to to grow our program and build more depth, though I think ultimately it makes more sense for us when it's not an Olympic Year to have those Nationals in April as opposed to December, but for the Greco-Roman program it might even make more sense for us to get our Team selected earlier rather than later so we are taking the best guys overseas for winter tours.
Then we can have our final selection process in that early-April time frame and we can train our guys longer and get them prepared for a World Championship year. So, things vary, especially during an Olympic Year because schedules definitely change, but it feels right to have the Nationals in December and the Trials in April, especially with the timing of the Games. Even with the World Championships later in September or October, I would like the Team selected earlier on the side of building depth and being inclusive and trying to recruit some of these wrestlers.
I mean, the college system has some really, really talented Greco guys within their programs. Hopefully, a lot of those talented athletes come back to Greco or continue to do Greco while they're still in college — although that's very tough because as you know, we just sent a Junior team over to Belarus and we had a few inexperienced guys on there because those are the guys that are training Greco this time of year. And some of the best guys like I said are wrestling in the college system.
5PM: You have par terre-specific practices on the schedule for this week. Without giving anything away tactically or otherwise, what will these practices look like?
ML:  Obviously, there aren't any secrets in the sport of wrestling and we want to get better. All of the matches we lost at the Worlds were, essentially, because we got put down and and turned. And we lost those matches, and then we also need to turn guys, too.
I mean, that's the the art of Greco-Roman wrestling, and the current rule-set right now requires us to have a lift. Every athlete in our program who thinks they can get on a medal stand has to have a lift, a go-to four-point lift from par terre. We also have to be able to stop turns and we cannot give up multiple turns.  We did a much better job in 2019 of not giving up multiple turns, there's really only one match I can think of from the Worlds where we gave up multiple turns. For the most part, guys were defending better, but we still have a lot of work to do in that area.
You can see from the schedule that there is a lot of emphasis in part terre, but every practice is going to be pretty short and intense. We are going to keep to a really tight schedule for camp because the women are in the in the room, too, so we have to be out of the room within a 90-minute timeframe.
All of the coaches are stakeholders in this program. They are partners with the National Team. The Army, Marines, Sunkist, New York (Athletic Club), and the other clubs are part of this partnership in developing this program. So, with everybody's input, we all kind of agreed we want to have these practices under an hour with a very intense focus, and that's a message I'm going to have to get across in the morning. We need to be on time, on target, and focus for 60 minutes. We want to have these athletes well-rested afterwards, and we don't want our practices to drag. We want to get in, get what we need done, done, and get these guys off the mat so they can rest, rehydrate, refuel, and be as prepared as they can be going into this first ranking event.
5PM: Let's close with something a little more involved. We've talked a lot about leadership communication and trust pertaining to the Seniors, especially over the past two years. Do you think heading into what is going to be a hectic New Year that the US seniors are as confident individually and as unified collectively as they need to be?
Coach Matt Lindland:  I do, I definitely do. I think that our program has really been working a lot on communication, which always brings the team closer together. The image and professionalism side of things related to what we're doing on the mat and how we our conducting ourselves off of it, I think, is important. And holding one another accountable, holding ourselves accountable, and respecting the process.
But really, the one that has kind of moved to the top and that we alluded to earlier in the conversation was that sense of urgency. Every year, people start to think about their New Year's resolutions and how they're going to improve and what they're going to do. For me as a coach, I kind of think about how I can improve, and how the other coaches and athletes in the program can improve.
I have a few resolutions going into this year and I think the first one is for the program, and that is to get our minds right. Think optimistically. Even when things go wrong, look for a silver lining and become an encourager. Be there to lift others up. If you see someone struggling that day on the mat, maybe after practice you can lift them up and find something positive they did during that training session where they're just feeling worn down, beaten down, and discouraged. That means acting like a leader, and knowing what that kind of leadership looks like.
Encourage and set that example for others to follow — because people are watching. No matter what or who you think are, people are watching how you respond and how you behave. And they are definitely going to follow someone who is an encourager more than they're going to follow someone who is negative. You need to set a good example. That's why getting your mind right is the first New Year's resolution.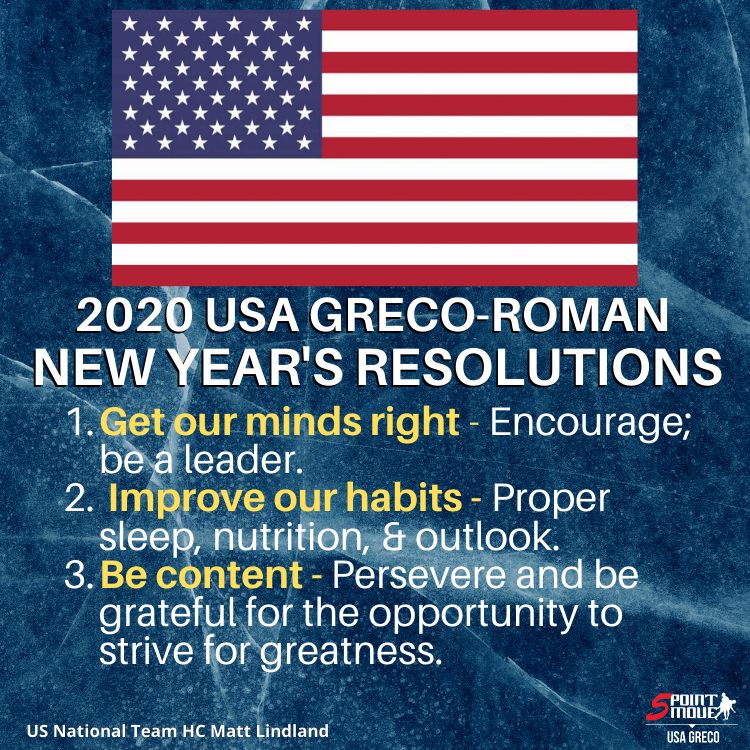 The second one is is just constantly improving our habits. How's your sleep? How is your diet? Are you doing proper recovery? How is your lifestyle? Is it conducive to success? Look, we don't need to read a new book or listen to a new podcast to get some some cutting-edge advice. I think we all know what the right things are to do, and if we don't then certainly ask. But you most likely know what you need to do, whether you read it through a book or heard it from a podcast you listen to. But you could always just lean on the advice your coach gave you before, or your nutritionist or your strength trainer.
Third is to be content. We are certainly blessed in this country. We have so many blessings and opportunities, and a lot of times, I think we we look at what others have and we covet. I think that's a big problem when we want to have things that other people have. The grass isn't always greener on the other side, and if it is, it's probably because someone fertilized it with bullshit.
You know Philippians 4:13? It says "I can do all things through Christ who strengthens me." I think that's a passage that a lot of athletes refer back to. I mean, you look at Jon Jones, he's got it printed on his chest and shoulder area. But we really don't read the verses leading into that, which were written by Paul, who at this time was sitting in a Roman jail.  He also says "I rejoice in the Lord greatly that now at last you have renewed your concerns for me." Paul just received some provisions. He is in jail and someone sent him some money. They sent a guy to carry a bag of money so Paul could get some food.
"You were indeed concerned for me, but you had no opportunity to show it. I am not saying this because I am in need, for I have learned to be content whatever the circumstances."
So here's a guy who is sitting in jail, doesn't know if or when he is going to eat unless these funds get to him, and yet he's content. He's content sitting in jail because he is serving his purpose. He goes on to say, "And I know how to be brought low, and I know how to abound." We are all going to have struggles. We are all going to be brought low. We have wins, losses, highs and lows, but the thing he says here in the second part is "I know how to abound".
"In any in every circumstance, I have learned the secret to facing plenty and hunger, abundance and need." So whether he has money or food, or neither, Paul is content. And I think that's a great lesson. We should be thankful.
I know there are so many things we want. We want more funding to get more athletes overseas, and we want more opportunities to get guys to camps and bring over international training partners. There is a lot of adversity. Even for me me, just daily, you know? The amount of paperwork and and things you've got to put in place. It can be tiring even for me. I have to fill out all of this paperwork again this year just to get back into the (Olympic and Paralympic) Training Center, I have to do a background check, a Safe Sport check, get my current card updated. It's just…aahhh (laughs). But at the end of the day, these things need to get done and I am grateful for what I have.
So, the three New Year's resolutions I want to make for the program and hopefully share with the athletes are to get our minds right, observe the right habits, and be content because we are blessed.


Listen to "5PM32: Previewing Senior Nationals with Dennis Hall" on Spreaker.
SUBSCRIBE TO THE FIVE POINT MOVE PODCAST
iTunes | Stitcher | Spreaker | Google Play Music | RSS
Notice
: Trying to get property 'term_id' of non-object in
/home/fivepointwp/webapps/fivepointwp/wp-content/themes/flex-mag/functions.php
on line
999