Five Point Move is proud to host USA Greco-Roman National Team head coach Matt Lindland each week for Coach Lindland's Report. Here is where you will find detailed perspectives from Coach Lindland regarding results, training, upcoming events, and other Greco-related news that isn't available anywhere else. ALSO — if you would like to donate directly to the US Greco-Roman program, just click here. Your support is appreciated!
The United States program had two goals entering its multi-week stay in Europe last month — get some great training in, and also, get some guys ranked higher in the world. Both boxes have since been checked. National Team head coach Matt Lindland speaks to the medal-winning performances of G'Angelo Hancock (97 kg, Sunkist, world no. 3) and Xavier Johnson (63 kg, Marines, world no. 14) from the pair of "Ranking Series" tournaments, and touches on two other athletes who had interesting showings, Kamal Bey (77 kg, Sunkist, world no. 7) and RaVaughn Perkins (72 kg, NYAC). That Hungarian training camp everyone was talking about is covered as well, but the conversation closes up with Denmark. Lindland, who was only back home for a brief period before returning overseas this week, previews the 2019 Thor Masters and the two young athletes who are going along for the ride.
5PM: Right out of the gate in Zagreb, the US had two guys make the podium, Johnson and Hancock. That's an encouraging start to a tour that was centered around two big events.
Coach Matt Lindland: Yeah, I think it was a great way to start the trip, to get two guys up on the podium in Zagreb. We also had some other guys who wrestled pretty darn tough. I just think our team is improving consistently. Slow and steady, for sure, but we're definitely moving in the right direction.
But yeah, I was very happy two of our guys got on the podium, and I was happy with the way all of our athletes competed.
5PM: In relative terms, Xavier is still green, he's still raw. But he has also placed at this event twice in a row and is a National Team member. When you get a chance to be around him in person and watch how he works, what do you see out of him that impresses you?
ML: He's a true warrior. That kid has a lot of fight, he has a lot of athletic ability, and he's going to push the pace. He is going to go out and try to score early, and score big points. Xavier is not timid. He is a very courageous fighter. That's what is really fun to watch. Xavier is not worried about what his opponent could do or might do, he's worried about what he is going to do to his opponent. He is a very aggressive, exciting fighter, and I'm loving that lift he is putting together.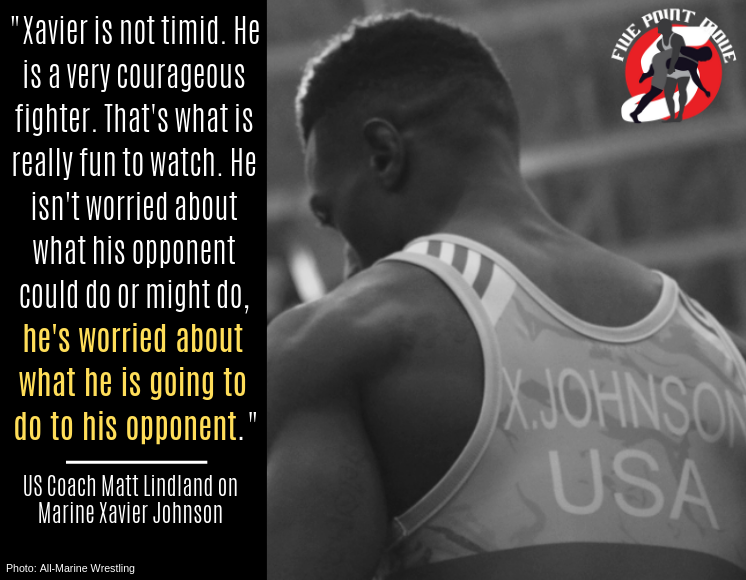 5PM: A lot of this obviously circles back to Hancock. It's not just that he got himself ranked third in the world, it's more the back-to-back. In Zagreb, he had one weird loss and then beat Adam Varga. Hungary, maybe it was a byproduct of having some time in-country, but there was even more of a competitive edge. There's a lot to be said for two consecutive strong performances, one from which a gold was earned. Do you see his surge here as a statement?
ML: I think it's critical that we put our performances together back to back, that we're consistently performing up to our level. We can't be up one tournament, down one tournament. That's what's going to get us to the top, is the fact that we're consistent in everything we do, with the way we compete. I mean, he really has done a good job dialing in when he warms up, what he does for his cool-down, his nutrition between matches and rounds.
I think a lot of it is that he just started wrestling (Greco) when he was 17. He jumped on the international scene at a high level and he's trying to figure this stuff out, What's best for me? What works? Sometimes when you're young, you think you always know what's best. But once you mature a little and start listening to other people and trying some things out, you feel differently and make those adjustments.
At the end of the day, it's him, and they are his adjustments. Even when you're taking someone's recommendations and advice, you have to make sure you own that. Whatever that situation is, how you do your warm-up or what you eat the night before. It doesn't matter what someone tells you, there are some things you have to learn on your own, and that's the tough part. I think he is really starting to figure out what's best for him.
Unfortunately, he keeps coming down with a virus when he's traveling. We've got to get him some Vitamin C or something. The last couple of trips he has gone on, it must be the plane ride with all the germs flying around in that capsul we're in, I don't know. Vitamin C or something, that's going to be the next thing I recommend he does on a consistent basis.
But everything else, he's been consistent with the way he trains. He's still over in Europe and is going to meet me in Denmark. After the tournament in Gyor, he traveled to Germany and spent a couple weeks over there with their National Team camps. He's over in Sweden right now and he'll meet me in Denmark. I'm really looking forward to this tournament (Thor Masters), because there are incredible competitors at 97 kilos.
5PM: Everyone saw what happened with Kamal in Croatia, and there were misguided people who wanted to chime in. But this is now three big international tournaments in a row where he is not being allowed to wrestle, and in Croatia he was dealing with a notoriously dirty competitor who kept head-butting and shouldering along with abandoning any desire to try and score. I know, I get it, can't lose composure and all that. But isn't this just a case of a good wrestler whose frustration rightfully boiled over? I'm not sure anyone can blame him for that, but how did you see it?
Coach Matt Lindland: Well, what I saw was like you said, which was a frustrated Kamal. But I mean, when you step on the mat, you're stepping into something that is, really, beyond your control. You're trying to control chaos in the moment. You've got to understand that if these athletes were to try and actually wrestle Kamal, he's going to win. So, the best way to beat Kamal is to not wrestle him; to tie him up, to frustrate him, and to take him out of his game.
(Rafaele) Yunusov definitely used a lot of dirty tactics. He was shoulder-checking him, got called for twisting his arm, he was headbutting him over and over. I've watched that match a few times, it's going to be on the next National Team Leadership and Character Development show, there are clips on it and I talk about that match. But as a country, as a team, and as an individual in Kamal, we have to figure out to be that guy who is frustrating our opponents. Taking a guy out of his mental game is critical. That's how you beat guys who are better than you — you take them out of their game so they stop thinking about what their objective is, which is to score points. You get them frustrated and get them to start making mistakes.
Throughout the whole match, it was, Oh, he's twisting my fingers, looking at the corner; Oh, he's headbutting me, looking at the referee. It's like, You know those things are going to happen entering the match, so you just have to deal with what reality is. You have to find a way to overcome those things and they can't bother you. They can't even enter your consciousness that this is what the guy is going to do. And, you should probably be the guy who is twisting his fingers and headbutting him, but within the rules. Because, he only gave up two and a caution throughout that match, and it was a very dirty match.
There's a lot to be learned from that, and I think Kamal learned a valuable lesson. He was facing a big sanction from the international federation, United World Wrestling. He was facing a big sanction. But I think the fact that he apologized for his actions, he recognized that he was out of line, and asked for leniency, we wound up only getting a one-month suspension for that match. But if it happens again, I don't think we're going to get that lucky, nor will UWW be that lenient.
We have to learn to overcome this stuff because we can win. Kamal is clearly one of the best guys in the world, he's ranked #7. If he can figure out how to deal with those types of situations, there is no doubt in my mind he can be the best in the world, and possibly, the best America has ever seen. But — he has to learn how to fight through those positions and get to his ties, no matter what the other guys are doing to him. He can't let anything phase him.
5PM: RaVaughn Perkins didn't start out hot in Zagreb, but he turned it on in Hungary, beating out a World bronze before giving Kim Hyeon-Woo one helluva tough match. I know that he's not staying at 77 this year, but that appears to have boosted RaVaughn's confidence for the future. 
ML: Specifically in Hungary, I was very pleased with how he wrestled. He had a hurt hand that was really bothering him. I think he's back in town and getting some imaging done this week to figure out what kind of treatment he's got to get down. RaVaughn has overcome a lot of obstacles, he's dealt with a lot of injuries and now he's healthy, for the most part. He tore something in his hand and was still able to wrestle and fight through that.
His first match (in Hungary) was great. He and Pat (Smith) have split here just recently. It was a nice win that put him in the quarterfinals against Kim, one of the best in the world, and RaVaughn was right there with him. And, RaVaughn is walking around at 77 kilos, it's not even his weight, so it was great.
But focusing on the Olympic weight classes, it was important that we took him there so he could see what he's capable of doing at 77 kilos. RaVaughn is a very capable athlete. In 2020, when all of these guys get together at 77, it's going to be nasty to see who comes out of that tournament. I know whoever it is will be capable of winning a medal at the (Olympic) Games. But whoever it is that represents us this year has to get that weight qualified at the Worlds. Get it done early. I know Kamal can win a Pan Am title this year. I know we can get that weight qualified, and it's one of the toughest weight classes in the world. There is just not an easy match at 77. Ever. Even at these two ranking tournaments, it was ridiculous how tough that weight was. Unbelievable. It's going to get even nastier during the Olympic Year.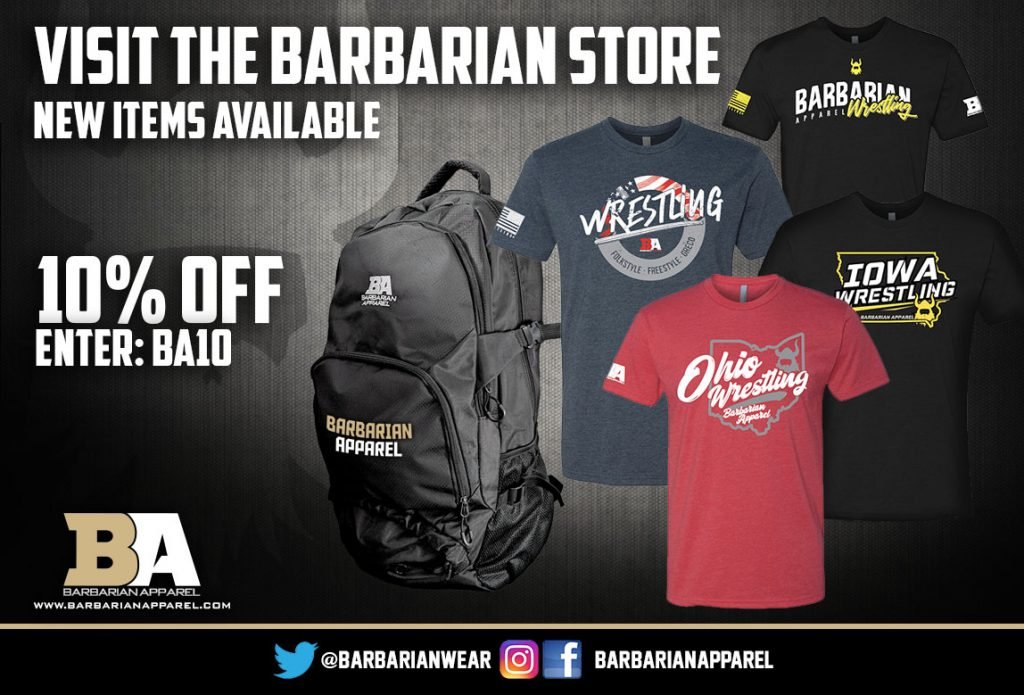 5PM: That's actually the next question, which is that you have now been to two ranking tournaments in a row. Is there anything different about them compared to other events that you have personally noticed, just right off the top of your head?
ML: You obviously notice the depth at these tournaments. You see all the guys who showed up. I believe there were eight medalists from 2018 at both tournaments. We had Olympic Champions, World Champions, at both of these tournaments. It's getting tougher to win at the world level, and this is allowing us to raise our level. We're seeing where we match up against the best competition in the world.
I think that's the biggest difference with these ranking events. You put your budget together, buy plane tickets, you go to a tournament, and it's not that deep. Last year, we sent Kamal to the Granma Cup and it wasn't deep. We'll send guys to tournaments, plan and prepare to send them to Europe, and we're not sure who is going to be there. But we're guaranteed that when we go to these ranking events, there is going to be some very stiff competition. When we're able to measure ourselves against the best guys in the world we can see where that gap is and make those adjustments. We can fix things, just like our guys were doing in Germany the past two weeks.
I'm very pleased with the amount of effort these guys have been putting in. I am very happy with the club support we're getting. The two-week camp in Germany certainly wasn't in our National Team budget but Sunkist and NYAC stepped up to send our guys over there and take care of their meals and boarding. Our communication is getting better, we had that leadership summit in November, and we're getting people on the same page and focusing on getting America better at Greco-Roman wrestling.
5PM: It is a very big group going to Denmark and it is one that includes two athletes who are high school-age, Cohlton Schultz and Dominic Damon. Granted Schultz is a World champ with two medals and Damon was a Cadet World Team member, still, it has been a while since we've had high schoolers check in for a legit overseas Senior tournament. What do you think that says about how far the program has come the past few years?
Coach Matt Lindland: I think it is philosophically what I've been trying to do since I came on board, and that is to continue to try and get our athletes to level up. We're extremely excited to have Dominic a part of our Greco program and going to school up at Northern Michigan. I think that's a big-time blue chip recruit. Those are the types of athletes we're looking at up at Northern Michigan. We've got some good guys, we've got some quality guys, and we want to try to get the best guys in the country to forgo this folkstyle stuff and embrace what we're trying to do internationally.
I think this is a great opportunity for these young guys to just gauge themselves, see where they're at against the best in the world, see where the gap is, and then see what it's going to take to close that gap. And they are going to get an opportunity to jump in on closing that gap at the camp.
And hopefully, who knows? I can see Cohlton Schultz doing very good (at Thor Masters). I can see this being a challenging tournament for Dominic, but again, who knows? They could both do well or they could both go out in two (matches). The other nice thing is that it's the Nordic format which guarantees two matches. But they're also there to get the camp in, get the experience. There are a lot of guys on this roster who maybe you haven't seen a whole lot from but they are willing to get themselves overseas. Their careers are so important to them that they are going to invest in themselves; or their clubs see a lot of promise in them and they're doing well and will fund them. Either way, we're just looking to get these guys overseas, especially some of our younger, more inexperienced guys.
Yeah, there are some high-level National Team guys going, too. Patrick Martinez didn't have the best tournament in his ranking series events. I know he's motivated and excited. He has been training over in Germany and I am looking forward to seeing the improvements and adjustments he has made over the past several weeks. And I am certainly looking forward to see the 97-kilo weight class. That is one stacked bracket. It really says a lot about Tracy Hancock. He's putting himself out there and is not afraid to compete against the best guys in the world. He is not trying to protect anything. He is doing what guys who aren't World champs should be doing: he's chasing down those best guys in the world so he can figure out how to beat them.
That's where Tracy is, and that's where some of our younger athletes are, as well. We've got some more experienced athletes and some who we haven't seen a lot of. I am just looking forward to working with all of them at the tournament and throughout the camp. I think we've got a great crew going over.
Follow Coach Matt Lindland on Facebook and Twitter for updates on the US Greco-Roman Wrestling program.
Listen to "5PM21: Paul Tellgren, Ellis Coleman and Alec Ortiz stop by the Five Point Move Podcast" on Spreaker.
SUBSCRIBE TO THE FIVE POINT MOVE PODCAST
iTunes | Stitcher | Spreaker | Google Play Music | RSS
Notice
: Trying to get property 'term_id' of non-object in
/home/fivepointwp/webapps/fivepointwp/wp-content/themes/flex-mag/functions.php
on line
999