For the second day in a row, the United States is in position to come away with two medalists at the 2020 Matteo Pellicone Memorial thanks to the great good work of RaVaughn Perkins (77 kg, NYAC) and John Stefanowicz (82 kg, Marines).
Day 2 of the Matteo Pellicone Memorial began at 10:30am from Rome, Italy (4:30am ET) and streamed live in the US on FLOWrestling.


The latest chapter in the now-years-long saga between Perkins and two-time World Team member Patrick Smith (Minnesota Storm) unfolded in the round-of-16. Coincidentally, the last time these two battled was at the second "Ranking Series" event of 2018, the Hungarian Grand Prix. Perkins prevailed in that match, and he did in this one, too, and all of the scoring took place in the opening period.
Soon after the whistle, Perkins dragged and dashed, right away forcing a step-out. They pawed at one another intent on fabricating equally workable positions but not much was available. Eventually, Perkins received the first passive point and from top par terre clamped his lock, though Smith defended. Shortly before the break, Perkins got behind and hustled a takedown to give him the four-point total he would carry the rest of the way.
Former age-group star and Tamas Lorincz's heir apparent Zoltan Levai (HUN) was next for Perkins. A tough outing. Levai kept a disciplined, high-pressured approach that made it difficult for Perkins to get comfortable in the pocket. The result was a first-period passive chance for Levai that ultimately decided the outcome. He used a reverse lock and pulled it over, the four points plus the passive translating to a 5-0 lead to which Perkins couldn't penetrate through the bout's remainder.
But since Levai made the final, Perkins had another go in the repechage, where he defeated Furkan Bayrak of Turkey 3-1. That means a bronze match for the Colorado Springs resident, and his opponent this afternoon will be none other than Pan Am Games silver Wuileixis Rivas Espinosa (VEN, and more on him below).
STEF
Stefanowicz made quick work of Bing Hong Lin (TPE) in the quarterfinal, capitalizing on the first passivity chance of the contest to roll out four consecutive guts.
That snappy tech win put the Marine in the semis opposite '19 Asian Championships silver (and vastly underrated) Singh Gurpeet (IND).
After a minute went by in the first, Stefanowicz was in on a tight arm spin. Gurpeet cartwheeled and covered. Confusion stemmed from whether the call should have been a takedown or slip for Stefanowicz, since action continued through the sequence without actual points being awarded. This meant a conference for the officials before two points went up for Gurpeet.
More confusion in the second period. Stefanowicz, they wanted to hit him for passive. He just kept wrestling and was on the attack as the officials tried to ring him up. Stefanowicz's aggression was met with an "Attention", and he assumed par terre bottom where Gurpeet flailed with his lock.
A step-out for India with a minute left created a little more distance. With :25 remaining, Stefanowicz went for an inverted arm throw he thought collected two correct hold points, and challenged the non-call, giving Gurpeet one more point, and ultimately, the 5-0 decision.
But that's not the end of it for Stefanowicz. Like Perkins, he is in the bronze round where his opponent will be German Florian Neumeier.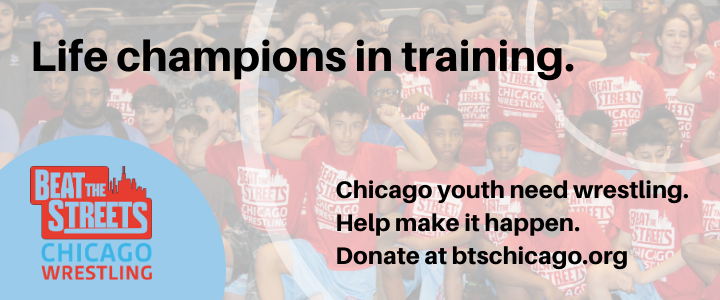 Bunker & Bey
Ray Bunker (72 kg, Marines) did what he always does in competition, which is try his darndest to empty the magazine on his opponent. The issue was that Maksym Yevtushenko (UKR) must have been wearing a bulletproof vest.
Bunker brought the heat early and often as Yevtushenko tried countering with looks to the body. There were no discernible positional advantages for either athlete, at least not yet, and Bunker received the first passive chance. From top, he locked reverse lift and hopped back-and-forth to gain a clearing; but Yevtushenko stayed put.
That 1-0 Bunker lead held up into the second. Meanwhile, Yevtushenko was beginning to flurry more, which led to a scramble near the edge. Bunker — adept at switching directions on the line and scoring step-outs — missed the mark, and that opened him up for a Yevtushenko lock that yielded four. As is custom, Bunker did not wilt, and instead, kept pushing forward. But today wouldn't be his day. Yevtushenko took the 4-1 decision before falling in the next round, thus eliminating Bunker from re-entry into the tournament through the repechage.
Kamal Sizzles But Loses Close One
Nurbek Kashimbekov (UZB) hadn't wrestled below 80 kilos since Vegas '15, but he was down at 77 today drawing Kamal Bey (Sunkist) in the first round. Quite the reintroduction to a weight class.
As evidenced by his win last month at the US Nationals, we are looking at a slightly different version of Bey. Now 22, he has matured in his methodology, and with that maturity has come a little more patience that makes his explosive attacks all the more daunting for would-be vanquishers.
But none of that stopped the passivity fairy from paying a visit. Kashimbekov benefited from the first call and immediately locked a reverse lift. Bey attempted to scramble and lock for his own reverse, and it worked insofar as generating a standup. The two dug around in the tie-ups, and then Kashimbekov bodied Bey for four off the edge for a 5-0 lead. The response arrived in quick order, as Bey got head-and-arm and tossed Kashimbekov, receiving his own four. Then just ahead of the break, Bey was there again with another four-pointer and an 8-5 advantage.
It just felt like more was coming. There usually is. Though it didn't happen right away. There were enough actionable attempts from Bey, and enough defense from Kashimbekov, for the officials to avoid interrupting the bout. Since he wasn't going to get a passive, Bey had to take matters in his own hands. What that looked like was a counter-attack that yielded a takedown and follow-up gut. With two points separating him from a tech, Bey didn't relent. A quick duck-under came next and he wrapped Kashimbekov for two to end this one at 14-5.
Espinosa was next, a wrestler with whom the US is indeed familiar. Bey pressured from the outset, more like trap-setting. Rivas was finding difficulty keeping up the pace, and in one instance, flared for an arch to answer an oncoming Bey, who landed on top for four points.
Rivas answered back later in the match when he nailed a pretty arm throw that netted two. Still, there was plenty of time for Bey to pour it on, and that was the feeling since it had appeared he was dictating the tempo. But Rivas wasn't done, either. He got behind Bey off of an attack to force a step-out that was upgraded to a fleeing penalty, costing Bey an additional point. Next, Rivas picked up two more from a bodylock, and now the lead was gone. Bey got back to work knowing time was ticking away. So he pursued. Another flash duck-under provided the momentum necessary to grab a step-out; and then just as the buzzer sounded looked as if he scored a last-second match-clinching takedown. The officials didn't score it that way and the US challenged. The call was upheld, however, giving Rivas an extra point in what was a 7-5 loss for the American.
Rivas fell to Levai in the semifinal, ending Bey's day at the tournament.
Wrestling resumes at 6:00pm local time in Rome (12:00pm ET) and can be viewed live on FLOWrestling.
2020 Matteo Pellicone Memorial
January 15-16 — Rome, Italy
DAY 2 TEAM USA RESULTS
72 kg
Ray Bunker (Marines)
LOSS Maksym Yevtushenko (UKR) 4-1
77 kg
Kamal Bey (Sunkist)
WON Nurbek Kashimbekov (UZB) 14-5, TF
LOSS Wuileixis Rivas Espinosa (VEN) 7-5
RaVaughn Perkins (NYAC)
WON Patrick Smith (Minnesota Storm) 4-0
LOSS Zoltan Levai (HUN) 5-0
WON Furkan Bayrak (TUR) 3-1
vs. Wuileixis Rivas Espinosa (VEN)
Patrick Smith (Minnesota Storm)
LOSS RaVaughn Perkins (NYAC) 4-0
82 kg
John Stefanowicz (Marines)
WON Bin Hong Lin (TPE) 9-0, TF
LOSS Singh Gurpeet (IND) 5-0
vs. Florian Neumaier (GER)


Listen to "5PM33: The Marine Corps' Jamel Johnson" on Spreaker.
SUBSCRIBE TO THE FIVE POINT MOVE PODCAST
iTunes | Stitcher | Spreaker | Google Play Music | RSS
Notice
: Trying to get property 'term_id' of non-object in
/home/fivepointwp/webapps/fivepointwp/wp-content/themes/flex-mag/functions.php
on line
999