Next weekend is the 2020 Armed Forces Championships at Naval Base Kitsap in Washington. Just as it has been for years and years and years, the All-Army and All-Marine squads are expected to decide the team race. Army keeps winning these things (the service branch is currently riding an 18-year winning streak), but the Marines came really close in '13 and the score could be equally tight this time around. That, along with the stipulation that sees Olympic Trials qualifying spots available in all ten weight classes, are two of the main bulletpoints for those requiring a primer.
One other item serving as a point of emphasis for the event? The much-anticipated battle between '19 Final X runner-up Lucas Sheridan (97 kg, Army/WCAP) and two-time National champ Daniel Miller (Marines).
Currently the nation's best Greco-Roman rivalry (and "rivalry within a rivalry"), Sheridan and Miller have met seven times over the past year, including in so-called "high leverage" matches at every major domestic tournament. By now, it almost feels as though it was meant to be this way. The methodologies differ, their approaches deviate in a few key areas. But their styles complement each other's exceedingly well now that both are reaching the primes of their respective careers.


That they are set to run it back yet again in one of the season's crown jewel domestic gatherings only adds to the ongoing intrigue.
Athletes in other weight categories who will be taking the mat for the Army and Marines are understandably focusing on their own bouts. Armed Forces carries enormous significance for both programs and there are several other matchups inviting plenty of interest — especially this year. But even wrestlers rearing to go in different weights acknowledge that Miller/Sheridan Part VIII is the spotlight attraction.
2019 World Team Trials champ Jamel Johnson (67 kg), who competed for Army/WCAP before reuniting with Marines head coach Jason Loukides four years ago, feels that Miller and Sheridan trading paint so often brings even more heat to what goes on between the two teams. "They constantly go back-and-forth in matches, and coupled with it being a Marine Corps versus Army match, which has been an age-old rivalry itself, they help bring that to life," Johnson says.
Toby Erickson (130 kg, Army/WCAP) — the '16 National champ and multi-time National Team member who has repeatedly dominated at Armed Forces throughout his career — breaks it down even further. "It's simple: everything these two men are about is abrasive to each other," explains Erickson. "Army versus Marine, Enlisted versus Officer. Sheridan is a smaller guy who got bigger, while Miller is a big guy who got smaller. Every dynamic of their background clashes and it shows on the mat. Whether the match is won 1-0 or 10-9, it will be electrifying and grab your attention."
All of the evidence acquired thus far suggests Erickson knows what he's talking about.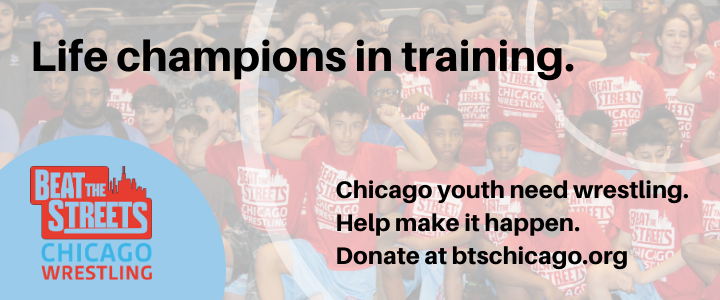 Sheridan vs. Miller: 2019-Present
Total number of matches: 7 (Series is 4-3 for Sheridan)
Matches decided by two points or less: 3
Tech falls: 1 (Sheridan, '19 US Open semifinal)
Falls: 1 (Sheridan, '19 Haparanda Cup)
Criteria decisions: 1 (Miller, '19 US Nationals/Olympic Trials Qualifier final)
The Opening Chapter – '19 Armed Forces Championships (Miller def. Sheridan 2-1)
In maybe the tamest bout of their history together thus far (in Greco), Miller shrugged off a Sheridan headlock attempt in the first period to score a takedown. Sheridan received a passivity in the second period but was unable to seal a match-changing turn. The final :45 of the contest boosted the dramatics despite the lack of scoring. Although this was at Armed Forces and both athletes wanted to taste victory in the worst way, it was also easy to walk away from this match thinking that it was really just a prolonged feeling-out process ahead of what resided on the horizon.
'19 US Open semifinal (Sheridan def. Miller 9-1)
Unlike their first match two months prior, this time Sheridan's headlock came up big. He blasted Miller over for four early, and after Miller popped up, Sheridan forced a step-out before adding another point when Miller opted for a challenge that wasn't upheld. By the end of the period, Sheridan owned a 7-1 lead and ended it altogether with a takedown less than a minute into the second.
'19 World Team Trials finals (Sheridan def. Miller two matches to one)
Match 1 of their series from Raleigh last May offered one of the craziest endings of the year, if not the entire quad. Sheridan was ahead 5-2 with only :02 on the clock when Miller got to the body and torqued a four-pointer at the buzzer. WCAP insisted on a challenge, a formality. The additional point was inconsequential as Miller took the first bout 7-5.
Miller had waited until the last available second to snatch victory from the jaws of defeat in Match 1. In Match 2, Sheridan — similar to their US Open semifinal a month prior — didn't wait for anything. Right out of the gate, he snapped an arm spin that delivered four points. It was a rare technique for Sheridan, one he had yet to brandish on the Senior level. But it worked, and those four points provided the necessary cushion to cruise to a 5-0 shutout and compel a deciding third bout.
The requisite hint of desperation that usually defines a great Trials series was present as soon as they touched gloves prior to Match 3. There was still a tactical feel to the pummel. It wasn't quite "fighting in a phone booth", because you knew what Miller was looking for, which was to rein in his position enough to create workable looks (such as quick arm spin attempt). Sheridan on the other hand, a little more fluid in his approach, relied more on his footwork and darted to angles that helped him gauge entries for tie-ups. Their work here was solid. Not exactly risk-averse, but certainly not reckless.
The scores that determined the outcome, given the athletes, betrayed their desires as well as how evenly-matched they were (and still are). Miller took the first passive point and went to work on a lift. His grasp loosened, and when it did, Sheridan bounded up and hastily knocked Miller off the edge. When Sheridan got his chance from top in the second period, he essentially clinched the series thanks to a gutwrench — even though Miller was able to step over and reverse on the back-end of the turn. Down by a point with a spot in Final X at stake, Miller pushed the issue as best he could in the waning moments. But Sheridan stayed engaged and composed for the duration, the winner of a gripping 4-3 decision that represents the biggest triumph of his career to this point.
'19 Haparanda Cup qualification round (Sheridan def. Miller via fall)
Draws are not seeds, draws are supposedly randomized and oddly, curiously, Miller and Sheridan were paired together in the first round of the Haparanda Cup this past November, a little over six months after their series in Raleigh. Sheridan came out and isolated head-and-arm, leading to a step-out. Later in the first, Miller scrambled and scampered his way to a takedown, and netted one more point from a lift attempt that caused Sheridan to go off the line. But before anyone could fully settle into what was expected to be another tension-filled slugfest, it was over. Back on the feet, Sheridan again hunted for head-and-arm and whammed a brutal, devastating headlock to end it.
'19 US National final (Miller def. Sheridan 3-3)
Their most "conventional" match yet. And credit goes to Miller for his resolve when it mattered most.
Box score version — Sheridan with first passive/par terre and a gutwrench to go up 3-0 in the first; Miller with second passive/par terre and a lift to knot the score and assume criteria. Of course, such a compressed description skirts important details.
Miller found some success digging his left-side underhook, and would reset whenever Sheridan tried prying and weaving back inside. This is something Miller does well and often, though in this case he has/had to remain mindful of Sheridan's right overhook, because that's where the pain comes from in the form of those blink-and-you'll-miss-them headlocks. Miller cannot bail, and he didn't in the National final. His answer in this match was to not become complacent in the ties, but set and reset when necessary. (He also delivered one of the longest arm spin attempts in recent memory early on in the first period. It was ruled a slip).
As for the par terre points that proved the difference, Miller was nearly reversed by Sheridan midway through a gut rotation. The Marine Captain was stuck in no man's land with his lock wrapped and Sheridan perilously close to stepping over. In fact, the mat official awarded Sheridan two but it was white-paddled. Once Miller recovered, he maintained his lock and executed a correct hold at the edge. Although there was plenty of time still available in the match following this sequence, Miller's throw was as clutch as it gets given their respective styles and tendencies. It is also where we leave off.
What They're Saying
There exists a healthy respect between the two. Naturally. They have a lot in common, after all. Both competed for Division I programs (Sheridan for Indiana, Miller for the Naval Academy), both were forced to take their medicine as young Seniors, and both became National Team members for the first time in '18.
Consequently, neither has a bad word to say about the other. Miller, who turns 28 the day before Armed Forces Greco, chooses not to even address Sheridan directly. When reached for comment regarding their showdown next weekend, Miller largely bypasses individual concerns and instead focuses on what the event means to his service branch. "The most important thing to consider is how much different it is from any other competitive environment," he begins. "Preparing for an opponent is easy compared to the preparation I need in order to overcome the environment at Armed Forces. It's the only dual style tournament we compete in all year and a lot of your performance rides on how your teammates are performing and how they are supporting you."
Sheridan, 26, takes a similar route but doesn't deflect when it comes to the obvious storyline. A notorious self-critic, he was displeased with his performance against Miller at the Nationals and appears eager for this latest chance at a do-over.
"I'm really happy with my preparation leading up to this match," Sheridan says. "I have complete trust in myself and the way my coaches and teammates have helped me get ready for it. At the US Open, I lost that match multiple times and in multiple ways. I didn't go for another turn on top, I didn't keep moving on bottom, I didn't score from my pinch. I made many mistakes and that's on me. I'm not a fan of making the same mistakes twice. Saturday is my opportunity to show that."
Whatever happens at NB Kitsap, it won't be the final salvo. Odds are that Sheridan and Miller will face off again in April's Olympic Trials, whether or not G'Angelo Hancock (Sunkist, world #13) qualifies the weight class for Tokyo at the Pan Ams. If Hancock qualifies the weight, he earns an automatic berth in the best-of-three Trials finals, in which case Miller will (likely) be the #1 seed in the challenge tournament, Sheridan #2. If Hancock falls short in Ottawa, he will be the #1 seed, Miller #2, and Sheridan, #3.
Sheridan and Miller exchanging blows in the Olympic Trials, be it in the semis or challenge tournament final, would seem a fitting way to close the book on all of this until next season. Would seem. But there is nothing like the Armed Forces Championships. Nothing. Famous for its clenched-teeth intensity and action that is hard-hitting enough to provide a worthy substitute for those who enjoy the drama of a main event prizefight, it is the most appropriate venue. And since this is where it all began, so shall it be where it ends.
For now.


Listen to "5PM33: The Marine Corps' Jamel Johnson" on Spreaker.
SUBSCRIBE TO THE FIVE POINT MOVE PODCAST
iTunes | Stitcher | Spreaker | Google Play Music | RSS
Notice
: Trying to get property 'term_id' of non-object in
/home/fivepointwp/webapps/fivepointwp/wp-content/themes/flex-mag/functions.php
on line
999