For RaVaughn Perkins (77 kg, NYAC), the just-wrapped camp at MWC in Nebraska was only his second impactful training opportunity since the winter. For Austin Morrow (67 kg, NYAC/NTS), it was his first. And on Monday night, both expressed similar feelings of confidence and gratuity.
In a room filled with nearly 20 Senior Greco-Roman athletes, several sparkling MWC age-groupers, and two well-known coaches, Morrow and Perkins were able to operate at the closest thing to full capacity anyone in the US has enjoyed in quite a while. Good thing, too, now that USA Wrestling has gone and scheduled a National tournament that resides roundabout ten weeks away. Not that a couple of camps will do the trick — especially for Perkins, who is a resident athlete at the Olympic & Paralympic Training Center. That facility remains closed and no one seems to have an answer for when it will re-open.


One of the key concentrations in Nebraska the past few days had been par terre. Entering the weekend, three athletes (including Morrow) commented on that workload and what it involved. The allotment of available partners was another bulletpoint. As is often the case when covering training camps, physical/mental fortitude figured into the equation, too. Those were the themes we used to hit on the camp's dynamics Friday evening and we went back to them again for the closeout.
Austin Morrow — 67 kg, NYAC/NTS
5PM: How do you feel coming out of camp compared to when you first arrived last week?
Morrow: Well, I'm definitely sore (laughs). But a good sore. I don't feel beat up, my body's not banged up, like sometimes how I feel after camps or hard training. It was just the right amount to kind of make us sore and get you back into the sport. It was awesome. I think that's what they were aiming for. They did a great job.
5PM: You mentioned how Nick Dardanes was a very good partner. You had plenty of others there, too. Do you feel fortunate that for your first camp back there were a lot of guys available to switch in and out with?
Morrow: I was super-fortunate. The partners here were incredible. Everyone had such a hunger to wrestle and it was great. And I know that Dardanes is a freestyle guy, but he was an awesome partner. He is a guy who is going to get in there and scrap. He's tough, he doesn't back down. That's fun in any kind of wrestling. That was kind of the general mood in the camp. Everyone was down to scrap, and it was awesome.
5PM: We started off also with talking about par terre. Did you wind up getting back some of your rhythm and timing?
Morrow: Yeah, it definitely comes back pretty quick. You do something enough and the muscle memory kicks in. And also working the travel out of myself and getting into a rhythm after two or three days. I felt really good today, and the last couple of days.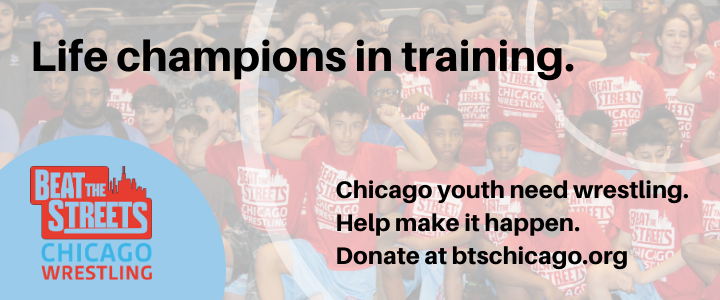 5PM: There is word that another Senior camp similar to this one could be on the horizon. With the Nationals now scheduled for October, and if that tournament actually happens, will more than just another similarly-run camp become necessary in the US given the current state of affairs?
Morrow: Oooh. I think if a lot of other rooms open up it wouldn't be as important. But I definitely think with the state of things a lot of guys who train at college RTC's (regional training centers), there is no guarantee those are going to open because it's up to the school, right? I think if things stay in the current state they are now, then I think another camp would be necessary. You can get out, wrestle other guys who are high-caliber, you get great coaches who are going to guide you through this, and workouts that are going to get you into shape. And not just into good shape, but "wrestling shape". So yeah, I think it would be awesome to have another camp or two.
RaVaughn Perkins — 77 kg, NYAC
5PM: How do you feel physically coming out of this one compared to when the Suples camp broke?
Perkins: Man, I feel like a superstar (laughs). I feel good. It's a totally different story between coming out of Ivan's camp and leaving this camp. Coming out of Ivan's camp I felt kind of sore. I'm glad now that I had Ivan's camp. There were a lot of guys who didn't do Ivan's camp and hadn't been on the mat, and they were feeling it. I had to feel that at Ivan's. This camp felt a lot better for me.
5PM: The difference a variety of partners makes can't be overstated. What was it like being able to switch be able to work with multiple other Seniors for the first time in a while?
Perkins: It felt great. I felt great. It was excellent. I was glad those guys came up. I am happy we were able to get together and train together. Those guys are really just now getting back to it and I was happy to help them get back into it. Especially after Ivan's camp, we all had those little hurting times after just coming in. But I felt great, and it was great to get back with those guys. I have trained with Kamal Bey and Ben Provisor at the Olympic Training Center. I trained with Provisor back in '16 at the OTC and Kamal is now my everyday training partner. It was good getting back with those guys.
5PM: Did the par terre element figure into the plan as much as advertised?
Perkins: Yeah, definitely. We did a lot of par terre. I got a chance to work with Alan (Vera). He was up there and I got to work with him. I wasn't really able to do par terre before too much with the back injury. Since this quarantine has been going on, my back hasn't been a problem for me, so I was able to jump back into par terre. And it was a lot of par terre, which I was worried about. But I got in there and felt great. Working with Alan, he helped me with a lot of lifts and things he learned in Cuba. He has brought it over to us and it's going to help all of us. It was great. I loved every single part of that camp.
5PM: There is word that another Senior camp similar to this one could be on the horizon. With the Nationals scheduled for October, and if that tournament actually happens, will more than just another similarly-run camp become necessary in the US given the current state of affairs?
Perkins: I definitely think it is necessary because we are still not in shape. We can think that we are in shape, but we're not ready for matches yet. We are not ready for a six-minute match. We went live go's at the camp but we need more. This next camp that we have coming up, I don't even think that's enough. We need more than that.
Those guys who haven't been able to get on these trips and do these camps, I feel bad for them. I mean, I can't say I feel bad for them, but I feel some type of way about it because I know what it's like to jump on that mat after not having been able to for a long time. Just because they are doing it in the grass, it is not the same as being on a mat. Just picture yourself being in a scramble with Kamal Bey. You're not going to be able to get that in the grass. I definitely think another camp is necessary, and plenty more. Hopefully, Herb (House) can put some stuff together for us. I'm sure he will, and other coaches, too. We definitely need this. All of us. The whole USA needs it.


Listen to "5PM38: MWC Wrestling Academy's Zac Dominguez" on Spreaker.
SUBSCRIBE TO THE FIVE POINT MOVE PODCAST
iTunes | Stitcher | Spreaker | Google Play Music
Notice
: Trying to get property 'term_id' of non-object in
/home/fivepointwp/webapps/fivepointwp/wp-content/themes/flex-mag/functions.php
on line
999