Welcome to the premier of The Official Review, which kicks off with Casey Goessl, one of the most accomplished and respected referees on the entire planet.
Goessl, from Wisconsin, has been donning a whistle during matches for two decades and is as recognizable as it gets when it comes to American refs. He can be seen patrolling mat space at every major event, domestically or overseas. There is not one wrestling situation, no matter how obscure, with which he is unfamiliar. At this stage of his sparkling career, Goessl has experienced the gamut of confusing scoring sequences and intricate rule interpretations that the average observer may fail to adequately grasp. Which, of course, is the catalyst behind The Official Review, to provide a more personalized brand of education courtesy of top-level referees whose scope of responsibilities include translating difficult, on-the-spot decisions. Decisions that, plainly, far too many take for granted.
Part of it also centers around achieving common ground. This helps education just as much, if not more than by-the-book rule explanations. Goessl loves wrestling and warmly leverages his vantage point as a highly-decorated arm of governance to expound upon several key topics. Questions pertaining to how officials have remained in the loop during the pandemic and whether or not he feels nervous prior to events are answered professionally and casually. Goessl, who serves as a head instructor for United World Wrestling's Officials Commission, thoroughly describes his perspectives whilst sharing what is unmistakable enthusiasm for the sport. On-the-mat items like challenged calls and "negative wrestling" are featured, as well, and with the same degree of candor.
The Official Review #1: Casey Brennan-Goessl
5PM: At least in terms of the international styles, there have been a lot less competitions available for athletes. In turn, that also means there have been a lot less opportunities for officials to work. How have officials been able to stay sharp in the absence of a normal competitive schedule?
Casey Goessl: Well, it has been almost a year now. I was actually in Ottawa on behalf of UWW (United World Wrestling) for the Pan-American Championships and Olympic Qualifier. Thankfully, we got through that without knowing what the next year-plus would bring. At the time, the various qualifiers were scheduled for mid to late March and early-April, and they kept kicking the can down the road. They were rescheduled for May, and then before long they postponed Tokyo for a year. All of the events wound up postponed until this year.
With that in mind, internationally — and I have to give UWW credit, as well as USA Wrestling — they have planned as many developmental webinars as possible. Obviously, we are trying to take care of the referees on our end. There have also been coaches' webinars and an assortment of ways to educate. That's where it started. By this point, we are all Zoom'ed out, but at least there was content. And that content is still available through United World Wrestling.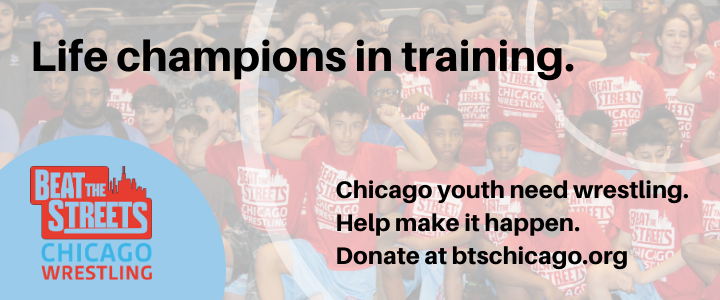 Moving forward, we also had a chance at the Senior Nationals in Iowa this past October and then U23's. So, we have had a couple of events to try to involve all of our Olympic Trials referees. Thankfully, there are wrestling platforms who have put on events, like FLO, and Trackwrestling had a couple of events before the merger. Rokfin, as well, in addition to all of these various training centers affiliated with universities, generally. They have had these all-star duels which have provided an opportunity for our own guys to get on the mat.
That said, most of the matches, 95% of the matches — though I'm not sure if that's accurate — but most of the matches have been freestyle. Not many of our guys have had the opportunity to ref Greco, minus a couple of the events held last fall. That's one thing, Greco is a lot harder to ref than freestyle. There are a lot more nuances to it. It is my hope that we can come together here this next month in Dallas and it will be like riding a bike. Hopefully, we can get right back in the flow of things.
But that's about all we could do, which is get our referees involved in whichever events and keep the brain cells churning a bit with some of the developmental activities we have done throughout.
5PM: Do you get nervous before events the way wrestlers get nervous before events?
Goessl: Sure, sure. There is an excitement level to it that I don't know if I can explain. I've gotten better. I have been able to control the emotional side of things better due to experience and confidence. You can see it in referees. Young referees, especially, the nervous ticks and anxieties building up. But with experience and being in the moment… It still gets exciting, but you are able to control it enough to make sound decisions on the mat during times when your emotions might otherwise get the best of you. Such as when coaches are yelling at you; or maybe a call was messed up and challenged, and then changed. That stuff can really irk you when you're young, but it has to be like water off of a duck's back. You just have to let it go.
But yes, you still get excited. You wouldn't do it if it wasn't exciting. For referees, with the international styles, especially, it's a labor of love. I don't know a referee who doesn't like being in that moment. But — without being the center of attention. I want to make that clear. We do not go out there to get accolades. But what you do like is witnessing your development from where you started to that level. You like seeing that process. Then when you get to the Olympic Trials or the World Championships, if you make it that far, you are watching it pay off, which is gratifying.
5PM: Are there cases when you or other officials are, I don't want to say "annoyed", but perplexed over a corner challenging a call?
Casey Goessl: Oh, it happens all the time — but not because it's your call. There are a lot of factors that go into the challenge process that I think sometimes are ignored. You have to look beyond just the call that was made on the mat. Obviously, the timing of the call plays a big role, and you have to look at the level of the event you're in.
For example, take this coming weekend in Rome (Matteo Pellicone Memorial). I'm pretty confident that they are only going to have two cameras on a mat — which for 95% of the calls, those two cameras will be able to cover exactly what you want to see. But if you go to the Olympics, they are going to have a system in place where they may have over 50 cameras per mat. They signed an agreement with a Korean outfit that does streaming in 4D and stuff. They will be able to cut, edit it, and put different views together just like what you would see in the NFL (National Football League).
But if you get a challenge on a one-point step-out during the first minute of a match? I see coaches who do it. They do it out of frustration rather than thinking about the entire match, and that could be your one situation. A lot of that stuff is a bang-bang call, anyway. When it is made in real-time, it might be the wrong call, but it's probably not worth challenging.
There are other times when you can see a coach grab the brick, or whatever object is being used for that event, and they want to throw it in — but for whatever reason, don't. There are times when I want to see them potentially challenge a situation. So, yes, I see it. For example, I know that Zach (Errett) was doing webinars this past summer with various coaches showing actual real-live match situations along with receiving input from coaches regarding the challenge process. We are trying our best to educate as much as we can. But, yes, if you can fix it I don't know how you can. It comes with experience.
At the end of the day, it's up to the athlete to control the challenge process if necessary. I know that often times they put their trust in coaches, as they should; but often times, the athlete will tell you just with their demeanor if a call should be challenged or not. They know if they went to danger or not, of if they had stepped out first. The athletes have a pretty good gauge of that in the moment. If an athlete wants to challenge but a coach isn't willing to oblige, they can always tell the referee to take a look. That is always an option.
5PM: Athletes and coaches will usually not complain too much about a rule-set, but from your own perspective, can you tell when wrestlers do prefer competing under specific rules based on the action, their attitudes, and so forth?
Goessl: It was probably the most dramatic during that period from about 2005 until Beijing (2008 Olympics). We started to see a lot of athletes come out of retirement because it was a three-period system where you basically just had to wrestle a two-minute go, and that was it. And, there wasn't passivity. So, guys who hadn't wrestled for years were coming out of the woodwork because they could be competitive again. Kendall Cross came back for a brief amount of time, and Cary Kolat put a run in.
There were a handful of guys who were pretty competitive in that system. But when we went back to the current rule system that we have tinkered with for the past… Well, it's almost eight years to the day after wrestling briefly got chopped from the Olympics, a lot of those guys fell off because conditioning now played a bigger role. You're no longer seeing those types of guys stick around longer or come back as much as you used to.
From the Greco side of things, when it was a minute on the feet and thirty seconds from par terre, there were so many idiosyncrasies with the rules. If you were on your back at :29 and then it rolled over to :30, you continued wrestling. It was just a tough, tough thing to deal with back then.
I can tell a brief story here. I was promoted to the highest international category going into the 2013 wrestling year. When you reached that category, you got to referee the European Championships, which that year were held in Tbilisi, Georgia. It was probably the most dynamic wrestling environment that I have been a part of. The crowd was just on edge. The European Championships are a really big deal to them and that part of the world. That place was incredible to experience. Nerve-racking as a referee, but incredible to experience as a wrestling fan. The head of the referees back then kept complaining that in the previous summers, the wrestlers who were winning gold medals were all, in his words, "massage champions" (laughs).
So if you go back and watch tape from that, especially the first day from that event, there was no passivity, though there was fleeing. What we call passivity now we were calling fleeing then. Well, three cautions ends a match and guys were getting cautioned out in the first period. And that is what they were telling us to do. They were trying to make a point. The wanted more dynamics, particularly from a Greco side. But all it took was one day of that along with a couple of coaches and high-ranking UWW folks to complain about it to get us to calm down after that.
Do I see wrestlers enjoy a certain style or certain rule-set more? I think we're in a good place right now with freestyle. Greco, I don't know from an athlete's perspective as much. I think it's okay. It combines all of the elements that we want by adding par terre. They basically took par terre out of it for a while. But I still want us to have more dynamics for Greco as far as scoring and I don't know if we're quite there yet. This is just my personal opinion, but I don't know if we can tinker with it much more to change that. For a while there, we were still dealing with a generation of wrestlers who came up during the three-period rule-system where you basically were trying to sell the passivity part. Well, you were just kind of wasting time on your feet, is a better way to explain it, until you got to the par terre position. Then, you were either really good at turning guys and good at defending, or you weren't. You were just kind of playing that game.
We are finally at the point now where a lot of those guys are retired. If we can get some of these young guys who have grown up under the current rules, maybe it will change. But we'll see. When you see the average wrestling fan or freestyle fan complain that the international rules are changing too much? I don't know if the rules change as much as we think they do. I think minor applications of the rules may change and it just takes a while for the average fan to catch up because of folkstyle.
5PM: What about "negative wrestling"? Is that going to be a factor once again?
Goessl: The "negative wrestling" isn't going away. That's a concept the UWW leadership want us as referees to really key in on. For a while, "negative wrestling" just meant brutality, or fleeing the mat. Fleeing the hold, even. Stuff that has always been there but were placed under the banner of "negative wrestling". But there was a period when we had a lot of problems with grabbing fingers, blocking with the head. You are going to see more of that called, or a stricter application of it, in order to promote more activity in the matches.
At the 2014 World Championships, the tournament was in Tashkent that year. We were leaving the tournament and waiting in line at the airport talking with one of the UWW executives. There was serious talk back then about making Greco-Roman wrestlers wear a chopper mitt while they competed. I know this sounds crazy, right?
5PM: A chopper mitt? What is that?
Casey Goessl: (Laughs) Because there was so much interlocking of the fingers, they thought it was a problem, and it was so hard to enforce because it happened so much. That's why the penalty for "negative wrestling" is so severe. It was a caution-and-one, now it is a caution-and-two points. It is actually worth more, from a technical standpoint, than a takedown, since a caution is worth more in criteria.
It is a stricter penalty because we want to eliminate it as much as possible from a match. But the problem is — and again, this is my opinion — because it is such a strict penalty and it can influence a match, it is a hard call for a referee to make. Because, it can change the outcome of a match. Ultimately, in a tight Greco-Roman match, we want the guy who should technically and theoretically win, not the guy who got his points from a penalty. That's where we stand now. But yes, back in 2014, that was the talk. They were discussing making the Greco wrestlers wear a mitt so that they couldn't grab fingers.




Listen to "5PM45: Chatting with Dennis Hall and Max Nowry" on Spreaker.
Listen to "5PM44: Michael Hooker and Toby Erickson join the show" on Spreaker.
Listen to "5PM43: Christmas Time with Millersville's Kerry Regner" on Spreaker.
SUBSCRIBE TO THE FIVE POINT MOVE PODCAST
iTunes | Stitcher | Spreaker | Google Play Music
Notice
: Trying to get property 'term_id' of non-object in
/home/fivepointwp/webapps/fivepointwp/wp-content/themes/flex-mag/functions.php
on line
999