Team USA Greco wanted to make a strong impression at the 2020 Pan-American Championships, and after the first day of action, they've done all that and more.
Paced by three gold medalists — Max Nowry (55 kg, Army/WCAP, world #3), Ray Bunker (72 kg, Marines), and G'Angelo Hancock (97 kg, Sunkist, world #8) — to go along with two silvers and a bronze — the Americans are in prime position to exit the weekend with yet one more in what has been a string of team titles from the annual continental gathering.
The final round on Day 1 of the Pan Am Championships from Ottawa, Canada began at 5:00pm ET and aired live in the US on Trackwrestling.
Gold Medalists
Nowry did not require a prolonged effort to snare his third Pan Am Championships gold. He got to work quickly against Kieran Akhtar (CAN) and didn't let up. Leading 2-0 in the first, Nowry reeled Akhtar in and whipped him to his back for four. Back standing and the end was near. As Akhtar stepped, Nowry flinged a cascading arm spin, scoring four more and ending the bout at 10-0.
Nowry entered the tournament holding 30 United World Wrestling "Ranking Series" points. With his win, he adds 18 more and is now ranked #3 according to UWW's top-20 list.
Bunker Breaks Brazil
Bunker wanted to make it a dogfight, that's his speciality. Joilson de Brito Ramos (BRA) — seen as a top candidate at the Qualifier next week — wanted to crowd Bunker early and take away the push. What he did manage to do, however, was score early on a little headlock that yielded two. Bunker re-engaged and went back to work in the ties, mainly just trying to force de Brito Ramos into a more upright posture so the off-balances might be there when the pressure started increasing.


It took some kind of effort for Bunker to get his passive point in the second. He was moving de Brito Ramos around in the pocket, cranking and snapping as much as he could just to create a semblance of an opening. When that opportunity came, Bunker locked reverse from top par terre and appeared to dump de Brito Ramos over, but they didn't call exposure. They did call a defensive legs caution, giving Bunker two points anyway. They restarted from par terre. This time, de Brito Ramos found his feet and avoided trouble before it started.
From then on, Bunker kept coming. There wasn't enough time left for a tactical strategy. de Brito Ramos was spent, desperate, and no longer much of a threat. Bunker had to move his feet a little in those waning moments, but in the end, he was as good as gold.
With his first Pan Am Championships victory secured, Bunker earns 18 "Ranking Series" points.
Hancock Overcomes Rosillo — Quickly
There was no choice, right?. The second match of the day between Hancock and '19 Junior World/Pan Am Games champ Gabriel Rosillo (CUB) had to be a long, drawn-out, chess-piece battle. That was the thought, anyway, especially considering their recent history.
But no, Hancock didn't want this one to last any longer than was absolutely necessary.
With the first par terre chance, Hancock went right for a front headlock and wooshed it over once — re-locked and re-loaded — and torqued Rosillo over the shoulder again. Just like that, it was a done deal. Cuba challenged, for some reason. The call was upheld, making the official score 10-0 in Hancock's favor.
Hancock's first Pan Am Championships gold brings with it 18 "Ranking Series" points. With his 14 points entering the tournament the new total is 32, which should put him at #6 in the rankings and assures him the #1 seed next week.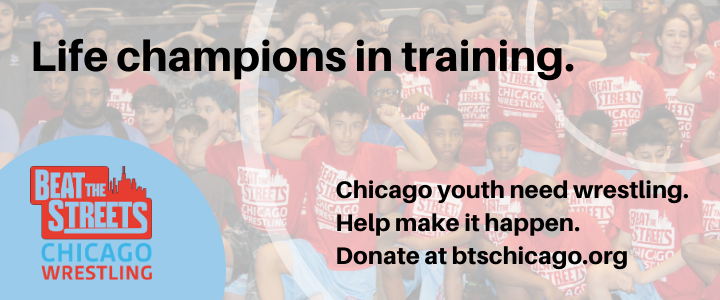 Two Silvers: Fuenffinger & Coon
Fuenffinger and '19 Pan Am Games silver Dicther Toro Castaneda (COL) opened by trading arm spin attempts. Shortly after these flurries, Castaneda locked around Fuenffinger with an over/under; Fuenffinger responded with a try at a throw. Castaneda countered by adjusting and spinning behind, and then rotated two gutwrenches for a seeming 6-0 lead. The US challenged but the call was upheld, giving Castaneda one more added onto his tally. Following the reset, Castaneda scrambled and picked up another two, thus ending the bout 9-0.
Fuenffinger, who impressed mightily earlier in the day, does grab his first Pan Ams medal, and in the process, takes home 16 "Ranking Series" points.
Last spring, Angel Pacheco Romero (130 kg, CUB) was giving '18 World silver Adam Coon (NYAC/Cliff Keen) a spirited match before the bottom dropped out and Coon walked away with one of those no-doubt-about-it type of victories. On Friday, Pacheco seemed to remember the work he did a year ago opposite Coon and parlayed it into a surprisingly one-sided triumph.
Pacheco managed to move Coon whilst patiently weaving in double underhooks. Once he secured the position, he locked and arched — but Coon wasn't about to be elevated. Rather, Pacheco had to settle for two off the edge. Following the reset, Pacheco had wrapped Coon, who reached back. Pacheco took the lane and scored a takedown, and tacked on two more with a gut. Back standing, Pacheco converted a step-out. The end was, however anticlimactically, near. Another reset and Pacheco got to his underhooks one more time, shuffling Coon off the line for the match-ending points.
Coon walks away with silver and 16 ranking points to go with the ten he earned in Italy. Now with 26, Coon is likely to hold the #2 seed next Friday as well as top-5 ranking by UWW.
Sancho Lights Out for Bronze
'19 National champ Alex Sancho (67 kg, Army/WCAP) dug in against Julian Horta Acevedo (COL) and wanted to pry his way inside, either with underhooks — or his two-on-one. He didn't get the chance to generate much offense on the feet, though he sure did from par terre. Acevedo was dinged, Sancho got his lock, and delivered a huge five; Sancho maintained his lock and went for another lift, banging out four more points and an emphatic 10-0 tech early in the first period.
Sancho's bronze is his second medal from this event ('15, silver). It also netted him 16 "Ranking Series" points — which might mean something if Ellis Coleman (Army/WCAP) is unable to compete next week at the Olympic Qualifier. Today's silver medalist, Diego Martinez de Leija (MEX) earned himself 18 points, and fellow bronze Cristhian Rivas Castro (ECU) collected 16. Ismael Borrero Molina (CUB, world #1) is the only other Pan Am athlete carrying points, qualified Cuba for Tokyo all the way back in September.
Notes:
Team USA finishes Day 1 of the 2020 Pan Am Championships with 130 points, far ahead of second-place Cuba (70). Mexico is currently third with 46 points.
Fuenffinger and Bunker were the only two US athletes in the final round who became first-time medalists today (though Bunker technically was already one given his two-man bracket).
Bunker and Hancock were the only two to have earned their first Pan Am C'Ship golds on Friday.
Tech's and pins: Day 1 saw the US pile up six wins by tech fall and two via pin.
Day 2 begins tomorrow morning at 11:00am ET and can be viewed live in the US on Trackwrestling (subscription required).
See below for United World Wrestling's "Ranking Series" points chart.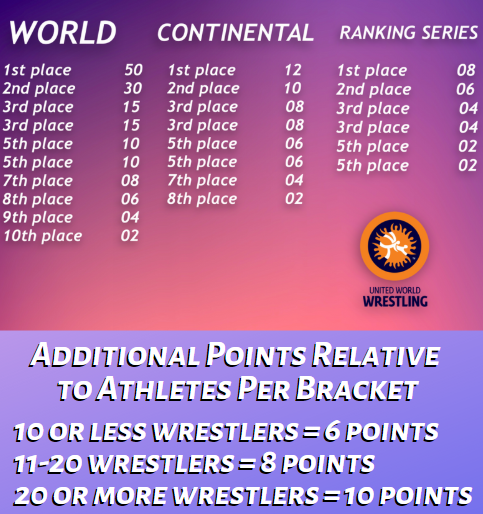 TEAM USA DAY 1 RESULTS
55 kg
Max Nowry (Army/WCAP) — gold
WON Sargis Khachatryan (BRA) via forfeit
WON Kieran Akhtar (CAN) 10-0, TF
60 kg
Mike Fuenffinger (Army/WCAP) — silver
WON Miguel Aguilar (MEX) 9-0, TF
WON Jancel Pimentel Gonzalez (DOM) via fall
LOSS Dicther Toro Castaneda (COL) 9-0, TF
67 kg
Alex Sancho (Army/WCAP) — bronze
WON Joseph Dashou (CAN) 8-0, TF
WON German Diaz (PUR) 11-8
LOSS Ismael Borrero Molina (CUB) 9-0, TF
WON Julian Horta Acevedo (COL) 10-0, TF
72 kg
Ray Bunker (Marines) — gold
WON Joilson de Brito Ramos (BRA) 3-2
97 kg
G'Angelo Hancock (Sunkist) — gold
WON Edson Acuna Salazar (MEX) 9-0, TF
LOSS Gabriel Rosillo (CUB) via fall
WON Luillys Perez Mora (VEN) 3-0
WON Gabriel Rosillo (CUB) 10-0, TF
130 kg
Adam Coon (NYAC/Cliff Keen) — silver
WON Yasmany Acosta Fernandez (CHL) via forfeit
WON Moises Hellburg (VEN) via fall
LOSS Angel Pacheco Romero (CUB) 8-0, TF
TEAM USA DAY 2 DRAWS
77 kg
Patrick Smith (Minnesota Storm)
vs. Yosvanys Pena Flores (CUB)
82 kg
John Stefanowicz (Marines)
vs. Jose Vargas Rueda (MEX)
87 kg
Joe Rau (TMWC/Chicago RTC)
vs. Luis Avendano Rojas (VEN)


Listen to "5PM33: The Marine Corps' Jamel Johnson" on Spreaker.
SUBSCRIBE TO THE FIVE POINT MOVE PODCAST
iTunes | Stitcher | Spreaker | Google Play Music |
Notice
: Trying to get property 'term_id' of non-object in
/home/fivepointwp/webapps/fivepointwp/wp-content/themes/flex-mag/functions.php
on line
999