After qualifying their weight categories for the 2020 Olympics earlier in the day, four US athletes still had gold medal matches ahead of them, and two more were called upon to fight for bronze. In the end, only one of those aforementioned taskmasters won a gold medal (via forfeit no less), but three silvers and two bronze is always an indicator of success at any international tournament.
The medal round of the 2020 Pan-Am Olympic Qualifier began at 5:00pm (EST) and aired live in the US on Trackwrestling.
Ildar Hafizov (60 kg, Army/WCAP), Alex Sancho (67 kg, Army/WCAP, world #19), Joe Rau (87 kg, TMWC/Chicago RTC), and G'Angelo Hancock (97 kg, Sunkist, world #7) — the four gentlemen currently being hailed as relative heroes in American Greco circles, one by one did their bidding in the finals. Patrick Smith (77 kg, Minnesota Storm) and '18 World silver Adam Coon (130 kg, NYAC/Cliff Keen) were in action for third, and both were able to secure important victories.
Hafizov constantly struggled to find his rhythm against two-time Pan Am Championships gold Luis Orta Sanchez (CUB), and it cost him. Orta Sanchez was gifted the first passivity/par terre chance. He locked high and repeatedly tried to budge Hafizov, who was defending vigorously. But eventually, the lock did its job, and Hafizov was compelled to turn — though he scrambled back to his feet and nearly was in position to create an opportunity, except Orta Sanchez forced him off the line for a 4-0 lead.


Hafizov found his trusty headwrap position in the second period. As he went to launch, his leverage completely dissipated. Orta Sanchez covered and received two points. The US challenged, and lost, and Cuba surged ahead even further at 7-0. Hafizov could not make up the ground from then on, ultimately settling for silver on a day that rendered virtually all of the finals matches anticlimactic.
Sancho, Smith, & Rau
Last week, Sancho tossed and disposed of Julian Horta Acevedo (COL). Today, Acevedo came prepared. At the whistle, he fired off a four-point scoring sequence thanks to a takedown and subsequent gutwrench. Sancho zoomed in on attacks, and appeared awfully close on occasion to opening up the kind of angles in tie-ups that he likes. However, Acevedo bailed out of each troubling exchange, rarely letting Sancho get set long enough to make attempts. No passivity calls entered the equation — for either athlete — and Sancho wound up the US's second silver on the afternoon.
At 77 kilograms, Smith had another date with Jair Cuero Munoz (COL). They have a history. Smith defeated Munoz at the '17 Pan Am Championships, last year at the Pan Am Games, again last week…and once more today.
Smith took the first passive and went for a gut. It didn't work out so well, as Cuero Munoz reversed position and snared a brief criteria lead. The machinations between them had all been witnessed previously. Smith brought the pressure, while Cuero Munoz tried to cut different angles when he wasn't trying to play back with equal aggression. But before any thoughts of another criteria decision could fully settle into the brain, Smith hustled Cuero Munoz towards the line and collected a takedown just before the buzzer.
Cuero Munoz wanted to attack, but it was a difficult prospect for him, if only because Smith never slowed his own pace. Throughout much of the second period, Smith threatened with pressure and relied on two-on-one's and snaps to keep the Colombian honest. Cuero Munoz did get a point off of a Smith attempt late in the bout, but it wouldn't be enough. Though not the outing Smith wanted this week, he did earn his sixth career medal from a Pan-American tournament.
Rau did not have a finals match at 87 kilos. His opponent, Daniel Gregorich Hechavarria (CUB), defaulted out, giving Rau the gold — and one more reason to crack a broad smile.
Hancock & Coon
With four bouts between them leading up to Friday (including two a week ago), both Hancock and '19 Junior World champ Gabriel Rosillo (CUB) delivered fireworks one last time before the lights go down in Ottawa.
Hancock raced out in 2-0 after a quick attack off of an exchange, and looked to go to work from top — but Rosillo ambled up and out. Hancock re-engaged and right away found a classic bodylock, and again, the Cuban pulled some magic to avoid being ragdolled. They wanted to trade big moves, and everyone watching wanted to let them.
Rosillo got on a nice run later in the first. He had netted a takedown. Then, he piled on with another plus two follow-up guts. Hancock was still in the thick of things, because even with a 9-4 deficit, points are never too far off in the distance for him to locate.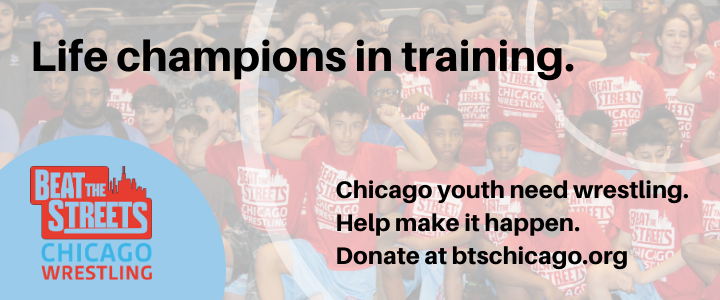 Sure enough, Hancock got back in the hunt in the second. He pivoted off the ties and crashed into Rosillo for a pounding four-pointer that narrowed the gap to 9-8. 17 combined points — but Cuba wasn't finished just yet. Rosillo created an angle and dragged to Hancock's side, trapping Hancock's own hand behind his back. This compelled a natural takedown and provided a little more breathing room. Time was running out by then, and Hancock needed to score. He didn't rush.
With :01 on the clock, he made his move. Hancock lasered into Rosillo, instantly and in one motion wrangling a bodylock and beautifully landing it off the edge. But unfortunately for Hancock, time had firmly expired, capping the end to what will now become a highly rewatchable match.
Perhaps no other US athlete needed a win Friday evening more than Coon. In his quarterfinal bout against '17 World bronze Yasmany Acosta Fernandez (CHI), the Michigan native had come extremely close to scoring a decision, and thus, slaying the bracket's biggest threat. It didn't happen, and Coon was left to battle in the bronze round, despite the likelihood even in victory he would feel no consolation.
The score was 1-1 for Coon opposite Leo Santana Heredia (DOM)  heading to the second period when the tide shifted in the American's direction. First, he bullied Heredia off the line and was rewarded with two points, not one, as Heredia was penalized for fleeing. Right on the heels of the caution, Coon received his passive chance.
Coon's much improved gutwrench proved costly for his opponent. There was one constricting turn, and then another. Coon had taken Heredia out of bounds — and Heredia was not coming back in. In obvious severe pain, the Dominican athlete was forced to default, sealing Coon's bronze-medal triumph.
A full recap of the events from today, including notes of interest, will be available on FLOWrestling.
2020 Pan-American Olympic Qualifier
March 13 — Ottawa, Canada
TEAM USA FULL RESULTS
*Qualified weight class for 2020 Olympics
*60 kg
Ildar Hafizov (Army/WCAP) — silver
WON Andres Montano Arroyo (BRA) 4-3
WON Marat Garipov (BRA) 9-0, TF
WON Samuel Gurria Vigueras (MEX) 7-2
LOSS Luis Orta Sanchez (CUB) 7-0
*67 kg
Alex Sancho (Army/WCAP) — silver
WON Enyer Feliciano (DOM) 7-1
WON Manuel Lopez Salcedo (MEX) 8-1
LOSS Julian Horta Acevedo (COL) 4-0
77 kg
Patrick Smith (Minnesota Storm) — bronze
WON John Yeats (CAN) 8-0, TF
LOSS Yovsanys Pena Flores (CUB) 6-1
WON Jair Cuero Munoz (COL) 3-2
*87 kg
Joe Rau (TMWC/Chicago RTC) — gold
WON Luis Avendano Rojas (VEN) 4-4 (criteria)
WON Lesyan Cousin Otomuro (JAM) 9-1, TF
WON Daniel Gregorich Hechavarria (CUB) via forfeit
*97 kg
G'Angelo Hancock (Sunkist) — silver
WON Luis Rivera Alvarado (MEX) 8-0, TF
WON Luillys Perez Mora (VEN) 9-0, TF
WON Thomas Barreiro (CAN) 9-0, TF
LOSS Gabriel Rosillo (CUB) 11-8
130 kg
Adam Coon (NYAC/Cliff Keen) — bronze
LOSS Yasmany Acosta Fernandez (CHI) 3-2
WON Leo Santana Heredia (DOM) via injury default


Listen to "5PM34: Terrence Zaleski" on Spreaker.
SUBSCRIBE TO THE FIVE POINT MOVE PODCAST
iTunes | Stitcher | Spreaker | Google Play Music