The rankings have been reshuffled following the 2019 World Championships and the United States Greco-Roman program boasts nine athletes in the top-20.
Max Nowry (Army/WCAP), who placed fifth at 55 kilograms in Nur-Sultan last month, is ranked accordingly, coming in at #5. Prior to the tournament, the 29-year-old was ranked #12 thanks to the brunt of points he picked up from winning the Pan Am Championships this past April.
Ryan Mango (63 kg, Army/WCAP) has shot up from #17 all the way to #6. Mango placed second at the Pan Am Championships, which, like Nowry and several others, is where he had earned his pre-World points. At the World Championships itself, Mango went 1-1 with a dominant victory over Julinho Be Correia dju (POR) before falling to '18 bronze Rahman Bilici of Turkey. Ellis Coleman (67 kg, Army/WCAP) entered Kazakhstan at #14, and after exiting with a sixteenth-place finish, keeps the same World ranking.


G'Angelo Hancock (Sunkist) rose to #3 in United World Wrestling's top-20 last season after winning the Hungarian Grand Prix to go with silvers from both the Pan Ams and Matteo Pellicone Memorial, as well as a bronze from Zagreb. To start this next campaign, Hancock actually climbs to #2 — even though he placed fifteenth at the Worlds following a 1-1 performance. That is due in large part to the collection of athletes at 97 who held low rankings and wound up in the medal rounds; and high-ranked athletes who didn't advance.
At heavyweight, 2018 World silver Adam Coon (NYAC/Cliff Keen) enjoyed the #2 spot all of last year and is now subject to the most significant ranking descent of any US Greco athlete, dropping all the way to 18th. In his lone bout at the Worlds, Coon was edged by Lingzhe Meng (CHN) 3-1. The previous World tournament saw Coon flatten Meng in the round-of-16.
Elsewhere
Four US athletes who did not compete at the World Championships are still ranked in the top-20 by United World Wrestling.
Travis Rice (IRTC) placed fifth at the first two "Ranking Series" tournaments of the calendar year and falls from #15 to #17. RaVaughn Perkins (72 kg, NYAC) and Kamal Bey (77 kg) — gold and silver at the '19 Pan Am Championships, respectively — both drop a few spots. Perkins dips from #12 to #17, and Bey plummets to #16 after spending most of last season at #5. It's the same story for Cheney Haight (NYAC). Haight won his third straight Pan Ams gold in April, earning 18 points and the #14 ranking. He now enters the season at #15 for this weight category.
The current United World Wrestling rankings reflect point totals earned at the the 2019 World Championships or any of the "Ranking Series" or Continental Championship events. Points which were the result of the '18 Budapest World Championships are now nullified with the conclusion of the '19 tournament (hence Coon's tumble from #2 to #18). However, after January 1, only points from Nur-Sultan will determine ranking placement until the 2020 "Ranking Series" events get underway.
Notes:
As noted, Nowry and Coleman are scheduled to compete at the 2019 CISM Military World Games in Wuhan City, China (beginning on October 20).
Nowry, Mango and Rice are expected to enter the fold at 60 kilograms for the Olympic Year.
Fall 2019 UWW Greco-Roman Rankings
TEAM USA
55 kg
Max Nowry (Army/WCAP) — #5
63 kg
Ryan Mango (Army/WCAP) — #6
Travis Rice (IRTC) — #17
72 kg
RaVaughn Perkins (NYAC) — #17
77 kg
Kamal Bey — #16
82 kg
Cheney Haight (NYAC) — #15
97 kg
G'Angelo Hancock (Sunkist) — #2
130 kg
Adam Coon (NYAC/Cliff Keen) — #18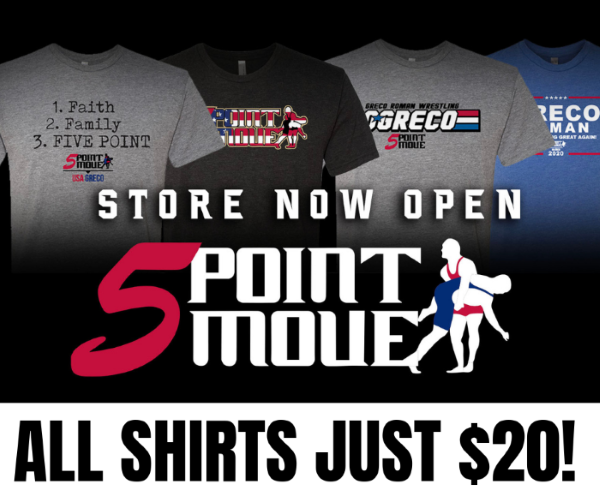 Listen to "5PM28: G'Angelo Hancock, Joe Rau and Max Nowry" on Spreaker.
SUBSCRIBE TO THE FIVE POINT MOVE PODCAST
iTunes | Stitcher | Spreaker | Google Play Music | RSS
Notice
: Trying to get property 'term_id' of non-object in
/home/fivepointwp/webapps/fivepointwp/wp-content/themes/flex-mag/functions.php
on line
999