Across the United States, Senior Greco-Roman athletes are beginning to eye the homestretch that leads to the Olympic Trials. February is now mere days away, which is a short month. Then it will be March. The weather will start to warm, at least a little, with much of the planet extending their arms ready to embrace the springtime like a long lost distant relative. Even amid the unusually slow-moving tenor in which society at large has been forced to function, the seasons still change. Earth is still Earth. Still revolving around the sun, still ebbing and flowing and dawning and dusking irrespective of its inhabitants' behavioral eccentricities.
Time does not slow down or speed up depending on life's circumstances. But one's perception of time certainly does. Olympic hopeful wrestlers know only too well the sensation of walls closing in around them as the hands on the clock taunt their efforts to escape. Recourse is limited, though rendered available in the form of adequate, sincere preparation they hope will set them free.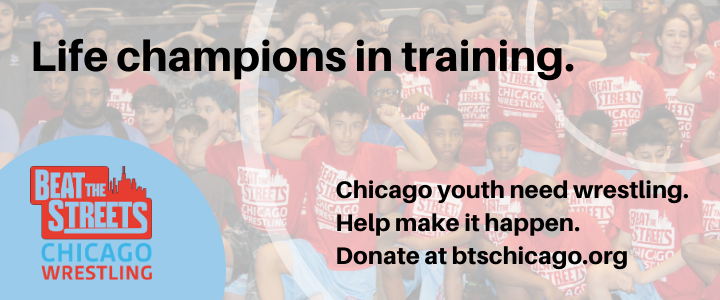 It's just like this for Morgan Flaharty (67 kg, NYAC) and West Cathcart (130 kg, NYAC/IRTC, 5PM #6). Both athletes have recently returned from Legends of Gold in Beresford, South Dakota, the site of what was a two-week long training camp. Their statuses at the moment differ somewhat. Cathcart earned himself a berth in the Olympic Trials over a year ago, so he's set. For Flaharty, there is one hurdle left to clear before he's in the mix. The week before the Trials is the Last Chance Qualifier. If Flaharty advances to the finals of that tournament, he, too, will be good to go.
Flaharty, 30, is fully focused on getting into the dance. But it's not the only thing that occupies his waking hours. As the founder of Mogotraining, Flaharty provides a variety of services including personal training and nutrition plans. And, he is a certified expert in these fields. Previously, Flaharty was the strength & conditioning coach for the National Team under the auspices of the US Olympic (and Paralympic) Committee. His vast knowledge and experience within the strength-training realm provides a built-in advantage when it comes to his own competitive pursuits. Even now, as "crunch time" approaches, he is making adjustments to the datasets which influence his day-to-day wrestling objectives. Camp in South Dakota would seem to have delivered an impactful boost in this regard.
As far as Cathcart is concerned, he is the beneficiary of something else that, for him, is similarly advantageous. Currently, the Illinois Regional Training Center is the place to be for upper-weights. At 130 kilos alone, there is Cathcart, Tanner Farmer (5PM #10), and '18 Cadet World Teamer Luke Luffman (5PM #13). Further south on the scale are two-time World Teamer Joe Rau (87 kg, TMWC, world #7, 5PM #2) and '19 Junior World rep Zach Braunagel (87 kg, 5PM #13). When Cathcart found his way back into Greco in early '19 after a two-and-a-half year hiatus, it didn't take long for him to catch on with the IRTC. Ever since then, he has not only steadily progressed, he has become a legitimate candidate to prevail at the Trials.
Morgan Flaharty — 67 kg, NYAC
5PM: How did you like the general layout and functionality of the "bubble effect" environment at LOG, and really just the camp as a whole?
Morgan Flaharty: The thing that was the most different compared to any other camp that I had ever been to was my roommates and my dorm situation. There are definitely demographics of athletes who are in Greco. You have guys who are between their late teens and early 20's; and then you have guys who are in their late 20's to early 30's. There is very little in between, in what you might define as the post-collegiate years. Everyone in my dorm was around my age, and I'm 30. So, we had guys who were all older than 26 and around 30-years-old. We were able to really vibe and work together to make sure that we had everything we needed for each training session. We all had each other's backs when it came to what we needed to prepare for every workout session, and also, to give advice man-to-man about what we needed to do to get the most out of this camp.
When we collaborated and worked together, we would have our meetings and discuss methods in our training, and things along those lines. To me, that was the best aspect of this camp over any other camp. You can go to a wrestling practice and have a coach who says something good to you that will stick; but when you can go back after the practice and discuss it with your teammates and friends, I think it sticks a little bit better. To me, that was the best part of the camp, the rooming situation. The rooms in the dorms were comfortable and had enough for space for us to have fun and play games if we wanted to, but also work together and collaborate when it came to improving ourselves as well as the sport.
The complex itself had everything we needed from a base level. It's no Olympic Training Center by any means, but for a wrestling camp it was sustainable and substantial for us.
5PM: It has been a change for full-time athletes in terms of available partners and things like that. In South Dakota, it was a good group of guys in and around your weight. I would imagine that this was the largest camp you had been to since before the pandemic. How was it to drill and get live looks from these types of guys considering that it had been a while?
Flaharty: I really like to go against people whom I haven't worked with just to get an unfamiliar feel, as well as to gauge the elements of my training that were starting to get redundant. The response and the feels I was getting from my partners (pre-camp) were starting to become redundant and it was really hard to determine whether I was getting better — or, if it was just that my partners and I were adapting to each other. By having all of these partners (in South Dakota), I could test myself and test my learning within a new environment.
When I first got to the camp, those first two days I was like, Man, I suck. I was really getting down on myself and becoming frustrated because it felt like I had no technique, and it felt like I had gotten a whole lot worse. I wanted to be really frustrated with putting in so much work over the summer in the (Colorado) Springs, because I never stopped training; but at the same time, it felt like I hadn't really improved. When I went to the camp, the first couple of days it felt like I had gotten worse after going with all of the new guys.
But after a couple of days, I wound up taking a practice or two off just to kind of reset my head and then I got back to it and felt better than ever. It was one of those things where it surprised me at first, but then that surprise turned onto me and then I ended up surprising myself by seeing the improvements I was making just from having good partners.
Also, my attitude halfway through the camp. I used to be a real big practice competitor and try to win every go, win everything, and not let partners score points on me at any and all costs. Then I tried to turn that into, Okay, I really have to put away my ego and just try to let myself be comfortable with being uncomfortable, and take risks and make mistakes in order to maximize my learning opportunity that I had. Once I allowed myself to let go, I was able to have a whole new edge when I did go into practice to compete. And then I became hungrier and hungrier to train and live wrestle. People could tell, the coaches could tell. It really felt like a snowball of positive effects as a result of that.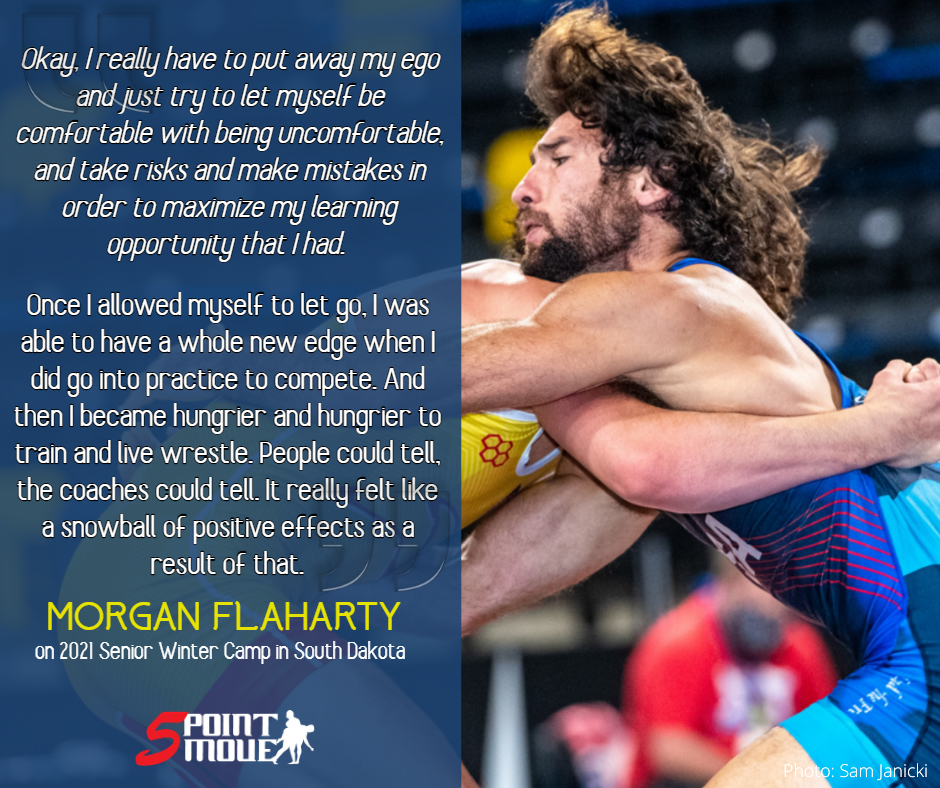 5PM:  Coming back from this camp, how do you plan to build off of this with the training availability and what that might look like leading up to late-March?
Flaharty: Well, the big thing is that I have really struggled to find my techniques, tactics, and strategies. While at the Olympic Training Center, I went through three coaching staff changes without really having a coach who was able to give me their full attention all of the time. I have been lower on the ladder, so it wasn't a responsibility on the part of the coaches to work with me when they had National Team guys or Olympic Team members who were there. Really finding the tactics, techniques, and strategy to succeed has always been a struggle.
So, I went to a lot of the more successful athletes at the camp who I've trained with for years and sort of humbly went up to them like, I really need to figure this out. Because, I am a lot better than how I perform and I feel like I am just going in circles with a lot of things, especially when I feel like I have so much capacity to learn. I also have the awareness to know that things aren't right and that they could be better. I've been struggling to find my feel and find my match, and figure out how I need to win matches.
At the camp, I worked with my teammates and we had our collaboration, and we really worked to figure it out. Now I have a strategy. Now I have tactics, and I believe — I know — what I need to do to be able to win. Now I am just going to go back and practice these strategies and techniques in all scenarios and really work on building a game plan and centering my training around what I think will help me succeed. I really have to coach myself at this point. I'm not a priority athlete to a lot of the coaches. I'm kind of an afterthought. I'm really just on my own.
But at this camp and working with these guys from my dorm, I know what I need to work on when I go back to training and practice. I have an entire periodized training plan that a physiologist and I put together. We're preparing, and I have a lot of guys on-board with me who are in the training program. As far as moving forward, I have a plan. The coaches have helped me out with the plan, and now I just have to execute it while taking any of the improvements I can every day. Little bit at a time, I guess.
5PM: Do you feel between now and late-March/early-April that competition of any sort is imperative? Or would you prefer to focus on a singular training block?
Morgan Flaharty: If I had a big weight cut then getting a competition under my belt to prepare for the weight cut would be important. But, I don't. And that's a good thing. Sometimes, competition is really good to knock the rust off and get you ready to go. With that being said, I think that, for me, if all goes well then I will be going to the Last Chance Qualifier, the Olympic Trials, and the Nationals all within three weeks in a row. And then a month before that we'll have the dual tournament.
I'll be getting a whole lot of matches in a couple of months, and I am stoked to get a lot of matches. I'd like to wrestle in more competitions, but right now what I think I really need to do is focus on dialing in on my tactics and strategies towards success instead of being so eager to get out into competition. I really need to dial in and work on my game plan and practice it even more. I have really flipped the way I wrestle over on its head and am going to try to approach things differently. To practice that way is really important. I need to get the reps in, the drills in, and do that against different opponents during practice. And, building my body for that is also going to be important.
I really believe in the periodized model of preparation. I have designed one that is really good for Greco-Roman wrestling that other people don't have. I have put my life into this research. I have the opportunity to dial it in and apply it, so I think focusing on my training is the good way to go. That is what the most successful teams have done in the past, so to not fix what isn't broken seems like a good idea.
West Cathcart — 130 kg, NYAC/IRTC
5PM: You already have Farmer and Luffman in the room, but now it's a couple few camps in a row where Adam Coon has been there and you already know Cohlton (Schultz), as well. All of you guys are going to be at each other's throats come April, but has there been some kind of growing camaraderie among you heavyweights?
West Cathcart: Oh,100%. You know, heavyweights in general are probably too nice as it is (laughs). We're all friendly to begin with. But it is nice, the more we are able to do these things. Believe it or not, we actually all play this Pokemon game (laughs). It's us heavyweights and some of the other guys running around on the mat. It is nice because, yeah, we're all competitive and we're going to be at each other's throats — but we know the real goal is internationally. We'll be in practice scrapping, but at the end of the day, if someone does something cool, we help each other out because we know the end goal is not to be the best American. It is, but we want to succeed as a country more so than it just being one US guy beating the other.
5PM: You had Week 1 there where it was primarily Matt (Lindland) and Gary (Mayabb) running the practices, but then for Week 2 your coach, Bryan Medlin, showed up. I know you get a heavy dose of Medlin as it is, but does having your personal coach at a camp make a difference for you?
Cathcart: Yeah, it's nice because he sees you everyday and knows how you work, knows what's going on inside of your head a little bit. If you have a practice where you didn't feel great, he can kind of see some things.
Right when he got there I had just had a bad Monday practice. He said some things to me, and I had known already that it wasn't great. But he said some things that helped me realize, Yeah, this stuff that I have been working on and now my body is starting to go back to it. It was a lazy Monday morning, but just having him say these few words helped make the rest of my week go a lot better.
5PM: Coaches have training plans, they have ideas of what they want athletes to work on, things like that. But athletes have stuff they want to do, too. Did you come into this latest camp with any particular goals in mind? And if you did, did you like the way it worked out?
West Cathcart: I had some goals. I didn't reach every goal I had set for the camp, but I did have a good camp. A lot of the things that I had wanted to work on I definitely got better at. I definitely gained some ground in some areas where I wanted to test myself. Like you said earlier, I get to see the same body everyday and Farmer is a good look; but there are some things I can't do on him, or they do work on him and I want to see if they work on the other guys. It was nice being able to get some other feels in there. It was a pretty good camp and successful for some of the things that I was trying to get done.


Listen to "5PM43: Christmas Time with Millersville's Kerry Regner" on Spreaker.
SUBSCRIBE TO THE FIVE POINT MOVE PODCAST
iTunes | Stitcher | Spreaker | Google Play Music
Notice
: Trying to get property 'term_id' of non-object in
/home/fivepointwp/webapps/fivepointwp/wp-content/themes/flex-mag/functions.php
on line
999