When Adam Coon (130 kg, Cliff Keen WC) bodylocked, pivoted, and pinned Robby Smith (Chicago RTC/NYAC) back in June, he did more than just earn a spot on the 2018 World Team. He also ignited a debate centering around whether or not the heavyweight torch had emphatically been passed.
Beginning in 2013, Smith went on to make five straight US World-level Teams, including the 2016 Rio Olympic squad. Through it all, he had managed to twice place fifth at the World Championships, with a now-famous non-call why many believe Smith's medal collection is still bare.
A prolonged refresher likely isn't necessary: Smith had Russia's Bilal Makhov flattened in the bronze medal round of the 2015 Las Vegas Worlds, but the official held back on signaling for the fall, insisting instead that Makhov was by then too far out of bounds. Although he wound up becoming something of a cult hero following the bout, Smith's near-miss on the bronze greatly affects the manner in which his career is viewed. For if he had vanquished Makhov three years ago, it is doubtful anyone in the US would ever be in such a rush to pine for his domestic ouster.
That was the role Coon, seemingly, was always supposed to play dating back to his Junior World bronze in 2014. Tall, athletic, and eventually a collegiate standout who made two NCAA Division I National finals, the Michigan wrestler found little trouble thwarting all opponents not named Smith as soon as he jumped onto the Senior circuit. He won the 2015 US Nationals/Olympic Trial Qualifier, and then bludgeoned his way through the Olympic Trials' mini tournament before falling to Smith in the finals.


A knee injury and lengthy subsequent recovery put Coon on the sidelines for all of the 2016-17 Greco season. When he and Smith met in the 2018 US Open final in late-April, the gap between the two did not appear to have closed. Although the result was a mere 5-0 decision for Smith, Coon looked overmatched. He was constantly giving up underhooks and being bullied onto his heels. It was not a positional battle, if only because Smith owned all of the positions.
The turnaround was as dramatic as their initial perceived disparity. Smith hung in there as best as he could in both finals matches of June's World Team Trials but was unable to resist Coon's charge. It was a 180 of how all of their previous match-ups played out. Coon was the one asserting himself on the feet, relying on that long-latch over/under lock whilst ushering Smith from one side of the mat to another. There were not a whole lot of equal exchanges. Given the energy — and the optics — involved, the ending was not accompanied by a substantial amount of shock value. With the way Smith looked on that Friday afternoon in Tulsa, Coon pulling and plowing to the top spot had taken on an air of inevitability, not possibility.
Fast-forward. Scrub right through the summer, hurry past the arduous training camps and Coon's 0-1 showing in Germany that at this point is a laughable memory.
Forget about what his runner-up in Budapest represented and how he became the United States Greco-Roman program's first medalist since 2015 (Andy Bisek) and first silver since 2009 (Dremiel Byers). It matters, significantly. But enough has and still will be said about all of that.
Rather, focus on Coon's weight class and refer back to that mythical torch. Has it really been passed?
No. That would require an open acknowledgement from the vanquished and Smith has stated numerous times that he plans on sticking around until the conclusion of the current quadrennial.
Most critical to grasp is that the United States has itself a World silver medalist standing atop the heavyweight pecking order — and a #2 athlete who has come close to the podium twice before, and is still very much in the picture, he says, for the next 22 months. Coon and Smith may do business with each other several more times over the next two years. It would be considered an upset otherwise. Job security after that for Coon, or for Smith (if he is to soldier on past 2020), might be wonderfully unstable.
USA Greco-Roman Heavyweight Depth: Now & Into the (Near) Future
To begin, it pays to recognize this fact: at 130 kilograms, the US has three Junior World bronze medalists on the roster — Coon (2014), Toby Erickson (Army/WCAP, 2011), and Cohlton Schultz (Sunkist, 2018; also Cadet World champ in '17).
For a weight class to be classified as "deep" in an international sense, at minimum one of two things has to be true.
There is more than one World medalist present.
There are more than several claiming relevant overseas credentials.
Needless to be said, #1 is more important, at least pertaining to the aesthetic on paper.
Coon is the only athlete of the trio with a Senior World medal, but hardware earned at the developmental level for the US is no less important, especially when earned by wrestlers who wind up competing as professional Seniors later on.
The Erickson Factor
Erickson's Junior bronze, awarded due to a failed doping test on the part of Iranian Babak Dezhbani Imchech, might not offer the same shine to some — which is, on the surface, understandable. But it is what Erickson's performance at large led to where the real value resides.
Erickson's path to full-time Greco is one the National program hopes for and encourages. He entered Northern Michigan after having attended Boise State; when his time at NMU was finished, he moved out west to the Olympic Training Center in Colorado Springs to further his training; and until Coon came along, former OTC workout partner Smith stood as his primary domestic obstacle.
At any other weight class in American Greco currently, Erickson's situation would still be considered a pleasant anomaly. At heavyweight, it is positively fantastic in the context of the current generation. With Erickson, the US got a D1 athlete who switched over to Greco, won a medal, and then proceeded to endeavor towards a full-time career. While Erickson has yet to cement his first spot on a Senior-level Team, he is a multi-time National Team member who is now settling into his athletic prime.
Erickson is both humble and mindful when it comes to the competition that occupies the ladder's highest rung. He has struggled against Smith, and even more so opposite Coon. There does not seem to be a clear answer why in either case. One hypothesis is that Coon presents a stylistic match-up quandary for Erickson that belies convention.
On the surface, Erickson and Coon appear similar.
Both wrestled in college, although Coon's experience in that realm is far more substantial.
Both were Junior medalists.
Both have had their issues dealing with Smith.
Both have defeated the rest of the US field at one point or another.
In their handful of matches, Coon has overwhelmed Erickson on the feet, and that is where the vast majority of Coon's scores take place. A big part of the reason is Erickson's failure to achieve and then sustain proper position. He has been unable to consistently wedge himself underneath what is often a hard-charging opponent who is large enough to compensate for his own positional miscues. Erickson cannot retaliate in an effective fashion if he is caught leaning, not minding his base, or allowing his head to be snapped downward. That is easy work for an athlete like Coon.
If World experience and overseas credentials are two factors that support the depth a weight class offers, the third would be pushing up the pyramid. There should always be a collection of athletes beneath the top one or two threatening to steal the throne. Gaps need to be closed. For the 130-kilogram weight class to present legitimate Olympic-power depth, Erickson's competitive vitality — and ability to provide Coon or Smith with consistent problems — is an absolute necessity. That is if he or one of his contemporaries do not outright overtake the top spot for themselves.
Current Generation
Adam Coon (Cliff Keen WC) He is more than an over/under bodylock. Coon might have relied on the hold with superb results in Budapest, but it also would have been pretty foolish for him not to considering how dominant that position turned out to be. If that was all he had, you'd still take it. The idea that an elite competitor requires a vast arsenal is woefully mistaken. What Coon needs to shore up his game is improved positioning in tie-ups that he finds unfavorable. He could use greater exposure to foreigners, too — that's a given. Domestically, Coon offers so many problems because his degree of body awareness in conjunction with his all-around wrestling skills are too difficult to contend with for most opponents. The more he sticks with this style, the greater that gap likely becomes.
Bottom line: What Coon accomplished at the 2018 World Championships was special but would be relegated to lightning in a bottle if he were to decline focusing his competitive efforts in totality on Greco-Roman. The good news is that if he decides to push onward, he will find that the talent pool is growing enough to eventually provide consistent challenges. 
Robby Smith (Chicago RTC/NYAC) Coon's defeat of Smith this past June was surprising mostly due to how uncharacteristically it unfolded. Prior to the World Team Trials, Smith hadn't dropped an individual match to a domestic opponent in half a decade. Foreign athletes were the only ones getting their hands raised. How did they do it? Either by getting turns from par terre, or by busying up Smith's wrists and arms in effort to stifle his on-the-feet offense. That was about it. And because Smith displayed improved power throughout his appearances this season, it was altogether odd to witness Coon able to move him around in Tulsa the way he did. The Trial finals series was almost six months ago and Smith has been hard at work ever since in effort to unring that bell.
Bottom line: Smith wants his spot back in the worst way so that he can cap his career with a World and/or Olympic medal. He plans on exhausting every effort to ensure that happens, It is no longer ho-hum for Smith. He will be 32 next winter and faces the increasing threat of an enhanced field catching up with him. 
Toby Erickson (Army/WCAP) Erickson, 27, if healthy in 2019 as he continues to recover from an arm injury courtesy of his teammate below, will be entering the most crucial phase of his career thus far. A multi-time Open/Trials finalist, it was in late 2016 when Erickson won his first Senior National title. He traveled to Europe the following winter, earned a bronze in Croatia, and then pressed Smith nicely in their first match of the '17 Trials final series. He's an athlete who cannot forget the little things. Big and strong, sure, but Erickson has to do more to force the kind of offensive openings that lead to consistent wins. Boost the workrate, take some risks. Do-nothing plodders tend to rule heavyweight on the international level. Erickson can find success without being one of them.
Bottom line: The Olympic Year for Erickson begins now, not in 2019. His is a unique standing. Erickson has had a front-row seat to the ascensions of both Smith and Coon. That can't be easy. But it's on him to line up for the sprint to the finish if Tokyo is to materialize into a realistic goal. 
Jacob Mitchell (Army/WCAP) Better than he is given credit for, but not yet at a level where too much is expected of him. Mitchell is an all-around athlete who is severely talented. That's why he is able to outmaneuver and overcome most of the opposition at home. There are two main ingredients missing that could be responsible for holding him back otherwise, from an on-the-mat perspective: 1) A lack of overseas training and competition; 2) questionable posture in the ties. Improvement in these areas might offer a game change. Until then, Mitchell will continue to look great on occasion against domestic up-and-comers because his explosive hips, counters, and general movement are considerable enough to do so.
Bottom line: If Mitchell could ever fully turn the corner, his surge would alter the complexion of the bracket. He is still sort of new; it has only been a few years. Difficult not to be optimistic. A 130-kilogram class that features a seasoned, foreign-savvy Mitchell instantly brings this entire field up a notch. 
Donny Longendyke (Minnesota Storm) Prototypical and with relevant experience dating back several years, Longendyke's entrance into the full-time Senior fold brought with it a lot of hope. He can gut well, pummel well, and has a nose for opportunistic scores when he creates action. That last part needs a little fixing. There were a handful of times this past season when Longendyke hung back or didn't pull the trigger all the way. It cost him position(s), hence, it cost him matches. This is not counting his being pinned by Coon following a bodylock attempt. That was a land-on-top deal. He could've gotten lower and pulled his hips in a little more, but it's ultimately dismissable. Longendyke possesses superb wrestling skill that meshes well with his body type. You'd like to see him assert more confidence in his approach so his development accelerates.
Bottom line: There is a lot to love about Longendyke, and once again, he is one who would benefit greatly from prolonged exposure to foreigners. But the reason for him is different than it is for most. Longendyke fits the international profile better stylistically. It wouldn't hurt for him to know he's on the right track. Skill-wise, he's got it. The nuance, the feel, and the timing that comes with training abroad could complete the puzzle. 
Dom Bradley (Sunkist) Stellar. Two-time freestyle National champ and former All-American for Missouri, Bradley checked in for the Greco Trials after the Final X Series didn't work out for him. What he did in Tulsa was never properly lauded, so here it is: no other non-finalist was more impressive. The amount of education he absorbed from his first match to his last must have been astounding. Bradley started off in his opening bout reaching and posting with his arms. By his fourth, a criteria win over Mitchell, Bradley was keeping it simple — he went for his underhooks, stayed attached, and worked to keep Mitchell on his heels. He's not exactly young (Bradley turns 30 in March) and the Trials tourney was probably intended to be a one-off. But wow.
Bottom line: This is a guy who barely missed out on a Greco National Team spot after just a few weeks of preparation. Bradley is still a tank, no one cares about his age, and even if it's just for a few appearances, we want him. 
David Tate Orndorff (Utah Valley RTC) A revelation this past season, DTO cruised to the U23 Trials finals series and was defeated by Schultz in two straight. But — he didn't just lay down and accept a beating. It's strange — Orndorff was outscored 24-3 and lost both matches via tech, yet he still managed to, somehow, acquit himself pretty well. What happened next is much more telling. Three weeks later, Orndorff advanced to the 130-kilogram final of the Senior Trials mini tournament, a feat punctuated by a gritty decision over Longendyke . Coon bested him in that final, obviously, but Orndorff recovered to get past crossover Bradley to take true third, thus securing his first appearance on the US National Team. Combine his age-group accolades with where he's at right now, and you can see why many project DTO as a future star.
Bottom line: Immense upside is what Orndorff brings to the table and his in-match maturity has blossomed. While it would be terrific if Greco-Roman didn't have to share him with college, he appears more than capable of making up the ground he'll need to each spring. 
Trent Osnes (Marines) Not yet. Perhaps soon. Osnes, originally a tweener at 98 kilograms, is just starting to get comfy with 130 kilograms, and really, elite-level Greco in general. It is a dual learning curve proposition for him but he's beginning to come around. Scrambles have hurt Osnes on occasion. That is one area of the American style he has struggled with in domestic action. When he brings his chest in and observes a classical fight from the pocket, he is much more effective because he's that much more difficult to move around. This past season, Osnes didn't exactly light it up in the US — but he did snare a silver at the Grand Prix of Spain, his first overseas medal. Give him some time. Osnes is a resilient, hard-nosed athlete who might sneak up on some people.
Bottom line: His presence on the All-Marine Team comes with a premier advantage — that squad travels a whole lot to Europe. It is an odd set of circumstances in that Osnes may very well gain the brunt of his eventual polish crashing into foreigners, not fellow Americans. If his skill-set expands to include an uptick in actionable attempts, and the confidence to execute such attacks regularly, he could have a very high ceiling.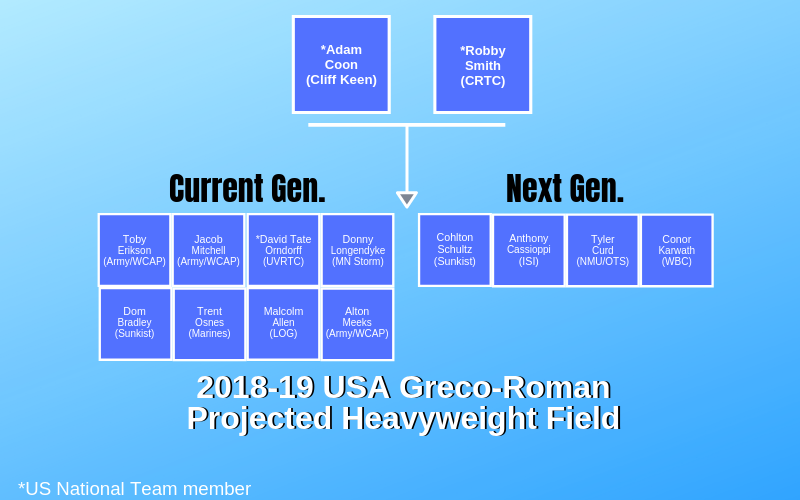 Next Generation
Schultz
The oft-celebrated Schultz is widely seen as the USA Greco-Roman heavyweight heir apparent post-2020. But it could be 2020, according to plenty. You look at the trajectory and this whole thing starts appearing more reasonable.
A Cadet World champ in 2017, that achievement is no less noteworthy than Schultz's Junior bronze this year, but it's a close call.
In order to secure his second World medal in consecutive years, Schultz defeated a viable Senior, Lingshe Meng (CHN), via fall and then easily flattened Russian Oleg Agankhanov (RUS). The semis saw David Ovasapyan (ARM) do everything he could to avoid actually wrestling Schultz, resulting in a 2-1 decision loss for the teen. Schultz later brilliantly shut down Ante Milkovic (CRO) to collect his bronze.
Schultz has been groomed for this life. He was basically an adolescent when he began working out at the OTC. Success in the other style has run congruently with his exploits as an international athlete. A highly accomplished folkstyle wrestler, Schultz is taking his talents to Arizona State in lieu of kicking off his full-time Greco career immediately following high school. But he is not someone Greco fans should be worried about. Schultz has made it clear that his goals include World and Olympic titles, and as such, will be expected to contend for those opportunities throughout his days as a collegian.
However, Schultz's status as the assumed next in line is no longer a shoo-in. For starters, everyone has caught a glimpse of what a still-developing Coon is capable of. You do not suppose — but you can project: should Coon remain dedicated to his progress as a Senior Greco-Roman athlete, it would only seem logical to come armed with the belief that what we saw in 2018 is just the tip of the proverbial iceberg. Coon will only be 26 when the Tokyo Trials arrive. It is not beyond the realm of possibility he thrives until or past 2024, even with recognizing the plethora of options which exist for him outside of the Greco biosphere.
The difference is that Schultz is unusually far head of the game, not just compared to someone like Coon at the same age, but just about everyone else. World events aside, Schultz has trained and competed extensively overseas. What makes him even more of a lockdown prospect is that he possesses the maturity and wrestling IQ to blend what works in the other style and assimilate it into his Greco-Roman offense. This is not as easy to achieve at Senior, but Schultz has demonstrated that he's more than astute enough to make whatever adjustments necessary if/when they betray themselves.
Anthony Cassioppi (Illinois) Cassioppi has pretty much beaten the best the US has to offer in age-group competition, and he and Schultz have had some memorable battles. The pair all but stole the show at the '18 Junior World Team Trials. Cassioppi handed Schultz his first loss on domestic soil in two years in Match 1, and held a one-point lead with :12 left in Match 3 before Schultz racked up four for the come-from-behind victory. A back-to-back Fargo Triple Crown winner (just like Coon), Cassioppi is now a redshirt frosh at the University of Iowa. If he continues on in Greco during the folkstyle offseason(s), this is a wrestler with untold Senior potential.
Tyler Curd (NMU/OTS) In 2016, Curd threw Schultz a couple of times in the Fargo Cadet quarters en-route to what was a very impressive tournament victory. Schultz repaid the favor twice over the next year, sweeping Curd 2-0 in the Cadet Trials finals. The Missouri native re-entered Greco competition in '18 at the Junior Trials down a weight class. It was a solid effort but there weren't enough matches to go around. He then slipped under the radar to join on at NMU, and what do we get? Curd back at heavyweight. How did he do? A silver at Klippan and then a gold at the Malar Cupen, becoming only the second US athlete to win the latter event in the Senior division. It is a small sample size, and even if it wasn't, it's not as if Curd is close to becoming a finished product. But that's exactly why his attending Northern is such a big, exciting deal in the first place.
Conor Karwath (WBC) Karwath possesses the raw physical tools to develop into a monster and thus far has displayed a willingness to engage in every position on the feet — but that is only due to how green he still is. His eagerness to fight opponents on their terms is not a positive. At the same time, coaches would love to bottle that kind of gusto and make everyone in their programs drink it. Because Karwath is new, skill acquisition requires the utmost attention. If he and his coaches can navigate his growth appropriately, improvement should be rapid. This is heavyweight, after all, where brawn and aggression are suitable building blocks. But the next generation of US Greco-Roman heavyweights is coming with refined technique and astute opportunism. Karwath needs to harness what works in the meantime and then get himself overseas ASAP.
Mass Collision Course
It really comes down to what happens over the next 18 months. Where will the likes of Orndorff, Schultz, Curd, Karwath, and Cassioppi be in their development once the spring of 2020 comes along? By then, two, if not three of those five athletes should find themselves consistently challenging at major domestic events and pushing the next guy up. Orndorff we know is already there, and Schultz and Cassioppi are assumed to be due to obvious reasons.
The best case scenario for the United States would be a 2020 Olympic Trials that sees all of the athletes listed above, plus a few more, occupying various placements on the bracket. But — it is not a proposition that would be as fruitful today. Removing Coon and Smith, most of the competitors discussed above are two years away, or more, from becoming suitably equipped to fitfully contend at the highest reaches of the sport. That is not a negative. A viable mixture of youthful talents and hardened-yet-still-developing Seniors is far more important at the moment than rushing promising athletes to the woodshed simply to test out hypotheticals. To paint it bluntly, America needs at least one full season of the two generations trying to kill each other in domestic competition before fever-pitch confidence can be attained entering Tokyo.
The US program doesn't know for sure what they will have in two years, but they should know what might be available before then. Not in two decades has the super heavyweight field offered a similar breadth of genuine prospects about to emerge from the pipeline in advance of colliding with their established Senior counterparts. That there is a now a World medalist standing tall on top of the heap only adds to the intrigue.
This is something America has traditionally done well with, offering the globe heavyweights who pose legitimate threats to the enterprise. It is a proud lineage. From Bob Walker and Jeff Blatnick to Matt Ghaffari, Rulon Garner, and Dremiel Byers, there has long been a standard to uphold.
Is it possible that by the dawn of 2024 there is talk about that standard being raised?
We're not there yet, but we might be closer than you think.
Featured image original photos:
Coon: Jim Thrall/MatFocus
Smith: Richard Immel
Orndorff: Sam Janicki
CLICK HERE TO DONATE TO THE USA GRECO-ROMAN PROGRAM
SUBSCRIBE TO THE FIVE POINT MOVE PODCAST
iTunes | Stitcher | Spreaker | Google Play Music | RSS
Notice
: Trying to get property 'term_id' of non-object in
/home/fivepointwp/webapps/fivepointwp/wp-content/themes/flex-mag/functions.php
on line
999