With the US Senior Nationals now in the books, Minnesota Storm head coach Dan Chandler discusses what transpired and looks ahead to the remainder of the domestic season.
Last week in Las Vegas, the Storm put one athlete in the finals — 2014 University World silver/2017 World Team member Patrick Smith (77 kg), who faced off with youthful star Kamal Bey (77 kg, Sunkist, world no. 5) in one of the most anticipated bouts of the year thus far. Prior to that matchup, Smith earned two tough wins at the expense of Corey Hope (NYAC) and fellow '17 World Teamer Mason Manville (NLWC), respectively. Against Bey, Smith's passion for the fight and energetic pace helped make for great theater, although it was a match that wound up not ending in his favor.
But Smith wasn't the only story coming out of the US Open. Relative newcomer Eric Twohey (97 kg), who made his Senior Greco debut at this very tournament just a year ago, powered to a fourth-place finish in one of the event's most competitive weight classes. In addition, "The Bear" Barrett Stanghill (87 kg) saw his showing at the Open cut short and Coach Chandler explains why — and also, a very talented wrestler is coming over to Greco for the Trials who everyone is excited about.


5PM: In general, how do you think the Open went and how the guys performed?
Coach Dan Chandler: Well, the tournament itself was a great tournament, it was fun to watch, and there were a lot of good matches. We had some good Minnesota connection results. Tyler Eischens made the Junior World Team, he's an Anoka boy. Mike Fuenffinger and Joe Rau won the tournament, and I was really happy to see that. Our club, the Storm, right now we don't have the horsepower we had in the past years. I guess the guys who went mostly wrestled up to my expectations. I was a little disappointed in Eric Twohey's third-place match. He got tech falled, I thought he could have given (Daniel) Miller a much closer match than that. But in his defense, he passed his MD degree and is doing his clinicals now. His attendance at practice suffers because he's so busy with that part of his life.
Calvin Germinaro had a good tournament in the Junior World Team Trials. I was happy about that. He made it to the finals and had a couple of pretty good matches with Tyler. But overall looking at it, we don't have the horses we had in the past. A lot of that is just a financial issue.
5PM: Twohey is kind of doing what John Wechter used to do, correct?
DC: Yeah, well, I think John was already a surgeon when he came here and Eric is just finishing up all of his studies. I think he's got a different clinical assignment every month. One month he'll be at a healthcare clinic, another month he'll be at a hospital, the next month he'll be at a different hospital, so he's moving all over the metro every month and he is really busy. It has affected his training.
But Pat Smith had a great match against Kamal Bey and a pretty decisive win over Mason Manville, who is a former World Team member. I was very happy with Pat's performance in that match. I think anyone who saw it would say it could have gone either way.
5PM: What makes Pat successful as far as his style and what he's doing well right now?
DC: You could talk to a lot of different coaches and everyone has different things they think are important. But you have to develop what a lot of us call "the dance", the way you pummel, off-balance him, and move. Pat is a very strong pummeler. He is in tremendous shape. Kamal is a better athlete, but Kamal wasn't in better shape for that match. I think everyone could see that and the match turned out to be a 15-minute six-minute match. If the referees had the ability to make the type of decision on protest that is timely, Pat would have won the match. Bey was just backing up with his head down and getting double-underhooked in spite of the fact he got three breaks in the match in addition to the :30 rest period.
Pat is the hardest worker in the room. He's always there. He's all-in. He is totally devoted to what he's doing. On our club specifically, he's the most devoted guy. Eric Twohey has tremendous potential, but he's in a lot of other things at the same time, so he can't put the same amount of energy into his wrestling as he does being a doctor. I'm not criticizing him for that. It's understandable, it is the total picture.
But Pat is very good at controlling the pummel and he proved that against Bey. I disagreed with a lot of things the officials did in the match. There were several instances where they could have called a caution-and-two against Bey for going out of bounds with his head down. He scored a couple of correct throws where they went through the zone and Pat landed on top of him — so it could have easily been a takedown instead of a correct throw. One time they called it a correct throw and I protested, and they changed it from a correct throw to a one-point push-out. I'm not sure if Kamal threw on the edge or was just going out of bounds. Pat landed on top of him and they gave Bey a point when they easily could have given Pat a two-point takedown for that particular maneuver.
 5PM: How about Barrett (Stanghill)?
DC: Barrett had some issues with his sugar levels, he's a diabetic. Making weight, cutting weight, that's something that is very hard for him to regulate so he forfeited out of the fifth-place match.
5PM: As far as training plans go, will athletes on the Storm have specific plans tailored to them ahead of the World Team Trials and then the Final X Series?
DC: Right now, we're not looking past the World Team Trials. We gave everybody a couple of days rest and then we'll be hitting it hard. We've got Thursday/Friday, next week, one more day, and then we'll be in North Carolina competing. We don't have a lot of time. It's just recovery and then getting ready for another competition.
I'm not a big fan of the schedule. I understand why they're doing it. I like the fact that Greco is getting more publicity out of it. But they are adding a couple of extra competitions that we haven't had in the past to make the World Team, so it's a financial burden on the clubs having to go two more events than we normally would have had to go to in the past.
Do you know Skylar Petry?
5PM: Yeah, oh yeah.
DC: He was a Junior National Champion in Greco and wrestled for the University of Minnesota for the last four or five years, and wrestled in the Open in freestyle. He's going to come wrestle in Pennsylvania at the Last Chance Qualifier, which is exciting for us because he is a very high-caliber wrestler. We're excited to have him. I'm glad he's jumping in there and giving it a shot.
5PM: What was your opinion on the officiating at the Open? We talked about Pat's match against Kamal. How were the tweaks in the rules affecting matches?
Coach Dan Chandler: Our American officials, they receive these interpretations from Europe and maybe one or two officials will go over there and be at some type of a seminar or clinic, and the officials will make all kinds of modifications. There is a lot of talking and it goes back and forth. And then our officials come back to the United States and actually try to implement those changes, where at the World Championships nothing changes. European officials will listen to all of that but most of them actually have some wrestling experience, as opposed to our officials who don't.
I mean, you've got your head down and you're backing up; if you're not controlling the pummel, you are the guy they should be looking at (for passivity or negative wrestling). If a guy cannot stay in the middle of the mat and is unable to control the pummel, that guy should not be rewarded. He seldom is and I doubt if he will be in the future, if that's what the interpretation is.
We'll be penalized in the US for wrestling the way you're supposed to wrestle and then go to the World Championships where it'll be the same way it has always been. I've seen it happen so many times when someone will go to Europe, come back, and tell everyone, All of these things have changed. Anyone who has ever wrestled before knows that runs in the face of how it has always been, and I doubt it's going to change in that manner, and it seldom does.
Follow the Minnesota Storm on Twitter, Instagram, and their team domain for updates on events and the athletes.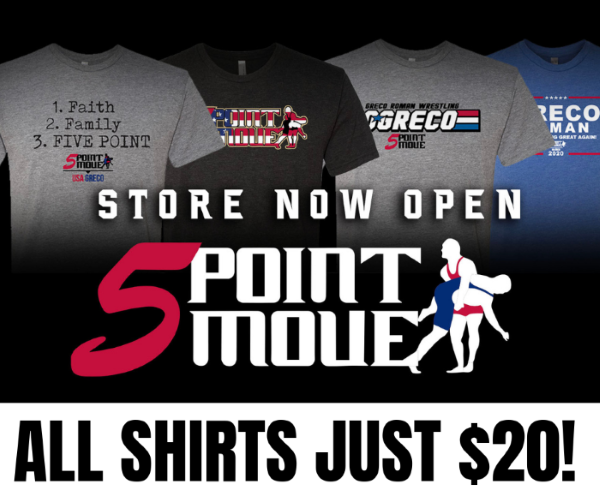 Listen to "5PM22: Sammy Jones guest co-hosts as Five Point Move visits with Lucas Sheridan and Sam Hazewinkel" on Spreaker.
SUBSCRIBE TO THE FIVE POINT MOVE PODCAST
iTunes | Stitcher | Spreaker | Google Play Music | RSS
Notice
: Trying to get property 'term_id' of non-object in
/home/fivepointwp/webapps/fivepointwp/wp-content/themes/flex-mag/functions.php
on line
999