RALEIGH, NORTH CAROLINA — As of press time, coaches from all over the country are crammed inside of a hotel conference room in effort to help decide the seeds for the 2019 US World Team Trials Challenge Tournament, which begins tomorrow morning from the William Neal Reynolds Coliseum on the campus of North Carolina State.
Last year, the digital age entered into the equation; a software program that employs a drilldown of (somewhat) accurate and relevant criteria was tasked with spitting out seed orders, although coaches in the room still had a chance to input their two cents. Unless something has changed, it is presumed that the coveted Trials seeding meeting will involve the same parameters.


The seeding process is only being mentioned because it could jam up the works for what we feel are three potential match-ups that could steal the show. Now, even if the seeding interrupts these proposed bouts en-route to Saturday's finals, there is still a chance they can materialize on the back-sides of their respective brackets.
This is a very serious sport with very serious athletes who are about to participate in a very serious tournament. But there is more to this sport than boxscores and bracket advancement. There is theater, too, and an element of excitement that knows no bounds when two highly talented Greco-Roman athletes clash during an event where the stakes couldn't be much higher.
3 Potential Can't-Miss Trials Matches
*In weight class order
3) 60 kg — Ildar Hafizov (Army/WCAP) vs. Taylor LaMont (Sunkist)
When Hafizov and LaMont met in what was an extremely hotly-contested bout in the '17 Trials, you walked away afterwards wanting to see about 90 more minutes of action. Still just a second-year Junior at the time, LaMont's deftness coming off of exchanges caught Hafizov by surprise, although not enough so to snare the win. Yeah, the rules, the whole no par terre thing, it all played a role. But there was an energy to be detected that brought something different out of Hafizov we really haven't seen too much of. Their paths haven't crossed since, but that could easily change on Friday. Something about that '17 match is just tough to forget about, making catching the rematch in this Trials tournament too good to pass up.

2) 67 kg —  Jamel Johnson (Marines) vs. Austin Morrow (NYAC/OTS)
It is now two years in a row that Johnson has defeated Morrow for third place at the US Open. At the '18 version of the tournament, it was a blitzing tech, and last month, Johnson shut Morrow out again, but with a 5-0 decision. So in other words, their shared history doesn't really lend itself to high drama just yet. The variable is Morrow's insanity. He has worked himself like crazy in the short window he's had to prepare for Friday's festivities. Should the seeding put Johnson at #2, which it should, and Morrow at #3, which it should, we could be looking a surprisingly brawl-happy semifinal that leaves a lasting impression, regardless of who winds up emerging.
1) 77 kg — Patrick Smith (Minnesota Storm) vs. Peyton Walsh (Marines)
You first have to ignore Walsh's Open result (sixth place). He lost to, in order, Kamal Bey (Sunkist, world no. 5), Corey Hope (NYAC), and Jesse Porter (NYAC/OTS). Quite the grouping. Of course, Walsh had defeated Porter just before he was bombed out by Bey, but that's immaterial for now. His competitive approach matters more. Walsh's athleticism and ability to create motion seems like it would mesh nicely with Smith's jackhammer level of pressure in the tie-ups. Would there be flowery scores? Probably not, but what you'd witness is an extremely physical chess match that ramps up in intensity the longer it goes. No matter where or when this bout happens if it does in Raleigh, there is no way it disappoints.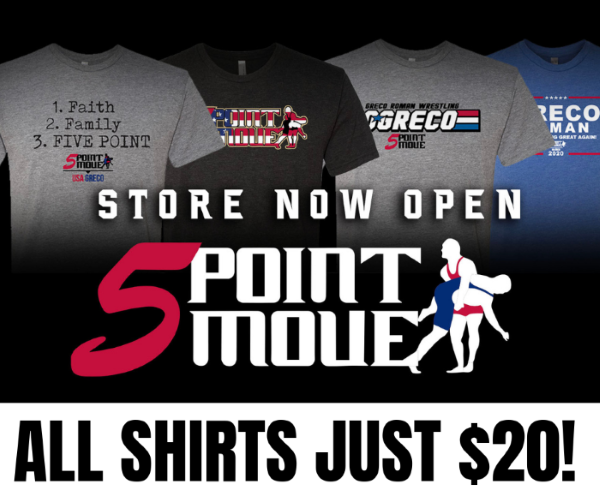 Listen to "5PM23: World Team Trials Challenge Tournament Preview" on Spreaker.
SUBSCRIBE TO THE FIVE POINT MOVE PODCAST
iTunes | Stitcher | Spreaker | Google Play Music | RSS
Notice
: Trying to get property 'term_id' of non-object in
/home/fivepointwp/webapps/fivepointwp/wp-content/themes/flex-mag/functions.php
on line
999