Five Point Move is proud to host USA Greco-Roman National Team head coach Matt Lindland each week for Coach Lindland's Report. Here is where you will find detailed perspectives from Coach Lindland regarding results, training, upcoming events, and other Greco-related news that isn't available anywhere else. ALSO — if you would like to donate directly to the US Greco-Roman program, just click here. Your support is appreciated!
There is plenty to catch up on with Coach Lindland in the latest Report. This past Friday, the 2018 Seniors wrapped up their all-encompassing World Team/National Team camp at the Olympic Training Center, so naturally we get into all of that. Of course, there was also the Junior World Championships last week, where Andrew Berreyesa (82 kg, NYAC/FLWC) went on an inspirational march to the finals and Cohlton Schultz (130 kg, NYAC) decked two top-flight opponents en-route to bronze. It was also where '17 Junior World Champion Kamal Bey (77 kg, Sunkist) got hosed out of the arena by the officials.
Another important bit of recent news pertains to 2018 World Team member G'Angelo Hancock (97 kg, Sunkist), who delivered the most impressive performance of his career thus far at the Wladsylaw Pytlasinski Cup in Poland. Hancock, 21, not only earned gold, but in the process of doing so managed to take out three-time World champ Artur Aleksanyan (ARM, world no. 5) via fall. As such, the discussion moves to Lindland's perspective on Hancock's run as well as the competitive attitude US athletes need to adopt as they prepare for the big show coming up next month.
5PM: Before getting into all of the particulars, how is the health of the World Team members coming out of the two-week camp?
Coach Matt Lindland: I think everybody did a great job of taking care of their bodies during camp, healing up anything that was aching. There were a couple of nagging things when we got back from Germany but guys did a really good job of focusing on their recovery time, and utilizing the medical staff at the USOC (United States Olympic Committee). We're grateful to have them. It's great, because Corey James is no longer with the USOC, he works for USA Wrestling and will be our head trainer at the World Championships. We also have our own trainer, Rob Rodriguez. Joel Berrens was out, as well. He's a medical guy of sorts, he's more of a healer rather than traditional medicine. He does some manipulation stuff.
We did a good job of keeping guys healthy overall. The guys did a good job of taking care of their bodies, so they're healthy.
5PM: We talked last time about adjustments following Germany and how time played a role in how those areas might be addressed later on. Were there a lot of tweaks being made in camp? Or was there more of a priority put on refining acknowledged strengths?
ML: I think the latter, working on your best positions. There were opportunities at times on Saturday, which were purely individual practices, and guys made time after practices to work on specific technical things they wanted to improve on. Jon Jay (Chavez) and I spent time in one particular position off of his pummel. Every day at camp we spent five minutes on that area and he got to focus on it during his live go's and training.
But yeah, I think we are really just trying to refine what we're best at right now. We started out in Vegas talking about our strategy and our plan of attack. In Germany, we actually got to evaluate if we were getting to those attacking positions and scoring from there. Then we had camp in Germany to work more on that and we sent the guys home.
All in all, I think the guys are technically looking very, very sharp right now.
5PM: Do the directives change from year to year when it comes to the World Team's training concerns depending on personnel and other factors? Are there different focuses involved?
ML: Well, yeah, I think you have certain areas of emphasis you want to cover. Maybe at times it's making sure you're staying on angles and really focusing on that. This camp we had everyday work where we used it in our warm-up, cooldown, and one of the drills. We had 75 minutes to practice, literally, and we had the room for 90. So we made time afterwards and we had extra mat space if we stayed past the 90 minutes and guys wanted to work on their own.
The practices were very deliberate. They were on task, they were focused, and there was a purpose to every session. And every session had that purpose tied into it. And within each practice was variety, because we were doing speed drills, hard drills for heart-rate work. Everything had match-speed or a competition component to it.
What we would do first for the everyday practice was push from the neutral position. Get your legs underneath, make first contact, and push. Get to your ties and work on your finishes from your ties. The second thing was angles for attacks. Move your feet and create angles, we're always trying to work off of positive hip angles. They were an emphasis of daily work and we had five of these. The other was from bottom. Deny the lock, destroy the lock, keeping pressure, moving. Just getting that defense down and staying ahead of your opponent.
Of course, one of my favorite positions, top par terre. It was all about creating top pressure and working on combinations. If you gut, you're following with another gut or a lift and then you're either lifting or following with another gut.
Finally was something we saw Hancock do very well in Poland, and that is fall work. Finishing your opponents if you throw them to their backs — and on the contrary, if you get put to your back then recover and get back to your feet, and scramble on top for a reversal. We focused on that for both sides.
Neutral push, angles for attack, bottom, top pressure, and fall work — those were our five everyday things that we wanted to make sure we incorporated into practices.

5PM: What does an individual plan entail for the athletes between now and when you take off for Hungary next week?
ML: Everyone is a little different. I can tell what we've done with some of the guys here (at the OTC). Tracy (G'Angelo Hancock) came in on Monday because he had a little bit of a different schedule. Remember, he came into camp late because he had trained in Norway and Poland. So we adjusted his schedule and he came in and had four matches on Monday. Everyone had Monday and Tuesday off. Wednesday was a game. Thursday, everyone got on the mat and then a lift. Friday, everyone is on the mat and then a lift in the afternoon. The guys have Saturday through Monday and then we travel.
I spoke to Andy (Bisek) and Dalton (Roberts) was raring to go. Andy and I were talking about him. He's such a hard worker, he needs to focus on recovery right now. The rock star of the camp, absolutely. He just followed the plan to a T. He didn't miss a meeting, didn't miss a recovery session. He stayed late every practice. That's a guy I'm looking at and going, Keep him off the mat. But you know, the day camp ended, guess what Dalton Roberts was doing? He ran the incline (laughs). The guy's an animal, so he needs to recover.
5PM: The Junior Worlds for the US was not bad by any stretch. A silver, a bronze, and a fifth. But it also wasn't the hardware haul a lot of people seemed to expect.
ML: Yeah, but they fought. I was super-thrilled to have our Juniors in the top-10 two years in a row and two more medals again this year. Easily, we could have had two more guys in the finals along with Andrew Berreyesa. Had the UWW (United World Wrestling) officials actually enforced the rules that are on paper, cliniced on, and educated everyone about… I mean, not at all am I making excuses for our athletes. No matter what the situation is, it's your job as an athlete to find a way to make that adjustment and win that match. But when you're trying to promote and market a sport as exciting and entertaining — and you adjust the rules to address that issue — you have to follow your own rules.
We're starting to see creative athletes being capable of executing high points. You had (Azkhol) Makhmudov and Kamal (Bey) last year with their incredibly high-scoring final match. Then in the semifinal this year, the Russian (Islam Opiev) was able to shut Kamal down and it was hard to see the rules not applied. Even Cohlton's match in the semifinals, they allowed the Armenian (David Ovasapyan) to keep his head down, block, and push away. And Cohlton had a hard time getting to him because they did not apply the rules.
On the same token, we still came and fought hard, and had great results at the end of the day. I was very excited about the way all of the athletes fought. Up and down the lineup, from Brady (Koontz) all the way up to Cohlton, I thought the guys came out and had a good American fighting spirit. It would be great to see these athletes all as full-time Greco-Roman but I think more and more of our team is veering in that direction and will continue to. We're just starting to see some of these young guys like Alston (Nutter), Kamal, and Tracy, who all came out of high school and went into Greco-Roman. That's what needs to happen for us to be the best in the world. We have the best athletes, the best wrestlers, and such a high number of them. Not all of our best wrestlers need to go to the college system. We need to retain more of our Greco-Roman wrestlers.
But of course, the college system wants to recruit these guys because they are good fighters, good competitors. These are guys competing at the highest level of their age group. It's sad when you see them where they're at and where they can be in a year or two if they stuck with this sport full-time and stayed committed by getting themselves an international education. We have guys getting their college degrees online and getting them paid for. These colleges aren't giving all of these guys 100% tuition, they have ten scholarships. If we can keep some of these best guys, we're going to continue to improve where we're at.
5PM: How is Kamal, who is as wide open as it gets, not supposed to feel completely exasperated after the way those matches were officiated?
Coach Matt Lindland: I'm sure it's hard for him to not be disappointed. But — the great news is that in a couple of weeks he has the Senior World Championships. Wouldn't it be so much sweeter to win his medal at the Seniors this year? Hopefully, he can get to his positions and guys are going to wrestle him. But if they don't and guys block and push away, I'm very confident Kamal — he's an intelligent wrestler — will make those adjustments. He's going to figure out what to do, stay in that fight, and stay patient. And take a one-pointer sometimes, you know? Instead of always getting the big throws.
It's going to hurt the sport. I don't think it is going to hurt Kamal. He's going to figure out how to win regardless of the rule-sets. But I think it's unfortunate for the sport because I think we have some really dynamic athletes in the United States right now throwing a lot of people to their backs and creating a lot of excitement for the fans to watch. It draws a lot of attention, especially with Tokyo two years away. I think UWW is making a really big mistake by not enforcing their own rules. They have a great rule-set right now for Greco-Roman. I love the rules, but you cannot allow this negative wrestling thing to continue. You have to open these guys up and make them compete.
But like I said, if they're not going to, our guys are going to make an adjustment. It's just going to hurt our sport too much and I don't know if our sport is going to be around. The officiating needs to improve and all they need to do is enforce the rules that are already on the books.
5PM: This isn't the program's fault by any stretch, but still, the US age groups would seem to need more than two weeks of team training camp throughout the summer to prepare for the Worlds. Is there a fix to this or is this just the system we are forced to abide by?
ML: Well, it's unfortunate because we do things backwards in the United States. Instead of giving them a good base and showing them correct position, we start by teaching them a whole bunch of moves. We're not getting athletes on the mat knowing how to move their bodies or knowing how to move another opponent's body. We just start showing them a bunch of moves.
We are taking the art out of the sport for the athletes instead of just letting them be creative and giving them a lot of free play at those younger ages. Free play at the young ages is what a lot of the Europeans are doing but it's in the Greco-Roman style. We don't have that luxury. I think, as I mentioned, the right answer would be to retain our best Greco-Roman athletes and create as many opportunities as we can for them to continue training Greco-Roman. We have some really good opportunities for the athletes who want to take advantage of what's available.
I do think we're making a lot of positive changes. There can be two separate paths to Greco-Roman. One is that slow path where you're taking a couple months out of the year to do Greco and the rest of the time you're doing the folkstyle thing. We see a guy like Jon Jay, who is on our Senior World Team, come out of that path. So we're capable of doing it. But I think the most efficient, effective way is to fully immerse yourself in a Greco-Roman program like Kamal and Tracy. And not coincidentally, both have Junior medals and are on our Senior World Team at 19, 20-years-old, as well.
The earlier we get going down this path, the earlier our guys will experience success, rather than waiting for their college careers to end. It's just a much more efficient system to create those opportunities for them. They will get their educations. We have athletes taking their college courses online, as I said. Same for our high school athletes who are full-time, they can do their coursework online while they are traveling the world and getting a real education and real-life experiences. There are a lot of opportunities for our guys, they just have to get out of this folkstyle mindset. But as we head into the fall, everyone kind of has folkstyle on the brain.
5PM: What does a big win over a four-time World-level champ (Artur Aleksanyan) along with a dominant tournament victory in Poland not only do for Hancock, but for others in the US program with the Worlds right around the corner?
ML: It was a really great win for Tracy. Not only on the mat has he taken big steps, but also in his own personal life. He helped coordinate and plan that trip, and he had a lot of input in his training plan leading up to the Worlds. And he did the work to get himself in that position. He left the German camp and went to Norway for two weeks before going to Poland.
It's really hard to beat the best guys in the world — but to do it in exciting fashion by throwing a three-time World and Olympic champ on his back with that only being the semifinals is extremely impressive. You're coming off of that big, emotional rollercoaster preparing to compete at the highest level. Getting that big victory and having to come back the next day while controlling your nerves, controlling your emotions, really shows me that Tracy has made a lot of big steps maturity-wise and also in his approach to the sport.
It also fits into what was one of our big themes during camp, which was that the Greco-Roman program needs to attack. It's an acronym — ATTACK.
A — accept responsibility for where we are in closing that gap. Tracy did a phenomenal job the last eight to ten months of just figuring out where he is and accepting responsibility for doing what it takes to close that gap on the rest of the world. He just beat some of the best guys in the world, so he understands that first one.
T — trust in the process, your teammates, your coaches. It's a lot easier when you have the opportunity to have input into the process. That was one of the five areas we talked about in Oregon, communication. Tracy had a lot of input into his training plan along with all of his coaches. So it's easy for him to trust that process, his teammates, and his coaches when it comes to a plan that he helped put together.
T — take action into a positive direction. That's where want to be as a program, where you want to be as an athlete.
A — stay aware, stay alert. Take extreme ownership. Again, back to an area we talked about in Oregon. We wanted to tie the theme from this camp into the five areas discussed in Oregon. Accountability. Taking extreme ownership is accountability. And once you can hold yourself accountable, you can hold others around you accountable, as well. The guys have been doing a great job of taking extreme ownership and being accountable.
C — competitiveness through competency, through proper training.
K — killer mindset.
Just an unbelievable job on Tracy's part to do that. He is aware that Artur is going to be a different opponent come the World Championships, so he has to continue to raise his level just like the rest of the world is going to.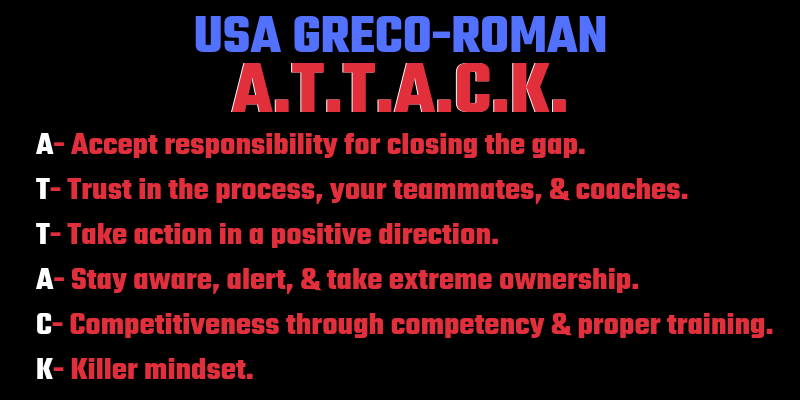 5PM: My observation: there is a difference in attitude between the older generation(s) and the current one. The retired athletes, counting yourself among this group of course, who won medals and experienced success competed with ferocious confidence. Crazy aggression, self-belief, no matter the cost. They didn't care who someone was, what they accomplished previously, or what the country code on their opponents' backs were. I get that success has lacked in recent years and that inconsistency can begin to weigh, but what is it going to take for that attitude to find its way back into the program, that is if it's not already?
Coach Matt Lindland: I was extremely honored and blessed to be on some teams with a couple of the most ferocious competitors I've ever met, guys like Dennis Hall and Brandon Paulson. I guess that viciousness just comes in tiny packages because these guys were two of the toughest… I mean, these guys were giants in my mind. They're just tiny little men, but on the mat they were killers. No matter who was on the mat with them, they were going to attack and go after their opponents.
It's kind of the American spirit, this fighting spirit the Americans have. Look, we know we haven't been competing in Greco-Roman from the first time we stepped on the mat. We've had to take a longer route and a lot harder path to get to Greco-Roman and find our true passion. So I think it creates that sense of, We've got to be better at something. And that something is the will to fight, the will to attack, and fight for every inch, for every position.
I am seeing that in our guys. Look at the interview Tracy did about his journey to Poland to take on the giant. He talks about that kind of mindset.
I always had in mind that when I stepped on the mat — and this was before I really started winning big internationally — it was, No matter who I'm facing I am going to make that guy not want to wrestle me again. Because, I wanted to make it the hardest thing he ever did, the hardest fight. I am going to make this guy remember that he doesn't want to fight me again.
During camp, we showed the video of Mike Houck winning the 1985 World Championships when he wrestled (Igor) Kanygin in the finals. Everyone was at that World Championships;  a three-time Soviet champion, I think he (Houck) beat (Frank) Andersson, too, who was another three-time World champ from Sweden. Mike Houck was the first American to win a Greco-Roman World title and Tracy wasn't sure who he was, so I definitely wanted to show our guys that match. I've shared other matches of Randy Couture, Houck, Mike Foy, just some really great fights we've seen over the years. Every year we share the epic Dennis Hall/Brandon Paulson match from the Trials. I always share that one on social media before the World Team Trials. That's a match everyone should watch at least once a year.
We've always had some really, really tough fighters and our guys are starting to develop this killer mindset. Okay, look at Kamal. He's all art, but he's also violent. He's going to find a way to win. He is going to dig down deep and suck it up. A guy like Dalton Roberts, he is going to leave everything he's got on the mat. It's fun to watch these guys start to develop that.
Some of these guys got to meet Dennis for the first time at camp, and even if they met him before, they were never around him on trips. But they are starting to figure out the advantage Americans have.
When we go to international training camps, I'm always looking forward to getting our athletes with the foreign training partners from different nations because they get the feel. The feel. It's something we always talk about, the feel, right? You can't just teach this, you've got to feel it. We spend time training with the Europeans because it's a different feel than fighting an American, plus we want to learn their techniques.
But the cool thing I hear from other international coaches is that they want their athletes to experience the American fight. They want their athletes to understand how we fight. And we're getting better at that. I'm seeing it from our athletes. This is the right time, leading to the World Championships, for these guys to keep that killer mindset and take it onto the mat with them every match. They want to go out there with the same mentality that says, Win or lose, this guy is not going to want to fight me ever again. I'm going to leave some scars on this guy while scoring more points than he does. 
At the end of the day, we're going to go out there to battle, compete hard, and live up to that legacy of the World Champions before us. Every US guy from our sport was an incredible fighter. Look at Rulon Gardner. My God, that guy worked out like Dalton Roberts (laughs). He was the Dalton Roberts of our team. Even guys who didn't make it onto the podium, guys like (Jim) Gruenwald, (Kevin) Bracken, and just so many guys I haven't mentioned from that era. I wish our guys got to see them in their primes when they were competing, because, the level of talent we have now? Tracy Hancock, the level of talent he has exceeds Houck's by far. Just up and down our lineup, these athletes today have abilities and luxuries the older generations didn't have. They have more resources. They can watch events, they can watch the Hungarian Grand Prix, recent tournaments. Things are streaming. We watched Pytlasinski live as it happened.
It's not just our guys. The rest of the world has these things, too, they have the same technology. But the fight, that's something we have, and hopefully our athletes understand that as we prepare to leave for Budapest.
Follow Coach Matt Lindland on Facebook, Twitter, and his official blog for updates on the US Greco-Roman Wrestling program.
Listen to "5PM20: Spenser Mango's Germany report while Jesse Thielke & Dennis Hall battle on Wisconsin trivia" on Spreaker.
SUBSCRIBE TO THE FIVE POINT MOVE PODCAST
iTunes | Stitcher | Spreaker | Google Play Music | RSS
Notice
: Trying to get property 'term_id' of non-object in
/home/fivepointwp/webapps/fivepointwp/wp-content/themes/flex-mag/functions.php
on line
999