Although he was featured in a Q&A after officially taking over as Williams Baptist's head coach in the wake of Jonathan Drendel's departure, this is the first official edition of The Williams Word with Todd Allen.
Allen assumed the reins of Williams Baptist University's Greco-Roman program following the conclusion of the 2018-19 US domestic season. He pulls double-duty, of course — Allen also helms Williams' NAIA scholastic wrestling team. But it has only been a couple of months since class has restarted, and since there haven't been any competitions of which to take note, there also hasn't been much to report.


That changes imminently. On Friday, the season definitively begins for both WBU and the Senior Greco populous at large with the Bill Farrell Memorial in New York. Allen is bringing a pair of athletes to the event and he discusses some of the factors behind that decision. Moving forward into the discussion, Allen touches on athlete leadership, what he himself has learned thus far, and what the training plan might look like as the season progresses.
5PM: What has the curriculum looked like in practice since everyone has been back at school?
Coach Todd Allen: We hit hot and heavy once we stepped foot on campus. We're maintaining some strength and getting stronger in the weight room. We are trying to think a little outside the box in terms of weightlifting. We are only going to have two here at Bill Farrell. One kid had an issue with his passport, and another who is coming out of a shoulder surgery and we are waiting until the second semester to let him go.
One of the two kids who is going is young and from Tennessee (Will Taylor). He has a little bit of Greco in his past, knew he wanted to do Greco coming out of high school — but with him being young, he is not hardened. We have really been focusing on trying to get him toughened up. He is just a big teddy bear wrestling 130 kilos, and he's going to be stepping into there with some men. So we have been trying to prepare him for that.
The other, we kind of have the bookends, is 60 kilos. That is Corbin Nirschl, who was a Fargo finalist a while back when he was coming out of high school. He went up and trained with (Matt) Lindland for a couple of months and had a stint at a junior college wrestling folkstyle. He realized that his passion is for Greco, so he is wrestling Greco only. But for him, positionally he is pretty solid. It's about getting him to score some points and be patient with point-scoring has really been our focus.
With the other guys who are in our room, two in particular are primarily folkstyle guys we are trying to quickly bring up to speed technically, since they have some background in Greco. Honestly, it has been kind of a mixed bag. When we are showing them — Corbin and Will Taylor — technique that they should know, we are really trying to finetune them and develop some creativity and scoring opportunities. Not just show technical moves, but also, Okay, how do we create action that will allow us to score points there?
It has really been a mixed bag, and like I said, a lot of the toughness factor. We are really trying to toughen them up and get them to understand that this isn't tee ball anymore. They are stepping into the big leagues and are going to wrestle some grown men.
5PM: For your crossovers who have been here before you took the job, how have they been assimilating with the environment and change of curriculum, if there is one? How have they been doing?
TA: Honestly, it has been a pretty good transition. I recruited a little help. Jonathan's (Drendel) younger brother Nick still wrestles folkstyle for me. He is an older guy. He's 26 and almost has the same knowledge base as Jonathan, so I have really been leaning on him a ton for a lot of the really, really technical aspects. Honestly, I have really been learning a lot from him, too, and that is a humbling thing to say for someone who has been a coach for ten years. Obviously, we're all learning, but I am drinking from a fire hose right now next to some of these guys (laughs). But at the end of the day, what I said when I first got this job is that I am going to be a student of the sport, too. I'm learning and trying to apply it myself with my wrestling, and then transition it.
It's a little easier in that I've been in the sport for 25 years, my mind and body think more wrestling, so it is easier to transition. As soon as I get it myself, I am translating it to these guys. But the guys who were with Jonathan, they have come on. Most of them — Josh Wright, Isaiah Sellers, Devon Amburgy, Chandler Patton — those four guys in particular, they were part of Jonathan's crew. The guys who wrestle folkstyle are more focused on that right now, but obviously we need training partners. We're prepping for Bill Farrell right now so we'll ask them to step in. Hey, can you wrestle a match with this guy, give him a different look, or let them drill this on you? Or even just picking their brains. Will is having trouble with this. Devon, how do you handle it? The guys from Jonathan's era, I guess you could say, have been extremely understanding from the aspect of say, Hey, Coach is trying to figure this thing out, too, from a Greco standpoint.
We're all in this together. At the end of the day, partners are your best trainers. Your partners train you as well as a coach does. I'm there obviously for some tidbits and pointers, and trying to shape things up. But man, it's just as well to have Devon step in there, or Chandler, who has been another resource I have used a lot. He is a very technical, knowledgeable guy. They have been excited. They want to see the program thrive, too. I'll tell you, Josh Wright is going to be a fireplug from the folkstyle side but he is ready to go. He was a U23 (Trials) placer and a Senior-level placer at the Open. As excited as he is to wrestle on the folkstyle side of things, his heart is really into Greco. I want to feed that fire and allow him to do that.
5PM: Are any of the aforementioned names going to the Olympic Trials Qualifier in Fort Worth, Texas?
TA: Yes, I believe Josh Wright and Isaiah Sellers both want to wrestle in Fort Worth. Corbin is also Senior-level, so he will, as well.
5PM: Maybe not. You never know, maybe Corbin wins the tournament on Friday. 
TA: Right? Right? You know? That's the thing, we're banking on him going, but who knows? I'm excited to see him wrestle and compete, so we'll see.
5PM: Even though the Greco group is smaller — and you just mentioned how you'll lean on the guys who have some experience — is it important in that kind of situation for an athlete or two to step up and take on some kind of leadership role?
TA: Yeah, I think in any organization it is. Whether big or small, you have to have some leadership from an older standpoint. It is a little weird, I guess, because Nick is still on the folkstyle scene but is helping a lot technically with Greco. He is not competing but I almost have him convinced to try after the next semester is over, but we'll see. Chandler, Devon, and Nick have all stepped up as leaders.
At the end of the day, we are a wrestling community — folkstyle and Greco. I have seen a lot of continuity between the two programs, which has been good to see. The Greco guys feel like they are a part of the folkstyle team, and the folkstyle guys are just as much invested in them. There was actually a lot of conversation about that in the beginning of the year, like, Look, we want to see these Greco guys be successful just as much as I want to see you win a folkstyle title. You've got to be bought into them and be willing to invest in these Greco guys in the same sense. Even though, we have Chandler, Amburgy, and Nick Drendel pouring into the leadership side with Greco, there are also some of those Greco guys leaning on the older folkstyle guys just as much. Because at the end of the day, they are trying to go to class and have girlfriends and that sort of thing outside of wrestling, too (laughs). Figuring out life is part of that, and they lean on the older folkstyle guys along with the older Greco guys.
5PM: When this next tournament wraps, there is going to be a little more than a month before the Trials qualifier. After that, depending on what happens, there will domestic Trials for the age groups to look forward to. Do you have a training plan that occurs in training blocks? Or does the plan encompass the nuts and bolts of the entire season?
Coach Todd Allen: That is kind of a tough question. From a training aspect, I try to keep it as simple as possible. Obviously, in between competitions, I want to slow things down. We're not banging and wrestling live everyday. We are trying to do more technical stuff with those long breaks. So, it kind of looks like a training block. For instance, right now we are hard and fast; this next one is looking at some more technique; and the next one we're looking at more conditioning. That is what I have kind of done until this point.
Early on, we were doing technique and then we would have a second practice that is more conditioning because we are trying to prepare our bodies. That's what it looks like it is going to be moving forward, too. Heading into the Trials qualifier we are going to slow things down. After this tournament, we are going to take it easy as far as the push, push, heavy, heavy, beating each other up kind of stuff. We're going to slow it down, do a lot of detail-oriented, nitpicky stuff on the technique side and really try to finetune the technique. Then we'll slowly ramp it up leading to the qualifier. And it looks like we'll do something similar to that for the rest of the spring.
Follow the Williams Baptist Greco-Roman team on Twitter and Instagram.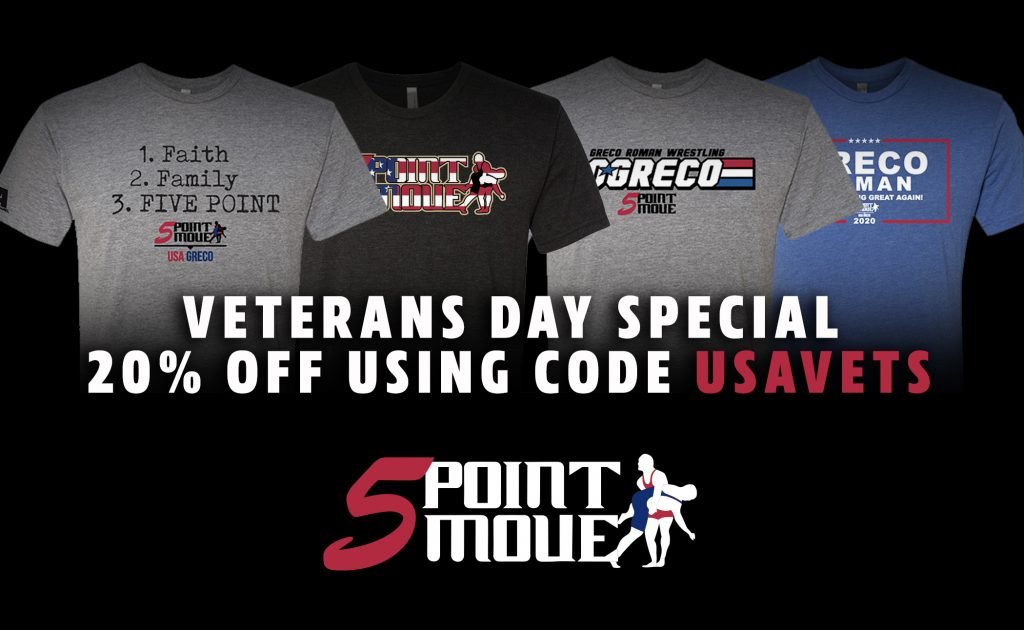 Listen to "5PM29: Junior world medalists Alston Nutter and Peyton Omania" on Spreaker.
SUBSCRIBE TO THE FIVE POINT MOVE PODCAST
iTunes | Stitcher | Spreaker | Google Play Music | RSS
Notice
: Trying to get property 'term_id' of non-object in
/home/fivepointwp/webapps/fivepointwp/wp-content/themes/flex-mag/functions.php
on line
999