The draws for Day 1 of the 2019 World Championships were released (way) earlier today, giving everyone a sense of what it is the first four US World Team members are up against.
For a full preview of these four weight classes, just hop over to here.
55 kg: Max Nowry (Army/WCAP) vs. Fabian Schmitt (GER) — round-of-16
It is always something else when a US athlete meets up with a familiar, or in this case, memorable opponent in the first round of a World Championships — and that's what we have here with Nowry versus Schmitt.
Their history is not pronounced, but it is semi-noteworthy. Last year at the Grand Prix of Germany, Nowry and Schmitt went 1-1 against each other in a pooled bracket that also featured 2018 World Team member, the great Sam Hazewinkel. On the first day of the tournament, Nowry bested the German 5-1 on a passive, two guts, and a takedown. Of course, there was more to the story. Schmitt was not terribly active, but he certainly was pretty physical. Late in the second period, both wrestlers received warnings from the ref for the hands, clubbing, swatting, etc. After the next-to-last restart and tired of Schmitt's shenanigans, Nowry put his hands down to his waist and began taunting Schmitt. Schmitt didn't like it and eventually rushed in, and Nowry turned it into a takedown that sealed the decision.


The next day they ran it back in the bronze round. They were better behaved this time around, maybe a bit too much on Nowry's part. The WCAP wrestler was put down for passive and gave up a string of guts to fall behind 6-0. In the second, Nowry got a point back and two more with a front headlock, though it didn't change the result as Schmitt still walked away the winner 6-3.
Schmitt has proven to be a beatable opponent, and if Nowry can score from the feet, the outcome should reside in his favor. If it does, his next opponent will be the winner of Khorlan Zhakansha (KAZ) and #4 seed Abdelkerim Fergat (ALG). Zhakansha is the clear favorite in this contest as he is one of the most athletic technicians in this weight class. And, if Nowry can advance past Zhakansha/Fergat, a showdown with returning champ Eldaniz Azizli (AZE) would await in the semifinal.
63 kg: Ryan Mango (Army/WCAP) vs. Julinho Correira dju (POR) — round-of-32
Mango has never faced Correir dju before, so a sample size is unavailable. This is much more about who Mango could face afterwards — '18 World bronze Rahman Bilici (TUR), who was also both a Junior World champ and runner-up over a decade ago. He is a very tough, traditional competitor but one who is more inclined to wait for par terre, since that is his strong suit. Mango is light years more athletic, and is very familiar with Bilici's mechanics (thanks to his brother and coach, Spenser, among others), so a victory there for the US should not come as a big surprise.
If Mango triumphs in his first two bouts, the sledding gets a little rougher. #2 seed Erbatu Tuo (CHN) and 2011 World silver/two-time World bronze Almat Kebispaev (KAZ) will likely square off in the round-of-16. A matchup between Mango and Tuo would be a dream due to their styles, but Kebispaev still has plenty in the tank — though he is coming down in weight for this event. Whether or not that will be a factor is up in the air.
72 kg: Ray Bunker (Marines) vs. Yogesh Yogesh (IND) — round-of-16
Yogesh profiles as a game competitor with sound fundamentals, but it is hard to picture him being able to handle Bunker's nonstop pressure for an entire six minutes. He is not alone in that regard, as very few opponents would want to withstand prolonged exposure to Bunker's tireless attack.
But if Bunker does prevail, the quarterfinal will pit him against '18 World bronze and #1 seed Aik Mnatsakanian (BUL), a terrifically talented athlete who has observed a high rate of activity this season and is sure to be a tough out. Bunker can deal with Mnatsakanian, but he has to do so on his terms. The longer this match stays on the feet, the better for Bunker, who could have a real shot at pulling off what many would consider a very, very big upset.
82 kg: John Stefanowicz (Marines) vs. Lasha Gobadze (GEO) — round-of-16
Stefanowicz is in the upper-half of the bracket and has himself a worthy opponent in the form of 2015 World bronze Gobadze, whose season has included a silver at the Euros and bronze from Pytlasinski. There is no getting around it — Gobadze is an elite-caliber stud, and has shown to be devastating from par terre. But taking out these types of opponents is kind of Stefanowicz's thing. Bringing the pressure, capitalizing standing up, and defending when it counts are the keys to victory here.
The quarterfinal will likely usher in a rematch with returning silver/'13 bronze Emrah Kus (TUR), who defeated Stefanowicz via tech in Zagreb. That match, which came on the heels of the Marine's criteria win over Rajbek Bisultanov (DEN), was limited to scoring actions. Kus went to his go-to reverse lift after getting the first passive, and made good on a pair of four-pointers. It's not a bout that has probably been eating at Stefanowicz ever since, but undoubtedly one that he'd love to take back in an event such as this.
Saturday, September 14 
11:00am-4:00pm — Qualification rounds
6:00pm-7:30pm — Semifinals
Sunday, September 15 
11:00am-4:00pm — Repechage
8:00pm-10:00pm — Finals/bronze medal round
The 2019 World Championships begin at 11:00am from Nur-Sultan, Kazakhstan and can be viewed live in the US on Trackwrestling (subscription required).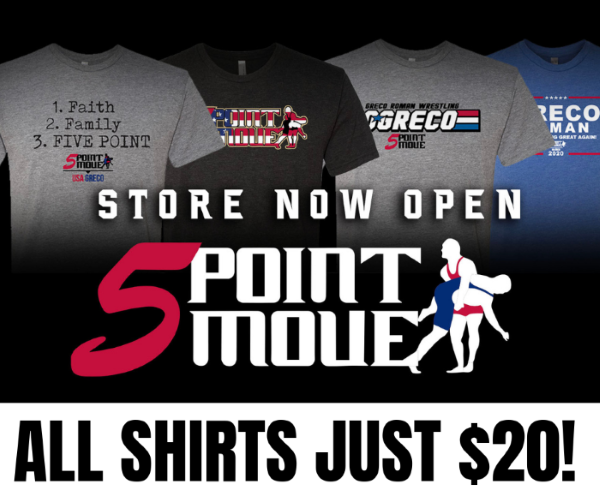 Listen to "5PM28: G'Angelo Hancock, Joe Rau and Max Nowry" on Spreaker.
SUBSCRIBE TO THE FIVE POINT MOVE PODCAST
iTunes | Stitcher | Spreaker | Google Play Music | RSS
Notice
: Trying to get property 'term_id' of non-object in
/home/fivepointwp/webapps/fivepointwp/wp-content/themes/flex-mag/functions.php
on line
999