Three of the United States' four Greco-Roman athletes who competed on Day 1 of the 2019 World Championships are still alive for a medal as of press time.
Max Nowry (55 kg, Army/WCAP) and Ray Bunker (72 kg, Marines) both won their opening-round bouts in impressive fashion only to fall in their proceeding matches. John Stefanowicz (82 kg, Marines), who squared off against a favorite in his weight class, wasn't as fortunate; but just like the aforementioned duo, may have an opportunity to try again. Meanwhile, two-time US National champ Ryan Mango (63 kg, Army/WCAP) got off to a hot start to earn his first-ever win at a World event, but was defeated in frustrating fashion the next round.
Wrestling at the 2019 Worlds began at 11:00am (1:00am ET) from Nur-Sultan, Kazakhstan and aired live in the US on Trackwrestling.


Nowry
Familiarity breeds contempt, and that was evident in Nowry's round-of-16 bout versus 2019 European Championships bronze Fabian Schmitt (GER). It was last summer at the German Grand Prix when these two first did battle against one another. Nowry had won what was a very contentious first match 5-1, with a pair of guts the difference. Towards the end of that bout, both wrestlers got chippy and the official had to intervene. Schmitt prevailed the next day for bronze, with he, too, benefitting from par terre points.
But there were differences to be gleaned from both athletes this time around, especially Nowry, who is much healthier in '19 thanks to (double) hip surgery. And it showed.
The opening period did unfold similarly to their previous two matches. Nowry hand-fought for position, and would dip in and out scanning for a handle or a two-on-one. Schmitt for the most part was keen to bully. Nowry's movement was crisper, but that doesn't determine passive chances, with the German getting the first crack. Nowry had no problem defending the proceeding lift attempt and walked into the intermission down 1-0.
It all happened in a whirlwind. The second period commenced with Nowry observing a slightly higher pace. He was cutting more angles and Schmitt was compelled to try and keep up. The tempo now set, Nowry snapped and dragged Schmitt for a takedown. He then quickly collected Schmitt's arm for a trap-arm gut — and four rotations later it was over. Just like that. Nowry had himself a very solid 10-1 tech in his first-ever World Championships match and it was onto the quarters.
Nowry and Khorlan Zhakansha (KAZ) matched up very well on paper. Both are superb technicians and can innovate scores from unconventional positions. While some of that was available in this bout, the scoring was tighter than originally anticipated.
Zhakansha, the owner of a devastating headlock, took a stab at one soon into the first period, forcing Nowry to urgently fling away. They were feeling each other out, getting a sense of the range and movement. Zhakansha wanted an arm spin, and Nowry countered for two. The exchanges through most of the first period were even after that, with Nowry perhaps beginning to grow more confident regarding his ability to set Zhakansha up later on.
Passivity was coming in the second unless something dramatic happened. It wasn't called in the first, and the second frame didn't begin with a series of attacks to suggest otherwise. As such, someone had to be pegged, and that was Nowry. Zhakansha netted a turn, but then, confusion. Nowry was pointing to his right arm. He stopped and showed the ref, apparently indicating he had been bit. The US asked for a challenge, to which Nowry wanted a closer look before calling it off. When wrestling resumed, Nowry started going to his front headlock. He pulled down tight and hard until the referee interrupted; and immediately went back to the hold after the reset twice more. Nothing was doing, and the hometown athlete Zhakansha emerged with the 3-2 decision.
Zhakansha is in the semifinal opposite returning World Champion Eldaniz Azizli (AZE). If he is successful, then Nowry will get pulled back in for tomorrow's repechage round.
UPDATE: Zhakansha wound up getting past returning World Champion Eldaniz Azizli (AZE), the bracket's top seed, in the semifinals. As such, Nowry now gets pulled back into the repechage round where he will face #4 seed Abdelkerim Fergat of Algeria tomorrow morning.
Mango
Ryan Mango (63 kg, Army/WCAP) making his World debut was reason enough for US fans to tune in. Long an outstanding and explosive competitor, Mango was, rightfully, seen as a strong potential medal candidate coming in and he began his quest for the podium in the most efficient manner possible.
All it took was the first passivity/par terre against Julinho Be Correia dju (POR) for Mango's presence to be felt. As soon as he achieved his clasp, Mango turned Correir dju once; and then re-locked to simply roll him right out for a snappy 11-0 tech.
The round-of-16 offered an opponent operating on a very different level than Correir dju — '18 World bronze Rahman Bilici (TUR). But not even Bilici is immune to the special talents Mango possesses, as he found out in par terre. Bilici clamped around for a reverse lock, and Mango submarined and stepped up to wrap the body. From there, he deposited Bilici to the tarp for four. However– Bilici made it a mess. He reversed position, yielded exposure points, and then two more — to actually exit the sequence ahead 5-4.
In the second, Mango prodded in the ties, as if attempting to goad Bilici into a position he wanted. But the action, the pace, it was unsteady. Unpredictable. Bilici seemed reticent to engage, though Mango did some of the work for him by latching double overhooks. After going back to double under's a second time, Bilici committed more to his own double overhooks, and hipped Mango down for two. That was the pivotal moment of the match. Mango diligently resumed scanning for openings with time a factor. After all, just one move or motion with his power potential could flip the script against anyone. But it didn't happen here, and Bilici got the nod 7-4.
Bilici was defeated by multi-time medalist Almat Kebispaev (KAZ) in the quarterfinal, thus dashing Mango's hopes for a second chance in the repechage.
Bunker
It was a familiar display of heart for Raymond Bunker (72 kg, Marines) in his first bout of the World Championships. Facing off with India's Yogesh Yogesh, Bunker did what he always does — try to bring the fight directly to the opposition. Yogesh was game, but wound up knocked for passive in the first period. Bunker immediately opted for his reverse lock and cranked it over for two. Back on the feet, and there was Bunker again, coming hard at Yogesh and yielding a step-out to jump ahead 4-0.
Yogesh would be heard from, however. Passivity was lofted in his direction and he took advantage by turning Bunker with a pair of gutwrenches — though the Marine did manage to grab a point back in the process. After a reset, and with the outcome firmly in doubt due to Yogesh holding criteria, Bunker dug deep to force a step-out before advancing 6-5.
The win put Bunker in the quarters opposite returning bronze and #1 seed Aik Mnatsakanian (BUL). This was just the kind of matchup Bunker wanted: a top guy who felt might not be able to withstand the heat.
And for the most part, Bunker was right.
The Marine pressed the issue in the ties, and Mnatsakanian did not demonstrate the same zeal. Passivity rang in on the Bulgarian, and Bunker tried to add onto his lead with a lock — but before he could do so, Mnatsakanian was up and out. Undaunted, Bunker went back to work. He stayed zeroed in on the goal. A quick exchange towards the edge saw the pair entangled at the hip, and Bunker finished the sequence by overhooking his way to a step-out for a 2-0 lead.
In the second period, it was more of the same from Bunker, who was driving in. Mnatsakanian was showing a bit more gusto, so it was just a matter of time before he'd get his passive chance. When it arrived, he didn't let it go to waste. He promptly gutted Bunker, and on the backside of the sequence, stepped up for a lift. Bunker adjusted on the fly, but Mnatsakanian still received two for completing the hold off the line.
Down 6-2, Bunker had no choice but to desperately fight for a score. He plowed in and forward, but the holes all closed up fast. Mnatsakanian thus moved into the semis, relegating Bunker to the repechage waiting game.
Mnatsakanian will now meet Aram Vardanyan (UZB) in the semifinal. A victory for the Bulgarian would put Bunker in position to come back for third.
STEF
There isn't a lot of room to breathe in the 82-kilogram bracket, so a tough draw for John Stefanowicz (Marines) was virtually guaranteed. Sure enough, his opponent this morning came in with some cred — 2015 World bronze Lasha Gobadze (GEO).
Stefanowicz, one of the country's best pressure fighters and who had to go through hell and back to make this Team, wanted to get off to a good start, make an impression. He attempted to divy around in the tie-ups but the action was even early on. Eventually, Gobadze received the passive, and later capitalized on a correct hold for two.
The Marine entered the second period down 3-0, and things didn't improve from there. He was working hard, looking to wedge inside and move Gobadze off his spot enough to create openings. But, still, it wasn't what the officials wanted to see, apparently, and Stefanowicz was banged for passive for a second time. Gobadze gained a reverse lock; Stefanowicz finger-walked a little too much; and he was penalized for a fleeing caution, giving Gobadze two more points — and then another on a denied challenge. It wasn't the way this one was supposed to go, and Gobadze moved on with a 7-0 decision win.
Gobadze is in the semifinal round where he will battle Nurbek Khashimbekov (UZB).
UPDATE: Gobadze advanced to the finals, which means that Stefanowicz enters tomorrow morning's repechage round. His opponent will be Haito Quian (CHN).
Wrestling on Day 2 begins at 11:00am local time (1:00am ET) and can be viewed live in the US on Trackwrestling (subscription required).
2019 World Championships
September 14-17 — Nur-Sultan, Kazakhstan
TEAM USA DAY 1 RESULTS
55 kg — Max Nowry (Army/WCAP)
WON Fabian Schmitt (GER) 10-1, TF
LOSS Khorlan Zhakansha (KAZ) 3-2
63 kg — Ryan Mango (Army/WCAP)
WON Julinho Be Correia dju (POR) 11-0, TF
LOSS Rahman Bilici (TUR) 7-4
72 kg — Ray Bunker (Marines)
WON Yogesh Yogesh (IND) 6-5
LOSS Aik Mnatsakanian (BUL) 6-2
82 kg — John Stefanowicz (Marines)
LOSS Lasha Gobadze (GEO) 7-0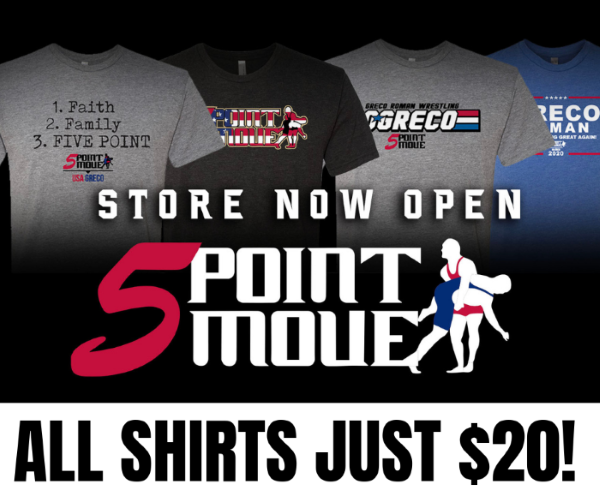 Listen to "5PM28: G'Angelo Hancock, Joe Rau and Max Nowry" on Spreaker.
SUBSCRIBE TO THE FIVE POINT MOVE PODCAST
iTunes | Stitcher | Spreaker | Google Play Music | RSS
Notice
: Trying to get property 'term_id' of non-object in
/home/fivepointwp/webapps/fivepointwp/wp-content/themes/flex-mag/functions.php
on line
999