As expected, the brackets for the first three Olympic weight classes to be contested at the 2019 World Championships couldn't be more stacked.
Good. 
Ellis Coleman (67 kg, Army/WCAP), Joe Rau (87 kg, TMWC/Chicago RTC), and third-seed G'Angelo Hancock (97 kg, Sunkist) have received their opening round draws for tomorrow's slate of action. All three athletes will begin in the round-of-32, which means that in order to win the tournament, five matches will be required.
To view the full-length preview for these weight classes, please check this out.


2019 Day 2 Team USA Draws
67 kg: Ellis Coleman (Army/WCAP) vs. Meirzan Shermakhanbet (KAZ) — round-of-32
Coleman, who gave returning champ Artem Surkov (RUS) all he could handle a year ago, will be facing off with one of 2018's bronze medalists, #4 seed Meirzan Shermakhanbet of host country Kazakhstan. Shermakhanbet has had a solid season thus far, finishing third at Petrov, second at the Asian Championships to former champ Ryu Han-Soo (KOR), and with a bronze at the Oleg Karavaev Memorial, which despite being a Ranking Series event mainly served as a warm-up for most of the sport's serious medal candidates. Shermakhanbet is a thrower, and also a very adept scrambler exiting odd sequences. But he is particularly problematic in par terre, where he has an excellent gut-to-lift combo.
Should Coleman make it happen, it will likely mean a showdown with Bulgaria's David Dimitrov. From there, and for perception's sake, the potential opposition spreads out with Surkov residing at the top of the bracket. Coleman has a run in him. It will take a one-match-at-a-time approach, but if he can get past Shermakhanbet, something special could be on the horizon.
87 kg: Joe Rau (TMWC/Chicago RTC) vs. Kumar Sunil (IND) — round-of-32
Rau begins his second Senior Worlds appearance with Kumar Sunil (IND). If successful, Rau will then greet the winner of 2016 University World runner-up Mikalai Stadub (BLR) and '18 Junior World silver Ramon Betschart of Switzerland. '15 World Champion/multi-time medalist and #1 seed Zhan Belenyuk (UKR) resides at the top of the bracket, where Rau is located, and could face Rau in the quarterfinals.
97 kg: G'Angelo Hancock (Sunkist) vs. Nikolai Krysov (UKR) — round-of-32
As the #3 seed, Hancock holds the top position on the lower half of the bracket. Nikolai Krysov (UKR) is a very solid first opponent for Hancock, as he is a tough battler who likes his underhook, and sports a decent gutwrench. However, he also gets turned, and fades down the stretch. If Hancock wins against Krysov, he is guaranteed an even higher quality opponent in the round-of-16, where either 2014 World Champion/'09 World silver Mélonin Noumonvi (FRA) or '17 European Championships gold and fellow former Junior World bronze Felix Baldauf (NOR) will be waiting.
Note: this page will be updated with the results of the Day 1 semifinals.
UPDATE:
Max Nowry (55 kg, Army/WCAP) went 1-1 on Saturday, defeating Fabian Schmitt (GER) via tech in the round-of-16 before falling to Khorlan Zhakansha (KAZ) 3-2 in the quarterfinals. Zhakansha wound up getting past returning World Champion Eldaniz Azizli (AZE), the bracket's top seed, in the semifinals. As such, Nowry now gets pulled back into the repechage round where he will face #4 seed Abdelkerim Fergat of Algeria tomorrow morning.
John Stefanowicz (82 kg, Marines) lost in his first-round bout to '15 World bronze Lasha Gobadze (GEO). Gobadze advanced to the finals, which means that Stefanowicz will also enter tomorrow morning's repechage round. His opponent will be Haito Quian (CHN).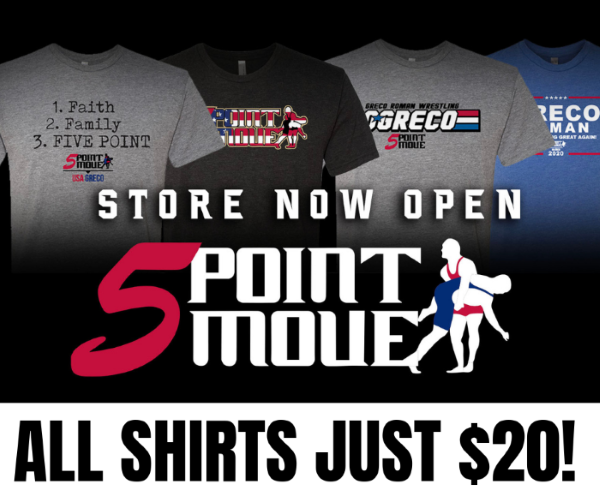 Listen to "5PM28: G'Angelo Hancock, Joe Rau and Max Nowry" on Spreaker.
SUBSCRIBE TO THE FIVE POINT MOVE PODCAST
iTunes | Stitcher | Spreaker | Google Play Music | RSS
Notice
: Trying to get property 'term_id' of non-object in
/home/fivepointwp/webapps/fivepointwp/wp-content/themes/flex-mag/functions.php
on line
999