We now stand less than a week away from when the 2019 US World Team departs for Kazakhstan, and All-Marine head coach Jason Loukides is understandably excited.
Not only are Marine athletes Ray Bunker (72 kg) and John Stefanowicz (82 kg) preparing for their first-ever appearances at the Senior World Championships, but a substantial allotment of their teammates are coming along for the ride. That's because — and has been the case the past two years — members of the Marine squad will be on-hand to assist the World Teamers leading up to the main event. Naturally, Loukides speaks to the training phase Bunker and Stefanowicz have endured thus far, as well as the former's bronze-winning performance earlier this month in Poland.


There are other competitive points of interest to catch up on, as well. Just like the aforementioned duo in Poland got some matches in, so too did several other Marines at the Tbilisi Grand Prix. National Team members Xavier Johnson (63 kg), Jamel Johnson (67 kg), and Daniel Miller (97 kg) along with Terrence Zaleski (82 kg) and Vaughn Monreal-Berner (87 kg) all had their moments in Georgia, and Loukides provides his assessment of how the group did and what it could mean for them going forward.
5PM: Both Bunker and Stefanowicz earned bronze in Poland at Pytlasinski, a very good, very tough tournament, though Bunker actually had a bronze match and it was one for the ages. I know it was not the Trials or the World Championships itself, but it was quite an effort. Outside of his resiliency, what did you see as the key for Bunker in that tournament?
Coach Jason Loukides: It's just that his confidence level his high. He has his style of wrestling, he believes in it, and he thinks he can beat them all. He was impressed with how the Turk (Ahmet Yilmaz) fought back. Usually, people fade a little bit more than the Turk did, so he said that was an extra, extra hard battle and he was real happy to come out on top. It just shows what hard work and belief can do for you. A lot of people work hard, but a lot of people don't believe the way he believes. That is his gift. He believes, and then he goes out there and wrestles accordingly.
5PM: Then there was your crew in Georgia, with both Johnsons, Miller, Berner, and Zaleski. I'd actually like to start with those last two. Berner had two matches, that although were losses, really showed a more dynamic side to his game, while Zaleski went up against a tough Armenian and was right there with him step-for-step. We've talked about these two before, and considering the caliber of competition, you had to have liked what you saw from them in Georgia.
JL: We are really happy with how they wrestled there, and it's the same thing. Obviously, when you watch them train everyday, you know what they are capable of and you're just waiting and hoping for it to show up on the big scene. Berner was finally putting it together at World Team Trials and then at Nationals. To see him carry it over here and compete against some of those guys… I mean, we know he's strong in the room and can score points, he fights hard, and so for him to be able to put that in the match shows that the belief in himself is catching up with what his abilities are.
At first, it was kind of frustrating for some of the guys because he would do so good against them in practice, and then he would struggle out there (in tournaments), so it would hurt their confidence (laughs). So it's nice that he showed how good he is everyday in our room.
Terrence, he's another one. He has all the tools that he needs. He is incredibly tough and has good fight. To be able to go out there and test himself, you know, sometimes it's good for them to not know how good the other guy is so all the thoughts about it are out of the way, and they can just go out there to compete and see where they stand. We are looking for both of them to make some big leaps forward coming this year, too.
5PM: Jamel had a solid showing in Tbilisi. He won big and then dropped two close matches and barely missed out on a medal. All things considering, does an event like that kind of help him stay on track for the Olympic Year?
JL: Yeah, he is right where we want him to be. He is fairly consistent, he is battling with good guys all the time. That 2-1 match, he didn't think he was going to lose through the whole match. He is right where he needs to be and is improving in those areas. In the past, he scored a little more from par terre, so we are trying to get him back to where he was in par terre. But on the feet, he can battle with anybody and stay right in the match. He's real consistent and is another guy who believes his time is coming.
5PM: When your guys go on a tour like that, especially when it's Poland and there are two World Team members going, what do you say to them before they take off? Do they have specific directives or is it more about just logging experience? 
Coach Jason Loukides: I also like to make it a little hard on them. I like them to fly in with not much time to make weight, and not a lot of time to think about it. It's like, the worst case scenario if they went to the Worlds — competing with these guys but not having everything go perfectly for you on the way. I think when you compete with them and things aren't perfect and you keep it close or beat them, then you know I'm going to be able to beat them when everything goes right, when I have the full support of the National Team and Team USA cheering me on. So it's a way to see where you are at the worst of times, when you're over there with not much time to prepare for acclimation or anything like that. To just test yourself against them and see who's tougher without a whole lot of training up for that specific tournament.
5PM: With the camps in Springs this summer, how have Bunker and Stefanowicz fared physically and have they required any extra recovery given the workload?
JL: Everybody gets beat up or gets a cold, or something like that. I worry more about them being so tough to where you don't know if something isn't right with them. You have to kind of watch them closely. We let them go out there and be coached by the National Team coaches, like Gary (Mayabb), Matt (Lindland), and the Army coaches — anyone who usually doesn't have words for them. Then they get the experience of having others tell them things and throwing ideas at them. It's a great opportunity for us when we go out there, so we take advantage of that. And they like it. They like hearing different people and it makes me feel good when they're saying the same things I've been saying, though sometimes they say different things, and that's okay, too (laughs).
5PM: Without giving anything away tactically, do both guys have their own points of emphasis that you've wanted to get across post-Final X?
JL: What was great is that the things we focused on during National camp fit in really well with our guys' styles to where it was almost geared specifically for them, when I know it included everyone. They got to work on those areas, and those are the areas they want to dominate and put their physical advantages into the match through the style that they wrestle.
5PM: You've been in this position before insofar as having a guy on the World Team. In this case, it's two first-timers. You competed in the World Championships yourself. Do you walk through different items, such as what to expect and what it's like to wrestle at the Worlds, that sort of thing?
JL: I try to make sure we limit the amount of stress. Because, too much excitement — although it is exciting — can lead to you doing things a different way. I am trying to make sure that they focus on what they need to work on now and not on wrestling in the World finals today. Let's think about our program, what we need to do, stay with the things that have been working, add new things that people have been telling them will be great for them, and to just stay contained. Stay professional. Go to bed on time. Make sure you're doing your recovery. And they are both outstanding. You would never know they've never wrestled at the Worlds being around them. They both expect to be at the Worlds, both of them believe they should have already been at the Worlds. So it's not like you get the feeling that they are first-timers or anything.
5PM: You're once again bringing a contingent of wrestlers to help out during that last bit of training in Kazakhstan. For the guys who aren't on the World Team, what is it you aim for when it comes to the athletes getting the most out of the experience and environment?
Coach Jason Loukides: There are a lot of reasons why we bring our guys. One, we want to support USA Wrestling, and us being able to do that I know they appreciate. Obviously, (Daniel) Miller is going to be warming up with Tracy (G'Angelo Hancock) or Adam Coon. To have someone who is focused on helping you get ready is an advantage for any wrestler at the Worlds. Everybody wishes we had ten training partners.
So one, to support USA Wrestling and show that we are one team. And the other is our guys can help the Marines who are on the World Team. It's comfortable to have someone you've been around, someone who knows you, someone who can tell what you're thinking, someone who will let you know, Hey, get your mind right. Someone you really trust. It's great to have someone around you can trust.
And then for our guys to be able to see the Worlds if they have never seen it before, that makes it not feel like the first time when they do get to go. They not only get to see the competition, which you can maybe watch from home, they get to see how guys who might end up winning the Worlds warm up. They can see how they come off the mat, what they do off the mat, the environment in the back, hearing the crowd — all of those things are a learning experience they can absorb before they are ever in that position. It's great to have them experience that while contributing to USA Wrestling and giving their brothers a chance to win some medals for us.
Follow the All-Marine Wrestling Team on Facebook, Twitter, and Instagram for updates on results and competitive schedules.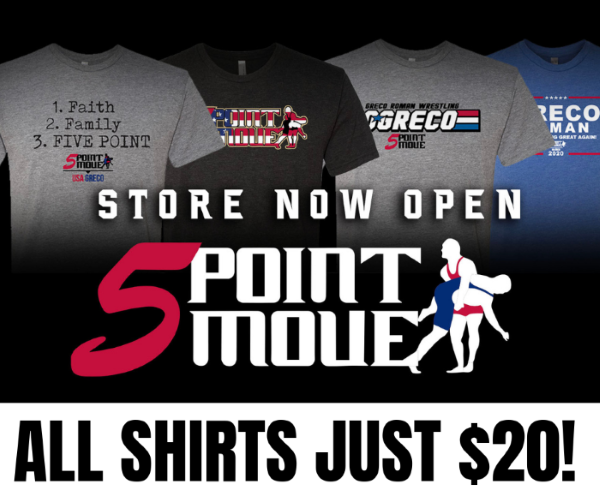 Listen to "5PM26: Princeton's Lenny Merkin and new USOTPC Greco-Roman athlete Nolan Baker" on Spreaker.
SUBSCRIBE TO THE FIVE POINT MOVE PODCAST
iTunes | Stitcher | Spreaker | Google Play Music | RSS
Notice
: Trying to get property 'term_id' of non-object in
/home/fivepointwp/webapps/fivepointwp/wp-content/themes/flex-mag/functions.php
on line
999