It's not exactly a sore subject. Whenever it has been brought up over the past two years, at most its remembrance carries a wistful tone. Maybe there is the slight accompaniment of a sigh, kind of in the same manner a fisherman might recall that supposed 30″ largemouth popping off the line at the last second.
There have been other fish since then, he'll insist. Even bigger, better fish. So you talk about those, and future catches that may usurp all of them combined.
The fisherman has moved on, and so has everyone else.
But if the topic is introduced, you still can't help but notice a "one that got away" feeling, if only because you observed the circumstances in play at the time.


In March of 2017, John Stefanowicz (82 kg, Marines) was in the midst of a resurgent season that few outside of his inner circle likely anticipated. After missing the previous two years of competition due to a military intelligence assignment, he had returned for the US Open three months prior with practically zero preparation and managed to reach All-American status. He then followed up with similarly strong — but not groundbreaking — performances at the Dave Schultz Memorial and Armed Forces Championships, respectively.
Stefanowicz, as if carved out of a granite, was best known as a solid, lunch pail competitor who could brawl his way into any match. He was tough, he was good — but not yet considered a standout. Again, you look back and by all reasonable comparisons and context, maybe he wasn't supposed to be just yet. After all, how polished do you expect an athlete to become if his (or her) career has seen more than its share of fitful interruptions?
Which is precisely why his participation at the top-level Hungarian Grand Prix in March of '17 did not move the needle all that much beforehand.
In the first round of the tournament, Stefanowicz was rolled out by now-two-time World Champion Peter Bacsi (HUN, world no. 2). Meanwhile, Marine teammate Daniel Miller (97 kg) and eventual domestic rival Geordan Speiller (Florida Jets) were off to blistering starts. Miller easily disposed of Fodor Tamas (HUN) before flattening Revaz Naderishvili (GEO), who later went on to earn bronze in Paris five months later. Speiller? All he did was advance to the weight class final by defeating a string of World-caliber monsters — despite tearing a biceps tendon in his third bout of the morning.
Because Bacsi also made the final, Stefanowicz received a shot at redemption in the repechage round. In what could only be described as a passionately stubborn approach, the Marine held firm to edge Nicu Ojog (ROU) 2-1. The win meant a go at a Hungarian Grand Prix bronze medal opposite Rio Olympian and former European Championships gold Zurabi Datunashvili (GEO).
We abide matchups on paper. It's so easy. When Wrestler A is a decorated European dating back to age-group competition, and Wrestler B is an American guy who just spent the better part of two years and change nowhere near a tarp, the mind needn't wander very far to manufacture a prediction.
As it happens, the mind fails to take into account the potency of which the heart is capable.
The Match Itself
It went like this: Stefanowicz looked to bore inside from the whistle, focusing mainly on Datunashvili's left arm. The heat was on, and it was constant. In between clamping down in search of two-on-one's, Stefanowicz would make occasional attempts at Datunashvili's body. The first passive point (remember: ordered par terre was not in the rule-set in '17 — Ed.) went to Stefanowicz, though just before the break, Datunashvili received two from a correct throw to take the lead.
Another two for Datunashvili arrived early in the second off of a scramble near the edge. Stefanowicz resumed clawing at the arms and staying in the Georgian's face. He wasn't going anywhere. Passivity entered in once more for the Marine with just a minute remaining. But — a two-point takedown wouldn't cut it. Stefanowicz actually required a minimum of three points, since Datunashvili's four points were the result of two two-point sequences. This is important.
With :17 to go, Stefanowicz had an overhook that he wanted to turn into an arm spin. Sensing it wouldn't work, he instead spun his own body around and charged at Datunashvili. He clambered forward and bodied his foe off the line — and to his back — for what appeared to be four points. The US athletes, who can be seen in the background of the image below, instantly go bananas thinking their guy just engineered an incredible comeback against a top foreigner.
On the mat, Stefanowicz's attack netted only two points, not four. The officials declared that Datunashvili did not go feet-to-back for four, but rather, had landed first on multiple contact points. Such was the explanation coming out the tournament. And thus, the scoring was ruled two for Stefanowicz, who promptly challenged the call and lost.
Two points, four points, or no points — it was still a jaw-dropping effort and one of the most adrenalizing bouts (and endings to a match) of that season.
What Happened After
If we're going to, rightfully or wrongfully, define this contest as a "crossroads" type of match, then its immediate subsequent ramifications must be discussed.
Five weeks later at the US World Team Trials in Las Vegas, Stefanowicz earned a quarterfinal win over Rich Carlson (Minnesota Storm) to set up a showdown with Speiller, who was tabbed by most as the weight class favorite (and for good reason). Speiller led 2-1 with 1:20 to go when Stefanowicz used an overhook to fling a correct-throw-arm-throw. The result? Two points and what was deemed the upset of the tournament. Stefanowicz was then swept by Cheney Haight (NYAC) in two close matches to decide the World Team spot, but no one was hanging their heads about it.  The message had been made clear: Stefanowicz had finally and fully arrived.
After the dust of the 2016-17 season had settled, Stefanowicz himself acknowledged what his near-miss at the Hungarian Grand Prix and its attached training camp did for his degree of assuredness.
"I had a ton of momentum," he said. "The training camp out there, using that level of intensity to go right into World Team Trials, that was a great setup for success."
What Has Happened Since
Simple: Stefanowicz, a member of the 2019 US World Team, is unquestionably one of the best Greco-Roman athletes in the country with a chance to prove he's one of the best on the planet two weeks from now in Kazakhstan.
But let's back up a bit. There have been other highlights, details, and collected scalps worth noting since that run in '17.
Stefanowicz advanced to the '18 World Team Trials Challenge Tournament final only to fall just short against Haight. It was his fourth straight loss to the popular two-time WT member (and at least as of today, his last).
He then made his 2018-19 season debut at the Haparanda Cup in Sweden. Right out of the gate, he dropped a 6-5 decision to Aleksandr Komarov, winner of two Cadet and Junior World titles as well as a bronze at this year's Senior European Championships and Russia's likely World entrant in this weight class. Stefanowicz bounced back for third with a 2-1 victory at the expense of Sweden's Oskar Johansson (SWE), and all in all, it was a nice return to action given the level of opposition.
At the Grand Prix Zagreb Open this past February, Stefanowicz outhustled '18 U23 World silver Rajbek Bisultanov (DEN) to snare a criteria win (4-4). He just refused to let opportunities slip away, scoring his first two by getting around back, and his next two by essentially barrel-rolling Bisultanov for exposure. The rest of the event didn't go quite as well. Top-ranked Emrah Kus (TUR) took advantage of the passive chance by going to his reverse lock and netting a pair of four-pointers — and Jalgasbay Berdimuratov (UZB) managed to hang on after holding a 6-1 lead that Stefanowicz trimmed to 6-5 thanks to a beautiful arm throw.
While Stefanowicz coming away with the nod over multi-time National Team member Jon Anderson (Army/WCAP) at Armed Forces represented a nice feather in the cap, it paled in comparison to what the springtime had to offer. And it all started in Raleigh, North Carolina.
He didn't have a working hamstring. It had been fried after the US Open, where Stefanowicz was clipped in the semis by Kendrick Sanders (NYAC/OTS). The turnaround between the Nationals and the World Team Trials was already compressed. To compound that brief respite with an injury meant resorting to creative measures. Stefanowicz couldn't even practice; to compensate, he kept his conditioning up anyway he could, which meant capitulating to a series of odd upper-body exercises and whatever else that didn't involve his inflamed, tender hamstring.
He didn't even practice. Practice is a wrestler's sanctuary.
And yet, he wound up putting together one of the most impressive domestic performances throughout this quad. After surviving a quarterfinal scare against Chandler Rogers (Air Force/WCAP), Stefanowicz starched Speiller via first-period tech — and closed the show by taking two straight matches over Haight. Three weeks later, Stefanowicz swept Sanders at Final X: Rutgers, and last month picked up a bronze in Poland.
What Does It All Mean?
Is one match from two years ago — that was not even logged in the win column — responsible for Stefanowicz's career surge?
Yes.
However, only if you carefully inspect the trail of evidence and isolate each piece to justify confirmation bias.
The Hungarian Grand Prix was not Stefanowicz's sole motivation to travel overseas in March 2017. Just like most US athletes, he was equally, if not more interested in the training opportunity that preceded the tournament. Hungary's training camps — lauded the world over for their plethora of available partners and intense curriculums — are attractive enough to get plenty of American Greco wrestlers to dig into their savings or inquire about funding.
The camp provided Stefanowicz with confidence. The tournament provided him with proof of his own international viability. Proof he had previously been unable to acquire.
Therefore, coincidence was absent a month later in Las Vegas when Stefanowicz went out and scored his biggest domestic win at that time and made his first National Team. Would it have happened without his standing toe-to-toe versus an elite foreign opponent and realizing that he was of the same caliber?
A more apt question perhaps: if Stefanowicz's career had not been disrupted by his military obligations, would he have reached the same status sooner?
It is certainly not a stretch to hypothesize such an occurrence. After all, he was beginning to inch closer and closer to the top tier domestically before duty called in 2014. It is clear now, to serious observers of the sport, that his skill and tenacity always rendered an upward trajectory that would result in the kind of consistency we see from him today.
Stefanowicz himself, he is not one for overanalyzing an opponent's credentials or bothering with the kind of comparing and contrasting with which this article is written. In the immediate aftermath of his showing in Hungary two years ago, he admitted feeling emboldened by coming so close to taking out a foreign stud; but was decidedly more irked his hand wasn't raised.
"The result, I look at it and I keep going over it with my coaches, like 'What do I have to work on?'", he said at the time. "I look at it in my head and I did everything that I set forth out to do. At the end of the day, I was happy with the way that I wrestled, but the result speaks for itself. Coming home, the thing that upset me was almost."
Fast-forward to the winter of 2019. Stefanowicz's response carried just a tinge of irascibility when it was suggested his defeat of Bisultanov was "a nice win" due to the Dane's accomplishments.
"That's another thing. Look, I'm not going to fluff or battle myself over your past wins or what crazy thing you've done. Unless we've wrestled, shook hands, and thrown blows, if I remember your name it's because I had to have trained with you."
You've got to love him.
But when it comes to names, Stefanowicz knows Datunashvili's, and the American audience has come to know the Marine's. And similar to Stefanowicz's ascension in '17 after the Hungarian Grand Prix, that, too, is not a coincidence.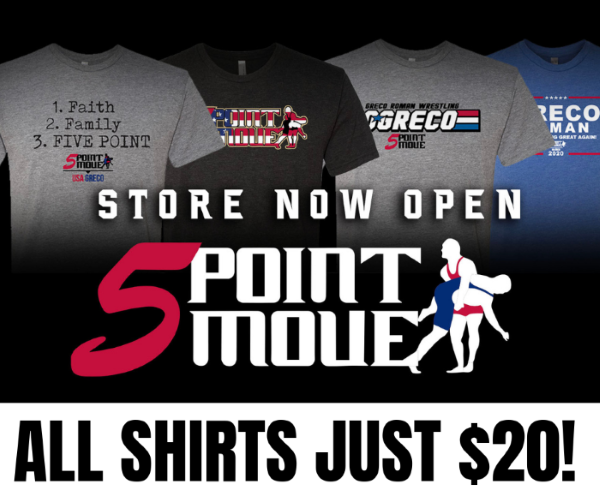 Listen to "5PM26: Princeton's Lenny Merkin and new USOTPC Greco-Roman athlete Nolan Baker" on Spreaker.
SUBSCRIBE TO THE FIVE POINT MOVE PODCAST
iTunes | Stitcher | Spreaker | Google Play Music | RSS
Notice
: Trying to get property 'term_id' of non-object in
/home/fivepointwp/webapps/fivepointwp/wp-content/themes/flex-mag/functions.php
on line
999