In one of the most encouraging developments of the season thus far, members of the All-Marine Wrestling Team finally got back on the mat for the first time in nearly a year at the Henri Deglane Grand Prix in France earlier this month. Four athletes placed fifth, just missing out on taking home some hardware. The goal according to All-Marine head coach Jason Loukides was the opportunity for his athletes to get matches in against capable opposition. They certainly did that. Between the formatting of Deglane along with a few impressive victories recorded throughout the tournament, the Marines saw a combined 21 bouts between eight competitors.
'19 Final X runner-up Jamel Johnson (67 kg, 5PM #4) had the busiest day among the group in Nice, going 2-2 with both wins coming in lopsided fashion. '19 World Team member John Stefanowicz (world #3 at 82 kg) was up at 87 kilos and triumphed in his first bout before punching the clock against a pair of recent U23 World medalists, Islam Abbasov (AZE) and Gurami Khetsuriani (GEO), respectively. Two-time National Champion Daniel Miller's (97 kg, 5PM #3) ledger was similar to that of Stefanowicz's. The Marine Captain didn't have an easy pathway in his round-robin bracket, falling to both '17 U23 World silver Giorgi Melia (GEO) and Daniel Gastl (AUT), though he did rebound with a wide decision over Poland's Gerard Kurniczak.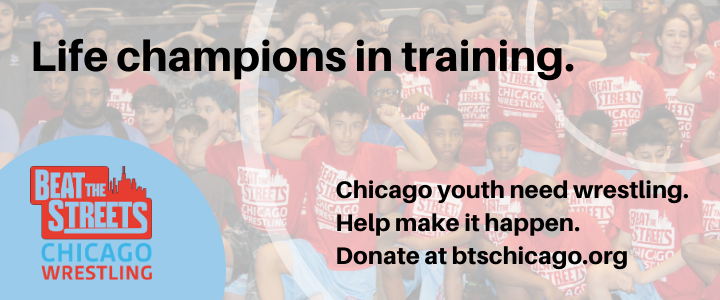 Perhaps the biggest upside arose from the work put forth by Terrence Zaleski (5PM #9). In his first overseas appearance at 87 kilograms, Zaleski demonstrated plenty of toughness as he went about his business. After earning a victory in the quarterfinal, he escorted two-time World champ Metehan Basar (TUR) to the brink, ultimately getting nipped 3-1. He then wound up dropping a frustrating 4-0 decision to Tyrone Sterkenberg (NED) for bronze, but that did little to diminish what was an overall very strong performance.
5PM: Although it was a good large group in France, we didn't see everyone, specifically Xavier Johnson and Vaughn Monreal-Berner. If you don't mind, can you share why they didn't make the trip?
Coach Jason Loukides: They just had some personal issues. Well, Vaughn is recovering. He had that shoulder surgery six or seven months ago and he's not at the stage of readiness yet to compete. Xavier just had his third child born today, so it was basically just stuff like that. It wasn't anything else.
5PM: I'd like to start with Zaleski because his first two matches were very revealing. For one thing, those first two matches were a very accurate representation of what 87 kilograms looks like at the top level and what needs to happen in order to win. Even in his loss to Basar, he was a turn away from taking a lead. The bronze match was a little different. I don't know if when he got knocked in the head if that set him off track, but I'm sure it was frustrating. That said, all in all, his showing seemed to really stand out.
JL: He is very talented. A lot of it comes down to when he believes he can win those matches, he's going to show you something because he has a good combination of endurance, explosiveness, and he's solid from par terre. Most of it is just confidence with him and getting enough time on the mat to where he has that confidence. But he wrestled with some fight and belief, and it showed that he can be competitive with some really talented guys.
5PM: Stefanowicz, as is practically custom now overseas, got to battle with a pair of wrestlers who are U23 medalists, one of whom wound up winning the tournament in Abbasov. Whether or not this is Stefanowicz's weight class going forward, he really makes these kinds of matches count and got some very good looks in right off the bat. Was there anything specific you wanted to see out of him, just considering like everyone else there had been that break from competition?
JL: The big thing was just making sure we got matches. That was one thing I was happy about was that they (the tournament organizers) instituted double elimination for the guys in big brackets to make sure they got at least two matches. And in some of the round-robins, they got three matches.
The goal going was to get some matches and see where we are. They had been training some in the room, but they're decision-making is something where you need to be in those tight matches to make good decisions. I was really happy with how we performed, even though we didn't win the medals that we wanted. But just getting the matches and fighting. Like when Stefanowicz was down on points, he kept fighting. It showed that he has great endurance in that weight class (87 kg). He also showed that he was still strong for that weight class. He can be successful at that weight class if that is where he chooses to compete.
5PM: Miller had a rough match with the Georgian, who is obviously very reputable, and then the match with Gastl went in the wrong direction in the next round. He recovered though and put in a nice, controlling win together over Poland to at least end the day on some sort of high note. Miller is a two-time National champ and well-established, so was it critical for him to exit that tournament with a solid win under his belt?
Coach Jason Loukides: I definitely think he feels better getting that win. The order of the matches, I mean, that Georgian has kind of a unique style. He just walks out there and dares you to get an underhook (laughs). Although they battled for only about thirty-something seconds, it was a battle that you thought might go either way. We were excited to be in that match; but definitely, there was a lot of rust, for all of the guys. I don't think Miller had wrestled someone from his weight class in over a year (laughs). So, it was good to get out there and remember that you still need to use your legs and do things other than those you were maybe getting away with in practice because you were wrestling smaller guys.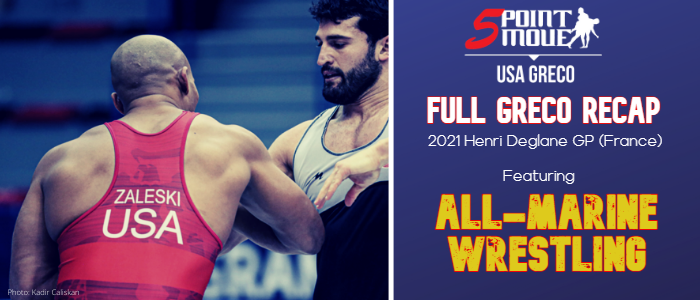 5PM: With Peyton Walsh, he only had two matches — but he scored more points than some of your guys who had more matches… 
JL: Right.
5PM: Poland (Maksym Zakharczuk), I wasn't so familiar with him, but Evrik Nikoghosyan is very familiar. He's really tough. Even though Peyton lost these matches, he was finding ways to score points. When a guy loses matches in a tournament like this one but shows you his offense is ticking right, is that equally as good as winning?
JL: For sure. I was really pleased with his match against France (Nikoghosyan) because one of the things he had been working on is his lift. He stepped up and he threw him, and that means something. That guy is good. I was pleased with that. You take away the front headlock and that is a different match. We knew Nikoghosyan had a good front headlock because Peyton had practiced with him before. Peyton was trying to counter it in the natural way, which doesn't work. You're posting your foot there and he wasn't able to stop it like that. But that is something he'll come back and work on.
The first guy, Peyton was dominating. He (Zakharczuk) kept going back to a regular position like a bodylock or pinch, and he was so up in there that it made Peyton kind of uncomfortable when he should have kept wrestling his own way. He was up 7-0 in that match. You can't complain about being up 7-0 because you don't want those points to start off in the other direction.
Overall, I had the mindset as a coach going into the tournament that I wasn't going to worry about that kind of stuff. I just cared about, What can we get out of this that we can work on? And, We have to wrestle well enough to get enough matches to see what we need to work on. Because, like everyone else everywhere, we just haven't been able to do it as much. It was a real opportunity to see where we need to be so we can sharpen those things up.
You could tell some countries, like Turkey, looked like they haven't missed a beat. Their timing and everything looked good. They looked like they had been wrestling. And then you saw other countries and it looked like they hadn't wrestled in a while. I think we were probably somewhere in the middle (laughs).
5PM: Jamel was interesting because, in one way, it was almost a tale of two tournaments. But physically and technically, I thought he did look a little different. He had more explosivity, more dynamics. I thought he looked sharp. His general approach wasn't so contrasting but he seemed locked-in despite the hiatus. You have a relationship with Jamel dating back about 100 years or whatever it is. Talk to his progression leading to this event, and also, what is it you think he needs to shore up here before the spring?
JL: I was happy. He wrestled, out of everyone, like he was comfortable competing — even though we've all been off about the same amount of time. He was much more ready for the competition in his own head it seemed like to me. Jamel didn't force stuff. Instead of forcing some of his techniques, he waited until the right moment; and then he pummeled and fought and the right moment happened, so it made it look even more explosive. I thought he did a good job with that.
He still showed that he was a little rusty. In the third-place match he got lost. His arm spin, he spun two or three times and lost where he was on the mat. He didn't know where he was (laughs). I mean, he's right where he needs to be, for sure. But some of his competitive strategy can be improved, his par terre defense; and then he has to strengthen what he's good at from par terre top and on the feet.
5PM: For your two lightweights in France, Devin Hester and Colton Rasche, this wasn't the kind of tournament that they'll stick on their mantles for when they're older. Hester, he still needs the Last Chance Qualifier, while Colton is already in the Olympic Trials. What do you say to guys like them when assessing the tournament afterwards?
JL: Guys are already upset if they're not winning, so I like to point out the things they did well. And, they did a lot of good stuff. Hester countered three or four of a guy's lift attempts with different things, and then the guy adjusted with something else and scored. That's better than getting thrown off the first attempt. Colton showed some good par terre defense when he was moving, and those are things you can definitely build on.
While I was there, the focus was just getting matches and getting back to competing. We'll work on all of those things that will help them improve from their matches as we're moving forward. I didn't get too caught up in wins and losses from this tournament. You're flying in, weighing in, taking all of your COVID tests, and coming straight home. It's not something that you are tapering for or anything like that. It was much more of an opportunity to gauge where we were at with the layoff and what things we need to really tighten up moving forward.
I think all of that is a positive, but the guys are so competitive that it is hard to convince them to look at how they can get better from the matches more so than being upset that they didn't whip everyone they wrestled.
5PM: We just learned that the prospect of a Senior duals series for Greco, which was targeted for next month, is no longer going to happen. With no Armed Forces Championships this season, was it a major disappointment to find out the team duals aren't happening?
JL: Until they were going to tell me that it was happening… I mean, COVID makes you very skeptical of everything. I don't make plans to travel until I know it is confirmed. I was not 100% sure that it was ever going to happen, anyway. I thought it was a great opportunity. The guys who have the casino and everything seemed really impressive and they want to work with wrestling, so I think that's a positive moving forward. I think the idea of the clubs cup could be a great event and everyone can support it.
But it's a little hard right now. You want to go and be competitive, but every club has a different preparation level for that. That could have been a factor. You want everyone to be at their best. Some people have been practicing for two weeks while others have been practicing for six months. There are a lot of issues as to if it is just to get matches or if we are to make it a competitive event. I think moving forward that it is a great idea. It is something we should try and get out there with some really good teams and make it a fun event for everyone that gives Greco athletes more opportunities. I don't think it is something we could do in February, but I do think it is something that they will look to do in the future.
5PM: Do you have a sizable group going to Rome in March, or is it just a handful?
JL: Maybe a handful, mainly because it is National Team members-only. We're trying to take everyone we can. Obviously, people like Xavier. You want him to get out there, but I'm not sure with all that he going on with the kids right now that he'll be ready in time to do that. But we have him on the list right now, so we'll see.
5PM: You have athletes going into the Last Chance Qualifier, and then a group of guys already qualified for the Trials. Are there any deviations or separation when it comes to training plans for these two groups?
Coach Jason Loukides: Not really. We don't have enough guys to have different training plans so they will all work together. But when we taper them down will be different, yes.
Follow the All-Marine Wrestling Team on Facebook, Twitter, and Instagram for updates on results and competitive schedules.


Listen to "5PM43: Christmas Time with Millersville's Kerry Regner" on Spreaker.
SUBSCRIBE TO THE FIVE POINT MOVE PODCAST
iTunes | Stitcher | Spreaker | Google Play Music
Notice
: Trying to get property 'term_id' of non-object in
/home/fivepointwp/webapps/fivepointwp/wp-content/themes/flex-mag/functions.php
on line
999