It wasn't too long ago when Daniel Miller's (97 kg, Marines) Greco career made absolutely no sense.
A graduate of the Naval Academy with a more-than solid Division I background, Miller probably could have been a formidable freestyle wrestler. You say this because back in 2011, he appeared in the Junior World Championships of leg-grabbing and won a couple of matches. This was just prior to his senior season for the Midshipmen. However, even if possibilities in the other discipline seemed endless at the time, they also didn't really matter too much since Miller was already locked into the Marine Corps. That was to be his future. If wrestling wound up somehow or another re-entering the picture, super, but the sport would have to wait.
And it did wait, certainly when it came to competition. For years.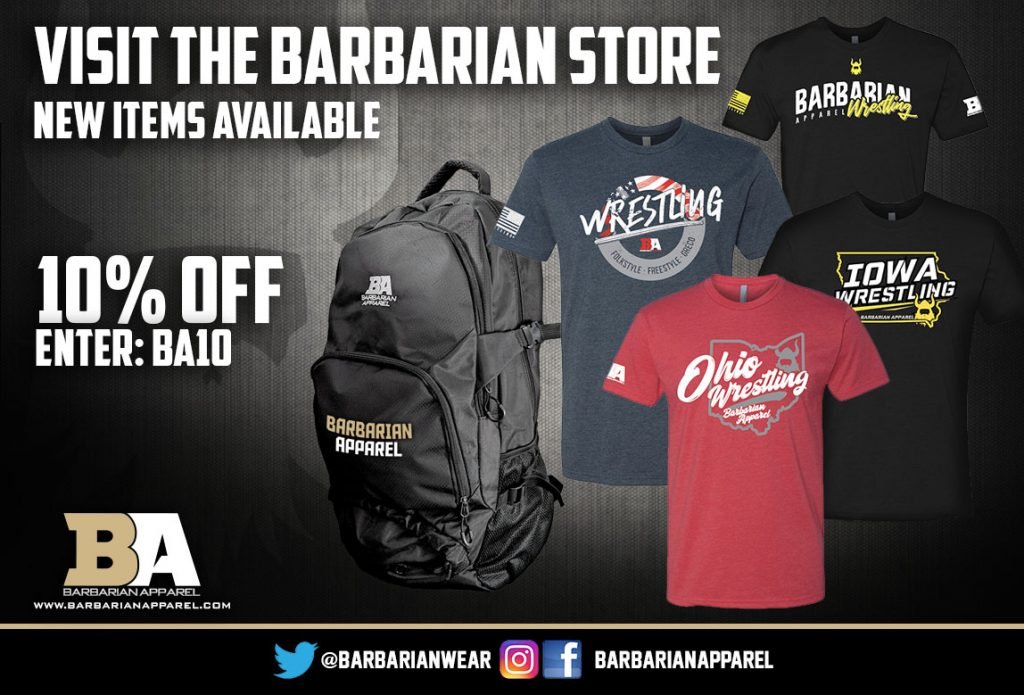 When Miller made his return to wrestling, touching skeevy legs was out, and bodylocking dudes was in. The Marines only compete in Greco-Roman at the Olympic level, unless you count the annual Armed Forces Championships, where they are forced to participate in freestyle duals for no reason other than tradition. So there was a learning curve, and an especially steep one at that due to the Rio Olympic Year just beginning to settle over the horizon.
Instead of trudging out of the gate, Miller sprinted. His first Senior tournament of any note was an international one — the Grand Prix Zagreb Open in Croatia. If Miller had put forth an 0-1 mark at the thing but managed to not look completely overmatched, you'd have chalked that up as a decently-sized moral victory. But no, he took third thanks to a first-round fall over Felix Radinger (GER, and more on him in a minute). Back home on domestic soil the next month, Miller placed second at Armed Forces, losing only to three-time World Team member Caylor Williams.
Miller went on to fall to Williams again in the Olympic Trials and eventually finished with an 0-2 ledger in Iowa City. Not headline-worthy material. The 98-kilogram bracket unfolded according to script with Williams meeting Joe Rau (87 kg, TMWC/Chicago RTC) in the final and a then-equally-green G'Angelo Hancock (Sunkist, world no. 3) placed third. Nothing much to see, except for the fact that, in a way, this was when the pattern began.
Identification of an outlier
We are eight days removed from Miller's runner-up performance to Lucas Sheridan (Army/WCAP) at the 2019 World Team Trials Challenge Tournament and he's discussing what transpired while seated in a car headed towards Ocean City, Maryland, some 20 minutes away from where he grew up in Berlin.
He has no problem talking. This is just how it happens. One of Miller's greatest assets is his ability to speak with complete objectivity. He can distance himself from his own matches to such a degree that it's easy to forget who it is we're even talking about. Though Miller is happy to go over the topic one more time, he is also a little weary of breaking it down too much, lest doing so become mistakenly construed as a crutch or excuse.
The aforementioned pattern instantly tagged Miller as an American Greco-Roman outlier. Throughout his first two full years as a Marine Corps athlete, Miller placed in five overseas tournaments, with his bronze at the 2017 Hungarian Grand Prix standing out the most. It was on that early spring Sunday in Szombathely when Miller pinned World medalist Revaz Naderishvili of Georgia and came back against Radinger late in the second period to win in dramatic fashion. The moment captivated the American audience and the victory was hailed as one of the matches of the year.
Yet at the World Team Trials five weeks later, Miller wound up seventh.
Seventh.
He could compete well against more experienced and better-skilled foreigners. But putting a US guy in front of Miller back then was tantamount to sticking him in quicksand. This had been quite the source of confusion. Why was a wrestler — an American Greco wrestler, at that — defeating higher-level international opponents but struggling so mightily against similarly-skilled domestic athletes?
"I won some matches I probably shouldn't have won, and I did that because I competed as a better wrestler than I was at the time," Miller explains reflecting on the 2016-17 season. "In combat sports, you live by the sword and you die by the sword, right? That's what everyone says. But what people don't say is that you need to learn by the sword. Sometimes you're going to go out and wrestle below your merit, but if you compete above your skill-level, then that's a good day."
Therefore, the trick for Miller and Marines head coach Jason Loukides centered around somehow unleashing those "good days" at events on US soil; to figure out a mechanism that would allow for consistency on home turf without degrading the obvious knack for foreign competition Miller so clearly possessed. A lot of their focus came down to an attitude adjustment, and replacing pressure with patience.
"When I'm overseas, there are guys who, especially earlier on this year, really should have beaten me, at least on paper, if you look at the results," Miller said in the summer of 2017. "So I go out there and I'm patient. I know I can't force these moves. Transferring that mentality into all of my matches is what we've really been working towards."
A little time was required — but not as much as originally anticipated. In December of '17, Miller cracked his season open with a prolonged tour of Europe that included a bronze from Finland's Haavisto Cup. Two months went by and there was Zagreb again, only this time the Marine finished out of the money. He next earned Armed Forces Championships gold, a breakthrough achievement since it was his first domestic event title as well as further proof that his continued development was picking up steam.
However, for as nice as that Armed Forces top spot may have felt, it was eclipsed by a much grander triumph in relatively short order.
Pattern Status: Destroyed
Was a lot riding on the US Open in April of 2018? If there was, no one was saying it aloud. Hancock, he had other plans and they didn't include entering the tournament. That left it up to Miller and Sheridan to hold the fort down, and both were considered favorites to make the final.
But it's a weird tournament, the Nationals. The natural order sometimes doesn't hold. Whatever your perception of reality, it doesn't all of the sudden become skewed should a result go sideways. Too many variables. There is an influx of solid part timers, motivated newbies, and the country's top athletes all mashed together in bigger brackets. Maybe in freestyle there isn't the same roll of the dice. But in Greco? It's often like a road pothole-filled road in the middle of an overnight thunderstorm.
Miller got off to a shaky start. He grabbed a tech in the first round over a green Devon Amburgy (WBU), scoring 18 points but giving up 10. His quarterfinal bout welcomed in another newcomer, Eric Twohey (Minnesota Storm). Again, what looked like a mismatch on paper didn't exactly turn out that way, as Miller persevered to a points decision.
Two up, two down. However, Miller was without the luxury of hitting cruise control. Enock Francois was next up in the semifinal, an excellent all-around wrestler who had crossed over to Greco while still dabbling in the other style. What figured to be a tight match going in didn't disappoint. Down 1-0 in the second period, Miller received a passivity point and Francois was subsequently penalized for a caution. Three more points were tacked on towards the end of the bout via step-out and takedown, leading Miller to eventually prevail 6-3.
One more obstacle remained in the form of Micah Burak (TMWC), who had edged Sheridan in their semifinal bout. Not a dream match stylistically. Miller sought to assume control early by pushing and pulling Burak around on the feet. Neither wrestler was able to generate an opening that could yield points and this was just the kind of occasion where Miller practically needed to score if only to put his mind at ease. Then again, Burak did some of the work for him by committing two infractions worth four points.
It wasn't pretty. That hardly mattered. It's a results-oriented business. You imagined what raced through his mind once the conclusive whistle blew. Who could know? The only item anyone was sure of was that the stigma brought on by Miller's previous domestic struggles had now been effectively eradicated.
Whatever elation Miller experienced was quickly overpowered by relief. A predictable occurrence, particularly if you go back and watch those matches. Miller (along with Sheridan) had entered the 2018 US Open as a lead horse, which in and of itself allowed for an extra degree of pressure. The tournament victory also meant a bye to the World Team Trials best-of-three final. An important footnote; but one that was buried by the significance of an athlete who had managed to stare down the darkness of his most confounding flaw and walk headstrong into daylight in spite of his brainwaves.
"I feel relieved regarding my performance because I feel like I didn't perform at my best," Miller admitted the next week. "I know you're not supposed to say that as an athlete who just won a National title, but I feel like I did not wrestle my best tournament. Maybe that's because my opponents matched up with me stylistically better than I anticipated, or maybe it was because I didn't exactly do the things I wanted to do. I think it is because I'm so nervous about competing in the United States, that sometimes, I lose my fricking mind."
Just shy of two full months later, Hancock ripped through the World Team Trials Challenge Tournament to earn a shot at Miller in the best-of-three finale. What a first match. Push, pull, push, pull. They snapped and exchanged advantages in the pummel before Hancock was dinged for passivity. Miller capitalized with a lift that Hancock challenged and held a 6-0 lead, that, against anyone else in the country, would likely have been safe. Just not against Hancock. A four-point throw and a takedown gave the young star a criteria edge heading into the second. The pendulum swung back towards Camp Lejeune eventually, as Miller climbed back in front 8-6 halfway into the period only to have Hancock respond with another four in the eventual 11-8 decision.
Hancock wrapped it up in Match 2 when he scored five of his six points in the first period on a takedown, correct throw, and missed challenge from the Marines. Miller re-entered the argument thanks to a takedown and a passivity point, but still fell 6-3.
Not Wounded
"I went out there and didn't feel like I was executing the game plan, but you have to overcome that if your goal is winning medals." Miller is still driving, you can hear the wind whipping through the cabin of the vehicle. The noise produces a crackle that is disrupting his speech. The conversation is constantly halted and then continued, often in mid-sentence with a You still there? offered as a courtesy along with a certain eagerness to get his point across.
"That's a moment, it's a snapshot in time," he is explaining. "A headlock is a snapshot, and you have to be able to shake that off and wrestle through the match."
The topic is not Hancock from '18, but rather the series with Sheridan that took place a week prior in Raleigh. Miller doesn't sound wounded. Probably because he's not. Enough time has passed. We're now in the examination phase of a series loss that had to have hit like a sledgehammer to the bread basket. But again, when Miller dissects his own performance there is zero emotion to be detected. If you ask him to read the instruction manual for a dishwasher installation, it would sound just like this.
Miller and Sheridan in the World Team Trials Challenge Tournament final was exactly the kind of series that could sell Greco-Roman in the United States if only people on the outside of the bubble would bother to invest their time in the story — two athletes, from similar backgrounds with similar strengths, both nearing their respective primes, who represent the highest degree of character, have paid their dues, and were destined to slug it out in three can't-look-away suspenseful bouts that included quite the prize for the victor.
That's of little consolation to Miller currently, so the thought of bringing it up is pocketed. He would have answered the question, surely, and spoke to why it may have mattered in terms of optics. Miller is always open to whatever is going to advance the cause. Just maybe not yet. Wiser to withhold the suggestion that there are laurels upon which to rest.
"So, you have to shake that off, and I did, but I made a couple of mistakes."
We're on the first match of the series that saw Miller erase a three-point deficit with just :02 left on the clock. He had squeezed a bodylock that took Sheridan clean off his feet at the buzzer, scoring four. It was an enormous come-from-behind win but Miller is preoccupied with what he felt were missed opportunities.
"I had gotten to my lift, and you know, I probably should have finished a lot better. I had a moment where I could have finished but I got countered for one there. So, multiple mistakes, but mistakes are going to be made in a match. But if you didn't (make a mistake) and you were still losing, then that would be a huge issue. Because, that would mean you didn't have any room for improvement and were still losing.
"In Match 1, I felt like we didn't execute the game plan the way that we wanted to, and by we, I mostly mean me, but Loukides is just as invested in these matches as we are. As a team, you experience the highs of the highest performer on the team, and simultaneously, the lows of the lowest performer on the team."
Reminder: this was a match Miller had won — in the World Team Trials finals. And although it is commonplace for elite athletes to acknowledge various miscues which may occur in the midst of triumph, Miller unleashes over four minutes of dialogue focused only on what he believes he did wrong, and spends not one millisecond on the match-clinching bodylock that elicited a rise from the fans in attendance.
So he goes on a little more, reluctantly conceding the actual positive outcome of the contest. "We got back to what we wanted to do and wound up coming out on top."
Matches 2 and 3 were sufficiently entertaining. Sheridan, as well-trained as they come dating back to his youth competing for the Community Youth Center in California, began the second bout by flinging an arm throw that caught everyone in the building off-guard, including Miller. The technique was accompanied by four points and allowed Sheridan to extend the series to a decisive third round.
Miller got off to a promising start by using the first passivity to torque a gutwrench, but his 3-0 lead was quickly dented when Sheridan reversed and hustled Miller out of bounds. The roles flipped in the second, as Sheridan's passivity reward resulted in his scoring two on a turn and he subsequently edged ahead 4-3. It was do or die in the last minute. With only a point separating Miller from reclaiming the lead, he fought inside on Sheridan searching for a handle. He wasn't thinking about scoring one point, he wanted an emphatic sequence to close the show. To his credit, Sheridan wasn't playing possum. It was a shared energy. Miller urgently plowed forward and his zeal nearly gave Sheridan another step-out point after an exchange on the edge. He regrouped in an instant by circling back towards the center.
Any old point. That's all Miller needed.
And it never came.
They both wore the appearance of exhaustion and congratulated one another. For Sheridan, it was a watershed moment in his own career, something Miller couldn't help but recognize before he walked off the mat to contemplate the sensation of sand falling through his fingers.
"Looking back, I've thought to myself, All I needed to do was get a push-out." Miller says revisiting the latter stages of the second period against Sheridan in Match 3. "But at the time, I'm thinking, How do I put myself in a good position to score again? It's funny, I felt like I executed my game plan the best in the third match. I stayed in good position, stayed away from the four-point move, got the first passivity call and had the opportunity to score.
"At the end of the day, a push-out wins it, and that didn't register in my mind until afterwards. The whole time I'm thinking, Okay, we need to stay in good position and continue to move and open it up a little bit. It wasn't until three days later when I was in the wrestling room and looked at Jason and said, Do you know what I just realized? A push-out would have won the match."
Of course, it is easier said than done. A Greco-Roman wrestler mired in a bruising battle with a lot on the line doesn't just score a single, solitary point at the most opportune time imaginable without experiencing a brick wall of resistance. This is what the non-Greco public has a woeful habit of ignoring: the "mini-fights" that take place from each position are, lack of a better term, everything. They are what define the sport at the highest level, and how any scoring holds — big, booming throws or the relatively tamer phenomena of a step-out — are attained.
It's not that Miller is without this knowledge. He knows full well and has won matches requiring such an approach ("Loukides taught me that you can win 2-1 and still be kicking the other guy's ass," he once said). But to have a potential World Team spot within your grasp and watch it slip away by one lousy point will cause any athlete to question and re-question their tactics after the fact.
But these ponderances are embraced by Miller and he reconciles what led to this near-miss as a sort of dataset to mine in advance of the next time such a situation arises. It is for this reason, along with Loukides' tutelage, why Miller has ascended towards the top despite the cavalcade of confusing setbacks which plagued the infancy of his career. It also doesn't hurt that he so fervently detests making the same mistake twice that he itemizes lessons learned almost to the minute. It's a little mental, really.
"That's the next step, realizing it in the match and not three days later," Miller says, allowing himself to laugh. "That's where we need to get to. We were at three days after the match. We need to get to where it's two days, one day, six hours, and now we're in the match and it's, Okay, we just need a push-out. It's just honing the thought process."
Do You Care to Look?
The conversation rolls along. There is no pain in Miller's voice, no twinge of regret. Occasionally, he sighs before answering a question, but that's not abnormal for him. Miller thinks before he speaks because any words intended for public consumption have to represent the Marine Corps from a place of strength. That is why when he shares vulnerabilities, they are painted as paper objectives, boxes on a list waiting to be checked off in the perennial pursuit of excellence.
There was no other choice. The present and recent past had to dominate our time together on a gorgeous late-spring Sunday that invited thoughts of a beach trip or the prospect of passing by the bay and tossing a few crab traps into the water. Miller could identify with all that. But here we were, rehashing difficult topic points with he explaining scenarios in much the same way one might when delivering a PowerPoint presentation.
The kicker is, the Trials, Sheridan, Hancock…they weren't the motivation for the call. My desire was to grab Miller by his (virtual) arm and get him to acknowledge the one thing I felt no one was talking about yet should have been considering the circumstances — that he went from a domestic disappointment to an athlete who is now coming off of back-to-back World Team Trials finals and we aren't even in the Olympic Year. It's not my place to show a wrestler their progress, but for crying out loud, I had written enough articles about the guy winning overseas yet losing at home. To not publicly demonstrate that a new, higher competitive standard for Miller has been set would be irresponsible from an editorial standpoint.
But you have to massage these concepts with Miller. All he sees is the windshield (perhaps literally, on this day). The goal of the call had not been met, my voice was wrecked from screaming during Hancock's final in Italy two days prior, and I wanted Miller — despite the freshness of the cuts — to put Raleigh aside for just a minute and talk to the raised bar he and Loukides are responsible for mounting in an impressively short period of time.
"I'm fortunate to have some tools that allowed me to compete at a higher level than I actually was, and that's going to happen," he begins, first referring to his start as a full-time athlete. "I do like to sit back and reflect on those matches and the easiest way to do that is to isolate them individually, Well, if you look at this loss and you look at this win, how do you explain that? Then it becomes What did I do in this match and how do I fix it?
"At the end of the day, I focus on controlling myself and what my abilities are, I focus on my conditioning and how I can improve myself. If you can do that consistently, my theory is that it is going to lead to success."
Whether he can see it or not, Miller has already proven his own hypothesis.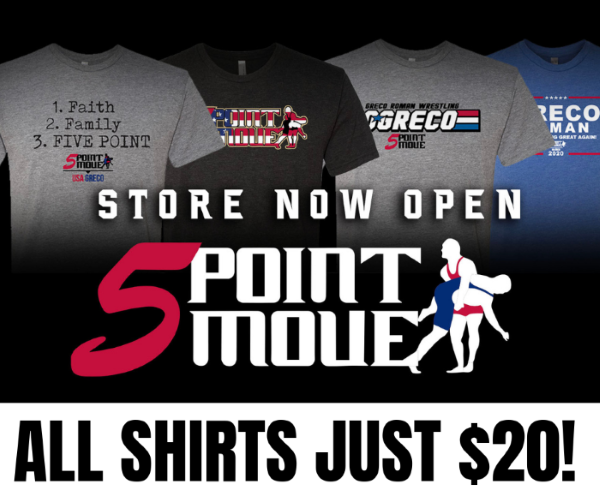 Listen to "5PM23: World Team Trials Challenge Tournament Preview" on Spreaker.
SUBSCRIBE TO THE FIVE POINT MOVE PODCAST
iTunes | Stitcher | Spreaker | Google Play Music | RSS
Notice
: Trying to get property 'term_id' of non-object in
/home/fivepointwp/webapps/fivepointwp/wp-content/themes/flex-mag/functions.php
on line
999