Look at it this way: the quarterfinal round for 60 kilograms at the 2020ne Olympic Trials could feature as many as six athletes from the Army's World Class Athletes Program.
A high number, to be sure. 75% of a quarterfinal bracket means six out of eight, or two away from 100%. For those who closely follow Greco-Roman wrestling in the United States, Army's near top-to-bottom lock on the lightest Olympic weight category is also not a surprise.
In 2012, back when 55 kilos still batted leadoff, Army had three in the quarters: Spenser Mango, who would go on to make his second straight Olympic Team; Jermaine Hodge; and Nathan Engel. One weight class north, two Army wrestlers were in the round-of-eight — Jeremiah Davis and Marco Lara.
Prior to the '16 Rio Olympic Year, the expectations were similar to where they currently rest. It was Ildar Hafizov's first Trials, and he entered Iowa City as the top seed. Not only was Mango still around and considered the favorite, younger brother Ryan Mango — then a World Team Trials runner-up ('13) — was a major contender, as were Hodge (who would retire later in the tournament) and Max Nowry (world #3 at 55 kg).


At 59 kilograms in '16, Army/WCAP put all five aforementioned competitors in the quarterfinal round. They might not eclipse that mark next April, and if they don't, Hafizov would be one reason why. After qualifying 60 for the US in March, he was rewarded with an automatic bye to the upcoming best-of-three final. His absence in the Challenge Tournament is how we arrive to a potential six out of eight; but even then, the possibility does conceivably exist for at least one match-up in the round-of-16 offering an Army versus Army showdown, which would knock the number down to five. That, of course, depends on how the seeds fall.
With Hafizov enjoying a spot in the final, Army/WCAP has no less than a 50% chance of coming away with an Olympian at 60 kilograms. It needn't be said what would happen if there is an all-Army final, and the odds of that occurring are the furthest thing from a longshot.
As of now, only two bracket placements remain. Army already boasts five in the Challenge Tournament. They can get one more should LilShawn Greedy place in the top-2 at the Last Chance Qualifier. (You can throw Dalton Duffield into that mix, as well. Duffield has yet to be accepted into the World Class Athletes Program but will compete under the All-Army banner until further notice.)
A total of 11 athletes will compete in the main Trials bracket. In order for there not to be an all-WCAP best-of-three, it would require at minimum one wrestler from the outside, but more likely two, to knock off either a two-time National Champion (Mike Fuenffinger) — or any of the four recent World Team members who call Fort Carson home.
This Was Always the Goal
Rewind to the winter of '18, when United World Wrestling fully launched their updated weight categories. Members of Army/WCAP and the Marines had traveled to Bulgaria for training camp and the annual Nikola Petrov Memorial. None of the Army light guys medaled in the event, with Fuenffinger placing the highest (fifth). The competition, as is often the case, was second priority. Practicing with stout foreigners served as the catalyst for the trip. But during the course of their training, it wasn't the Bulgarians with whom the Army shrimps were enamored. It was with each other.
"When we were going back after practices and stuff, we were critiquing each other, giving each other pointers, watching all the matches, and so on," Ryan Mango said following the tour. "It was really, really hitting home that we were out to help each other and building a community within the lightweights at WCAP. Everyone was out there for each other's best interests."
The wrestling room on base at Carson was stocked with a collection of wrestlers under 70 kilograms, most of whom were either World and/or National Team representatives. Nowry was the lightest at 55 kilos. Then in order, Hafizov, Fuenffinger, and Greedy occupied 60; Mango and Hayden Tuma held down 63 (Tuma would actually go up to 67 for the '18 Trials); and Ellis Coleman reigned at 67. Eventually known as the "Ninja Squad", the plan called for Army to take the first four weight classes on the US World Team. They came up short, as Nowry, Hafizov, and Mango all fell in their respective '18 Trials finals series.
A year later, WCAP got it done. Nowry, Hafizov, and Mango locked down spots on the '19 Team along with Coleman, who was making his third consecutive World Championships appearance. But immediately after the World tournament concluded, Army knew what was coming next: compression. The arrival of the Olympic Year meant that 55 and 63 kilograms were both temporarily disappearing from Senior competition. Nowry was moving up, Mango was moving down, and where Tuma might fit in no one really knew. What they all understood, most emphatically, was that they would soon find themselves on a predestined collision course.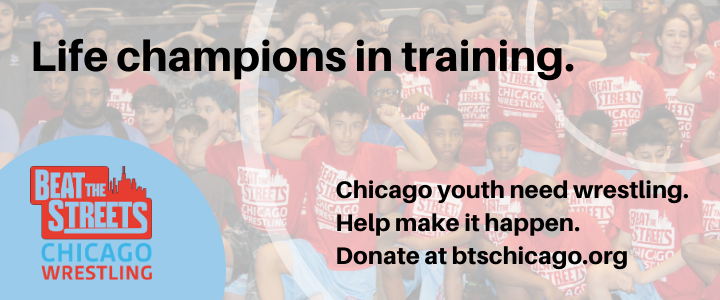 It has always been unavoidable. Army/WCAP is rightfully heralded for their strong tradition of lighter-weight dominance, resulting in a multitude of bouts contested over the years in high-leverage situations pitting Army athletes against one another. It's not a new phenomenon, although the feeling is different this time around. In a good way. Positive vibes surround the competitors. This is exactly what they want — strength in numbers. And because the "Ninja Squad" members are all close friends outside of the room, a blood pact is in place.
Each wrestler is beholden to a licensure which allows for the hardest, most intense brand of competition during training sessions possible. They don't merely go "live". They demand 100%, match-like effort whenever the coaches blow the whistle.
"Everyday, these guys are going hard, beating each other up, and trying to make each other better," observed Army assistant Spenser Mango last fall. "Before, they had a few different weight classes — 55, 60, 63, and 67. Now it'll just be 60 and 67. But that isn't going to change anything in the room. They are still going to get after it, still try to beat each other up."
The bond within the unit is why they are willing to not let up on their brethren. The objective is unanimously shared. Whatever it takes to satisfy the deep desire to put one of their own on the Tokyo Olympic Team is all they care about.
"When the Trials arrive, whoever comes out on top, everyone in the room will have had something to do with it," continued Mango. "They will have all contributed to the person who makes that Team. Whether they make it or not, they will have played a part in it."
Influx
As if Nowry, Mango, Hafizov, Fuenffinger, and Greedy weren't enough for Army at 60 kilograms, two more decorated lightweight stars are set to join the Ninja Squad this upcoming season — '16 Olympian Jesse Thielke and now-former NMU fireplug Dalton Roberts.
The additions of Thielke (should he indeed decide to go 60 kg) and Roberts elevate Army's list of prior credentials to new heights. Combined, the Ninja Squad — counting Hafizov's achievements while representing Uzebkistan — will bring a combined 12 Senior World-level appearances to the table in April divided by (a minimum of six) athletes. No other weight category — not even 77 kilograms — approaches this degree of condensation. "That's awesome for us because we don't want just the four or five original members of the Ninja Squad," Nowry explained two weeks ago. "We want to make it bigger. We want to keep this rolling and have the best room."
They will. They do.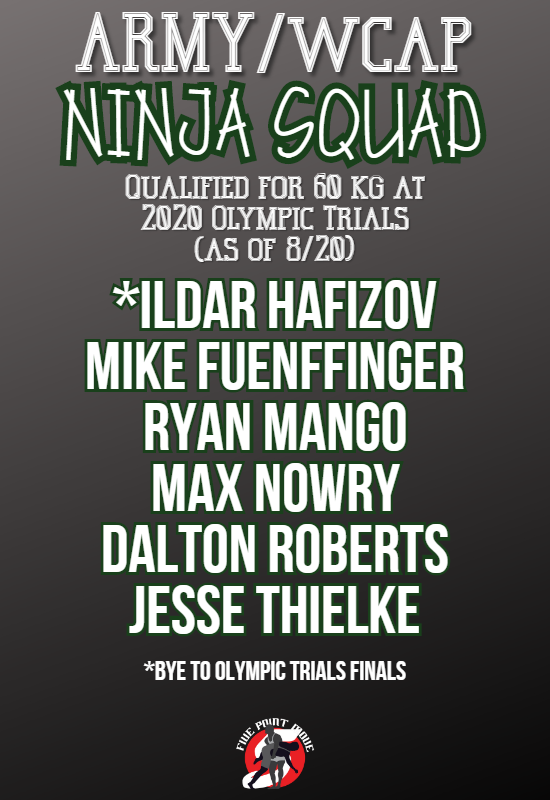 But for all of WCAP's firepower at 60 kilograms, there are threats elsewhere for which to account.
Sammy Jones (NYAC/NTS), runner-up at the past three US Nationals, is shaking hands with the prime of his career and presents the kind of experience and skill-set that could result in a Challenge Tournament final. If he were to advance, either to the mini bracket final or the best-of-three against Hafizov, it wouldn't be construed as an upset. That shoe also fits '16 Junior World bronze Taylor LaMont (Sunkist/UVRTC). Despite splitting time between Greco and NCAA competition, LaMont still managed to become a US National Team member in '19 and fought hard for third at the December Open on little preparation. He won't saunter into the Bryce Jordan Center missing the most cutting arrows from his quiver.
Three-time NCAA Division I entrant Joey Palmer (Cyclone RTC) finished fourth to LaMont's third and impressed with his performance. Prior to the pandemic-influenced shutdown, Palmer was said to have begun making legitimate progress, and someone with his background as a competitor is certainly capable of disrupting the trajectories of higher-profile opponents in a Trials event.
The x-factors are also considerable. A mix of potent athletes are still on the outside looking in and expected to make things very interesting at the Last Chance Qualifier, particularly with regards to Greedy's and Duffield's respective candidacies.
Travis Rice (NYAC/IRTC) — '18 U23 World Team, '15 Junior World Team
Randon Miranda (CYC) — Two-time Junior World Team, '18 U23 World Team
Brady Koontz (TMWC) — '19 Final X runner-up, '18 Junior World Team, '19 U23 World Team
Mason Hartshorn (NMU/NTS) — '19 Junior World Team
David Stepanian (NMU/NTS)
Dylan Gregerson (UVRTC) — '18 Junior Trials runner-up, '19 U23 Trials runner-up
Matt Schmitt (WVRTC)
Whatever the result coming out of Last Chance, the situation for the Ninja Squad will remain virtually unaltered. At worst, they will have five wrestlers in the 60-kilogram bracket. At best, six (or seven, which hinges on Duffield's status next spring). The weight category is loaded enough to where seeding won't offer much of an issue — for anyone. There will be no escape. The odds suggest that at least one of the mini tournament's semifinal rounds will feature an Army wrestler. It could easily be both. And it is up to the civilians, in this case, to keep that from happening, especially since that will be the only way to keep their own Tokyo Olympic dreams alive.
Good luck with all that.


Listen to "5PM39: Lucas Sheridan and Corey Hope" on Spreaker.
SUBSCRIBE TO THE FIVE POINT MOVE PODCAST
iTunes | Stitcher | Spreaker | Google Play Music
Notice
: Trying to get property 'term_id' of non-object in
/home/fivepointwp/webapps/fivepointwp/wp-content/themes/flex-mag/functions.php
on line
999