With its ten overall medalists, Army/WCAP put in quite the impressive team performance at the 2019 US Open last week in Las Vegas, finishing with five individual champions. No other team in the race really came close in that department. Sunkist had two first-place winners, and NYAC, which won the Division I tournament points race, had a single victor, Kendrick Sanders (82 kg).
While it was a successful showing for the squad at the country's largest Senior Greco-Roman event, there are now more important matters on the horizon. Four of the five National Champions from Army — Max Nowry (55 kg, world no. 12), Mike Fuenffinger (60 kg), Ryan Mango (63 kg, world no. 17), and Ellis Coleman (67 kg, world no. 14) — all have byes to the Final X Series next month where they hope to conquer the one remaining obstacle separating them from making the upcoming World Team. In addition, there is also an allotment of other athletes who will be competing in two weeks at the Trials, rendering the ongoing preparation at Fort Carson even more pressing than usual.


Coach Spenser Mango answers questions about several of the team's individual stars who shined brightest in Vegas and also touches on how he feels regarding the hectic pace that is the result of this year's domestic season-ending schedule.
5PM: Eight finalists, five champions. Going into the US Open the Army always has high expectations. Did the team performance meet those expectations?
Coach Spenser Mango: Yes, our guys wrestled well. I felt like they were prepared going in and I was just looking forward to them showcasing their skills and I believe that they did that. Now we're just looking forward to the next tournament. For some guys, that will be the Final X, and for others it will be the challenge tournament. But whatever it is, we'll all be working together in the room helping everyone on the team accomplish their goals.
5PM: That was something I asked a few of your athletes this week, which is that the guys who do have byes, will their training plan change based on who comes out of the challenge tournament? Unless of course we're talking about a situation where it's two WCAP guys in the final, and that could very well happen. 
SM: No, our training plan doesn't change. We're a family, we're there for each other. If our guys wind up wrestling each other then it is what it is. May the best wrestler win. But other than that, no. We're going to stick to it. Everyone is going to be in the room training with each other. Iron sharpens iron, so it's just going to be more grinding.
5PM: It's easy to hone in on the champs but I thought Hayden Tuma at 67 kilos looked very strong and on his game. I mean, he lost to Ellis who is now a five-time champion. Is a factor for him that he has been able to remain healthier this season?
SM: Yes, he had a few hiccups earlier this season at the Schultz and Armed Forces. But Tuma is an extremely talented wrestler and when he's firing on all cylinders he is really, really dangerous. He has been healthy lately. He came into the tournament feeling great and ready to go, and he showed it. He had some great matches and great performances. Even in the first period against Ellis Coleman, he got the passivity point and gutwrenched Ellis and was winning. When Tuma is healthy, he is a very explosive and very technical wrestler.
5PM: Obviously Max Nowry is your athlete but I was wondering what your opinion was regarding 55 kilograms, your old competitive weight, and how it looks now that we're in the second season of its return. Last year it wasn't as populated, this year there was more going on. Do you like what you're seeing?
SM: You know what? I do, these little guys are competitive. They all want to win. Of course, Max is my guy and I expect him to dominate this weight class until he chooses to not wrestle anymore. But yeah, I'm excited. I saw some really good talent out there and these guys are hungry. That helps the US because it makes everyone step their games up.
5PM: I already talked to Ryan (Mango) on the record about his arm and coming back. And he didn't just come back, he returned for two important tournaments right in a row and seemed like he really hasn't missed a beat. As his coach and his sibling, were you impressed with how he's come back so strong, even with his ankle getting messed up a little there in the Open semis?
Coach Spenser Mango: Right, the Pan Ams was his first tournament back from the torn UCL in his elbow and he got the silver medal. Then he came back around the next week and won the Open after hurting his ankle in the semifinal match. I'm not going to lie, I was a little worried about it. HIs foot is still swollen. But I kept telling him, I was texting him the night before, You've got to show up tomorrow, you've got to show up tomorrow.
After the first period during the :30 break (in the finals), this guy was laughing and winking at me and stuff. I remember coming off the stage kind of smiling and Coach (Bruce) Robinson asked "What are you smiling about?" I was like, Ryan's an idiot (laughs). I've never seen him that relaxed, comfortable, and confident coming out of a break. But yes, he was able to turn it up in that second period to earn a technical fall victory. It looks like he's back and firing on all cylinders. You can't even tell he hadn't had a tournament since the Trials last year.
5PM: Like we were saying before, sometimes the Army puts two guys in the finals against one another but the Open was really a huge win for Fuenffinger. The thing that I really thought was the most important part about it is that there is starting to be consistency. He was in the National final last year, the Schultz final in January, and then on Friday he was in another National final and he won. What has been the secret for Fuenffinger starting to put it together consistently?
SM: For Fuenffinger it's hard work. He's in there running before practice, he is one of the last guys to leave, and he's a student of the game. The mistakes that he made last year, he is one of those guys where if you tell him, he'll work on it. He still makes some mistakes in practice but he's always improving. He is steadily improving.
I feel like that was the main reason he was able to come away with his first Senior National title last weekend. He is always wanting to improve, he's a student of the game, and he is always trying to make his opponents beat him a different way than they did the last time.
5PM: You look at Luke Sheridan, and although he lost to G'Angelo Hancock in the final, he is climbing steps in that the last Open he made the semis and now he has been in three straight domestic finals if you count last year's challenge tournament. But again, he had the #1 guy in front of him. Without giving anything away, what is the key for Sheridan to close the gap should they meet again in the Final X Series?
SM: Just constant improvement, just always trying to find a way to make this guy do something different than the last time. Sheridan, like you said, he's steadily improving and is #2 right now. He had a tough opponent in the semifinals in Daniel Miller and was able to come away with a technical fall victory.
5PM: Right, that was a huge win, a huge win.
SM: Right, it was a huge win because he had never done it before, but we knew he could. It was just him believing that he could. It's the same thing with Tracy (Hancock), once he finally believes and steps up, I think he'll surprise himself.
5PM: Technically, this year's World Team selection is a three-stage process, not a two-stage one. With the space between the Nationals and the Trials, and then the Final X Series, what are the advantages and disadvantages to this format?
Coach Spenser Mango: I'll start with the disadvantages, which is that it's a logistical nightmare. You have training partners going to tournaments when some guys are back preparing. Coaching-wise, do you want to send all of your coaches to one tournament and leave your guys back on their own? Or do you want to leave a coach back and then maybe not have a personal coach available for a certain athlete at the biggest tournament of the year for him so far? Just logistically, it's really complicated.
But as far as advantages, these guys know the date they are going to wrestle. They will know exactly who they are going to wrestle two weeks out. They are getting time to prepare for their opponents. For me, the three-stage process is a little much, but I'm not wrestling anymore. I'm just trying to prepare guys, so as long as they're good with it, I'm good with it.
Follow Army/WCAP on Twitter, Facebook, and Instagram for updates on results and competitive schedules.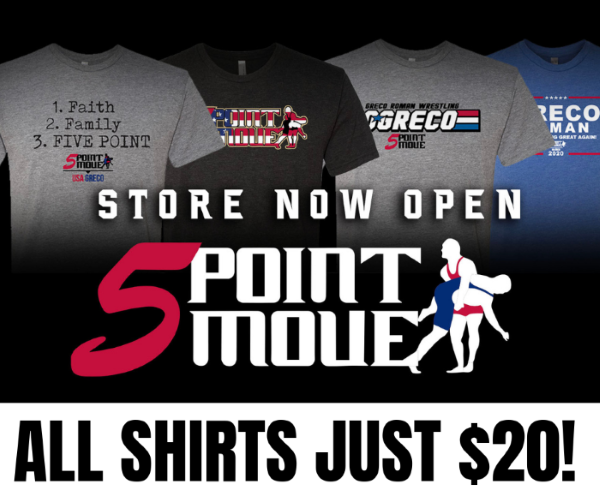 Listen to "5PM22: Sammy Jones guest co-hosts as Five Point Move visits with Lucas Sheridan and Sam Hazewinkel" on Spreaker.
SUBSCRIBE TO THE FIVE POINT MOVE PODCAST
iTunes | Stitcher | Spreaker | Google Play Music | RSS
Notice
: Trying to get property 'term_id' of non-object in
/home/fivepointwp/webapps/fivepointwp/wp-content/themes/flex-mag/functions.php
on line
999