Both Max Nowry (55 kg, Army/WCAP, world no. 13) and Ryan Mango (63 kg, Army/WCAP, world no. 20) earned bronze over the weekend at the 2019 Wladyslaw Pytlasinski Memorial in Warsaw, Poland, but they weren't alone. Fellow 2019 World Team members Ray Bunker (72 kg, Marines) and John Stefanowicz (82 kg, Marines) also took third.
Nowry benefited from a full slate of matches. In the first round, he faced Turkey's Dogus Ayaczi and came away with a fall after stepping over on a gutwrench and catching Ayaczi on his back. This counter from par terre bottom has developed into a weapon for Nowry, as he employed the same maneuver in the Pan Am Championships to defeat Sargis Khachatryan (BRA). For his next bout, Nowry slugged it out with 2018 U23 World Champion/Senior World bronze Nugzari Tsurtsumia (GEO, world no. 5), just the type of competitor he has wanted a crack at. However, this one didn't wind up in Nowry's favor and he dropped an 8-1 decision. The WCAP rep was then edged by Elchin Ibragimov (RUS) in the proceeding round, thus sending him to the bronze medal match.
There, Nowry righted the ship. He jumped out to a 3-0 lead in the first, but in that same sequence, saw Murat Cankaya (TUR) reverse and net two exposure points. In the second period, Nowry maintained a brisk pace and punished Cankaya with two-on-ones, drags, and snaps before ultimately capitalizing on a timely takedown to win 5-4.


Mango only had one match in Warsaw and it's one he'd like to do over. Squaring up against former Cadet World champ and 2018 U23 World bronze Aleksandr Hrusyhyn (UKR), Mango had trouble getting his engine started. Hrushyn first scored on a passive and step-out to break the ice. He followed with two step-outs moving into the latter stages of the second period, and then received two on a Mango caution ahead of cinching one gutwrench from the restart.
Further adding to Mango's frustration is that when he advanced to the bronze round, his opponent, Rahman Billici (TUR), chose not to compete, ultimately robbing Mango of the opportunity to come back strong and end the tournament on a higher competitive note.
But part of the Polan trip for Nowry and Mango was to get some learning done prior to the remainder of a summer that will be spent hardening up for the World Championships. It was a chance to get some match time against foreigners, workshop, and apply the lessons learned in effort to touch down in Nur-Sultan next month with a full head of steam.
Max Nowry — 55 kg, Army/WCAP
5PM: You have been waiting for a trip like this where some World-level guys in your weight would be available. How does it feel afterwards having had that chance while preparing for the Worlds?
Max Nowry:  It was awesome to finally get some matches in against Europeans, especially Tsurtsumia, because originally, he was in the other pool but they kept changing the bracket. So, I was excited to have a guaranteed match with him before the World Championships. Also, being able to get four matches against foreigners was a huge bonus in my mind.
5PM: How does getting these matches in relate to your preparation knowing that World Team Camp is now on the horizon?
Nowry:  I think getting this tournament in before our final camp was something great to have. Now I have things fresh in my and Coach (Spenser) Mango's mind that we know I need to focus on and improve on, or keep the same.
5PM: Coming out of a tournament like this one, are there a lot of adjustments or changes you feel are necessary to make?
Nowry: Ryan and I aren't really going to change too much. It's too close to the World Championships and I think we're both on a good track and will be prepared come time to step on the mat in Kazakhstan. The biggest things I'm going to work on and tweak a little will be to focus on capitalizing more on scoring opportunities, because I missed way too many drags in my match with Tsurtsumia. So, working on capitalizing on scoring opportunities and then continuing to focus on moving a little more down in par-terre.
Ryan Mango — 63 kg, Army/WCAP
5PM: What were you hoping to get out of this trip, especially since your season is fresher than the others'. You had the Pan Ams, the Open, Final X, and now this, so what were you looking for competing in this event?
Ryan Mango: To be honest, I wrestled like shit. There's no sugar coating it: I went out there and didn't perform anywhere close to my best. But that was sort of a blessing in disguise for me and a kick in the backside heading into this last month and change of training, which is maybe not what I wanted or how I wanted to receive it, but it's actually what I needed. In that way, this tournament was beneficial to me. Not that I was trying to peak for this tournament or anything like that, but I needed to go out and fight. I didn't do that, and now my eyes are open and focused on what I need to do moving forward.
5PM: What would you say is your biggest takeaway then from this tournament overall, and how does it relate to what you can work on the most during World Team Camp and your final preparation before you leave for the Worlds, whatever that looks like?
Mango:  Specifically for me, I need to just focus on going out there, wrestling hard for six full minutes, and keeping my mind in the match at all times. Occasionally when I go out there, I let my emotions get the best of me, like at this tournament. But when I'm at my best, I go out there and focus on wrestling hard and scoring the next point, no matter the score or situation, such as at Final X.
That's when I'm at my best, and that's what I'm going to focus on for the rest of the preparation cycle — nothing but the task at hand, which is applying my pressure and scoring the next points no matter the score or situation. I focus on this by doing the same thing in practice. No matter if we are drilling, going live, doing technique, etc., I need to focus and give all my energy to the task at hand. I have the technical tools to get the job done, and if my mind is in the place I know it should be and can be, I'll be hard to beat come September.
5PM: How has it been so far, this experience, being on a Team with Max and with your brother coaching you? Throw Ellis (Coleman) and Ildar (Hafizov) into that mix, as well, since the World Team features the "Ninja Squad". What is the support like and how does it benefit you?
Mango:  It's been great you know. It's hard to describe in words how beneficial it is. For example, on this trip I wrestled like shit my first match, get pulled back in, then get a forfeit. I had hopes of improving my performance right there on the spot, but then got left hanging with that sour taste in my mouth, which was good as far as motivation goes. Max, on the other hand, wrestled his ass off and I found myself feeding off of his performance. In my mind the whole day, I just thought, Man, I'm not gonna be the one in September sitting here like this not pulling my weight.
I feel like there's added pride in doing your part and being accountable for your rucksack, and that in turn helps each of us pick one another up when we need it or push through tough times when we would otherwise fail to realize our impact, potential, and importance as pillars of the Ninja Squad, Army/WCAP Wrestling, and USA Wrestling.
Follow Army/WCAP on Twitter, Facebook, and Instagram for updates on results and competitive schedules.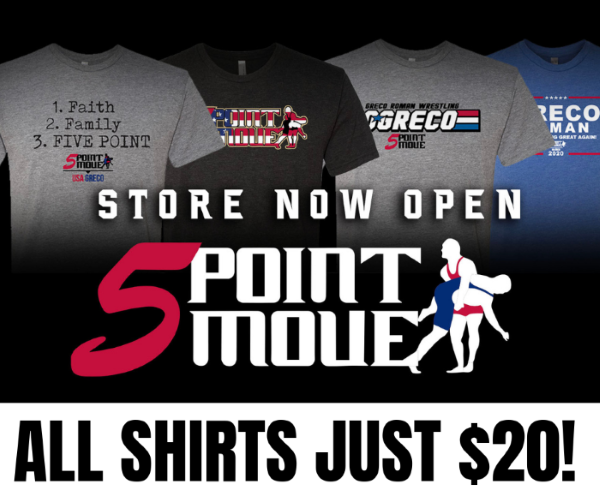 Listen to "5PM26: Princeton's Lenny Merkin and new USOTPC Greco-Roman athlete Nolan Baker" on Spreaker.
SUBSCRIBE TO THE FIVE POINT MOVE PODCAST
iTunes | Stitcher | Spreaker | Google Play Music | RSS
Notice
: Trying to get property 'term_id' of non-object in
/home/fivepointwp/webapps/fivepointwp/wp-content/themes/flex-mag/functions.php
on line
999