The United States Army's World Class Athletes Program has two Greco-Roman Olympians, two US Olympic Team camps in the books, and less than two weeks until everyone heads over to Japan.
Such is the setting for this latest Fort Greco featuring highly-respected Army assistant Spenser Mango, with an added dose of recency concerns. The second and final Olympic Team camp wrapped late last week in Alpharetta, Georgia, which means that both Ildar Hafizov (60 kg, world #1) and Alex Sancho (67 kg) have concluded the most intense phase of their respective training cycles. Mango explains the fruitful nature of the camp in GA, as well as how the Army contingent was able to dig down into specific adjustments amid a sizable collective.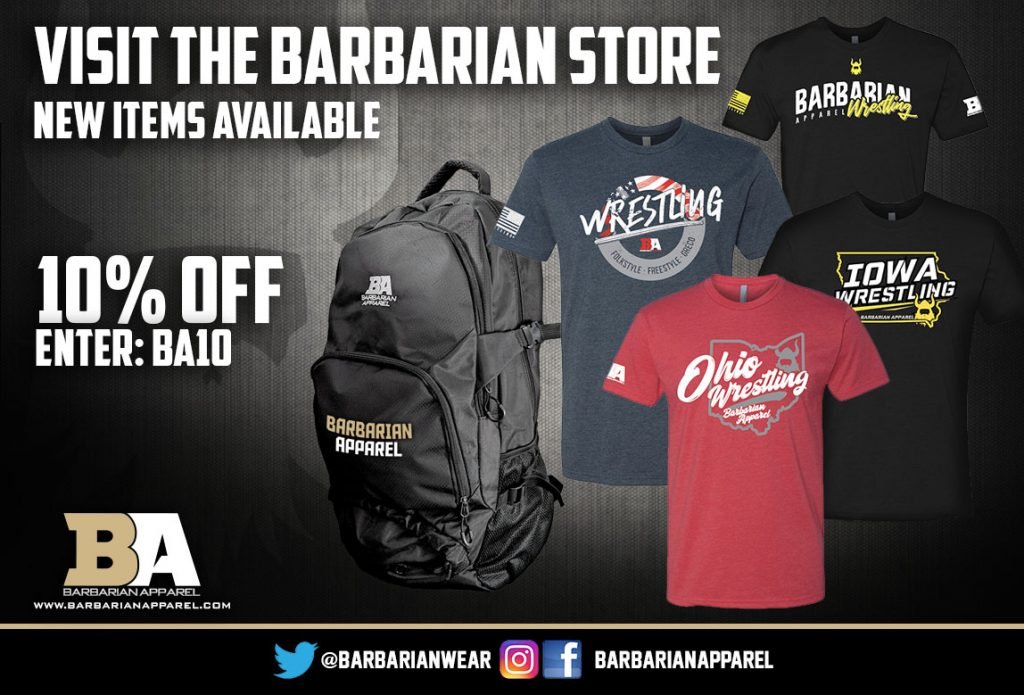 But before the Olympic camp enters the discussion are a pair of competitive items. Hafizov placed second at the 2021 Pan-American Championships shortly after injuring a rib during the first Olympic camp in May — and Sancho, who also hit a snag that same month, suited up for the Wladyslaw Pytlasinski Memorial in June. Mango shares his perspective of these performances, and how they related to the wrestlers when it comes to Olympic Games preparation.
5PM: Ildar had hurt his rib during the first Olympic Team camp right before the Pan-Am Championships. Was there ever a thought, was there ever a conversation, that he might not compete in the Pan-Ams?
Coach Spenser Mango: Just very briefly. I asked him if he felt like he could wrestle on it without it messing him up severely. He told me "yes", and he really wanted to get a competition in before the Games. Plus, we were so close to the Pan-Ams, anyway. That's why he competed over there in Guatemala.
He felt like he could go. He was a little banged up, but plenty of wrestlers have dealt with that throughout their entire careers. And we're here to win.
5PM: The Colombian (Dicther Toro Castaneda) is a terrific wrestler, and underrated given that 60 in our continent is a very tough weight. Did you look at the final as a measuring stick since they had wrestled each other before, or do you grade it an "incomplete" since Ildar was a bit compromised going into it?
SM: Not really. I still felt like with his rib injury that he could have come away with a win in that match. It was just a technical error. He gutted him and then he came with the lift, but he held on to the lift for way too long. He should have went ahead and threw it. You get correct throw points for anything with a back arch now in par terre. We hit a correct throw there and we're winning that match.
We have been working on that. I think Ildar competed decently in areas. He looked pretty good on the feet and got some turns on top. But that mistake in the final at this level, you can't have it.
5PM: Sancho was in a similar boat, with the exception that he did not compete in the Pan-Ams. First and foremost, when he tweaked his shoulder in camp, was it a situation where no matter what happened, holding him out would be considered "precautionary"?
SM: Yes, but for Sancho, he had surgery on his shoulder and had only competed at the Olympic Trials. That was his first tournament in quite some time and we thought it was better to give him a little more time to let his shoulder heal. He hadn't been doing the two-a-day practices while rehabbing his shoulder, and the camp was the first time that he really did two-a-days. So we felt he needed some time to let his shoulder heal up a little more, and then he competed in Poland.
5PM: If Sancho had wrestled in the Pan-Ams, I think it's fair to assume that he would have won…
SM: I would think so. Selfishly with him being one of my guys, I think he would have ran through the tournament.
5PM: He goes to Poland and only gets one match, a loss to Ukraine. What was the conversation like afterwards?
Coach Spenser Mango: It's funny, because he came off the mat — and the Ukrainian had stood up on him from bottom par terre — and Alex goes, "I know you're going to say something! I know you're going to say something!" Because, everyday I'm telling him that he has to do all of the little things right.
In a way, I think it was good for him because hearing someone say, Get your chest close to him, keep him down, be aggressive, get your lock… If lifting is your thing, you need to make sure that you get the chance to do it. That happened, and I think it was a great learning experience for him.
Also — just him being out there and able to watch a tournament. One of the things he said to me was, "Wow, some of these matches are really close." A lot of them were 3-2, 2-1. Really close matches. So I said, Yeah, that's because these guys go out there and they know exactly what they need to do to win. When you have two high-level guys, you have to be solid on your feet, defend from bottom, and get your turn on top. Worst-case scenario, if you get the first passivity call but can't get a turn, you know you're going down in the second period and will have to score on your feet. These guys know that going into their matches. And once that first call is made, they know how the rest of the match is going to go if no one scores. If you get the first passivity call but don't get a turn? You're going down in the second period. If you go down first and defend, then you have to do enough to earn the call to get on top. That's the bare minimum.
One of the things we went over at the last camp in Atlanta is just knowing all of the ways you can win matches. And big matches against experienced wrestlers, a lot of times it goes that way.
5PM: Ildar had mentioned that he didn't mind holding himself out of Poland if it meant being 100% healthy for the second Olympic camp. Sancho might not have had the same exact reasoning, but health is paramount, of course, for both, and this last camp was very important. Were you able to get done what you wanted to get done with Ildar and Alex in Atlanta Part II?
SM: Yes, and Matt Lindland did a really good job. He called the personal coaches for the Olympians before the camp and we talked about ideas and about what each individual Olympian needed. We worked on a plan where everyone could have a base that was similar; and if you needed to tailor things specifically, we could do that a little bit during practice, as well. We all sat down and brainstormed what we would do during camp.
5PM: Was there ample opportunity to focus on tiny, moving-parts adjustments that are critical throughout a final camp for a World or Olympic Team?
Coach Spenser Mango: We definitely had time. There were general things everyone was working on during the drill segments. But during individual time, we could go to our individual guys and say, Hey, I want you to work on this… Give them specific tasks. I think we definitely did pretty good with making minor adjustments for Alex's and Ildar's game plans. The camp started a little slow for them on that first match day. I don't think they looked as crisp as they should have. But when we came around for the second day of matches, it was a complete 180. They looked awesome and firing on all cylinders.
5PM: It wasn't just the Olympians in camp from the Army, you also had a mix of other athletes involved. All were well-established, but did they manage to glean a little extra out of the experience given this was an "Olympic" camp with a slightly different feeling surrounding practices? Save for Ellis (Coleman), because he has been in this position before.
SM: At the camp, of course the focus is on the Olympians, but the guys helping out were able to learn so much and grow as wrestlers. Being in that environment and seeing what the preparation was like for the Olympic Team, they weren't only trying to serve the Olympians and give them what they needed, they were also able to take something away from it for themselves.
We had some younger guys there, like Dalton Roberts. (Max) Nowry isn't so young, but he was there. (Mike) Fuenffinger, the Marines brought some guys there… Sunkist brought (Alston) Nutter and (Benji) Peak… All of those guys working together in that environment was good for everyone, and everyone was able to take something away from it.
5PM: Speaking of Max, he didn't have any opponents in Poland. 
SM: He wouldn't take "no" for an answer. First he asked, "Can I wrestle 60 kilos?" I said, "I'll check, but I'm pretty sure the answer is no", because with that new Athena (United World Wrestling) system you have to put your weights in two or three weeks out. But this guy asked me to check, so I went to accreditation. I asked, and they said "no". But that still wasn't good enough for him (Nowry), so he showed up the next morning for weigh-ins at 60 kilograms and he got another "no" (laughs). He tried, but the answer was an absolute no.
5PM: It was a "Ranking Series" tournament.
Coach Spenser Mango: Right, and they gave him his gold medal. I would hope they gave him his ranking points.
Follow Army/WCAP on Twitter, Facebook, and Instagram for updates on results and competitive schedules. 




Listen to "5PM49: Robby Smith on coaching, fatherhood and mentors" on Spreaker.
Listen to "5PM48: Austin Morrow and Gary Mayabb" on Spreaker.
Listen to "5PM47: Nate Engel and Xavier Johnson" on Spreaker.
SUBSCRIBE TO THE FIVE POINT MOVE PODCAST
iTunes | Stitcher | Spreaker | Google Play Music
Notice
: Trying to get property 'term_id' of non-object in
/home/fivepointwp/webapps/fivepointwp/wp-content/themes/flex-mag/functions.php
on line
999