The laughter comes easily. No effort. Nothing is forced. If you want to make Mike Fuenffinger (60 kg, Army/WCAP) laugh, all it takes is asking him how it feels to be absent from article headlines while simultaneously acknowledged as a front-runner to make the US Olympic Team next year.
We're not halfway through the question and Fuenffinger is already mid-chuckle.
"Nah, I don't care about any of that," Fuenffinger says, a statement easy to believe thanks to the casual tone present in his response. The conversation is over the phone, not via Zoom or some other video-capable app. But if Fuenffinger were indeed visible, you just know that he is reclining back in a chair without even the slightest tinge of stress most other athletes seem to betray when discussing how they're covered. Or, not.
Some of that is due to his lifestyle. Two weeks shy of his 28th birthday, Fuenffinger is a married man (wife, Theslena) with an infant daughter, Genesis. When he isn't in the wrestling room on Fort Carson, home to the Army World Class Athletes Program and its lightweight offshoot clique known as the "Ninja Squad", Fuenffinger is usually kicking back with his family and enjoying the slower pace home life has to bear. Once in a while, maybe there is time to do something outside of the house, but that has of course been difficult to do lately, what with the pandemic and all.


So he keeps it simple, predictable. Not because there is a hardcore focus on eliminating distractions. It's much more that Fuenffinger doesn't care enough about items outside of his biosphere to even entertain distractions.
His approach works. Fuenffinger became a two-time US Senior National champ this past December, less than eight months after collecting his first title. Last summer, he was a runner-up to teammate Ildar Hafizov at Final X: Lincoln, and in 2018 he took second at the US Open to eventual World Teamer Dalton Roberts. In between have been a string of strong performances elsewhere that, combined with Fuenffinger's recent breakthroughs, would normally contribute to quite the Greco rockstar persona.
Yet — countless other athletes are showered with significantly more attention heading into Tokyo 2020ne, which in turn has helped elevate their "brands", for whatever that might be worth in an American wrestling community that by and large neglects its National Greco program. But there is no arguing the benefits. Many of these higher-profile wrestlers dominate Trials-contention talk even though a good percentage of them have not accomplished what Fuenffinger has thus far.
You might suppose such a thing would put a chip on his shoulder, especially given the power-cycling nature of social media. Not even close. Rather, Fuenffinger's insistence on narrowing his purview only tightens his resolve.
"It just doesn't matter to me as much," he offers before taking a brief pause. "I don't wrestle for anyone else. I don't care about attention too much, or as much as others do. I'm in this sport to win the Olympics, to win some medals. To do the best that I can as I pursue my wrestling career. I understand the advantages (from building a large social following), you get sponsorships and stuff like that. But I'm on the Army Team and get paid to do what I do already."
When pressed to consider that a little more activity on a platform like Instagram leading up to another Olympic Year might be a good idea if only to generate more awareness, Fuenffinger has no problem ceding ground. The way he sees it — or, the only way he can see growing comfortable with the art of promoting himself — is to make it about pushing Greco and not some quest to acquire a measure of digital clout. "I do think there is a value in getting that recognition for our sport out there. That's what makes me want to develop myself and get on social media more and get out there more, for the sake of the sport of wrestling," Fuenffinger says. But he wants to ensure that his point comes across clearly. "Not for myself, but to get wrestling out there more and support the sport better."
However, Fuenffinger's preference to operate off-the-grid has little to do with why his name hasn't been brought up recently. One week after he earned silver at the Pan-American Championships in Ottawa, the coronavirus pandemic had just begun to spiral out of control. By the time Fuenffinger landed on US soil, lockdowns had already been implemented around the country. Soon enough, the Olympic Trials were put on ice, and in the time since, most conversations regarding wrestling have existed in hypothetical contexts.
The optics are not difficult to reconcile. Fuenffinger certainly wasn't the only US Senior to have gathered momentum prior to the spring only to watch it become washed away in an instant. A few others had caught fire as the autumn turned to winter and appeared to be hitting their respective strides at the best time possible.
The difference is that for Fuenffinger, the Olympic Trials being pushed back a year brought with it a sense of relief, not overwhelming disappointment.
On the heels of his series loss to Hafizov in June of '19, Fuenffinger underwent shoulder surgery. Post-op recovery went smoothly and he was able to prepare for the December Nationals without missing a beat. Though, there was a small degree of pressure attached to that event. Only the top-5 placewinners in each Olympic weight (not already qualified) were to receive berths in the Trials. Despite Fuenffinger having already triumphed at the US Open last April, he was on the outside looking in until he secured his spot in the December finals following a victory over Roberts. Later, he decisioned Sammy Jones (NYAC/NTS) to complete his second consecutive title-clinching run.
Thus, he is proud of the achievement given the circumstances. "That was a good one," concedes Fuenfinger. "There was a lot of adversity to go through with the shoulder. That definitely made it mean a lot, with it being my first tournament back and being able to compete how I did. For me to be in the room and do what I needed to do."
But it is also why he wasn't exactly heartbroken upon learning in late-March of the Trials being postponed for another 12 months. "At the time, my shoulder was still healing up from surgery so I was like, Cool, I've got more time to heal, more time to prepare. I wasn't too upset about it."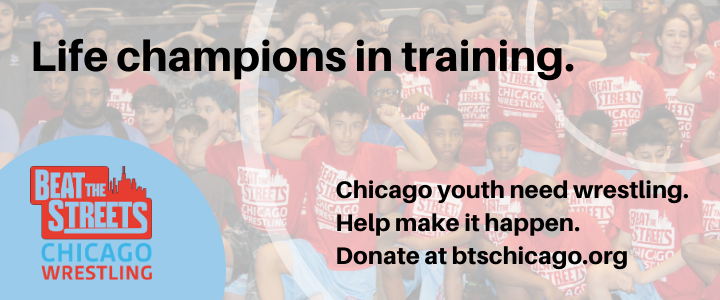 Along with an unexpectedly lengthy amount of time to heal, Fuenffinger has something else working in his favor: an influx of talented training partners. This, too, has him in good spirits. As if Army's "Ninja Squad" (which includes four recent US World Teamers) wasn't deep enough, they are set to add Fuenffinger's oft-rival Roberts, '18 U23 World Team rep Dalton Duffield, and '16 Olympian Jesse Thielke to the mix within the coming months. It is United States Greco's version of "the rich get richer", as Army will field no less than five wrestlers in the same 60-kilogram Trials bracket next April.
"I like it a lot, I gotta tell you." Fuenffinger is enthused just thinking about what his wrestling room will look like next season — and he doesn't mind that in order to make the Olympic Team he will have to scratch and claw his way past teammates with whom he spends an exorbitant portion of time. "The more competition the better. I joined wrestling late. I have nothing to lose and only everything to gain. I'm not afraid of people learning me. If anything, I am doing more of the learning because I haven't been into it as long as everyone. Having so much competition with everyone in the room is great for me, too. I feed off of that."
There he goes underselling himself again. It's true: Fuenffinger did get a bit of a late start in the sport compared to most. He first stepped on a mat as a freshman in high school. But he blossomed into a formidable competitor quickly, becoming both a two-time Junior World Team member and two-time Division III National champ ever before joining WCAP. Fuenffinger might not have the same number of years logged as many of his contemporaries but he has more than made up for it with his exploits on the Senior level.
Then again, it is all keeping with a pattern. Fuenffinger shirks at the notion of self-importance. He has practically no interest in exploring side-by-side comparisons with potential opponents, and expresses reluctance when it comes to discussing whether or not it is fair to label his career as underrated. The truly humble don't actually know that they are humble, after all. They are often far too passionate about they are trying to accomplish to concern themselves with what those on the outside of their bubbles have to say.
"Underrated? That's a tough question because I don't pay attention to the rankings," explains Fuenffinger. "I don't focus on that, just like I don't focus on social media. None of that stuff gets to me."
The next question is an easy one: does anything?


Listen to "5PM37: The wildman Sammy Jones" on Spreaker.
SUBSCRIBE TO THE FIVE POINT MOVE PODCAST
iTunes | Stitcher | Spreaker | Google Play Music
Notice
: Trying to get property 'term_id' of non-object in
/home/fivepointwp/webapps/fivepointwp/wp-content/themes/flex-mag/functions.php
on line
999