The latest edition of Fort Greco featuring Army/WCAP coach Spenser Mango comes on the heels of the 2019 World Military Games  — and right in front of the official start to the new season for USA Greco-Roman Seniors.
At the CISM World Military Games late last month in Wuhan, China, Ildar Hafizov (60 kg) led the way with a bronze medal. But it wasn't just the hardware that made Hafizov's performance so impressive. In his second match at the tournament, the 31-year-old defeated 2018 Senior World bronze Sailike Walihan (CHN). After a loss to Ri-Se-Ung (PRK) in the semifinal, Hafizov prevailed in the third-place bout opposite '18 Junior World runner-up Tigran Minasyan (ARM) via technical superiority.


Also in action for Army at the CISM Games were Ellis Coleman (67 kg, world no. 14) and Toby Erickson (130 kg). Neither made the medal stand, although Coleman did pound out a first-round tech victory. He was then decisioned by Joilson de Brito Ramos (BRA), effectively ending his tournament. As for Erickson (who is due to be married this coming weekend), a close loss to Pavel Rudakov (BLR) in the opening round put a premature end to any medal hopes for the big man.
Coach Spenser Mango covers all of the performances from the CISM Games outlined above, as well as the leg-grabbing bronze earned by Max Nowry (55 kg, world no. 5), and some of the impending plans for his charges now that the Olympic season is finally here.
5PM: People don't understand how big of a deal the CISM Games actually are, and it probably doesn't help that the event did not stream (in the US). It was a massive production and from what I hear, the village was really nice. 
Coach Spenser Mango: The village, I'm telling you, it was almost exactly up to standard with Beijing (2008 Olympics). 100%. That's what Ildar was telling me when we first got there. He said, "Hey, this looks exactly like Beijing." And I was like, I was thinking the exact same thing. It was right up there with an Olympic Games village. Washing machines on the balcony, a killer cafeteria, TV, common room, nice bedrooms, everything was brand new… It was legit.
5PM: We start with that man, bronze-medalist Ildar, who beat 2018 World bronze Walihan, lost to Ri, and then apparently trounced the Armenian who was a Junior runner-up last year. First of all and either technically or just attitude-wise, what was working for Ildar in this tournament?
SM: I just think more attitude than technically. He has always been a top-notch technician. Just his attitude and match strategy when he went out there. He was a little more relaxed. I think I've said it before, but Ildar is at his best when he is just going for stuff. We saw it in the match with China. It's near the end of the first period and he doesn't even have to try and score. But then he launches him for four with double over's, and it really surprised me because that is not the typical Ildar mentality when he's out on the mat.
He was just letting it fly and it paid off. In his bronze-medal match, he went out, got on top and really went to work. He ended up with a tech fall against the Armenian. I was really proud of the way he wrestled and I think he gained some confidence by opening up. He was like, "Man, I should do this all the time." I was like, Yeah, that's what I've been telling you (laughs).
5PM: Given Ildar's track record and how his Senior Worlds ended — in a winnable match against Temirov that went awry from par terre — did he need a bounce-back showing in China as a sort of a reminder to himself of his capabilities, especially considering the domestic challenges that lie ahead?
SM: Yes, I think this was great for him. It's always good after a tough tournament when you come back, wrestle, and perform well. It kind of gives you confidence and gets you going, especially going into this year. It's an important year, we have the weight to qualify. I think it did a great deal for his confidence and I'm excited for the rest of the season.
5PM: Ellis won his first bout going away but then fell to Brazil (Joilson de brito Ramos), who at the moment is pretty much the one guy most figure to be standing in Ellis' way at the qualifier in March. What happened, and how was it addressed afterwards?
SM: That bout, Ellis was leading 3-0. In the second period, Ellis was hanging out in a bodylock position, which after the match we talked about. There is really no need to be in a bodylock position when you're up by three. You want to be in a position where only you can score, and this was a 50/50 position. Plus, you have to know that your opponent is desperate, so he is willing to throw, open up, and take risks.
But yeah, he was up 3-0 and got taken down from the bodylock position and immediately turned. So, like I said, better match tactics. It's a mistake I'm not expecting a seasoned wrestler like Ellis to make. At the same time, he has been off the mat dealing with some issues, so we're just looking for him to learn from his mistake and then go into the qualifier and beat the Brazilian.
5PM: Just like Adam Coon in Kazakhstan, if Toby had won his first match he would have drawn Riza (Kayaalp). Unfortunately, that didn't happen. What was the deal with Toby versus Belarus (Pavel Rudakov)?
Coach Spenser Mango: In that match, we were just getting into positions that weren't good for us. We weren't forcing our own positions. We were letting our opponent get to theirs against us, and it is hard to beat world class competitors when they're getting to their positions. Moving forward, we want to force the positions we want to be in, positions where we feel comfortable, and score.
5PM: Max Nowry earned himself a bronze in freestyle. We don't usually mention freestyle here, but talk to Max's matches, overview what he did well, and also, how he came out of the tournament physically.
SM: Maxie, he went out and competed. He is a competitor, he always gives you a great level of effort and this tournament was no exception. He lost a tough match in the semfiinals to a #1 Moldovan (Andre Dukov) but came back and was able to get a victory in the bronze medal match. I think it was good for him. He said he's done with freestyle for a while and I don't blame him. It sucks sitting in the stands after getting into a bronze medal match at the Greco Worlds. But I'm excited for him moving forward. He's going to gain a little weight this season, get up to 60 kilograms, and I think he is really going to give guys some problems.
5PM: Who from Army is going on the trip to Georgia, and also, even if it's a tentative list, who might be competing in Sweden and Finland?
SM: From the Army going to Georgia we have Ildar, Ryan Mango, Max, Michael Hooker, Alex Sancho, and Luke Sheridan. Everyone will be competing in the Haparanda Cup (Sweden) except for Ildar, who will be coming back after the Tbilisi camp. We do not have anyone competing in the Haavisto Cup (Finland).
5PM: Have all of the weight class change discussions been squared away yet for Army?
Coach Spenser Mango: For the most part we know where everyone is going. We have Hayden Tuma and we're not sure what weight he is going to compete at, whether it is going to 60 or 67. But everybody else is pretty much locked down in their weight classes.
Follow Army/WCAP on Twitter, Facebook, and Instagram for updates on results and competitive schedules.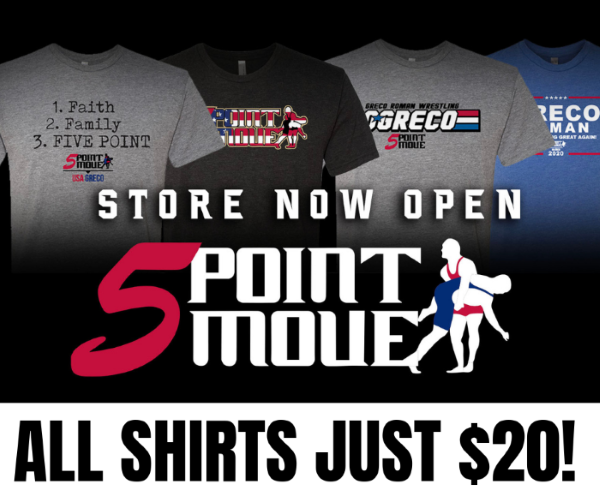 Listen to "5PM29: Junior world medalists Alston Nutter and Peyton Omania" on Spreaker.
SUBSCRIBE TO THE FIVE POINT MOVE PODCAST
iTunes | Stitcher | Spreaker | Google Play Music | RSS
Notice
: Trying to get property 'term_id' of non-object in
/home/fivepointwp/webapps/fivepointwp/wp-content/themes/flex-mag/functions.php
on line
999