Four members of the 2019 US World Team come from the Army's World Class Athletes Program — and all four have gotten some action in recently, just in time for one of the roughest stretches available throughout the entire training block.
It started in Poland. At the Wladyslaw Pylasinski Memorial two weekends ago, both Max Nowry (55 kg, world no. 13) and Ryan Mango (63 kg, world no. 20) earned bronze. For Nowry, the event offered the chance to battle against a suitably high level of competition, something he has been targeting given 55 kilograms' sparseness at the overseas tournaments he has attended since the weight class returned last year. In total, Nowry had four matches, one of which coming against multi-time Junior/2019 U23 World medalist Nugzari Tsurtsumia (GEO, world no. 5). Mango's ledger was a little different. The talented Stanford alum only participated in one match, a loss to '18 U23 World bronze Aleksandr Hrushyn (UKR). Hoping for a shot at redemption in the bronze round, Mango instead received a forfeit. That didn't go over too well.


Then there was last week's Pan Am Games that saw Ildar Hafizov (60 kg) and Ellis Coleman (67 kg, world no. 17) also come away with bronze medals. Hafizov lost his first match to Dicther Toro Castaneda (COL) but came back strong against Emilio Perez Alonzo (MEX). Meanwhile, Coleman earned a pin in his quarterfinal bout, lost for the second time this season to '16 Olympic gold Ismael Borrero Molina (CUB, world no. 15), and closed out with another pin at the expense of Luis DeLeon (DOM).
What these performances mean to the athletes during what is the lead-up to next month's World Championships is covered in full by Army coach Spenser Mango, who also speaks to what the plan is going to entail once the ultra-serious World Team Camp arrives next week in Colorado Springs.
5PM: For Max, Poland was important because he hasn't really had the opportunity to…
Coach Spenser Mango: Gauge himself.
5PM: Exactly, spot on.
SM: I was really excited for him when I saw who was going to be in his bracket, because obviously I wanted to see him against the guys who are medaling at his weight. That match with Tsurtsumia from Georgia, that was the one I really wanted to see. He had what I felt were two pivotal moments during that match. Max was doing a good job in bottom par terre, he was moving. And then he got lifted. Honestly, I thought he had done enough to float it but he didn't, and gave up the four pointer. There was another situation where Tsurtsumia was breaking in the second period. He fell out of bounds and Max didn't cover him right away. There was like, a pause, and then he covered him. So they only gave him one (point) instead of two for a takedown.
I told him, I said, If we train those two situations — if we don't get lifted and we cover on the takedown — we're winning that match. It was definitely a positive for him. I felt like out of the guys in Poland who were World Team members, Max was the one I was most excited about because he hadn't wrestled the top guys at that weight and now we see where we're at, and I am fully confident Max can bring home a medal from Kazakhstan.
5PM: It wasn't the idea situation for Ryan, to go overseas and get one match, and it winds up being a match that is not indicative nor representative of his skill-set and ability. Hryushyn is a good, tough wrestler, but he's not nine points ahead of Ryan. 
SM: No he's not. Exactly.
5PM: You know him better than anyone else on Earth. What do you tell Ryan after the match, and then also, due to the fact he didn't even have the chance to get the taste out his mouth in the bronze round?
SM: I was obviously disappointed in the result. I told him that it was all about effort, consistent effort. That's all I'm looking for. It's not so much about winning and losing, it is about that same high level effort that is going to take you far into tournaments. Someone who I think really showed that in Poland was Ray Bunker. In his third place match, he just about died three times but he kept giving all the effort that he had. When you do that, good things end up happening.
That's what I was trying to tell Ryan. It doesn't matter how much better than you the guy is, or whether you think the other guy is a World beater or a scrub. If you bring the same high-level effort every time, good things are going to happen and you're going to become way more consistent in your results. I think that's all he needs. When Ryan is on, he's on; and when he's off, he's off. If he can become more consistent, he is going to become way, way more dominant as a wrestler.
5PM: You guys came straight home from the tournament. Is there a benefit to getting right back to home base and continuing the work there?
Coach Spenser Mango: I see benefits both ways. The benefit with coming straight back is guys can decompress and prepare for the camp coming up here in the Springs. If we had stayed, maybe we would have had the opportunity to work with some of the wrestlers in their weight classes, but either way I feel like there is a benefit. Me personally, I just try to roll with the punches and find the best in every situation and make the most of it.
5PM: Now for the Pan Ams. Different deal than Pytlasinski, but still a litmus test. Ildar's first match didn't stream, the loss. Not to sound judgemental, but that is an opponent who is certainly beatable for someone like Ildar. 
SM: Oh, yeah.
5PM: Without having the benefit to actually see it, you know your athlete, his tendencies, and everything else. Given where we are relative to the Worlds and that it was the Pan Ams, do you put any stock in that? And if you do, what is your takeaway with his rebounding very strong for bronze?
SM: I actually like the fact that Ildar lost. I know it sounds crazy, but I feel like he comes back and wrestles better after suffering a defeat. At the US Open, he lost to a teammate, (Mike) Fuenffinger. And then he came back at Final X and wrestled much better. I don't know. I feel like once he gets a loss and he has that on his mind, now he's out and it changes his mindset. Somehow. I'm glad it happened there. That's why we do these tournaments before the World Championships, so we can have a little bit of experience beforehand and go into the Worlds knowing what we have to work on. We didn't have any champs from WCAP in Poland or at the Pan Am Games, so everyone is going in hungry.
5PM: Then there is Ellis, who aside from one match had a dominant tournament. It's two times now that he has wrestled Borrero. Their matches are a little different from one another in one way, but the result isn't. From the outside, it looks like Ellis is right there with him and is certainly closer than the scores indicate. What is it about Ellis going up against a guy like this that you identify as the bridge, the item or items necessary to close the gap? What is the missing piece?
SM: Ellis and I, we talked about this match. Just in general, his performance. Sometimes, Ellis will try to be a little too much finesse in my opinion. I'd rather see him just go out and bully him first. Once we start getting our body into him, then we can maybe start side-stepping him.
We talked about Borrero and Ellis was talking about how strong Borrero he is. Yes, Borrero is strong. But it's because you're trying to side-step him all the time. Instead, Go straight into him. Ellis' underhooks are unbelievable. So, Step into him. Even if he gets his two-on-one, we're still going to step into him and challenge for the position. We want to make him work the whole time, and that's going to wear his strength down.
And then from bottom, we've got to move. We can't give up a bunch of points in par terre and that was really the difference in the match. He gave up six points, I think? Four? We can't give up that many points against World-class competition. What will make or break us at the Worlds is if we can go down and not give up any points. Then we'll be in every match. But if we go down and give up four or five points from par terre, it is going to be really hard for us to come home with a medal. In any weight class.
5PM: Camp starts next week. This is typically a grind period, the camp. All four guys have a little bit of an injury history. What is going to be the key to keeping everyone healthy during what is sure to be an arduous training camp?
SM: I think it's just paying close attention to the athletes. We'll see how they are responding to the practices and how they look on the days after tough training, if they are recovering or still a little sluggish. I think just focusing on the body language. I even try to make a point to ask the guys how they feel. But — you're not going to feel good all the time (laughs). I like to hear what they have to say, but most importantly, see how their bodies look during the warm-ups and all of that.
I think we're in a good spot right now, though. Guys should be rested. This is the last camp. We can work hard here and fix little bits of our technique and then go into Kazakhstan strong and ready to go.
5PM: You've had some time on target with the two from Poland in between, and by the time camp starts next week you will have had access with all four guys making some adjustments. How do you work these items into the camp's curriculum? 
Coach Spenser Mango: Oh, it's not bad at all. Even though the camp has a schedule, we can still give them tasks. For instance, During this go, we want you to just focus on this. Or, Just focus on this technique and not giving this up. We can, I guess, individualize for each athlete what we want their focus to be for each go, each day, and each week. That way, if there are changes to the practice structure they are still doing the same things as everyone else, they just have different tasks that they are focusing on individually for each wrestler.
Follow Army/WCAP on Twitter, Facebook, and Instagram for updates on results and competitive schedules.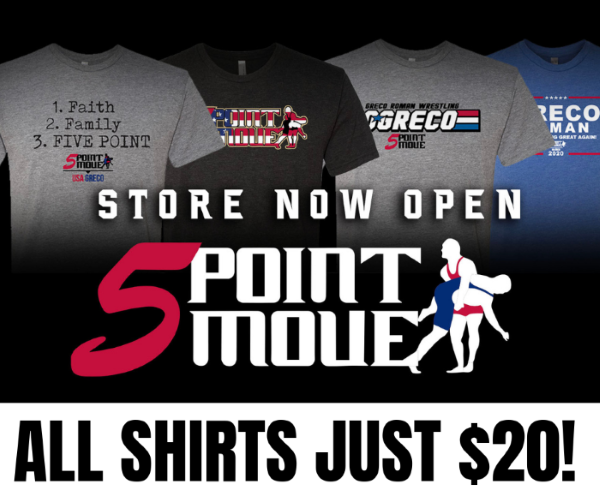 Listen to "5PM26: Princeton's Lenny Merkin and new USOTPC Greco-Roman athlete Nolan Baker" on Spreaker.
SUBSCRIBE TO THE FIVE POINT MOVE PODCAST
iTunes | Stitcher | Spreaker | Google Play Music | RSS
Notice
: Trying to get property 'term_id' of non-object in
/home/fivepointwp/webapps/fivepointwp/wp-content/themes/flex-mag/functions.php
on line
999