The one thing they all have in common, aside from glaringly obvious parallels, is that it means something special. Or, extraordinary. There is a digressive component involved with making an Olympic Team. You witness this deviation from the norm every four years — or five, in this case, since nitpicking often wields a superficial brand of power for snarky, disenchanted folks on the interweb.
It never quite gets old. Wrestlers whose accomplishments are well-documented behave a little differently once they garner Olympic Team honors. Even if their coronations did not arrive with much in the way of surprise, the scene in Fort Worth, Texas two Saturday nights ago was still cherished. Buzzers and whistles and screams of joy filled the arena. High-profile names sporting glossy credentials found themselves overwhelmed by the magnitude of it all, some of whom already owned World and Olympic titles. So, you'd think this was nothing new for them. Still, most let out guttural roars, gesturing and waving. Draping the American flag over their shoulders and hugging various mask-clad personnel. Were they not used to triumphing on enormous stages?
Brought to light in the aftermath was the one piece most know but too many fail to adequately grasp:
No matter how you "dress up" wrestling; regardless of how creative, resourceful, or innovative the production — or how many new opportunities arise thanks to a litany of streaming services and eager but self-aggrandizing promotional bodies — nothing will ever approach the promise of conquest associated with international competition, and the Olympic Games will forever serve as the ultimate standard for wrestling's version of exceptionalism.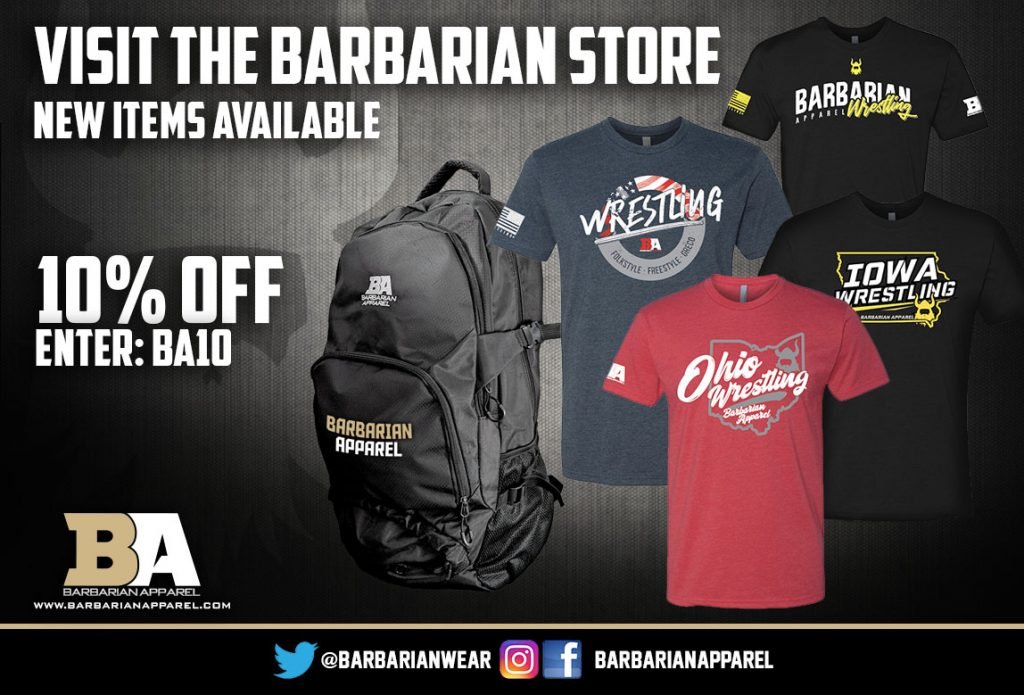 Everything else in this sport, including World Championships boasting deeper and more treacherous brackets, ceaselessly redirect the masses back to the prestige enjoyed by one tournament. The burdensome insularity responsible for shackling the perception of wrestling in these United States will never change that. Resistance is not only futile, it is in vain. Which makes said resistance even worse, if not insulting to those suffering along the journey.
Look at Ildar Hafizov (60 kg, Army/WCAP), for example.
Originally from Uzbekistan, Hafizov embraces stoicism, straight-faced and focused to where it might seem there exists a conscious choice to ignore any and all emotion. He was one of the Olympians crowned on Saturday, April 3. Hafizov waved to the crowd, politely, and soon made his way off the mat. But the understated response was not due to an absence of happiness, or a reluctance to celebrate. In fact, part of it was almost too massive, hence why Hafizov bit down and refused to break. There was a subtle message he was attempting to relay. So subtle that even NBC's 4K cameras couldn't capture it. While most wrestlers on that night were jubilant, Hafizov was simply relieved. And all he had wanted to say, to the country as a whole, was 'Thank you'.
To Hafizov, his victory in the Olympic Team Trials was the last step in what had been a multi-year transaction. He began competing as an American athlete in 2015, and very quickly was tasked with qualifying 59 kilograms (then the lightest Olympic category) for Rio '16. Hafizov came up short in that initial try, though his vanquisher from the '16 Trials, Jesse Thielke, got the job done a month after their best-of-three in Iowa City. The situation had never sat well with Hafizov. He was glad that Thielke eventually secured the weight class; what ate at him was swinging and missing on his own opportunity to give something back to his adopted home. He felt that since America was providing a new start, the least he could do in return was get a weight qualified. But he didn't. Yet.
Two World Teams later ('17 and '19) left him similarly dissatisfied. And the whole time, Hafizov did not wish for any of his competitive endeavors to center around himself. He desired winning for Team USA, and Army's World Class Athletes Program. That was the priority. Individual concerns were secondary.
Last March, right before COVID lockdown, Hafizov finally completed the first half of his mental agreement with the United States by qualifying 60 kilos in Ottawa. His performance was important, memorable, and a highlight of his career. He had, in his words, "given back". And because he had ensured 60's presence in Tokyo, USA Wrestling's procedures called for him to receive an automatic bye to the Olympic Trials' final round. Like everyone else involved, Hafizov had to wait an entire year to cash in on that perk — which he did by defeating fellow "Ninja Squad" rep Ryan Mango.
In the end, Fort Worth was not the culmination of a lifelong pursuit towards the tournament with a five-ring logo, for Hafizov had first stepped on the Olympic stage back in '08 donning UZB colors. He wasn't waiting to become an Olympian. Rather, he had been waiting to become a United States Olympian. Now he is one. The agreement is notarized and approved. Hafizov will still head to Japan with the objective of raising the flag. That part hasn't changed. He is just done operating under a self-imposed deficit.
Nearly all of the victors were celebrating. Loud, proud, joyously. No, it never quite gets old, the tradition that sees athletes earn the right to compete at the pinnacle of their sport. They all had their own customized reasons for why it was special. Hafizov had his, too. The deal is done.
America, he is truly one of yours, now.
As if he were not already.
Ildar Hafizov — 60 kg, 2020 US Olympian
5PM: On the Friday of the Olympic Trials, did you pay close attention to what was going on in the bracket? Or were you just kind of taking it easy?
Ildar Hafizov: I was looking at brackets to see how our Army guys were wrestling. After the first round I was like, Okay, we should be fine. But then when Max (Nowry) lost to Sammy (Jones), I was like, Oh, boy. Again, the officiating was wrong, and I heard from Ali (Asgary, Army/WCAP strength coach). Ali said they had screwed him (Nowry) over. And if you looked at Trackwrestling, they only showed three cautions for Max. So I asked, What did Max do to get three cautions? I was surprised. This was the thing that was surprising to me.
I was looking at that, and then Ali texted me, "Ryan (Mango) and 'Fueff' (Mike Fuenffinger) in the finals." I was like, Okay, that's good. It's better if it is our guys, you know? Then no matter who was winning, it would be one of our guys. I was just preparing and cutting a little weight that evening.
5PM: Were you at all nervous the night before? If only because in all of your previous US Trials appearances, you did not have a bye to a best-of-three final. You always had to go through the bracket. With this tournament, you had to wait to wrestle. Was it on your mind in a weird way at all?
Hafizov: No, I actually liked it because I had more time. Especially with wrestling in the evening. I slept well. The whole night I was sleeping. Usually, you're thinking when you have to wrestle in the morning. You're kind of sleeping, but not sleeping. You're waking up and thinking about it, how it's going to be. But from Friday night to Saturday, I slept like a baby. I wasn't even thinking about the tournament. I was thinking about two matches. Just win two matches and that's it.
I liked it this way. I wasn't nervous. That's why I wrestled in Rome, to shake it off. Like old dust, just shake it off. Wrestle a little bit, move around. Get into a competition mindset. That is what was going on inside my head in Rome. I was preparing for the Trials. That's why I was pushing to go to the Rome tournament.
5PM: I always write how you're the best technical wrestler in this country, and I would guess your skills and experience help your confidence. In the USA Wrestling pre-Trials press conference, you answered a reporter by saying how the Trial finals were going to turn out "just fine" for you. You're a confident wrestler, anyway — but given the timing, was the Rome tournament really that important for allowing you to feel that confident heading into Texas?
Hafizov: The Rome competition was testing myself after a year off. I wanted to test my limits, and then I wanted to test whatever I was doing in practice with Spenser (Mango) and everyone else skill-wise. I needed to feel it to see where I was at that point so I could make adjustments prior to the Trials. That is why it was very important to me.
5PM: I'm so sick of asking everyone about this, but hopefully this is it. After you qualified 60 kilos in Ottawa, the Trials and the Olympics were both postponed for a year. Were there any bright spots to this? Or was it just plain horrible to have to wait so long?
Hafizov: For me, it was alright. The bright spot for me was that I qualified the weight; so even if the postponement happened for one year, two years, or whatever, I would still be in the finals of the Olympic Trials and have to prepare for only two matches. Or at most, three matches. I would just have to prepare for three matches and then I'd have the little road to Tokyo after it was over.
During the pandemic, our coaches didn't allow us to go to the WCAP wrestling room. We were doing training, cardio stuff, outside. I think that little break from the mat helped me rest my bones and my joints.
It also made me more excited to go back. You start missing the mat. You miss that smell, you know? You want to get on a mat and sweat it all off again. I don't know how many times I was walking around the mat but we weren't able to touch each other. It was like, Damn, when can we start wrestling?
When we started going back, to Joe's (Betterman's) place, just playing around and wrestling, I was very excited. When you endure a break like that, you renew your ability again. I was watching a lot of videos and stuff, so I wanted to try a lot of different moves on people. I started hitting different moves and it was like, Nice, it's working. It was so nice to go back and they were still working. You're hitting your old moves, your new moves, and they were all still working. It was nice.
5PM: The break made everything new and exciting again.
Hafizov: Yeah, I was coming back for every practice and I wasn't tired from being on the mat. You wanted more, every time. And when it was over, it wasn't enough, so you wanted to do some stretching and stuff after it. You wanted to keep working out, work on your lift. I was bothering Spenser, Can I lift you? Can I do this? Can I do that? And he was like, Chill. You still have time. Relax a little bit.
View this post on Instagram
5PM: Two Army guys in the finals. I would venture most kind of expected that. You are all very close, the "Ninja Squad", etc. You are very close with Spenser, you're close with Ryan, and then you get Ryan in the final. I touched on this with (Alex) Sancho, but to be clear one more time: you were rooting for an Army guy to make the finals against you, correct?
Hafizov: Oh, yeah. I wanted someone from the Army, from our team. I was happy when Mike and Ryan were wrestling each other in the (Challenge final), I was happy to see that because it meant that all three of us would be on the National Team at 60 kilograms.
5PM: On the night of the final, is it different? Were you calm, relaxed? Good warm-up? Were you hyper? Or just ready to do business?
Hafizov: I was pretty calm the whole day. I wasn't nervous or anything. I weighed in at 9:30am and then went back to the hotel to eat breakfast. My brother was at the hotel with me, so we walked around for an hour, hour-and-a-half along the trail. We walked and talked, and I wasn't thinking about wrestling at all. I wasn't focused on wrestling yet.
Then I went back to the hotel to relax again. When we went back to the arena, I was riding with Ryan. We were talking, and we didn't talk about wrestling. I didn't feel that tension between us, you know? Usually when two opponents have to wrestle each other, they have a tension between them. They don't want to see each other. But I didn't feel that from him, and he probably didn't feel it from me, either. He was calm, I was calm. Then when we started warming up, he was warming up with Max and I warmed up with Fuef. Mike had already taken third. He was kind of excited. I warmed up with Ellis (Coleman) a little bit, warmed up with Fuef. Got a little sweat going and prepared for my match like usual. I just put my headphones in and have my music.
As soon as I wrestled the first match, I was more calm. More calm than the second one.
5PM: More calm then the second one? 
Hafizov: More calm because I won the first match and nothing crazy happened with the officials. So then it was on me, you know? That was the most relaxing part.
5PM: From what you saw — the environment, the setup, and so on — did you like the presentation of the Trials?
Ildar Hafizov: I was talking to my wife about it. I had never wrestled in that big of an arena. Even if it was the Worlds or something like that, it's not that big. This arena was huge. I think they ran it very nicely. I don't know what they would have had at Penn State, if it's the same, bigger or smaller…
5PM: I think smaller. 
Hafizov: Yeah, probably smaller. But this one was way nicer. And the way it was run, it was almost like the Olympics, which helps you get that feel. There were huge mats, huge arena. People all around you. I loved that. The presentation was great.
5PM: You were pretty brand new in 2016, and that would have been your second Olympic Team but first as a US athlete. That tournament didn't go your way, though you did wrestle very well. Life is different for you now than it was then. Considering your qualifying the weight, the disappointment from '16, and everything else you've done before and since, where does this one achievement rank for you insofar as being an American athlete? 
Hafizov: After qualifying in 2007 for Beijing, I didn't know anything. I was young. When I went to Beijing, I wasn't like, ready for that. I was young, 20-years-old, and Beijing was just my third Senior competition. I wasn't quite ready yet. I wasn't that strong. But in 2016, I was more ready. But the way that happened, I was on the side crying while they were taking the (Team) picture. I was sitting on the side in the corner with my back turned. No one was around me, and I was just crying. Because, I felt an unfairness at that time. Like, I should have done better, and then it was, Now I have to wait another four years. It was hard.
This time, when I qualified the weight last year and won those matches, the job was done for the country. How do I explain it? The first time when I tried to qualify the weight in '16, I wrestled Canada and lost. I felt like I needed to get it back and give something. It was, This country has given me a chance and I didn't pay it back. I didn't want to owe someone at the time. That was how it felt, like I owed the country something. When I qualified last year, I was like, Okay, now I have given it back.
So I paid it back. They trusted me and I qualified the weight for the country. After I had given it back, I was relaxed. I was like, Okay, I have paid it back. Now what I need to do is fight for my spot. And the way it all happened was perfect. It was the perfect setup. Everything was in place this time.
5PM: In what ways are you a better wrestler, better competitor, than you were in 2016?
Ildar Hafizov: Overall through these years, I think I've become smarter with my emotions. I wrestle more with more head. If you noticed back in '16, I always tried to break everyone's arms whenever I'd catch them. Now I'm still doing a two-on-one, but not as often as in '16. If you watch those matches, I'm only going for a two-on-one and I try to break their arm. I'm still doing a two-on-one, but I'm using it as a tool for something else to go to, like another throw or something.
Working out with Spenser, working out with our guys, I am re-learning in my head to be more patient. That is what I am thinking is different.




Listen to "5PM47: Nate Engel and Xavier Johnson" on Spreaker.
Listen to "5PM46: Taylor LaMont and Jessy Williams" on Spreaker.
Listen to "5PM45: Chatting with Dennis Hall and Max Nowry" on Spreaker.
SUBSCRIBE TO THE FIVE POINT MOVE PODCAST
iTunes | Stitcher | Spreaker | Google Play Music
Notice
: Trying to get property 'term_id' of non-object in
/home/fivepointwp/webapps/fivepointwp/wp-content/themes/flex-mag/functions.php
on line
999