At its core, the situation with West Cathcart (130 kg, NYAC/IRTC) is a familiar one for United States Greco-Roman. Wrestler does well in high school, demonstrates a clear upside, and wants to keep it going in college, preferably at a major Division I program. Then, said wrestler — and pick a reason here, many are available — winds up, somehow, being compelled to consider other options if wrestling is to remain a part of their life.
That is usually when Greco's inclusivity factor, its best attribute in this nation, tends to intervene. In the case of Cathcart, former Northern Michigan head coach Rob Hermann gets the credit. He had kept tabs on the two-time Illinois state runner-up, even when for all intents and purposes it appeared that the sport might have passed Cathcart by. Hermann still remembered the athletic big man who had previously eyeballed collegiate folkstyle glory and provided an opportunity that few coaches from other disciplines would even bother considering.


The next thing Cathcart knew, he was zipping over to the Upper Peninsula and embarking on a journey that would eventually change the complexion of how he saw himself as a competitor. Greco offered a second chance to realize some dreams. Maybe they were different dreams, but for some, a mat is a mat. And although the learning curve was, is, steep, the spirit stayed willing. Cathcart began logging valuable lessons right as NMU's "second wave" took hold. He was surrounded by a collection of top young wrestlers who embraced him as one of their own, and before long, he was certainly on the right track.
But the conclusion of Cathcart's first Olympic cycle as a full-time Greco athlete almost ushered in the end of his career. For a while, that sure seemed to be the story. A mashed foot, broken for a third time in 2016, saw Cathcart head home to undergo surgery. He had originally planned on returning to competition as soon as it made sense to do so. The problem for Cathcart, however, stopped being his foot — and started becoming his lifestyle. Not that he didn't miss wrestling, or the will to do whatever is necessary to succeed. He had more than proven his resilience within the sport earlier by coming back from one surgery after another. This time it had more to do with a routine normies take for granted.
Cathcart was working. There was money in his pocket. The foot was healed, along with virtually everything else. He also wasn't a kid anymore. That whole fresh-faced college perspective had long washed away. He liked the adult gig, he enjoyed getting paid for putting in the hours and not worrying about redlining his bank account. It isn't always easy for wrestlers, even those with a lot left in their proverbial tanks, to just up and walk away from that kind of comfort — especially if they have gotten a taste of the sacrifices required at the Senior level.
He was nudged back into the fold, anyway.
A few reminders courtesy of family and friends prompted Cathcart to rethink his hiatus. He was just over four months removed from his 26th birthday when he stepped back into the fray at the '19 Dave Schultz Memorial. Up to heavyweight after initially making his mark at 98 kilograms, Cathcart displayed no signs of ring rust en-route to bronze. The string wasn't cut with that tournament, either. Later, he rung up an All-American appearance at the US Open, and closed out the pre-Olympic season at the World Team Trials.
Which is the deviation found in Cathcart's story. Most comebacks in Senior wrestling bring with them a decline be it due to age, new crops of contenders, or insufficient training. The opposite is true with Cathcart. Ever since reintroducing himself to the landscape, his results have been both consistent and encouraging. Maturity has helped. So has humility. His natural athletic skills along with a lifetime's worth of wrestling other humans are part of the equation, too; and now that he is locked in with the Illinois Regional Training Center helmed by Bryan Medlin, Cathcart better understands now all of the pieces he was missing before.
The heavyweight field, long one of America's biggest strengths in Greco-Roman, could be in the midst of another renaissance. There are a few decorated, more experienced guys in front of Cathcart heading into next spring's Olympic Trials, so there is some ground he needs to cover, a fact of which he is most aware. That is fine. Good, even. It is good, because he is here. Cathcart is in the argument and loves how this chapter of his career is materializing. He is back, and it is on his terms. That's the best place to be.
5PM Interview with West Cathcart
5PM: It was a little while ago, I know that this wasn't exactly yesterday, but how did you wind up in Northern Michigan in the years following high school?
West Cathcart: It was actually kind of a different tale of getting there than everyone else. I had the dream like every other kid. You know, you're going to go win state a couple of times, and then for me, I wanted to go to U of I (University of Illinois) and become a two-time D1 National champ or whatever. That was it. I wasn't thinking about anything else.
Northern always had the coaches come down to help our Fargo kids out, so through high school they had talked to me about trying to go up there. But to me, I was like, No, I'm going to go wrestle folkstyle, I'm going to be an NCAA All-American. So I always pushed it to the side, and after two or three years of folkstyle wrestling I think I had two or three surgeries on my knees. I was kind of done wrestling, but then Rob Hermann emailed me asking if I was still wrestling. I was like, Not really, and he said, "Well, do you want to be?" He brought me in for the Junior World camp, they were hosting it that year. They had Adam Coon, Kevin Beazley, and none of the Senior guys from Northern were there. So I went up for that Junior World Camp and was Coon's partner for the week, and then decided I should move up there and get back into some Greco.
5PM: Was Marquette an adjustment?
WC: Yeah, Greco itself was an adjustment, but Marquette, too. It's an awesome place because it is not like anything that you're used to. Me being from the Midwest I was used to the winters but not with that much lake-effect snow. But then the summers it is the Northern woods. It's just like up in Wisconsin and places where I have always vacationed. It was cool living there, but it was definitely an adjustment because you're kind of secluded. You're not close to Chicago or any other big city. Anything you want you have to make quite a trek for because it's not local.
5PM Going back to your indoctrination into Greco, how quickly did you, as an upper-weight, get a sense of how to utilize what you did already bring to the table?
WC: That was actually the tough part, really. I went up there with like, an arm spin. I had an arm spin that I hit everyone with. That's what Rob saw me do. At the Junior World camp I hit Coon with one and he brought me into the office and he said, "I'll bump you up right now if you sign with me." So when I get there, I can move my feet decently well and I'm an athletic for a big guy, but as for my Greco knowledge? Zero. It's embarrassing to me how little I know about the sport in which I am supposed to be the best in the world. I ask tons of questions because that's what it is for me. I am trying to learn as much as I can.
We had Aghasi (Manukyan), who was more kind of Do your thing and make it your own. But damn near everything I asked him, he would say (imitating Manukyan's voice), Oh, you're professional. I can't teach you, you need to grab him and figure it out. I was like, Alright… (laughs). The assimilation was pretty tough but there were so many high-level guys in the room that if I did something cool or felt something cool, I would ask them and just pick their brains after practice.
5PM: How long did it take until you felt comfortable and confident?
WC: Really that first year, that first Senior-level Greco tournament they threw me into. Caylor Williams was my first match. Right off the bat I threw him for four. He ended up pinning me in the match. I had maybe one or two more wins total in that tournament but I All-American'ed in my first year in the program. I kind of had the feel for it but it probably took me a good month or two to realize that I had to keep my elbows in and not get dragged all over the mat.
5PM: You had been other places prior but your first what we'll call "major" Senior overseas tournament was Thor Masters '16, which is actually the last time you have traveled abroad. What was your biggest takeaway from that trip, especially due to how the camp and tournament are both massive?
West Cathcart: Well, I remember that the practices were great because they were super-tough. They were always two or three times a day with different coaches doing unique warm-ups and drills that we had as a team. And the guys who I was practicing with, too. Every single guy who you would grab — it didn't matter if they were smaller than you, bigger than you, or a sloppy-looking heavyweight — was a monster. As Americans, we just took our licks the whole week. We were all icing, sore, complaining about everything. Even the food didn't taste good to us, probably because we were so used to getting beat up on. What really sticks out to me is that my travel was a mess, but when it comes to the wrestling it was just brutal. Everyone was a monster.
5PM: Does looking back on this make you yearn to return overseas?
WC: Oh, yeah. I have been wanting to go back ever since. That has been my wrestling career even going back to high school. I start to get on a roll and, for me being a small-town kid with not a lot of exposure to Big Ten programs and coaches, I don't get a lot of those opportunities. Like that tour you were talking about earlier after (Colorado Springs). First off, I didn't even know about it; second of all, I'm not really thought of as the guy to bring even if my skill level is there.
I had finally started getting on a roll again to where I was going to pretty big tournaments. That was before the Olympic Games, and then right after that was when I broke my foot and had to move home for my in-network surgery.
But yeah, ever since then and coming back here and getting back in at the (Dave) Schultz, going overseas is not only the best training, it is also the connections you can make. They are the toughest rooms you can be in with the mindset of the coaches and the work ethic that they bring to you. That repertoire of wrestling knowledge is something you can't get anywhere else. No videos or anything will teach you that, you know?
5PM: Do you see that as a missing element to your career, not having a broad background overseas?
WC: Yeah, it is definitely something that I think about, especially in this country. A lot of the kids who do well, a lot of the kids in this program, it just seems like they have been everywhere, even in high school and stuff. It's just a world that I didn't know about until I was at the age when most people stop doing this. My eyes were opened up to the world of international Greco at 23, or 25, maybe, whereas the other guys have seen ten countries by the age of 19. It's just crazy to me.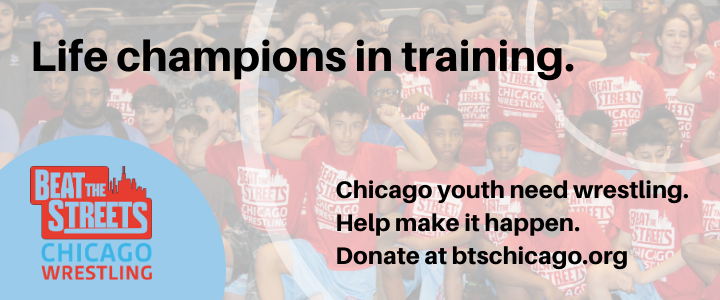 5PM: The last time you broke your foot — and it wasn't just some little break — wound up resulting in your deciding to step away from the sport. Considering that you had started off strong at NMU and were beginning to see the corner you had to turn, how did you reconcile the injury and having to get it fixed from an emotional and competitive perspective?
WC: I had kind of had this before during my third year of college there. I had done two years of junior college, and the whole reason you do junior college is because you go win it (nationals) twice and then every D1 school wants you. I'll have my pick of the litter sort of thing. But my freshman year of college I was a big 250 pound heavyweight and I had blown my knee out again wrestling Curtis Blaydes in our conference finals. That's when they had to put a cadaver ligament in my knee, because something had died during my previous surgery. They went and did that, but I had another one because a screw had gotten pulled out of my leg. After that I had these surgeries and went to my third school — which was the only D1 school still talking to me — and I ended up not even being on the team. They wouldn't let me practice with the kids. That was a dark year for me. I was like, This is over, you know? It's the first time since you're five-years-old that you don't have a teammate or a team. You just want a group of people to work out with and then you have these friends who say, Let's go out and drink instead.
I had kind of accepted and dealt with it once, that it might be over for me. When this happened in 2016, I had already broken that foot probably three or four times leading up to when I finally got it operated on. The last straw was when I broke it again and I tore up all of the ligaments in my ankle. I was just like, It's time for me. I had really been pushing in 2016 but then it happened. It was, Okay, I can go home and get this reset, build myself back up and make another run at it once I'm healthy. Because, for so long I had been rushing to get back on the mat as soon as I could. I can't miss that trajectory, I don't want to get passed up by anybody else. But that is what kept coming back, jumping in before I was ready.
5PM: So this last time, you hadn't necessarily resigned yourself to anything? You were going to just wait until everything healed, and so long as it did and you were healthy, you were at least willing to consider a comeback?
WC: Yeah, well, that was the initial plan until the more comfortable I became working. I was living in a house on a golf course where I was working, we had a construction business starting. I was growing comfortable in the role of settling down, working, and making money, and not struggling and training so hard. But it hit me a year ago on New Year's. They were asking me, You going to compete again? You said you were going to compete again ever since 2016. And I said, Oh, I'll be back out there… At some point, it became more talk than action, so I started acting a little more than talking.
5PM: How did you start preparing yourself to come back to competition?
West Cathcart: I had been coaching kids at the high school for probably two or three years then. The last year we had a kid who I used to wrestle back in high school. He was actually up at Southern Illinois-Edwardsville, he wrestled down at that university when I was there. So, he was a college wrestler and a guy my size. He didn't know any Greco, but he was a big body and in shape so I started working out with him after practice.
I would work real hard with the heavyweight kids during practice, and then with him everyday after practice. We did that for maybe two or three weeks because at the time I had planned on coming back and cutting down to 98 kilos and that helped me to get in shape and cut some weight off. That was really it. I had a month of that before the Schultz.
5PM: Did you feel gratuity, a lot of nerves, or was it just excitement? Did you have some competitive anxiety before your first tournament back, which was the Schultz?
WC: It was almost kind of carefree. The whole reason it had come about was because it was a New Year's resolution thing. My dad had said, If you're going to compete, then go compete. I went out there with nothing to lose. At the beginning I was hesitant to do it. A month out I was like, I'm not ready, no way! You psyche yourself out sometimes with how much you have to do because we work so hard at this sport. But at the end of the day, the only way to get better at competition is to get out there and do it. I signed up for freestyle just thinking it was going to be that bad. I wanted to get at least four matches and the way I thought of it was, Well, the only way I can guarantee four matches is if I do both styles. And then I just went out there like I had nothing to lose and had no anxiety.
It was good to see all of those friends again who I hadn't seen in so long. Because like I said, Marquette is a great place to visit but you really have no reason to go there unless it is for wrestling. Seeing all of those guys there was great. It was like a reunion and I just got to go out there and do what I had been missing.
5PM: I'd say it went pretty well. You took third, having lost to the Georgian (Gocha Davitadze) who won the tournament and was like a bright, shining light if only because he was one of just a few foreigners who entered the thing. 
WC: That was a thing, too. It was good for me. I had come in there carefree, but at the same time, due to my lack of international experience I have always given too much respect to the foreigners. So I see this foreign guy come into the weigh-ins with his Russian puffy coat and you could see on his face that he was tough foreign dude, and it was like, Oh man, that's a stud right there. Yet, I don't even know who he is or what he has done. Just the fact that he looked like a Russian was enough for me (laughs). That's why when I went out there and wrestled him I gave him too much respect and did something stupid. I definitely could have given him a better match but I learned. You can't give them respect just because of where they are from.
5PM; You're like the kid at the tournament who sees another kid with the best kneepads and newest shoes…
WC: (Laughs) Exactly, exactly. That was me. And then I thought about it afterwards and it was, Ugh, how did you let that happen?
5PM: I watched all of your matches at Schultz and thought you looked very comfortable, as if you hadn't really left. Did this raise the bar for the Open just naturally?
WC: I'd say so. I mean, it was still a situation with my training. I wasn't anywhere full-time, so I was still a little bit carefree; but I definitely had higher expectations for myself knowing that I had medaled. The Schultz was the first time I had some prize money and a bronze medal was enough of a qualification to where I was hungry for it. (Prior to the Open) I didn't have a system around me, but that goes back to me not being informed, not being a good-enough student of the game. I came down here one week to Illinois before the Open and did three or four days of practice and then we had a mock tournament.
That was enough to have (Bryan) Medlin in my corner at the Open — and then when I All-American'ed there, I had not even thought about the fact that it qualified me for the World Team Trials. My sister lived in Long Beach and drove out to Vegas, so to me, it was the end of my first year back in wrestling. It was, Oh yeah, the Open is the last tournament of the year and then we're going to go on vacation. I went to LA with her and moved her cross-country to Nashville. But after I All-American'ed, Medlin was saying, So, if you want to train after this for the World Team Trials… I hadn't even thought of being able to wrestle in two weeks. I had spent the entire time moving my sister. She did all the packing up and I kind of just explored Long Beach for the month. Then we packed up and I drove her cross-country before heading over to North Carolina (for the World Team Trials). That tournament was a bad one, and not even on my radar.
5PM: Prior to this past season, particularly with regard to the IRTC, when did everything begin to stabilize for you training-wise?
West Cathcart: It was really about this time last year. I was emailing with Medlin discussing how I want to make a real run at this, and how I can't do it from my couch. I needed partners, a facility… all the stuff guys on top have. So he said, Well, get down here. I told him that I needed to make more money so I could get a place and everything. He goes, Don't worry about any of that, just get down here. Some guys will have a couch for you or something, and we'll figure it out from there. So I just moved down and started training. When I first got here, I was head-over-heels. I was like a kid in a candy store just having attention paid to my career when before I had been a coach doing it all for these kids. It was nice being the athlete again.
5PM: You looked very different in New York compared to the previous spring, and then a month later was the December Nationals. You go and beat Donny (Longendyke), whom athletically I hold in very high esteem. Did that match say something to you about your progress?
WC: Yeah, a little bit. I definitely knew who he was, I had wrestled him in high school and knew that he won my bracket at the Last Chance (Olympic Trials Qualifier) back in 2016. I knew who he was and knew it would be a good match. Afterwards, I was pleased with how I wrestled.
5PM: Was it a weight off your shoulders to know that at that tournament you had punched your ticket to the Trials?
WC: It definitely was, especially considering the rocky road it took just to get into a position with a little bit of stability. It seems like for the past five months, you don't know what your next week holds, or what your next month holds. It was nice at that time to know that, You will competing again on this date. It was nice, it was comforting for a little bit. Until everything went crazy.
5PM: You have been one of the luckier guys recently in that you were able to go to Oklahoma and Utah, two of the Senior camps offered this summer. You have been able to stay active compared to much of the Senior base. Have you been able to use this time to slow things down to work on any areas of particular concern?
WC: Yeah, it has been pretty nice being able to break things down. And like you said, just being lucky with all of the mat time we have been able to get, and all of the places, and people whose brains we have been able to pick. For me, it has been really nice. I didn't have the most Greco-rich life during childhood so it's nice to have this time to work on every little detail that way it will flow faster and I won't be thinking about things as much on the mat.
5PM: Are you a player for the Nationals coming up?
WC: Yeah, definitely.
5PM: There was a big difference between the guy who came back in January of 2019 and the guy who closed out '19 at the December Trials Qualifier. Granted you have not been able to compete since, you have at least had the chance to take stock of all this. How do you want this pathway to the Olympic Trials to unfold from both a training and competitive aspect?
WC: Ideally, competition is the only way to get better at competing, so I'd like to enter as many competitions as possible. My original hope was that this would be ironed out, all of this pandemic craziness, and that we would be able to get a tournament, an overseas tour, and then another overseas tournament in before the Trials came around. That way, I would have plenty of competition experience and some more foreign feels, and an overall better state of mind to walk into it with. If that's not the case and we can't get overseas, just continue my training and get as many live feels and tournament-like competitions as I can.
5PM: As we sit here now, how do you feel physically, emotionally, mindset-wise — just the total package — knowing what lies ahead of you?
West Cathcart: I feel good. I feel better than I have ever felt. Physically, I am doing great. For a long time, I had battled injuries at a young age. I felt robbed and bitter towards the sport. But for the first time in a long time I am feeling good. I am comfortable in my living situation. I have a great training setup and an awesome community. Really, everything is about as awesome as it could be right now.
Follow West Cathcart on Twitter and Instagram for updates on his career and competitive schedule. 


Listen to "5PM39: Lucas Sheridan and Corey Hope" on Spreaker.
SUBSCRIBE TO THE FIVE POINT MOVE PODCAST
iTunes | Stitcher | Spreaker | Google Play Music
Notice
: Trying to get property 'term_id' of non-object in
/home/fivepointwp/webapps/fivepointwp/wp-content/themes/flex-mag/functions.php
on line
999