In 2005, Justin Ruiz secured his rightful place in what is considered a strong lineage for United States Greco-Roman. The second heaviest weight category had been a dependable one for the American program throughout its history, and Ruiz's blend of grit, explosiveness, and technical know-how fit in very well with those who came before him.
Prior to Ruiz, three US athletes in this weight class (or, weight range) had made appearances on a World or Olympic podium:
Brad Rheingans ('79 World bronze)
Dennis Koslowski ('87 World silver; '88 Olympic silver; '92 Olympic silver)
Garrett Lowney ('00 Olympic bronze)


After Ruiz clinched his bronze in Budapest, it would be three years until another US 96-kilo competitor managed to break through at the highest level. Adam Wheeler, who had become Ruiz's chief domestic adversary, salvaged Team USA's performance in the Beijing Olympics with his show-stopping run to third. Of course, Ruiz still had more left in the tank following '08. He went on to compete in two more World events before stepping away from competition at the conclusion of the '12 quadrennium.
But it was that day in Budapest some 14-and-a-half-years ago that cemented Ruiz's legacy among United States Greco greats. Time and distance have not blurred the picture. Ruiz, who resides in his native Utah where he is a successful loan officer in the mortgage industry, clearly recalls the approaches he deployed and the emotions he felt en-route to the performance that defines the perception of his remarkable career.
A month before the Senior Worlds, Ruiz competed in the University World Games, held in Izmir, Turkey. He had barely missed out on a medal and it was a solid overall performance (that would pay dividends later on, though Ruiz couldn't know that at the time). The turnaround between events was short but that wasn't a problem. Ruiz saw the University Games as a chance to tack on more experience while also being able to test himself against tough competition leading up to the Senior event. 
"I wasn't worried about it. When the opportunity came up to wrestle for a spot on that (University) Team and go to that event, I looked at it like, Here's another World-level event with a lot of good guys, and I can get more matches and experience. If anything, I looked at it as an advantage for me to go out and see where I was at. To get some more international matches in.
"Gosh, at that point in my career… 2003 was when I made the commitment to train Greco full-time, so I felt like I had a lot of ground to catch up. After coming up short at the 2004 Olympic Trials, I really wanted to put everything I could into that cycle. Really, any opportunity to compete I was pretty excited about, so I wasn't that concerned about going to the University Games a month before the World Championships. Instead, I looked at it like, Oh great, here's another opportunity to get some more matches against high-caliber wrestlers a month before the World Championships in Budapest."
Budapest 2005 was Ruiz's second Senior World Championships (after having made two appearances at Junior). He went 1-1 in '03, but that was during the beginning of his full-time career. A lot was changing, both in his skill-set and degree of self-assurance. Two years later, Ruiz wanted to prove a point. He wasn't daunted by the size of the stage or scope of competition, though that didn't mean he wanted to know all that much about the draw.
"In 2003, I hadn't been on the circuit very long. I beat the guy from Japan (Kenzo Kato) and then I got tech'ed by this guy from Poland (Marek Sitnik). That was pretty humbling. I remember looking on the message boards and someone wrote something like, 'Oh, why did we send Ruiz? He just got tech'ed.'
"That fueled me a little bit. I was like, Well, I'll show ya. So the next time around at the World Championships, I was excited to have that opportunity again. I was excited to go out there, do my best, and show everyone that I deserved to be there and could perform at that level. I was just really excited for it. I felt really good about my training partners. I brought my older brother (Brandon) with me, he was my training partner for the tournament. I felt pretty good about where things were at.
"I never really paid much attention to the draws. I didn't like to think about it much. I just waited until the day of the tournament to find out all that information. I don't even remember finding out who I was wrestling until the next day. I would just go weigh in, whatever the draw was, and that was it. I didn't really go look at the brackets and start strategizing like, Hey, I got this person, this person, and that person. And I kind of did it this way for all of the tournaments. I would just ask, Okay, who am I wrestling? For me, one of my coping mechanisms, I guess, was to keep it out of sight and out of mind until the day of competition because I didn't want to wrestle the match in my mind 100 times the night before — and then not sleep as well as I would have if I didn't think about it."
Ruiz's first opponent was Azamat Erkinbaev of Kyrgyzstan, who was just coming up on the Senior level. The match resulted in a dominating, lopsided victory for the American and provided an immediate surge of confidence.
"I just wanted to get a win, get some momentum on my side. It was kind of funny. When I compete, I like to just go out there with what I'm comfortable with. The singlets they issued to us that year, I thought they were too tight. I brought these other singlets that I wanted to wear. That first match, I didn't realize that I needed to have the USA-issued one, with USA on my back. I wore a New York Athletic Club singlet instead for that first match and got in trouble for it afterwards.
"I really just wanted to create some momentum, score some points, and just see what would happen. I wasn't too worried about what might happen at the very end of the tournament. Just take it one match at a time. I feel like I wrestle better that way, taking it one at a time, because when you're looking at the overall tournament — and you're trying to win it or do well — it's easy to get caught up in wrestling all of your opponents mentally instead of just taking them one at a time. That was my strategy going into the tournament. I tried to do that against Kyrgyzstan and came away with a win."
Next for Ruiz was Marek Svec (CZE), a World silver in '98 who would go on to add three more medals to his resume later in his career ('06 World silver, '07 World bronze, '08 Olympic bronze). Svec was a killer whose par terre game was particularly strong given the rule-set, and thought of as perhaps the biggest obstacle standing in Ruiz's way that morning. 
"We had actually wrestled in the German Grand Prix in the summer of 2003. He beat me. In fact, everyone beat me in that tournament. It was a pool of four: I lost to the Russian (Alexander Bezruchkin), I lost to the Swede (Martin Lidberg), and I lost to Svec. And it really had me second-guessing whether I made the right decision to commit to the Greco, because out of those three matches I scored one point. I was like, Man, I can't even score points.
"Part of it was just my ignorance. I didn't know who these guys were. Then after the tournament, people told me who they were. The Russian was a previous World champ, the Swede wound up being the World champ that year, and then Svec had already medaled at the Worlds before. I had these three really tough guys in my pool and I had no idea who they were.
"I knew Svec was strong. When I wrestled him I thought, Maybe I'll get him tired and take some of that strength out of him. But I knew it was going to be a tough match. I tried to scrap, fight, and do everything I could to get the win. I was able to turn him and that was big for me.
"Also during that same match, when he was on top of me one of my contacts popped out of my eye. At that time, I didn't have soft contacts, I had hard, permeable contacts and I didn't think about bringing an extra pair. I know it sounds really dumb, and people are probably going to read this and say, Why didn't you travel with an extra pair of contacts? I didn't have one.
"So I'm in par terre and it comes out. I move and try to defend — and I see the contact right there. So I'm like, Oh, there it is. I hurried and grabbed it real quick, and held it between my thumb and my index finger. Then I was just defending, and after they called us back up, I was able to take care of it during the little break. But afterwards, I remember thinking how dumb it was that I was trying to get that contact because I could have easily… I mean, if he had went for it at that time he could have turned me, you know what I mean? It was just kind of a mental error on my part, but I do remember that match and that happening."
A potential run to gold was cut short by eventual silver Lajos Virag (HUN), who scored from par terre. But Virag soon advancing to the final provided Ruiz with a second chance via the repechage. The former Cornhusker found little trouble focusing on the new objective once it became clear. 
"He got a reverse lift on me. He got a good start off the whistle and I just wasn't able to defend, I wasn't able to make up the difference on that one.
"After he beat me and I knew there would be more matches, I was just like, Okay, let's get ready for the next one. Again, I was just happy to get more matches. My mindset was like, The more matches you get, the better you're going to be, so let's try to keep winning and getting more matches.
"I think it is one of those things where you're watching and waiting to see what happens. You lose, and then you're down; but then you see you got pulled back in and it's a second chance. That is rejuvenating in and of itself because there are no guarantees. For all intents and purposes, your tournament could be over right there. But you have to wait, sit tight, and see what happens. I remember after I got pulled back in it was like, Sweet, I'm back in, which is a little bit different on the folkstyle side of things. You know it's a double-elimination tournament where it is, Hey, I lost, so let's try to come back for third. Here, there was uncertainty because you don't know what's going to happen. You just have to wait. There is definitely a letdown where you say I screwed up, I blew it — but at the same time, after getting pulled back into the repechage it becomes, I've got another shot, let's make the best use of it."
Ruiz not only won in the repechage round, he also exacted a measure of revenge. Belarusian Shota Narmanya got the better of Ruiz during an overseas training camp earlier in the season and it had made an impression. However, whatever occurred in the midst of their live go's was not a source of consternation. Ruiz simply acknowledged his brief history with Narmanya and used it as a baseline that translated into an especially satisfying victory. 
It also propelled him into the bronze round bearing renewed conviction. 
"We had a training camp in Belarus that year and I remembered that guy. During camp, he actually took it to me a couple days. I was just having a hard time with him. I was like, This guy is tough.
"When we wrestled in the repechage, I remembered some of the beatings he gave me. But I felt like when we started wrestling that it was different. It was competition. It wasn't training. I honestly think the nerves got to him a little bit and that worked to my favor because he didn't feel as tough in competition as I felt he had during practice. Or maybe it was a function of competition and I was just on that day. I don't know. I remember that part of it too was, Hey, let's get this guy back for what he did during camp. It was a good match. It was fun.
"I was excited. I was like, Here's my shot. I was close at the University Worlds to getting a medal, so it was, Okay, you're back here again, you're close. Let's win this match and get a medal. I didn't want to go home empty-handed after coming so close again."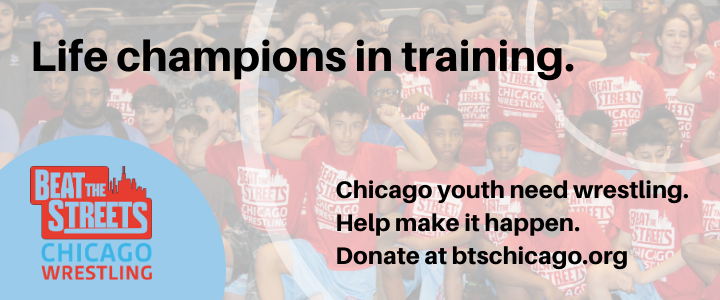 He was one win away from definitively breaking through. There were nerves, naturally. A World bronze medal match is not the same as a collegiate dual meet. The moment, the opportunity, was not lost on Ruiz. So, he compartmentalized the situation accordingly. He had been in what he considered other big matches before. The stakes might have been different, but the emotions were not. 
"It was a different stage but I felt like I had competed at other large tournaments before. Granted, it wasn't wrestling for a medal, but I had All-American'ed a couple of times at the NCAA tournament, I had won the US Open, I won the Trials, other age-group stuff. So to me, it was some of the same emotions you have every time out. You're going to have some butterflies and a little anxiety, but as soon as you start to wrestling that nervous energy typically goes away.
It all came down to a battle with Kazakhstan's Marulan Assembekov, who had defeated Ruiz at the University Worlds the month prior. The rule-set at the time placed an even higher premium on par terre defense compared to how matches are governed in the current era. Chances on the feet were limited, and offensive wrestlers timed their reverse locks to coincide with the precise moment refs blew the whistle. Anticipation was key, which is why even a small amount of familiarity with an opponent's tendencies could make a big difference. 
But on a more macro level, Ruiz's strategy was stripped down to one basic premise: make Assembekov feel the effects of Ruiz's superior conditioning and then defend at all costs. And as soon as it was apparent there would be no flowery par terre lift or gutwrench, Ruiz realized the quest for hardware was sealed. 
"I knew that he had a good reverse lift, but I feel like everyone from Kazakhstan had a good reverse lift. I felt like if I could stop his reverse lift, I could beat him. It was one of those things. My strategy was basically, I know he's got a good reverse lift, so don't let him lift you. I just wanted to make sure I was moving right away with how the rule-set was. The starting position for reverse lift I felt was one his strengths. To me it was, Hey man, you're going to have to move really fast right off the whistle, and then just do everything you can from bottom not to give up points. I felt like if I could do that, I'd have a really good chance to win the match.
"I felt confident in my conditioning and in what I was able to do. I just felt like if I could stop that reverse, I'd have a really good shot at winning. And that's how it played out. My defense worked to my advantage and I was able to win the match.
"At the end of the match when I knew he wasn't going to turn me — and I knew he wasn't going to win — that's when I got excited. That is when I felt like, I've got this won. I'm going to win this. He's not going to turn me, I've got this won. I was really excited as the match was winding down. I would say that was the feeling I remember most, as opposed to the feeling right before the match or during the match, other than when I knew I was going to win. That was exciting."
When the buzzer sounded to end the match, Ruiz finally broke character. He was normally a reserved sort out on the mat. Hyper-competitive and passionate, but also, business-minded. Matches were there to be won. That was his job description. He was normally not demonstrative pertaining to occupational objectives, though he certainly wasn't adverse to acknowledging a milestone when he saw one. 
This was a milestone. Ruiz allowed the moment to wash over him, and in the immediate aftermath, instantly thought of the people responsible for inspiring his march to the World podium. He was also glad to ensure that Team USA wouldn't exit the tournament without a highlight. 
"I'm not a real emotionally-expressive individual, especially when I was wrestling. So for me to get excited about winning, it was a big deal. I was pumping my arms above me. It was a great feeling just thinking that I'm one of the best in the world.
"That was the thing: being with other Senior guys who had been on the circuit longer, they had been at this, they had gone to World Championships and Olympic Games before, and I really looked up to all of those guys. They were role models. They were such good wrestlers and had worked so hard, but they didn't have medals. I felt like for me to accomplish that was something I could be proud of and feel really good about. Because, here were these guys I looked up to and not all of them were able to achieve this. I was really proud of myself to be able to achieve that, and I felt like it really helped me level up to some of these guys who I really respected.
"It was a great feeling. It was a lot of fun. My older brother was there. We used to scrap back in the day. We had this little mat in our basement, we called it 'The Dungeon'. It was a dark basement with this mat that we wrestled on in high school. Him being there and able to celebrate with me and be there for that was great.
"It was also for my teammates and coaches who were there. I remember Anatoly Petrosyan was so excited because it was our last chance to get a medal for Greco. He said, 'Thank you, you helped save our jobs!' I didn't know if he was kidding or not. It was still kind of funny. They were hugging me and stuff. It made feel good that I not only had done something good for myself, but that I also helped out the Team by coming away from the tournament with a medal."
Ruiz competed for seven more seasons and remained either at or near the top of the pecking order in the US each step of the way. Today, he is a married father of five daughters, and just shy of eight years removed from his last match. 
He still has his eyes on the sport, but it's not so easy to remain as locked-in as he used to be due to his day-to-day responsibilities. He is extremely busy. Extremely happy, too, but busy. And when he's not working, Ruiz stays in shape by practicing jiu-jitsu. He also coaches grapplers at the dojo on wrestling technique. When the time is available, he does private lessons, as well. 
But whatever Ruiz does — and wherever he goes — he will forever hold a membership to an elite fraternity. Only two dozen US athletes have earned medals at the Greco-Roman World Championships. Ruiz is one of them. He always will be. And the better part of 15 years later, what he keeps coming back to is the decision he made to go all-in on an international career that did not guarantee success, only the chance to strive for it. 
"It's cool to think that I was one of the best in the world, and that I committed to something and was able to perform at the highest level. I now use some of those lessons that I learned through wrestling and apply them towards other aspects of my life where I try to pursue excellence. It's a good feeling to know that I was one of the best in the world. Plus, when I'm coaching and sharing things with people, it is definitely something that gives me credibility. That way, if I'm coaching someone, they'll say, This grouchy-looking bald dude knows what he's talking about, and he's got a couple of tricks that work (laughs).
"The one thing is that I'm glad I committed to it, and I'm glad I was able to achieve what I did. I mean, I would have liked to have more medals to go along with it, but it is special the one I do have."


Listen to "5PM33: The Marine Corps' Jamel Johnson" on Spreaker.
SUBSCRIBE TO THE FIVE POINT MOVE PODCAST
iTunes | Stitcher | Spreaker | Google Play Music | RSS