The conclusion of the Cadet World Championships on Sunday saw Team USA's Tyler Hannah (92 kg, Combat) put forth a valiant effort against Saeid Karimzadeh (IRI) in the repechage round, falling 5-2. Hannah was right there with Karimzadeh deep into the second period when he was knocked for passivity and gave up a gutwrench that all but sealed the match, since Karimzadeh could just sit on his lead for the most part from then on to secure the victory.
As far as bookkeeping goes, the US squad finished 19th in the standings with 12 total points — one slot beneath Estonia (15 points) and right above Finland (10 points). Last year, and with 92-kilogram bronze medalist Jacob Kaminski (92 kg), USA wound up 16th at the Cadet Worlds with 23 points.


The 2019 Cadet World Team was comprised of ten strong, talented competitors boasting varying degrees of relevant age-group experience (and credentials) both domestically and abroad. That was perceived to be an advantage, despite the usual turnover that tends to affect preparation for the Cadets each year. But this is an age division that, given the current tenor of the sport developmentally worldwide, requires a greater sense of unity and enthusiastic participation from club and state coaches even before the Akron Trials take place.
When the goal for most organizations is to produce big results at the National Duals and Fargo — which are two events that barely resemble what international competition actually looks and feels like — properly preparing age-group athletes for World events in the summer becomes a convoluted, if not disjointed task.
United States Greco-Roman Operations Manager Gary Mayabb has done everything he can to help foster a more inclusive and robust training plan for the Cadets since coming on-board in 2017, and it shows in the improved positioning and approach these athletes demonstrate following the brief period he is able to get time on target. Imagine what would happen if the US program had more time and more participation from state/club leaders throughout the age-group season — and less athletes pulled in different directions during one of the most important times of their competitive lives?
If people want to yap about 'change' on the heels of a less-than-spectacular Greco performance at the Cadet Worlds, maybe they should realize true change can only occur by becoming part of the solution. Start prioritizing what's best for the athletes who have designs on becoming World champs; and stop resisting the fact that real improvement in this era cannot be achieved by placing more of an emphasis on domestic accolades that continue to kneecap international development.
Seniors All Over the Place
As of this writing, the six World Team members occupying the Olympic weight classes are in the process of acclimating to the time/weather in Lima, Peru after arriving last night in advance of this week's Pan American Games. Then, there is Nick Tarpley (72 kg, NYAC), who competed in the German Grand Prix over the weekend. And last but not least, there are the four non-Olympic weight World Teamers who just saw action in Poland and will remain there throughout the week for training camp.
What's more, is that a delegation of Marines is set to touch down in Georgia this week ahead of the Tbilisi Grand Prix (roster to be released tomorrow).
Grand Prix of Germany
Tarpley Comes Close
The aforementioned Tarpley faced off with Erik Loser (GER) in the qualification round. Keeping a good pace, it was Tarpley who received the first passive. From top par terre, he at first went conventional gut before stepping up for a lift attempt. Tarpley hoisted and arched Loser with the latter landing on top, but off the line. The official called for a step-out point in Tarpley's favor but it wasn't confirmed. When action resumed, Tarpley locked high head-and-arm and adjusted around the body. But so did Loser, with the German throwing Tarpley for five and ending up with a headlock. Tarpley had to fight off his back — which he did — and wanted to capitalize immediately — which he also did, by reversing and rolling Loser over for two more.
With just over a minute left in the bout, Tarpley nailed a beautiful, flowery lateral that netted four, giving him the lead 8-5. He was on his wa, it seemed. But then with under :20 remaining, Loser got behind and corkscrewed Tarpley for four, and followed up with back-to-back guts to steal the match 13-5. Loser was felled by Robert Fritsch (HUN) in the proceeding round, eliminating Tarpley from contention for bronze. (Tarpley's match can be viewed below).
Staebler, Vlasov, & Chakvetadze
The biggest news coming out of the Grand Prix of Germany is easy: Frank Staebler (GER) dropping down to 67 kilograms. The three-time World Champion who won his last two titles at 71 and 72, respectively, is currently ranked first at the higher non-Olympic weight — and will lose all of those precious ranking points by sticking around at 67 for Nur-Sultan. Naturally, the German fed would rightfully point out that qualifying for the Olympics certainly trumps such a concern.
The particulars are thus: 1) there was a two-kilogram allowance in Dortmund, so Staebler only had to make 69 kilos, not 67; 2) with how fantastic he looked, it is hard to imagine that the subtraction of two more kilos would greatly hinder him in any way, though we won't know for sure until mid-September.
But Staebler didn't just win his home tournament once again, he utterly dominated the reigning World champ at 67, Artem Surkov (RUS, world no. 1) in the final. Before that, he decimated Zaur Kabaloev (RUS) in the semis. In each match, Staebler operated as the fresher wrestler. Surkov would likely begrudgingly agree with that suggestion. Late in their match and after Staebler piled on from par terre, Surkov had shut down and seemed to desire simply surviving to the bell.
At 77 kilograms, 2016 Olympic/multi-time World champ Roman Vlasov (RUS, world no. 8) ran the table, finishing off with a decision victory over Zoltan Levai (HUN). Vlasov's win in the final came after he had a fun dustup with Alex Kessidis (SWE, world no. 9), who had earlier gotten past '16 Olympic/'18 World silver Tamas Lorincz (HUN, world no. 4) in what is one of the Swede's biggest individual Senior wins thus far. Kessidis wound up finishing with a bronze following a blow-out against Michael Wagner (AUT).
He had been struggling on and off, but 2016 Olympic Champion Davit Chakvetadze (87 kg, RUS) got back to business in Dortmund with a bronze that was more than well-earned thanks to quite the difficult draw. Chakevetadze, in order, defeated surging Erik Szilvassy (HUN, world no. 2), '16 Olympic bronze/World runner-up Denis Kudla (GER, world no. 16) to begin; he was then edged by stablemate (and his runner-up at the Russian Nationals) Sosruko Kodzokov; but rebounded for bronze by starching Elvidas Stankevicius (LTU).
More interesting at 87 kilos than Chakvetadze's showing was the emergence of three-time Junior World champ Alexandr Komarov (RUS). Komarov had competed at 82 throughout the season and placed third at the Euros at that weight but went up for this event, upending Kodzokov in the final. Russia is still likely to keep Komarov at 82 for Nur-Sultan with the feeling that Chakvetadze will get the nod over both Kodzokov and Bekhan Ozdoev (world no. 14) at 87. In the 2018 Junior World final, Komarov defeated Andrew Berryesa (77 kg, NYAC/FLWC).
2019 Grand Prix of Germany
August 3-4 — Dortmund
55 kg
GOLD: Vitali Kabaloev (RUS)
SILVER: Bek Tokogulu (KGZ)
BRONZE: Fabian Schmitt (GER)
60 kg
GOLD: Mingiyan Semenov (RUS)
SILVER: Lauri Mahonen (FIN)
BRONZE: Dimitar Sandov (SUI)
BRONZE: Etienne Kinsinger (GER)
63 kg
GOLD: Murat Garipov (RUS)
SILVER: Almat Kebispayev (KAZ)
BRONZE: Alex Bica (SWE)
67 kg
GOLD: Frank Staebler (GER)
SILVER: Artem Surkov (RUS)
BRONZE: Fredrik Bjerrehuus (DEN)
BRONZE: Zaur Kabaloev (RUS)
72 kg
GOLD: Balint Korpasi (HUN)
SILVER: Abuiazid Mantsigov (RUS)
BRONZE: Dominik Etlinger (CRO)
BRONZE: Robert Fritsch (HUN)
77 kg
GOLD: Roman Vlasov (RUS)
SILVER: Zoltan Levai (HUN)
BRONZE: Alex Kessidis (SWE)
BRONZE: Ashkat Dilmukhamedov (KAZ)
82 kg
GOLD: Adlan Akiev (RUS)
SILVER: Rajbek Bisultanov (DEN)
BRONZE: Bogdan Kourinnoi (SWE)
BRONZE: Laszlo Szabo (HUN)
87 kg
GOLD: Alexandr Komarov (RUS)
SILVER: Sosruko Kodzokov (RUS)
BRONZE: Rami Hietaniemi (FIN)
BRONZE: Davit Chakvetadze (RUS)
97 kg
GOLD: Musa Evloev (RUS)
SILVER: Peter Ohler (GER)
BRONZE: Elias Kuosmanen (FIN)
BRONZE: Arvi Savolainen (FIN)
130 kg
GOLD: Konta Maenpaa (FIN)
SILVER: Eduard Popp (GER)
BRONZE: Vitali Shchur (RUS)
BRONZE: Balint Lam (HUN)
2019 Pan Am Games
Greco-Roman at the 2019 Pan American Games begins on Wednesday morning from Lima, Peru. Trackwrestling will have the live broadcast for those residing in the United States. We will have accompanying coverage in the form of post-round recaps and results on our social channels.
Juniors Leave Next Week
Led by coach Nate Engel, the 2019 US Junior World Team will depart for Tallinn, Estonia early next week, with most of the American delegation breaking out of the US on Monday.
Questions? Concerns? Feel like reaching out? Do so on Twitter, Facebook, and Instagram!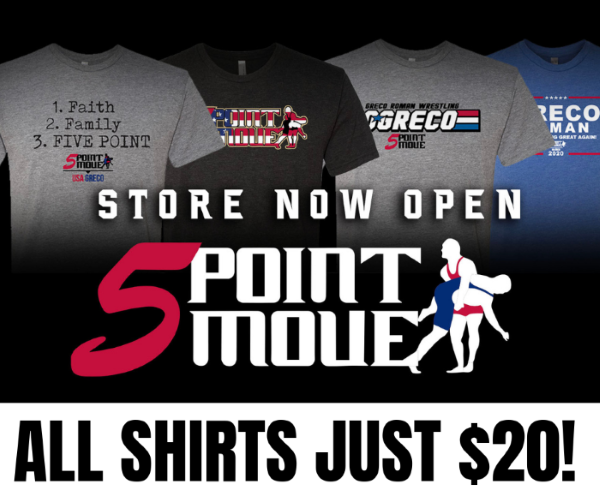 Listen to "5PM26: Princeton's Lenny Merkin and new USOTPC Greco-Roman athlete Nolan Baker" on Spreaker.
SUBSCRIBE TO THE FIVE POINT MOVE PODCAST
iTunes | Stitcher | Spreaker | Google Play Music | RSS
Notice
: Trying to get property 'term_id' of non-object in
/home/fivepointwp/webapps/fivepointwp/wp-content/themes/flex-mag/functions.php
on line
999