The shadow cast by the 2019 US Open was understandably large. Other tournaments featuring the international styles, primarily at the youth level, were held during the same weekend in which the big-time National event wrapped up in Las Vegas, but naturally, few on the outside were paying attention. This is an accepted occurrence in American wrestling each spring. When the Open comes around, time kind of stops unless you're a parent or young athlete who happens to be present at a high school gymnasium somewhere else doing something else.
The same was true for LeRoy Gardner a week and a half ago.
Gardner, who serves as head coach for the University of the Ozarks folkstyle program, was himself a Greco-Roman competitor, and a really good one at that. Back in 2001, the native of Minnesota was a member of the Junior World Team, eventually placing eighth at those subsequent World Championships. So he understands the value of athlete development and its relationship to the oft neglected Greco-Roman style, enough so to do his part in effort to boost participation.


His latest contribution, the RVWC Greco Throwdown, took place on Saturday, April 27th at U of O — the day after Senior Greco finished up in Vegas. It was not a highly-publicized event. If you peered around FLO Arena, maybe your eyes caught its listing. Then again, it wasn't supposed to hijack the headlines. The RVWC Greco Throwdown, similar to the NCWA's Go Greco Nationals, was not aimed to attract the sport's stars, but rather, motivated yet inexperienced wrestlers who are interested in pursuing the classical style in hopes of a second career following (or even during) college.
In order to do that, Gardner felt it important to offer everything wrestlers encounter at sanctioned events so that participants could learn what it is they will encounter the next time a major event pops up on the calendar. In this case, that will be the U23 World Team Trials at the end of this month in Akron, Ohio.
"Our expectations were really to just provide an opportunity for some athletes without a huge amount of experience in this great style of wrestling the chance to compete with a ref, a clock, periods, and all the things that come with a real match against others of similar skill level," Gardner said. "For those with more experience, this was a chance to get their first matches under their belts before any more competitions potentially this season, namely U23's."
If it sounds strikingly familiar to Jim Giunta's Go Greco model, that's because it is. Both Gardner and Giunta comprehend one of the premier issues facing Senior Greco-Roman development in the United States — the distance between good wrestlers with little Greco experience and full-time combatants whose careers revolve around the discipline's nuances.
For years, the University Nationals (which has now been expunged in favor of U23) would see a bevy of green wrestlers lock horns with seasoned Greco athletes, and mostly get bombed to kingdom come. The problem with that? Many wrestlers wound up becoming reluctant to give Greco a shot, and who could blame them? They were not adequately prepared for what they were about to face, even if "wrestling is just wrestling". Some used their experience in Akron as a launching point, like multi-time National Team member Jamel Johnson (67 kg, Marines). But far too many others have fallen through the cracks.
The RVWC Greco Throwdown is the latest attempt to stem that tide. 24 athletes from three clubs/teams (including RVWC, which is an extension of Gardner's at Ozarks) participated in a total of 39 matches (more than were available at this past weekend's Senior Last Chance Qualifier). It's not a huge step, but it's an important one. Greco needs as many events as it can possibly get within the US, and that need is even more dire when it comes to developing Seniors. Gardner is hopeful that this maiden voyage will suffice for this year before looking ahead to next. But he knows first-hand how vital these opportunities are, and moreover, what they mean for those interested in plugging away going forward.
"The logistics administratively, we're still figuring it out for the future, but in the meantime, we continued with the execution of the tournament as a test to see how it could go," he explained. We wanted to see some guys go after things they're not used to, put themselves on the line, take some risks, and enjoy trying to bomb one another. To learn what 'Greco tired' feels like, and find out where our holes are so the guys can work on them until U23's."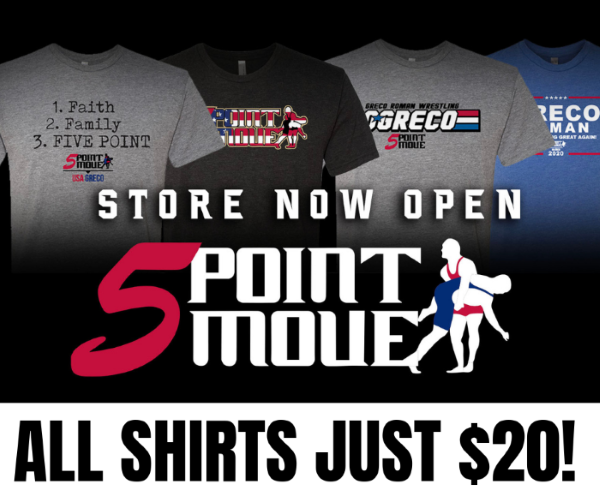 Listen to "5PM22: Sammy Jones guest co-hosts as Five Point Move visits with Lucas Sheridan and Sam Hazewinkel" on Spreaker.
SUBSCRIBE TO THE FIVE POINT MOVE PODCAST
iTunes | Stitcher | Spreaker | Google Play Music | RSS
Notice
: Trying to get property 'term_id' of non-object in
/home/fivepointwp/webapps/fivepointwp/wp-content/themes/flex-mag/functions.php
on line
999