On Saturday, Northern Michigan University Greco-Roman athletes Colin Schubert (72 kg) and Britton Holmes (67 kg) both received degrees. Schubert's major was in Physical Education and received his Bachelors in Health Science while Holmes, who began attending NMU in the fall of 2017, earned his Associate's Degree.
Schubert, 24, was seen as a big-time prospect immediately upon arriving in Marquette via Wisconsin over half a decade ago. He is now an established presence on the Senior circuit and advanced to the National Team/third-place match at the '17 World Team Trials. Later on that year, he took second at the first-ever U23 Trials held in Rochester, Minnesota. Similar to NMU teammate Austin Morrow (67 kg), Schubert had spent much of this entire season student teaching, forcing him to piece together training (often with Morrow) extremely early in the morning and then later on in the afternoons when available.


20-year-old Holmes has beefed up his international resume over the past two years more than most age-group eligible athletes thanks to tours to Sweden and Austria. Domestically, he opened up plenty of eyes by placing third at the aforementioned U23 Trials in '17 when he was just a freshman. As he continues to develop, Holmes' arsenal is complemented by a hyper-intensive competitive approach mixed in with constantly-refined technique. Most recently, the Colorado native took third at the Junior Trials in Las Vegas.
2019 Zhaxylyk Ushkempirov Results
Over the weekend in Taldykorgan, Kazakhstan was the 2019 Zhaxylyk Ushkempirov Junior tournament, which is mainly a regional event but one that features a hefty amount of young talent from in and around Eastern Europe. Home nation Kazakhstan blitzed most of the weight classes on sheer numbers alone but wrestlers from Uzbekistan, Kyrgyzstan, and Russia also participated.
55 kg
GOLD: Nurmukhamed Abdullaev (KGZ)
SILVER: Ikhtiyor Botirov (UZB)
BRONZE: Zhanibek Issakhanov (KAZ)
BRONZE: Aslamdzhon Azizov (TJK)
60 kg
GOLD: Mukhammadkodir Yusupov (UZB)
SILVER: Olzhas Sultan (KAZ)
BRONZE: Yerkebulan Ardakov (KAZ)
BRONZE: Shamerden Sagymbek (KAZ)
63 kg
GOLD: Assaukhat Mukhamdiyev (KAZ)
SILVER: Nursultan Makhmudov (KGZ)
BRONZE: Javokhirbek Samatov (UZB)
BRONZE: Marlen Asikeev (KGZ)
67 kg
GOLD: Alikhan Kokenov (KAZ)
SILVER: Madiyar Maulitkanov (KAZ)
BRONZE: Umidjon Akhrorov (UZB)
BRONZE: Yerassyl Nurbossynov (KAZ)
72 kg
GOLD: Alijon Khuseynov (UZB)
SILVER: Abdiazim Karabayev (KAZ)
BRONZE: Rakhat Sagymbay (KAZ)
BRONZE: Magomed-emin Kunaev (KAZ)
77 kg
GOLD: Daulet Zhalgassov (KAZ)
SILVER: Akylbek Talantbekov (KGZ)
BRONZE: Leonid Proskurovich (KAZ)
BRONZE: Beksultan Nazarbaev (KGZ)
82 kg
GOLD: Daulet Aidarebekov (KGZ)
SILVER: Yelaman Ayup (KAZ)
BRONZE: Zhantas Nurgali (KAZ)
BRONZE: Arseniy Kurakin (RUS)
87 kg
GOLD: Amirkhan Uruzbayev (KAZ)
SILVER: Stanislav Rylskiy (KAZ)
BRONZE: Azat Saldinov (KGZ)
BRONZE: Timur Abubakirov (RUS)
97 kg
GOLD: Aday Kurmanseitov (KAZ)
SILVER: Asset Buriyev (KAZ)
BRONZE: Daniyar Shermibekov (KGZ)
BRONZE: Aman Syrlybay (KAZ)
130 kg
GOLD: Konstantin Rakhimov (KAZ)
SILVER: Alibek Sarsengaliyev (KAZ)
BRONZE: Zhaxylyk Serikbossynov (KAZ)
BRONZE: Ilyosbek Gulomjonov (UZB)
A Head Nod to an Important Minnesota Tradition
While it is true that the Twins currently lead the American League Central and enjoy the second-best record in baseball (don't get excited people, it's only May and your team cannot sustain the inevitable injuries that will pop up, sorry — Ed.), that's not the Minnesota news we're coming with this week. Instead, former US National Team member and 5PM Staff Contributor Paul Tellgren will be unveiling a piece that examines his hometown's enormous influence on American Greco-Roman wrestling.
Anoka, located 21 miles northwest of Minneapolis and known as the "Halloween Capital of the World", has produced several of the best Greco athletes in US history, starting with the Hazewinkel brothers Jim and Dave, and stretching all the way to the present with Calvin Germinaro (72 kg, Minnesota Storm) and Tyler Eischens (72 kg, CARTC). Of course, there are other names included, such as the one and only Dan Chandler and Olympic silver Brandon Paulson.
If you're a Greco fan, or just a fan of wrestling, period, and would like to brush up on what is undoubtedly one of the most interesting pipelines in the sport, please check that out when it drops later in the week.
Questions? Concerns? Feel like reaching out? Do so on Twitter, Facebook, and Instagram!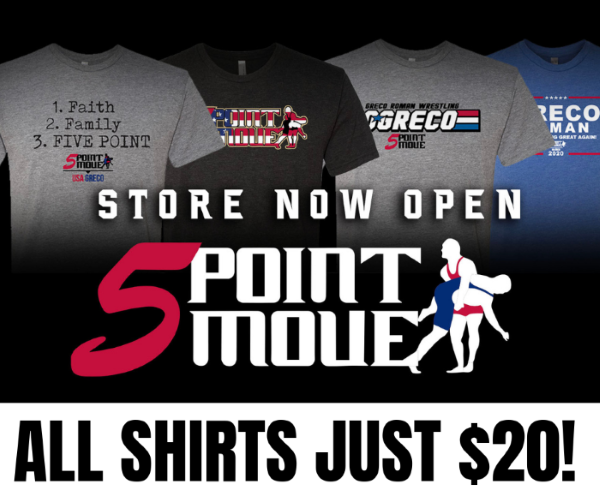 Listen to "5PM22: Sammy Jones guest co-hosts as Five Point Move visits with Lucas Sheridan and Sam Hazewinkel" on Spreaker.
SUBSCRIBE TO THE FIVE POINT MOVE PODCAST
iTunes | Stitcher | Spreaker | Google Play Music | RSS
Notice
: Trying to get property 'term_id' of non-object in
/home/fivepointwp/webapps/fivepointwp/wp-content/themes/flex-mag/functions.php
on line
999