When it comes to Days 2 and 3 at the 2019 World Championships, don't think of these as mere previews, but roadblocks to qualification.
Staring each of these competitors in the face is the all-important assignment of qualifying their respective nations for the 2020 Tokyo Olympics. Top-six finishers in each weight are how it's done, thus ramping up the stakes even more than usual. There is nothing like a qualifying Worlds, and this year's grouping of athletes have proven they know what it takes to put on a show.
Sunday, September 15 
11:00am-4:00pm — Qualification rounds (67 kg, 87 kg, & 97 kg)
6:00pm-6:45pm — Semifinals (67 kg, 87 kg, & 97 kg)
Monday, September 16 
11:00am-4:00pm — Repechage (67 kg, 87 kg, & 97 kg)
6:00pm-8:30pm — Finals/bronze medal round (67 kg, 87 kg, & 97 kg)
The 2019 World Championships begin at 11:00am from Nur-Sultan, Kazakhstan and can be viewed live in the US on Trackwrestling (subscription required). 


67 kg
SEEDS
1 – Artem Surkov (RUS)
2 – Ryu Han-Soo (KOR)
3 – Gevorg Sahakyan (POL)
4 – Meiirzan Shermakhanbet (KAZ)
Reigning champ and two-time bronze Surkov…the return of '15 champ and Olympic bronze Rasul Chunayev (AZE)…Rio gold and Chunayev's fellow '15 World titlist (at 59 kilos) Ismael Borrero Molina (CUB)…the wonderful Ryu Han-Soo (KOR), who, you guessed it, has also assumed the top spot on the podium before… They are all contenders on Sunday. But they are not the story.
Frank Staebler (GER, world no. 1 at 72 kg) is the story.
Staebler will not only be working on his third straight crown and fourth overall, he'll be doing it in the weight class where he originally made his mark. After competing at 71/72 following Rio, Staebler hopped back down to 67 last month for his home country's summer Grand Prix. He performed very well, as you might imagine. But no one would have imagined the thumping he threw Surkov in the final. However, a two-kilogram allowance was in play for that tournament, so we'll see how Staebler operates at scratch weight. With how frighteningly effective he appeared in August, it's a safe bet he will be issue-free.
Everywhere you look, this bracket is hilariously loaded. Aside from the names mentioned above, you've also got '16 bronze Shmagi Bolkvadze (also a returner to this weight class), '17 bronze Atakan Yuksel (TUR), and '14 bronze Edgaras Venckaitis (LTU), with whom US fans might be more than just a little familiar. All of this star power has overshadowed the bottom two seeds, '18 bronze medalists Gevorg Sahakhyan (#3, Poland) and Meiirzan Shermakhanbet (KAZ). Mistake city. Sahakyan had a solid Euros, taking second to Yuksel and won Petrov before that (where he drilled Shermakhanbet in the semis); Shermakhanbet lost to Ryu in the Asian Championship finals and placed third at Karavaev (72 kg) for his warm-up tournament.
Both Sahakyan and Shermakhanbet figure to be somewhat in the mix, even though these seeds are not as relevant in such a power-packed bracket. 2018 U23 World Champion Mohamed Ibrahim Elsayed (EGY) fived Ryu in their Karavaev final and sealed up that match with a pin when he landed on top of a throw attempt. It was something else. Is he a dark horse here? It would seem so. '13 Junior World champ Karen Aslanyan (ARM) nabbed fifth at Senior two years ago, and has had a solid campaign highlighted by a Euro bronze. But with all of these studs, there are going to be at least several instances of them canceling each other out. It has to be that way, which may leave room for someone like Denmark's Fredrik Bjerrehuus to go on a run.
Team USA — Ellis Coleman (Army/WCAP, world no. 15)
Logic is important to consider. 67 kilos, depending on who you ask, is one of the two toughest World brackets, with 77 as the other. And Coleman, depending on who you ask, is the best wrestler in the country. So, it all checks out. Team USA has the man many believe is their top guy pound-for-pound in the hardest weight class on the planet. Nice weapon to have in a qualifying year.
Coleman's status wasn't earned simply because he has owned this weight domestically throughout the current quad, but because he has a) improved important parts of his game; and b) performed well against stout competition when given the opportunity.
After defeating Venckaitis in his first bout at last year's World event, Coleman met up with Surkov and constantly made the Russian react to his tie-ups. Coleman darted in and out, dictated the pummel, and kept Surkov's feet moving enough to where it was he who received the first passive point. But, Surkov defended, got his own passive chance in the second, and that was that. Coleman later fell to Mamadassa Sylla (FRA) in the repechage, a loss that was similarly difficult to swallow.
Adjustments have been the order of the day ever since. Coleman has optimized his skill-set by tweaking his lift, shoring up his defense on bottom, and doubling-down on what he already does very well on the feet, namely punishing opponents in-tight and creating wicked angles to open scoring windows. Another big boost that requires mentioning is health. Coleman is healthy, or as healthy as it gets given the lifestyle. That has allowed him to stay active, and therefore sharp, over the course of what has been an extremely impressive season.
The recent losses to Borrero don't dull the optics, because, context. In both bouts, first in the Pan Am Championship finals and then again in the Pan Am Games semis, Coleman easily stood his ground until costly mistakes in each match put Borrero out of reach. That, too, has been addressed.
In a field where almost all of the perceived contenders can beat each other on any given day, Coleman is absolutely a major player. He's on his fifth World-level Team counting the '12 Olympiad, is still improving while residing in his athletic prime, and most importantly of all, is hungrier than ever. No one knows what it's going to take to summit the mountain better than Coleman does. A little momentum in his favor on Sunday, and you might be watching him plant his flag at the top.
87 kg
SEEDS
1 – Zhan Belenyuk (UKR)
2 – Metehan Basar (TUR)
3 – Viktor Lorincz (HUN)
4 – Islam Abbasov (AZE)
87 kilograms has its share of beasts, but it is also a little top-heavy, if not interchangeable. They cluster together sharing similar styles, similar in-match methodologies. Then again, when done right, those components can make for a lot of amazing matchups.
2015 World Champion/'16 Olympic silver, and overall four-time Senior medalist Zhan Belenyuk (UKR) is your #1 seed following a season that was limited to two continental titles, the European Championships and Games, respectively. In both tournament finals, Belenyuk downed two-time U23 World bronze Islam Abbasov (AZE, and the #4 seed in Nur-Sultan) via decision. Neither match went against script, with Belenyuk winning 5-1 at the Championships (helped by a bogus caution) and 3-1 at the Games. Abbasov does have a victory over Belenyuk, but that was almost three years ago at the Golden Grand Prix.
The returning champ, two-time World gold Metehan Basar (TUR), has struggled by comparison. At the pair of continentals mentioned above, Basar was 0-2, though that second loss was to Russia's entrant last year, Bekhan Ozdoev. They were weird matches. Basar might be a casualty of the same-day weigh-ins, since in both early exits he appeared sluggish, plus he went up to 97 for Petrov (where he placed fifth). Alas, conjecture.
Viktor Lorincz (HUN) went back-to-back with World bronze in '12 and '14, but has not stepped on the podium since. Yet, he keeps performing everywhere else. Now 29, Lorincz is still a wreckhouse who relishes a hearty fistfight and knows how to crank out rib-crunching turns — but momentum has escaped him at the big show in recent years. Speaking of, the man who defeated Lorincz for bronze in Rio, '17 World runner-up Denis Kudla (GER) should be expected to present a basket of problems. There have been some mixed results for Kudla this season, although his Euros was a good one. He was edged by Abbasov in the qualification round via passive criteria; got pulled back in; and went on to defeat Maksim Manukyan (ARM) and Mikalai Stadub (BLR) en-route to bronze.
'The two most interesting athletes yet to earn Senior hardware are easy to spot: Ramin Taherisartang (IRI) and Aleksandr Komarov (RUS). Taherisartang is traditional, but fluid. Not a whole lot of rigidity in his approach, which is another way of saying he will try to score from the feet. The three-time Asian Championships gold is getting his first crack at Senior and should contend. Komarov is fresh off of four-straight World titles between Cadet and Junior, and has taken to the top level nicely. Other than a loss to Lasha Gobadze (GEO) down at 82 kilos for the Euros, he has thus far emerged unscathed.
Here is one variable regarding Komarov: he was selected ahead of '16 Olympic champ Davit Chakvetadze, Ozdoev, and Sosruko Kodzokov for the first (and best) opportunity to qualify for Tokyo. Clearly, the Russian program has confidence in his abilities, but could pressure play a role especially considering that Komarov's only appearance in this weight class was just a month ago?
Team USA — Joe Rau (TMWC/Chicago RTC)
Obstacles are riddled across the wrestling landscape for every athlete, but Rau has encountered more than most over the past three seasons. A World Teamer back in '14, Rau fell short domestically a year later but then ballooned up to 98 kilos to close out the quad. That decision paid off with a memorable victory at the '16 Olympic Trials. However, he was unsuccessful in three attempts to qualify the weight class, and to make matters worse, tore his knee apart in the process. A lengthy recovery period ensued, Rau was primed for the '17 Trials, but upon his return four weeks prior in Hungary, he re-injured his knee and it was back to the drawing board after a series loss to two-time Olympian Ben Provisor (NYAC/NLWC).
The seas had just begun to settle last season. Rau was mixing it up a bit, flirting with freestyle on and off. He endured a disappointing (but thrilling for everyone else) loss to Provisor in the '18 Open final and was all sorts of confident heading into the Trials when a practice room incident involving a former teammate resulted in a broken jaw. Rau wound up not only missing said Trials tournament, he was back on the shelf for the third time in three seasons.
Ever since he was cleared to return late last summer, it is almost like Rau has been making up for lost time. As soon as he was good to go in August of '18, he hopped overseas and stayed there for nearly a month. When the fall arrived, he made it across the Atlantic yet again for a string of tournaments and training camps. That's another thing, too. Rau has participated in each and every camp available, as if driven by a hunger to right the wrongs he feels are responsible for disrupting his career trajectory.
Maybe he's onto something. Maybe the hefty workload has been worth the anguish. At April's US Open, Rau edged Provisor in the semifinal and three-time World Team member Patrick Martinez (NYAC/FLWC) to snare his second National crown. Final X: Rutgers saw Rau face off with Provisor for the umpteenth time in their careers and sweep the series thanks to a clutch step-out at the end of Match 1, and a pair of guts in Match 2.
Rau does not boast a meaningful history against any of the top guys here, nor are there enough common opponents to analyze. A hosejob loss to 2011 bronze Rami Heitaniemi (FIN) in the Haparanda Cup finals last December is really the only recent workable baseline. It also does not matter.
Health does, however. So do competitiveness and the ability to capitalize from par terre, which are two of Rau's biggest strengths. He won't care who that first-round opponent is, where they're from, or what they've done. It is "get in their face" time for Rau and everyone else on Team USA.  He is comfortable with both the assignment, and accepting of the concept chances like this one are never guaranteed. Which is precisely why expecting a strong performance is.
97 kg
SEEDS
1 – Musa Evloyev (RUS)
2 – Kiril Milov (BUL)
3 – G'Angelo Hancock (USA)
4 – Mihail Kajala (SRB)
Returning champ (and '17 silver) Musa Evloev has kept the train running smoothly this season, going three-for-three with tournament wins at Petrov, the Euros, and the German Grand Prix. He is a clobbering sort. Evloev is an intense competitor and extremely physical from first contact onward. Disciplined positioning is why he is able to dial it up so often. Even against rangier foes who plod and push, Evloev is just difficult to move around, and that makes his attacks more devastating — and effective.
It's odd to be entering a World event and not peg three-time World/'16 Olympic champ Artur Aleksanyan (ARM) as the auto-favorite, but that's where we're at. His fifth-place finish a year ago is not why; you can't win 'em all. Rather, it's because his only time out this season, which did yield gold at the European Games, was a little underwhelming. Is the mystique gone? Aleksanyan's opponents in Misk — all credible, with Russia's Alexandr Golovin, Daniel Gaustl (AUT), and '17 bronze Revazi Nadareishvili (GEO) among his victims — had their moments, occasionally forcing Aleksanyan on his heels. As is custom, he benefited from some timely passive/par terre's which allowed for the familiar end result. He is human, after all, and entitled to first-time-out sluggishness. But no one is afraid of him anymore, it would seem.
Second-seeded and '18 silver Kiril Milov (BUL) cemented his position in the bracket by finishing second in Zagreb and at the Euros. He is a verifiable star of the future and already carries a lot of pre-Tokyo hype. At only 22, Milov is close to becoming a finished product, particularly due to this weight class's mechanics. Tough everywhere, a good gas tank, and a go-to gut are his calling card, and all should be on display this weekend. On the flipside are'14 champ/'09 silver Melonin Noumonvi (FRA), who will turn 37 next month — and the man who stopped Noumonvi in  the '09 final, 36-year-old Balazs Kiss (HUN). Noumonvi is still frequently competitive, but it has been a minute since a major performance. That isn't the case for Kiss, who was felled by Mihail Kajala (SRB) in last year's bronze round after taking third in '17.
Felix Baldauf (NOR) and Orkhan Nuriyev (AZE) could represent two breakouts. Both have put their time in against most, if not all of the top guys here, and both have their own reasons why success appears imminent. Baldauf is more of a bruiser. He can be lulled into pummel-fests but has shown to be positively unafraid to crash into opponents if the risk is deemed worthy. Nuriyev is an adaptive competitor. Looser movement, good lungs, and can and will go to his lift if the bottom guy so much as flinches in the right direction.
Team USA — G'Angelo Hancock (Sunkist)
What else do you need to see?
No other US athlete has been as successful against international competition than Hancock over the past two seasons, and what's more, it isn't even remotely close (save for Adam Coon's run to the World final a year ago). This year alone has offered the most compelling evidence in regards to Hancock's viability. It's very, very easy to digest, as well. Every international tournament Hancock has entered thus far in 2019 concluded with a medal. It started with a bronze in Zagreb, then a gold in Hungary, a bronze at Thor Masters, silver at the Pan Am Championships, silver in Italy, silver at the Pan Am Games… If you're inclined to count the Dave Schultz Memorial — which these days hardly passes for an international event — then there is another gold and altogether seven pieces of hardware.
And that's leaving out Hancock's tremendous assault on the domestic circuit this season, for what it's worth.
As impressive are some of the scalps he has collected throughout this still-early stage of his career. Everyone remembers Hancock's run in Poland last summer that included a throw-and-pin vanquishing of Aleksanyan. A big highlight. So was Hancock's destruction of Kiss in the Sassari City semifinal this past May. Going back further, significantly further, was a win against Ildem in December of '16 where the American benefited from caution points. Though to be fair, he was working Ildem pretty good both before and after the infraction.
But if there is something people need to know about Hancock it is this: he knows wins over perceived top guys earned outside of World tournaments are not going to cut it in the long-term. They're nice; they elevate his profile and endear him to a wrestling-enthused audience itching to latch onto who and what they feel is their biggest hope for a medal. It's just, these wins, while certainly noteworthy and important for bookkeeping, are not why he is in this sport.
This tournament and the one next August are why he is in this sport.
They are also why Hancock has spent virtually half of this entire year overseas rather than at home in Colorado Springs. For all of the arching, booming bodylocks and snappy 8-0 drubbings piled up domestically are hard reminders that what happens here does not always reflect the reality of top-level competition. So he has repeatedly gone to places where such confusion is absent. To places he is convinced will prepare him for the ultimate goal of winning a title.
He's not going to sneak up on anyone. Holding the #3 seed and taking out a multitude of recognizable names along the way means Hancock has a target on his back. They're going to come hard at him, they are going to tie him up and bog him down and make it messy as messy as possible until passivity comes. That's how the game is played at this level, and especially in this weight class. No one wants to make Hancock's highlight reel.
If he can get his hands on them, they won't have a choice.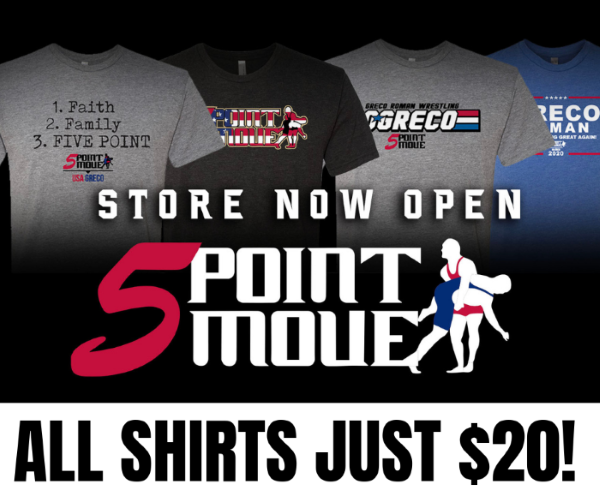 Listen to "5PM28: G'Angelo Hancock, Joe Rau and Max Nowry" on Spreaker.
SUBSCRIBE TO THE FIVE POINT MOVE PODCAST
iTunes | Stitcher | Spreaker | Google Play Music | RSS
Notice
: Trying to get property 'term_id' of non-object in
/home/fivepointwp/webapps/fivepointwp/wp-content/themes/flex-mag/functions.php
on line
999