Three packed weight classes, too many medalists to even count, and Olympic qualification is on the line. Sound good?
Day 3 of the 2019 World Championships promises to close out Greco-Roman with a bang, as many of the sport's biggest stars will be on display battling it out for both global supremacy — and a berth for their respective nations at next year's Tokyo Olympics. If you are a serious Greco fan, or just a wrestling fan in general, it does not get any better than this!
Monday, September 16 (Day 3)
11:00am-4:00pm — Qualification rounds (60 kg, 77 kg, & 130 kg)
5:00pm-5:45pm — Semifinals (60 kg, 77 kg, & 130 kg)
Tuesday, September 17 (Day 4)
11:00am-3:00pm — Repechage (60 kg, 77 kg, & 130 kg)
6:00pm-8:30pm — Finals/bronze medal round (60 kg, 77 kg, & 130 kg)
The 2019 World Championships begin at 11:00am from Nur-Sultan, Kazakhstan each day and can be viewed live in the US on Trackwrestling (subscription required). 


60 kg
SEEDS
1 – Sergey Emelin (RUS)
2 – Kim Seung-Hak (KOR)
3 – Victor Ciobanu (MDA)
4 – Ivan Lizatovic (CRO)
Both returning World Champion Sergey Emelin (RUS) and his '18 runner-up Victor Cioabanu (MDA) would probably love an opportunity to run it back in the finals after splitting their last two matches against each other. Their final from Budapest was a one-sided affair in Emelin's favor that ended via tech. That match started with Ciobanu thinking he was about to rail Emelin off the edge before the Russian whipped a lateral at the last available second to pick up four, and the dominoes started falling from then on. But they met again in the Euro finals five months ago with Ciobanu observing a much more patient approach en-route to a 5-5 criteria decision. It's not that these two are the unquestioned class of this field, because they're not (especially with the depth here). But when two great, young wrestlers offer a compelling storyline all by themselves, you don't mind watching them reach an albeit temporary resolution.
Unfortunately for Emelin and Ciobanu, there are way too many elite faces in the crowd to expect a rematch on Tuesday.
Eight other prior World medalists (including a pair of champs) also populate this bracket, beginning with Japan's Kenichiro Fumita. Winner of the '17 Paris tournament, Fumita went and stormed the podium in the U23 event last year, and is one of the most hyperactive yet deadly-effective athletes in any weight class. Other than his national tournament victory (that forced Shinobu Ota to go up to 63), his ledger this season has been pretty bare, save for a bronze at the Asian Championships where he took a loss to Ri Se-Ung (PRK) in the opening round.

If the entry list is accurate, that means '16 Olympic bronze/multi-World medalist Elmurat Tasmuradov (UZB) will be back down to a weight he hasn't sniffed in three years. For the sake of recency, Tasmuradov won at Zagreb and silver'ed at the Asian Championships — both at 63. Since this is anticipated to be a difficult cut for him, it will be interesting to see how much of his otherworldly athleticism is sapped, and if he has anything left to offer deep into the tournament. '17 bronze Kim Seung-Hak (KOR), one of the sport's best lightweight finishers, should be a factor throughout, as well, and the same could be said for Sailike Walihan (CHN). Walihan does not have the same go-to offense as someone like Emelin or even Kim, but is a steady worker who can put it on opponents from par terre.
A couple of older guys who still know how to get down and party may also have your attention.
'13 World Champion Ivo Angelov (BUL) and '16 Rio bronze/'14 World bronze Stig-Andre Berge (NOR) are a combined 70 years of age but have remained suitably involved. Moreso in Berge's case, as he grabbed gold at Thor Masters and second at the Euros this season. However, both of those appearances came at 63, and even better, US fans may remember Sammy Jones (NYAC/OTS) waffling Berge with a pair of throws in the second round of Thor Masters' Nordic system format.
Team USA — Ildar Hafizov (60 kg, Army/WCAP) The nation's best technician is on his second US World Team in three years, this after appearing in the '16 Olympic Trials but falling short to Jesse Thielke (63 kg, NYAC/LOG). Altogether, Hafizov has suited up for five other World-level events, including the '08 Olympics (for Uzbekistan). At the 2007 World tournament, he took fifth as a 19-year-old, which is to this day still mightily impressive when you reflect on what the landscape entailed back then.
The point is, Hafizov, now 31, has pretty much seen it all at this stage of his career, but is not the same athlete he used to be. In some ways, he is even better. Hafizov acknowledges an American influence in his wrestling, and that has allowed for a touch more creativity with certain transitions, not to mention more of a proclivity to level-change on the feet. His foundation is still traditional, of course, which is why he is so technically sound. From par terre, there is not another athlete in the country who can gain a lock and plant in one, superb motion the way Hafizov does on a routine basis. Defensively, he is similarly stout, though has his vulnerabilities just like everyone else.
If there is one component missing from Hafizov's game, it is a slug-it-out approach. That is not to suppose he would benefit from brawling. But the one item US athletes are most lauded for is their ability to tirelessly grind in the pocket when points are hard to come by. That is not Hafizov's demeanor, and while that's fine because he is so fluid in every other phase of the sport, a greater amount of intensity might do him some good during those in-match moments when opponents are dodging the issue. Without having that extra gear, Hafizov sometimes struggles generating must-have attacks that have the potential to steal winnable matches late, which is something he may need to accomplish in order to advance.
Nevertheless, he does know the stakes and prioritized the objective immediately following his victory at the Trials. Sweat was still visible on Hafizov's brow when he said, "We must qualify." He's right. They must. And he can do it, too. Hafizov is within the same vicinity as most of the top dogs here. There are no surprises, or tricks that will catch him off-guard. But hopefully there is an emotional element involved, something intangible that provides a boost. That could be his bloodline — members of Hafizov's family will be present to witness him compete for the first time in a long time, including his father. The WCAP rep cited this fact as a source of excitement just over a week ago in his lengthy interview.
The bottom line is this: qualifying is hard. 60 kilograms is loaded. And Hafizov is going to need an extra special two days at the office to get the job done. There's no question he has the skill. What he is going to need is the fight. What you're looking for on Monday is for the country's savviest athlete to put it all together in what is undoubtedly one of the most important tournaments of his stellar career.
77 kg
SEEDS
1 – Kim Hyeon-Woo (KOR)
2 – Viktor Nemes (SRB)
3 – Tamas Lorincz (HUN)
4 – Pavel Liakh (BLR)
It has already been said: there are two weight classes in this event that are clearly perceived as the strongest — and most popular. The first is 67 kilos, and the other is this one, in whichever order you choose.
When it comes to 77, the best way to break it down for brevity's sake means gaining a grasp of the bracket's main players. Your #1 and #2 seeds are both World Champions; the #2 seed isn't but has four medals and is still at the top of his game; and the man many consider this generation's best wrestler isn't seeded, though anyone with a brain isn't concerned about that in the least slightest bit.
Got all that?
Kim Hyeon-Woo (KOR) picked up from where he left off last season (which ended with his second World bronze and fifth overall medal) by winning Turlykhanov, placing third at the first two Ranking Series tournaments, and by grabbing gold at the Asian Championships and Sassari City, respectively. So, he has been very active. Heavy pressure, arm throws, innovativeness…Kim still has it all working for him as his 31st birthday draws near. As for Nemes, gold in '17, he wound up bronze last year following a loss to underrated Karapet Chalyan (ARM). This season, he scored a (boring yet suspenseful) 1-1 criteria victory over Kim in Hungary, bronzed at the Euros, and won Tbilisi. Obviously, he's a heavy contender to qualify.
After emerging victorious in his home country's national event to start the year, Roman Vlasov (RUS) exited the Petrov due to injury just before the final, though recovered to ice his fourth European Championships title in April. Last month, he blitzed the field in Germany in his warm-up for this thing and looked as fresh and in command as ever. The two-time Olympic/World champ continues to exist within an aura of dominance and the expectations are always sky-high. That's part of what makes him who he is, the ability to consistently perform at the highest possible level.
'12 Olympic silver/two-time World silver Tamas Lorincz (HUN), the #2 seed and runner-up last year at home, is another example of an elite star who knows exactly what his body (and brain) needs to gear up for competition. Now 32, Lorincz hasn't been terribly active as of late. He got rolled out by Kim in Italy and took a bronze at the Euro Games. After that was a washout in Germany, but you know what? It doesn't matter. Lorincz is going to show up. He has a feel for position that is so natural, it's as if all of these years of programming just kick in as soon as his feet shuffle in a certain direction. He's also still a charger, and can break an opponent's spirits merely by hoisting up an underhook and waltzing him around the tarp. A pleasure to watch.
Yes — there are a bunch of other medalists here demanding of your attention. Two-time World bronze Elvin Mursaliev (AZE, and who stopped Vlasov in '17 up at 80 kilos) and '17 bronze Mohammadali Gerei (IRI), are both dangerous propositions. Mursaliev is more of a patient competitor, keen to allow positions to open up yet is equally fond of busying up the ties in hopes of a passive. Meanwhile, Gerei has some aggression on the feet. He has a swift arm drag that he'll use to get behind, and is also not afraid to just lock and throw if an adversary is avails a lane to the body.
But for all of the hardware and recognizable names is a group of athletes who are knocking on the door. The aforementioned Chalyan is one; tough, durable, sports a mean arm throw. A guy like Alex Kessidis (SWE), who placed fifth in '18 and has gradually begun to seriously challenge the upper echelon, would not surprise anyone by advancing deep. Moldova's Daniel Cataraga silvered in the '16 non-Olympic weight event. Well-rounded with big lungs, he's not an ideal first opponent for someone sketchy about being pushed.
The hype is real. You'll see it for yourself. While every weight class offers a crew of marquee attractions and credentialed competitors, 77 kilograms is so rich with talent that it deserves its own individual day at the tournament.
Team USA — Patrick Smith (77 kg, Minnesota Storm) Every wrestler in this bracket better be prepared for what happens when Smith is the one standing on the other side of the mat. Athletes hoping for a clichéd "physical chess match" will be rudely greeted by a steady yet furious onslaught of pressure and pummeling that tends to humble even the heartiest of opponents. So, they will try to keep up. Then they will try to slow him down. Smith's greatest gift to this sport is that he is able to ignore any and all natural instincts to reset his respiratory system. Once the mechanism is fully engaged, you would be hard-pressed to find someone who could stop Smith from relentlessly driving forward.
Smith has always had this quality. It is how he made the World Team in '17 after coming close a number of times prior. But that was at 71/72 kilos. Life is different for Smith in this weight class. Better, even. When Smith made the decision to jump up in weight this season, his body rewarded him with what seems like a grander gas tank and a little more punch to call upon in effort to crank out some points from par terre. Standing, Smith's buzzsaw approach is similarly more effective. Operating in a heavier weight, Smith has created a higher number of scores on the feet, be them takedowns or those familiar step-outs.
Kessidis (who Smith has trained with before) and Cataraga have a bit of this madness inside of them, as well. To an extent, Kim does, too, although Kim would much rather prefer to use his forward movement to invite counter-pressure that leads to back-step attacks. But the majority of the notable names here are not huge fans of having to work so damn hard to breathe. That's why they love passivity. At least it's a break. If Smith is clicking right, opponents will be glad to get put down simply because every human values oxygen.
Par terre is par terre, and it is more significant at 77 than it is in other weight classes. Several of these guys are practically artists on top and use a variety of setups to time opponents before locking and loading. Given the substantial time Smith has spent overseas throughout his career, he is likely very aware what these tools of the trade look (and feel) like.
From an early-season European tour that netted three consecutive medals and a title from the Dave Schultz Memorial — to the Open, Final X Series, and a glittering Pan Am Games gold — this has been Smith's strongest and most encouraging campaign yet. But there is one more tournament left on the docket. A pretty important one. Smith is confident and he should be. This is a brawler who has more than just a puncher's chance, and it's going to be fun watching him swing for the knockout.
130 kg
SEEDS
1 – Sergey Semenov (RUS)
2 – Adam Coon (USA)
3 – Kim Min-Seok (KOR)
4 – Heiki Nabi (EST)
Lopez.
It begins and ends with Lopez.
That does not mean three-time Olympic/five-time World Champion Mijain Lopez is guaranteed to emerge untouched with the Cuban national anthem blaring over the sound system for what would almost certainly feel like the millionth time. What it does mean is that there is no other athlete at heavyweight — or in the entire event, for that matter — who is going to invite more eyeballs (or competitive consternation).
The soon-to-be 37-year-old has largely been absent from the international scene following his gold in Rio. He first returned to donkey-stomp the field at the '18 Central American and Caribbean Games; he then burst back onto the scene last month with his fourth Pan Am Games title. You look for signs of wear, tiny indications that a full step has been lost or a possible dimming of the flame. It's all a reach. Even though Lopez was tested by '17 bronze Yasmani Acosta Fernandez (CHL), the result remained familiar. At the least, Lopez deserves a pass considering it was his first time back in a while.
His longtime rival and fellow resume-filler Riza Kayaalp (TUR) will, of course, also be a factor. Just shy of his 30th birthday, Kayaalp's methodology has not changed, nor has it had to. Built like a Sherman tank, his goal is to push and pound into position. Step-outs are one way he scores. Passivity points are another. He can get turns from par terre, but usually doesn't against comparably-skilled antagonists. Kayaalp isn't bothered by a lack of offense because he knows what everyone else does: his approach is too effective to abandon, and thus too difficult for most to stop.
One man who has been on both sides of the Kayaalp puzzle is two-time World Champion/'12 Olympic silver Heki Nabi (EST), the #4 seed. Similarly long in the tooth at 34 years of age, the difference with Nabi is that he will often put an honest effort into cranking out points from par terre. It's heavyweight, so the success ratio isn't all that high. But Nabi will work for it. He bested Kayaalp in Budapest last year, but Kayaalp got him back at the Euros in what was the Turk's fourth career win in their multi-year series.
Acosta has shown he can survive into the later rounds; and '18 bronze Kim Min-Seok (KOR) should be acknowledged for his consecutive Ranking Series bronze performances that resulted in his being seeded third. But there are a pair of sleepers who just might finally walk under the spotlight: Alin Alexuc-Ciucrariu (ROU) and Mantas Knystautas (LTU). The long and lean Alexuc-Ciucrariu, a Junior runner-up way back in '10, has bronzed at the past two European Championships, is a '16 Olympian, and a problematic matchup if he can make it to the quarters. 6'5 Knystautas, himself a Military World champ in '17 — and like Alexuc-Ciucrariu a former Junior runner-up — is waiting for a breakthrough. If he can tough out some dicey moments against any of the other supposed top guys here early on, it just might happen. Though Knystautas will have to buckle down and find another gear in the second period, since that is when he becomes visibly more vulnerable.
Team USA — Adam Coon (130 kg, NYAC/Cliff Keen) Oh, make no mistake about it — they are going to come right after this guy.
Coon made believers out of every American wrestling fan with his incredible run to World silver last year. The issue is that competitors in his own bracket still need some convincing. The optic — which many don't seem to want to talk about, relegating it to 800 lbs-gorilla-in-the-room-status — is that Coon's success in '18 was the result of a once-in-a-lifetime favorable draw. Nonsense, of course, because such a concept completely nullifies the actual logical question which asks 'Then how come the other guys on Coon's side the bracket couldn't get the job done?' It's a World tournament with over 30 athletes per weight. There are only so many possibilities for supposed top wrestlers to cancel each other out.
Coon would be carrying all of this around in his head if he were even just a little self-absorbed. But that's not his way. No, his way is to keep plugging along and make relevant improvements to his game. Improvements that legitimize his candidacy more this year than they ever did last.
The first course of action has been to better negotiate tie-ups that appear to stifle his ability to achieve an over/under. These adjustments, while minimal due to Coon's outstanding wrestling IQ, may not always hammer open a lane, but they have served to compel opponents to fall into different traps. Or make different mistakes. In which case, Coon can modify his lock and use his legs to hip-and-dump opposition without leaving their feet.
The most important tweak has come in par terre. Heavyweights at the upper level are often very hit-or-miss in terms of gutwrenches. Bigger, heavier bodies tend to remain pasted on the tarp. Coon was no exception. His offense from top last year was non-existent. Though the sample size is limited, Coon demonstrated an effective, streamlined gut en-route to victory against Cohlton Schultz at Final X: Lincoln that US National Team head coach Matt Lindland later confirmed had been a focal point during training.
When Coon found himself on the World Team ten months ago, he was an impressively-accomplished collegian with an age-group World medal, but very much a work in progress. He is still a work in progress. But he is also a returning World silver medalist who is one whole year older and more experienced. More resolved. More assured in his understanding of what this all looks like, and what it takes.
So they're going to come for him. They think of Coon as an anomaly, the beneficiary of some intergalactic bracket-busting chaos. Maybe he was. It's not crazy to entertain the thought.
But what he is now is decidedly more critical to the conversation. He is a better wrestler who knows his worth. And if we're all lucky, the doubters in his bracket will find that out for themselves.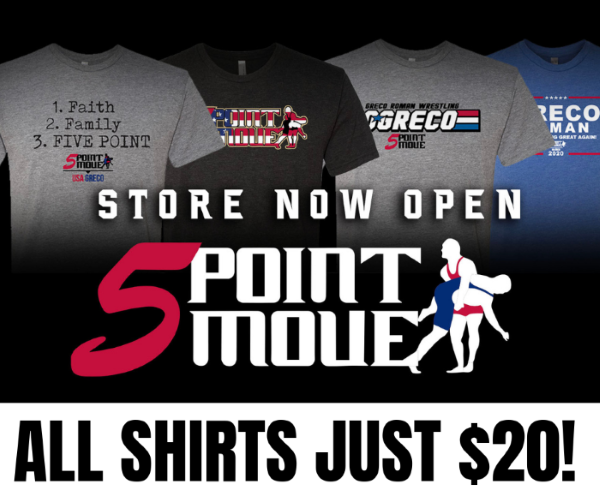 Listen to "5PM28: G'Angelo Hancock, Joe Rau and Max Nowry" on Spreaker.
SUBSCRIBE TO THE FIVE POINT MOVE PODCAST
iTunes | Stitcher | Spreaker | Google Play Music | RSS
Notice
: Trying to get property 'term_id' of non-object in
/home/fivepointwp/webapps/fivepointwp/wp-content/themes/flex-mag/functions.php
on line
999