Following a morning session that more than delivered according to every reasonable benchmark, the semifinals are now in place at the European Olympic Qualifier with all 12 matches promising the kind of suspense that allows this style of wrestling to stand alone.
Day 1 of the 2020ne European Olympic Games Qualifier began at 11:30am in Budapest, Hungary (6:30am ET) and is streaming live on FLOWrestling.
Most anticipated a strong performance from the Russian trio in attendance, and to be sure they have held up their end of the bargain.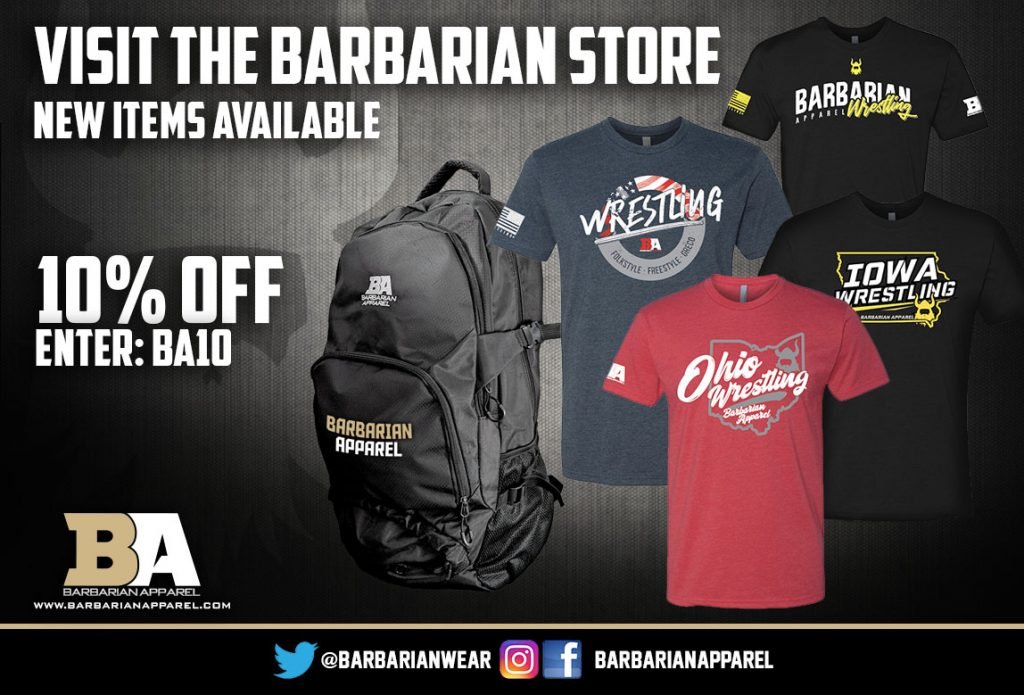 '17 World Champion Aleksandr Chekhirkin (RUS), subbing in for star Roman Vlasov, started off by defeating recent bronze Pascal Eisele (GER) but was then challenged in a big way by '18 World gold Gela Bolkvadze (GEO). The action was predictably tight with both holding one passive point apiece. Late in the bout, and with Bolkvadze holding the criteria edge, Chekhirkin managed to hustle the Georgian off the line for a step-out. Only :10 remained when action resumed and Chekhirkin clung to victory via 2-1 decision.
There was just a little more wiggle room in the quarters against '17 World Champion Viktor Nemes (SRB). Chekhirkin entered the second period up 1-0 on a passive and Nemes made good, hard contact upon the whistle. He was pressing the issue adequately and the referee started the preliminary gesturing for a passivity on Chekhirkin. But just as the call was about to arrive, Chekhirkin crashed Nemes through the zone and out for a point. Shortly thereafter, Nemes did receive his shot from top — although when he worked to generate a turn, Chekhirkin reversed for one more point in what eventually became a 3-1 victory.
On the day, Chekhirkin has already downed two World Champions and one bronze medalist. In the semifinal round, he will face another bronze in Aik Mnatsakanian (BUL), who is also in the midst of an impressive run. Mnatsakanian clipped '18 World bronze Fatih Cenginz (TUR) in the qualification round before decking Yaroslav Filchakov (UKR). The Bulgarian then dished out a beating on Matias Lipasti of Finland to cement his spot opposite Chekhirkin.
At 87 kilograms, '19 U23 World champ — and '20 Individual World Cup winner — Milad Alirzaev has only had two bouts. Neither were runaways. In the round-of-16, Alirzaev defeated former Georgian competitor Zurabi Datunashvili (SRB) 5-4; in the quarters, Alirzaev got off to a slow start against Fabio Parisi (ITA) but piled on in the second period en-route to a 7-2 triumph. He will dance with '19 World Champion/multi-time medalist Lasha Gobadze next. Gobadze? He survived a rough but slow-moving battle against two-timer Metehan Basar (TUR) in the first round.
No jaw-dropping material out of Russia's heavyweight. Sergey Semenov found little resistance in dismantling Luca Godino (ITA) via fall and iced Radoslav Georgiev (BUL) 8-0 to advance. The '18 champ's semifinal opponent is Adam Varga (HUN), who moved up from 97 kilos after the Nur-Sultan Worlds.
Korpasi
'16 World Champion/multi-time medalist Balint Korpasi (HUN) is not affected by the weight cut. The last time Korpasi, who turns 34 at the end of this month, weighed under 71 kilograms, it was for the '12 Golden Grand Prix. On Saturday morning, he displayed zero evidence of fatigue. What he did show, however, was plenty of hunger.
Facing off against '20 European Championships gold Morten Thoresen (NOR), Korpasi drummed up a four-spot in the first period and sailed to a 4-1 decision. He then controlled a game Deyvid Dimitrov (BUL) 6-2 and is now one win away from securing an Olympic berth for Hungary (and presumably himself). His adversary will be Donior Islamov (MDA), whom US fans may remember from '16, when Jesse Thielke put together one of the most memorable qualifying performances for an American in recent memory.
Elsewhere
Three-time Junior World Champion Kerem Kamal (60 kg, TUR) jolted onlookers with his quick destruction of '18 World silver Victor Ciobanu (MDA). Kamal got the passive and strung up a four, a two, and a correct hold to end their quarterfinal prematurely.
Another wrestler at 60 who has impressed today — Kamal's semifinal opponent, in fact — is Erik Torba (HUN). Torba eliminated both Stig-Andre Berge (NOR) and '14 World Champion Ivo Angelov (BUL) from contention. Angelov, 36, actually appeared the fresher athlete in the second and intently dug inside on Torba in an attempt to crease his way into underhooks. Still, Torba, who was behind 1-0, received the passive chance. From top, he bounced his gutwrench to turn Angelov to create enough distance for the 4-1 nod.
Lithuania might have a heavyweight in the Olympics. Mantas Knystautas (LTU) is in the mix at 130 after Oskar Marvik (NOR) was scratched in the opening round. Knystautas next was a tick ahead of Marko Kosevic (CRO) and now faces Poland's Rafal Krajewski.
The semifinals begin at 6:00pm local time from Budapest (12:00pm ET) and can be viewed live on FLOWrestling.
2021 European Olympic Games Qualifier
March 20-21 — Budapest, HUN
SEMIFINALS – TOKYO QUALIFYING ROUND
60 kg
Kerem Kamal (TUR) vs. Erik Torba (HUN)
Etienne Kinsinger (GER) vs. Murad Mammadov (AZE)
67 kg
Balint Korpasi (HUN) vs. Donior Islamov (MDA)
Slavik Galstyan (ARM) vs. Ramaz Zoidze (GEO)
77 kg
Bozo Starcevic (CRO) vs. Oldrich Varga (CZE)
Aleksandr Chekhirkin (RUS) vs. Aik Mnatsakanian (BUL)
87 kg
Islam Abbasov (AZE) vs. Ramon Betschart (SUI)
Lasha Gobadze (GEO) vs. Milad Alirzaev (RUS)
97 kg
Nikoloz Kakhelashvili (GEO) vs. Arvi Savolainen (FIN)
Artur Omarov (CZE) vs. Kiril Milov (BUL)
130 kg
Mantas Knystautas (LTU) vs. Rafal Krajewski (POL)
Sergey Semenov (RUS) vs. Adam Varga (HUN)




Listen to "5PM47: Nate Engel and Xavier Johnson" on Spreaker.
Listen to "5PM46: Taylor LaMont and Jessy Williams" on Spreaker.
Listen to "5PM45: Chatting with Dennis Hall and Max Nowry" on Spreaker.
Notice
: Trying to get property 'term_id' of non-object in
/home/fivepointwp/webapps/fivepointwp/wp-content/themes/flex-mag/functions.php
on line
999