When Balint Korpasi (HUN) declared that he would attempt to drop down to 67 kilograms from 72 in anticipation of the Olympic Year, it didn't seem like too much of a stretch. He had just come off of earning yet another World medal and there was ample space available on the calendar to begin preparations for a calorie-reducing diet and modified training plan to somehow make it work.
But then, shutdown. The pandemic swept across the globe, resulting in everything becoming postponed, including the 2020 European Olympic Qualifier. Korpasi celebrated his 33rd birthday on March 30 forced to come to terms with the fact that he would have to wait 12 months until his next, and likely last, chance to appear in the Olympic Games once again presented itself.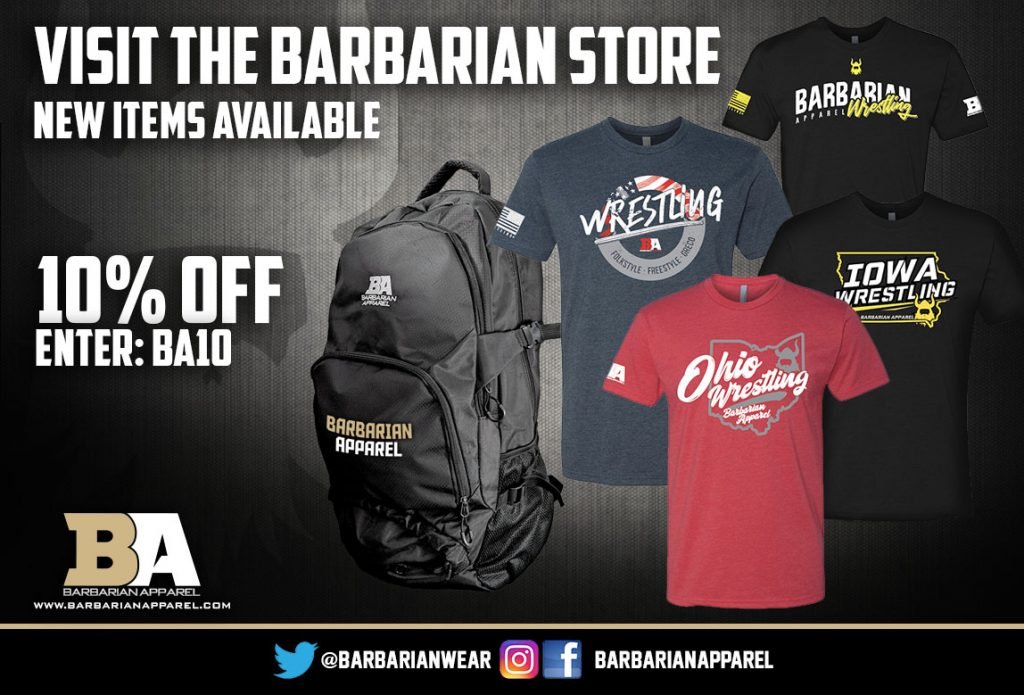 His birthday this year? It's going to be different.
After a pair of solid but routine victories during the morning session, Korpasi did not allow any room for suspense in the Tokyo-clinching semifinal round against Donior Islamov (MDA). With the first-period passivity, Korpasi converted on two gutwrenches for a 5-0 lead he took into the break.
Islamov, a very skilled athlete in his own right with a penchant for arm throws, didn't have an answer in the trenches as Korpasi patiently fought for underhooks whilst keeping his legs moving. The pressure was subtle, relegated to mere fleeting instances of Islamov resetting his feet or switching off of the wrists. But it paid off nonetheless, and Korpasi added another passive point in the conclusive frame to walk away with a 6-0 blanking to secure the spot for Hungary.
Kamal, Kinsinger, & Zoidze
Korpasi is the headliner due to his longstanding career and closet full of medals. But Kerem Kamal (60 kg, TUR) was equally impressive. On Saturday, the 21-year-old defeated Irakli Dzimistarishvili (GEO) in controlling fashion before drubbing '18 World silver Victor Ciobanu (MDA) via quick succession of lifts. Those two victories put 21-year-old Kamal up against an all-of-the-sudden surging Erik Torba (HUN). Torba had earlier taken out a pair of thirty-somethings whose names carry significance. First, he outlasted '16 Olympic/'14 World bronze Stig-Andre Berge (NOR) 3-1; in the quarters, '14 World Champion Ivo Angelov (BUL) looked quite spry through most of their entanglement, but then Torba used the second-period passive to rake a gut that paved the way for a 4-1 triumph.
In other words, they both were on a roll.
Yet it was Kamal who wouldn't let go of the momentum. Almost immediately after the whistle, he pulled an arm-drag-to-bodylock that netted two. The tempo then slowed with neither athlete able to joust towards daylight. Torba was hit with the passive and Kamal locked, re-set and resettled, trying like mad for a lift. It wasn't happening — but when he instead crashed down for a gut, Torba reversed and quickly locked for a high-gut. The tilted turn provided two as well as a criteria lead for Hungary.
They weren't finished just yet. Less than :10 remained when Kamal capitalized off of an over/under and essentially bodied Torba to the tarp for two more points. Up 5-3 moving into the second frame, Kamal once again occupied the driver's seat. Torba was granted a passive/PT shot midway through the period and, unfortunately for him, his attempts failed to do any damage. Kamal held his ground from then on for the Tokyo-clinching decision.
Kinsinger
On the opposite side of the bracket, Eitenne Kinsinger (GER) achieved the biggest win of his Senior career thus far by overcoming an early 3-0 deficit against '18 U23 World silver Murad Mammadov (AZE).
It isn't a complex story. Mammadov cranked a gut to jump ahead 3-0 in the first period; Kinsinger's opportunity from top in the second was a no-dice proposition.
Maybe it was all theater — as if intended to setup the most dramatic finish in European Qualifying history.
In between, they fought. Push, pull, break. Push, pull, reset, only to unveil more counterpressure that was going nowhere fast while Kinsinger desperately sought to avoid booking a flight to Sofia.
And it happened. It being a total reversal of the outcome with :12 left on the clock. Down by two, Kinsinger leapt high for a front headlock and landed the hold to collect four enormous points. They were back on the feet in just a few ticks with Mammadov practically frozen in shock. He didn't know what to do. Maybe he hadn't quite realized what had just transpired. Kinsinger sure did. When the match ended, he let out a primal scream about which the neighbors are probably still complaining. Germany now has four weight categories in the vault for Tokyo with 60 kg, Frank Staebler at 67, Denis Kudla (87 kg), and Eduard Popp (130 kg).
Zoidze
If '19 U23 World silver Ramaz Zoidze (GEO) is trying to become a Greco-Roman folk hero, all he has to do is keep flinging arm throws at the wrist and he'll stay on the right track. The technique has paid dividends for Zoidze throughout and it certainly came in handy Saturday — all the more at the expense of '18 World bronze Slavik Galstyan (ARM) in the 67 semis. Zoidze didn't waste any time unfurling his go-to against Armenia. He put up a four-spot inside of the first minute, though Galstyan reversed to grab a point back. That one point would represent his only score of the bout.
Galstyan looked awfully close to a takedown near the edge with under a minute reading on the scoreboard in the first period. But when he scooted to take control, Zoidze hip-heisted and stepped over to net exposure. It was all but over. Now holding position, Zoidze clamped around Galstyan and turned him twice to compel the stoppage at 10-1. A breakout tournament for the young star, but maybe not one indicative of an automatic Olympic berth. Georgia has other options at 67 kilograms for Tokyo, including '16 Rio bronze Shmagi Bolkvadze, who placed second in the International Ukrainian Tournament last month.
Savolainen Gets All of It
97's around the globe were the recipients of an important message yesterday: now that he is a full-blown Senior competitor, '19 U23 World champ Arvi Savolainen (FIN) is coming to take your heads off. Literally. 
Nikoloz Kakhelashvili (ITA) got that memo in the first period of his semifinal dustup with the young Finnish star but apparently didn't bother to read it until the physicality of the match was completely one-sided. And, to be fair about the whole thing, Kakhelashvili is no innocent. Originally from Georgia and a Junior gold six years ago, Kakhelashvili has made his mark thanks in large part to bruising shoulder clashes and headbutts which arrive often enough to dismiss inadvertency. The difference on Saturday was that he ran into an antagonist who was not willing to suffer any such tactics. Rather, Savolainen set the tone soon after the bout began by meeting Kakhelashvili's entries and taking the initiative to strike first when necessary. Or, answer back aggressively when that was the proper recourse, too.
The preamble was bereft of ambiguity. Savolainen wanted to stay "heavy on the head" with snaps and clubs, and if his own head happened to get in the way, so be it. There was one warning, and then Kakhelashvili couldn't take advantage of the par terre. After the reset came warning #2; and in short order, Savolainen cracked Kakhelashvili's face with a left shoulder. This time it was a caution-and-two, giving Kakhelashvili a 3-1 lead.
:23 into the second period, and following more chipping from Savolainen, Kakhelashvili's mouth was awash with ketchup and required brief assistance from the matside trainer. Passivity rang on the heels of blood time, but Savolainen was unable to capitalize as Kakhelashvili immediately escaped to his feet. At the reset, Savolainen then mashed a right hand that elicited a second caution as well as two more points for his adversary. One more caution and the match would end in a disqualification.
Kakhelashvili himself was next warned by the referee — yet, even that interaction did not alter the tenor of the proceedings. Both wrestlers put actual scoring attacks to the side in favor of other, more violent mechanics. A second time-out for blood saw Kakhelashvili, weary and bewildered by then, expend precious energy to gripe about the methodology on the part of Savolainen.
His composure was compromised.
1:27 hung on the clock when action resumed. Kakhelashvili had recovered enough to go back to at least surviving the onslaught, and was justly penalized for inactivity. It was an opportunity for a third passive/par terre. Though not accompanied by a point, its application wields the potential for athletes to determine the outcome of a match on their own steam. If the bottom guy defends, no harm done. If he cannot, well, that's on him. And Kakhelashvili could not.
Down 5-1, Savolainen used his new lease on life to lock a side lift. He got all of it. Kakhelashvili went up and came down, tallying four points in Savolainen's direction. Whatever motivation had been coursing through Kakhelashvili's veins diminished into traces of sediment. He was done. The sum of his ability to reconcile Savolainen's relative bloodthirst had long been exhausted before the final minute of the match. But what a match.
Knystautas & Chekhirkin
Given the depth at heavyweight in Budapest, '17 U23 World bronze Mantas Knystautas (LTU) was seen more as a wildcard — but in the semifinal he wrecked that narrative by easily controlling Rafal Krajewski (POL) to the tune of a 4-1 decision. Knystautas took the first passive/PT chance and rotated one gut after his lift attempt came up empty. Krajewski reversed for a point and found difficulty capitalizing when the script flipped. It was a plodding sort of battle, as is custom.
Knystautas was the beneficiary of another PT opportunity in the second, only this time Krajewski remained static. No further scoring was availed; but the victory was, of course, momentous. With the win, Knystautas gives Lithuania their first heavyweight Olympian since Beijing '08 when Mindaugas Mizgaits earned silver.
Chekhrikin Survives Aik
'17 World Champion Aleksander Chekhirkin (77 kg, RUS) has completed his assignment as Roman Vlasov's understudy. It wasn't pretty, and it required some external influence. World bronze Aik Mnatsakanian (BUL) raced out to an early lead with an explosive body attack. The takedown was just the front-end, as Mnatsakanian hastily transitioned to a gutwrench for two additional points. However, towards the end of the first period, Mnatsakanian was cautioned, giving Chekhirkin two points of his own and putting him back in the match in an instant.
Soon into the second, Chekhirkin executed a nifty arm drag and got around Mnatsakanian. Bulgaria challenged — and lost, and Russia surged out in front 5-4. Chekhirkin tacked on one more with a step-out, and the momentum was seemingly all his.
But before Chekhirkin could settle into a groove, Mnatsakanian was back again with a takedown, thus reclaiming the lead via criteria. The battle raged and the pace observed a high tempo. As they divvied in the ties, Chekhirkin's patience began to wear thin. An opportunity arose off of a brief exchange to coax Mnatsakanian off the line. One more point made it 7-6 and, despite Mnatsakanian's best and most impassioned efforts, there was no more rope left to pull. Chekhirkin expertly staved off any and all advances through the remainder to ensure that, although under a different name and different flag, their delegation will be prominently featured at 77 come August.
The finals of the 2021 European Olympic Games Qualifier begin at 6:00pm local time from Budapest on Sunday and can be viewed live in the US on FLOWrestling. 
2021 EUROPEAN OLYMPIC GAMES QUALIFIER
March 20-21 — Budapest, HUN
SEMIFINAL RESULTS (TOKYO QUALIFYING ROUND)
60 KG
Kerem Kamal (TUR) def. Erik Torba (HUN) 5-4
Etienne Kinsinger (GER) def. Murad Mammadov (AZE) 5-3
67 KG
Balint Korpasi (HUN) def. Donior Islamov (MDA) 6-0
Ramaz Zoidze (GEO) def. Slavik Galstyan (ARM) 10-1, TF
77 KG
Bozo Starcevic (CRO) def. Oldrich Varga (CZE) 3-1
Aleksandr Chekhirkin (RUS) def. Aik Mnatsakanian (BUL) 7-6
87 KG
Islam Abbasov (AZE) def. Ramon Betschart (SUI) 6-1
Lasha Gobadze (GEO) def. Milad Alirzaev (RUS) 9-5
97 KG
Arvi Savolainen (FIN) def. Nikoloz Kakhelashvili (GEO) 5-5 (criteria)
Kiril Milov (BUL) def. Artur Omarov (CZE) 9-0, TF
130 KG
Mantas Knystautas (LTU) def. Rafal Krajewski (POL) 4-1
Sergey Semenov (RUS) def. Adam Varga (HUN) via fall




Listen to "5PM47: Nate Engel and Xavier Johnson" on Spreaker.
Listen to "5PM46: Taylor LaMont and Jessy Williams" on Spreaker.
Listen to "5PM45: Chatting with Dennis Hall and Max Nowry" on Spreaker.