Today is Memorial Day. Please take a time-out and reflect on the many men and women who sacrificed their lives on the field of battle so we can continue to enjoy the precious freedom that makes our country what it is.
On Friday, G'Angelo Hancock (97 kg, Sunkist) solidified his #3 spot in the world by finishing second at the 2019 Sassari City International/Matteo Pellicone tournament in Italy. Hancock, 21, is the only US athlete to have placed in at least two United World Wrestling "Ranking Series" events — and is the only one to have competed in all three.
There is still one more Ranking event to go with July's Oleg Karavaev remaining on the schedule, though it is unknown if any American Greco wrestlers will be taking the trip to Belarus since it falls near the Pan American Games. What that means is if all of the athletes who currently hold "Ranking Series" points win their respective weight classes at the Final X Series next month, they will not be adding further to their totals.


UWW's "Ranking Series" was instituted last year with the intent to both generate non-objective world rankings as well as top-four seeds for each bracket at the World Championships. The wrinkle was that if ranking points were held by a projected seeded athlete who either moved to a different weight class or wound up not representing his or her nation at the Worlds, their seed was lost. But UWW did not replace that top-four seed by elevating wrestlers beneath that spot, leading several weight classes to host only two or three seeds. This year, it's a little different. If a top-four athlete does shift weights or is not selected by their national federation, UWW will bump wrestlers up accordingly in effort to guarantee four seeds in each weight class.
What the "Ranking Series" seeding procedure provides is a reduction in the likelihood top wrestlers battle it out in the earliest rounds of the World Championships (i.e., qualification rounds), long a complaint amongst international wrestling fans. But it is still not a "seeded bracket" in totality. Only four competitors are seeded with the rest subjected to a randomized draw. Thus, match-ups perceived as potential medal or final-round-worthy are still bound to occur in the beginning stages of the tournament.
A Look Back at Hancock's Run
The first two "Ranking Series" events of the season took place in February with Croatia's Grand Prix Zagreb Open and the Hungarian Grand Prix, respectively. In Croatia, Hancock went 3-1 to collect bronze. He had earned a frustrating win over Lee Se-Yeol (KOR) 5-1 in the quarters (frustrating because Lee was the opposite of a willing dance partner) only to fall to Ilya Borisov (RUS) in the semis. But in the bronze round, Hancock owned a 2-0 lead when he took top par terre in the second period against Adam Varga (HUN) and cranked a Korean front headlock for two more in the eventual 4-1 victory.
Zagreb GP (FEB)
Hancock's result: bronze; Ranking Series points: 12
WON Abolfazi Seyedmahdavi (IRI) via fall
WON Lee Se-Yeol (KOR) 5-1
WON Adam Varga (HUN) 4-1
The Hungarian Grand Prix was a bigger bracket with stiffer tests lying in wait for Hancock. He started off by positively destroying Lee and then grabbed a nice 4-0 decision over Abudourexiti Alimujiang (CHN) in the quarterfinals. His next two bouts were tight. In the semis, Hancock edged Hassan Ali Aryanezhad (IRI) 3-2. But it was that final. Going up against Faith Baskoy (TUR) in a rematch from the 2017 Worlds, Hancock had fallen behind 3-1 in the second period with time beginning to become a factor. After the very next restart, he dragged Baskoy to the mat for a takedown and held firm the rest of the way.
Hungarian GP (FEB)
Hancock's result: gold; Ranking Series points: 18
WON Lee Se-Yeol (KOR) 8-0, TF
WON Abudourexiti Alimujiang (CHN) 4-0
WON Hassan Ali Aryanezhad (IRI) 3-2
WON Fatih Baskoy (TUR) 3-3 (criteria)
Following a dominating march to the finals in which he outscored three opponents 28-2 (all tech's, of course), Hancock was ousted in the 97-kilogram final by Gabriel Rosillo (CUB). It was a tech fall loss, but ridiculous. The match was officiated terribly, and in order to make up ground, Hancock felt the need to rush a little on a throw attempt of which Rosillo landed on top, and that's how the match ended. Still — another medal and more Ranking points.
Pan Am C'Ships (APR)
Hancock's result: silver; Ranking Series points: 18
WON Manuel Huaman Caillahua (PER) 8-0, TF
WON Kevin Mejia Castillo (HON) 9-0, TF
WON Jose Arias Paredes (DOM) 11-2, TF
LOSS Gabriel Rosillo (CUB) 10-2, TF
Lastly was Friday's Sassari City event in Italy. Hancock actually made his 2017-18 season debut at this tournament last June, going 2-0 before not being given enough time in-between bouts, leading to his disqualification. It was a laughable mess. But he made up for it in 2019 by pounding out a 6-0 blanking of former World champ Balazs Kiss (HUN, world no. 9) to make the final, where 2015 Junior World gold Nikoloz Kakhelashvili (ITA) executed one gutwrench and then blocked and bailed en-route to the 5-0 decision win.
Sassari City Int'l (MAY)
Hancock's result: silver; Ranking Series points: 12
WON Armen Grigoryan (RUS) 3-0
WON Balazs Kiss (HUN) 6-0
LOSS Nikoloz Kakhelashvili (ITA) 5-0
Hancock's current Ranking Series Point tally — 60
Akron Week
This coming weekend are the World Team Trials tournaments for both the Cadets and U23 athletes from the Louis and Freda Stiles Athletic Fieldhouse in Akron, Ohio. As has been the case all spring, our preview coverage and overview recap will be featured on FLO with follow-ups appearing right here.
The Cadets are going to be interesting. Many of the athletes already registered have not only competed in top-level domestic competitions, but boast international experience, as well. What you're going to get is a variety of wrestlers who have either won or placed at Fargo, along with some others who have tangled with foreigners and trained overseas. In some cases, both. If there ever was a year when the Cadet Trials could hope to provide a representative litmus test to prove the US' developmental structure's progress, this is it.
U23 is huge on name recognition. Returning champs Dalton Duffield (55 kg, NYAC/OTS), Randon Miranda (60 kg, NYAC), Nolan Baker (67 kg, NIRTC), Jesse Porter (77 kg, NYAC/OTS), George Sikes (87 kg, NMU/OTS) and Hancock are all registered. So are newly-minted National Team member Taylor LaMont (60 kg, Sunkist), multi-time age-group World Teamer Dom Demas (Oklahoma RTC), '18 Cadet World Team member Dominic Damon (67 kg, NMU/OTS), and '17 U23 World Team member Blake Smith (87 kg, OTC). 2018 Senior World Team member Dalton Roberts (60 kg, NYAC/OTS) and Junior World silver Andrew Berreyesa (82 kg, NYAC/FLWC) are also on board.
In addition, a special wrestle-off will be held between reigning Junior World Team member Tyler Dow (72 kg, Badger RTC) and '19 Trials champ Tyler Eischens (CARTC).
And these are just the athletes who are confirmed as of press time. It is well expected that plenty of others are jetting over to Akron, and we will endeavor to bring those to you later in the week.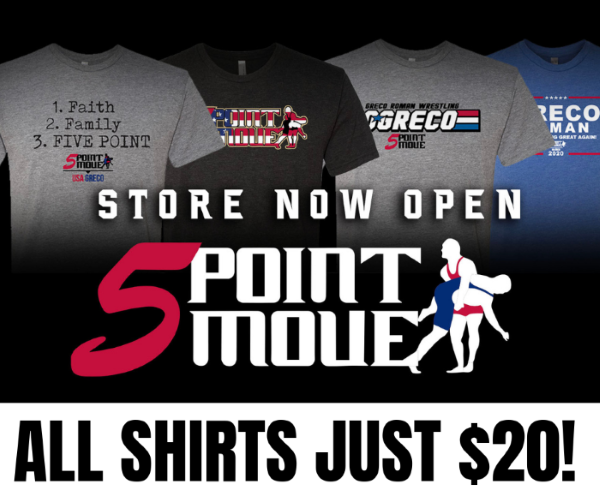 Listen to "5PM23: World Team Trials Challenge Tournament Preview" on Spreaker.
SUBSCRIBE TO THE FIVE POINT MOVE PODCAST
iTunes | Stitcher | Spreaker | Google Play Music | RSS
Notice
: Trying to get property 'term_id' of non-object in
/home/fivepointwp/webapps/fivepointwp/wp-content/themes/flex-mag/functions.php
on line
999