The United States Greco-Roman program exited the 2019 Haparanda Cup with one champion, John Stefanowicz (Marines), one silver, Max Nowry (55 kg, Army/WCAP, world no. 6), and three bronze — Nolan Baker (67 kg), Ray Bunker (72 kg, Marines), and Lucas Sheridan (97 kg, Army/WCAP).
It was the second Haparanda medal in consecutive years for Stefanowicz, who placed third in '18 at 82 kilograms. Both performances represented the Marine's season debut and were equally memorable for different reasons.
At the '18 Haparanda, Stefanowicz's first bout came against Aleksander Komarov, the young Russian dynamo who went virtually untouched throughout his age-group career (and had defeated Andrew Berreyesa in the Junior World final two and a half months prior to his battle with Stefanowicz). In what was a gritty, grinding back-and-forth bout, Stefanowicz fell 6-5. But, he regrouped in time to down Sweden's Oskar Johansson, thus earning bronze.


This time around it was altogether strange. Stefanowicz — ticketed to compete at 77 kilos for this Olympic Year — went up to 87 for Haparanda, which was really 89 given the two-kilogram allowance. In another odd twist, he was paired with fellow Marine Vaughn Monreal-Berner and was lollipop-dropped by a swift arm spin, only to rally back for a 7-5 decision. Stefanowicz brought plenty of heat in the next round opposite Daniel Bogdanov (RUS) but was edged 7-5.
87 kilos at Haparanda was one of several weight categories which observed the typical pooled format. So, when Davyd Shadt (UKR) got past Bogdanov 3-1, Stefanowicz received a new lease on life. Still in the argument, he scratched and clawed his way to a 3-3 victory over Aleksandar Stjepanetic (SWE), and as described in detail, repeated that firebrand effort against Shadt in the finals to clinch his first overseas gold medal.
Stefanowicz is not an athlete who lacks for confidence, but a tournament win overseas up a weight class (and including the aforementioned 2-kg allowance) should serve to embolden his domestic efforts entering the compressed domestic season. That is not to say Haparanda was a reasonable measuring stick; the athletes stateside at 77 are by and large quicker and more explosive than anyone Stefanowicz faced on Saturday. Plus, outside of VMB they were all Europeans. But in terms of physicality and the will to battle back in the face of obvious adversity, Haparanda was one more example of why anyone overlooking Stefanowicz's candidacy in April would be downright foolhardy to do so.
Consistency for Bunker; Two First-Timers
Bunker's first international tournament victory came at the '18 Bill Farrell Memorial. In all actuality, that was Bunker's first tournament win at Senior, also, since his National title the previous summer was earned at the University level. Nevertheless, a pattern has taken hold.
Dating back to that Farrell gold, Bunker has amassed five international medals in eight tournaments. When combined with his recent success domestically, the picture is one of a remarkably consistent competitor.
2018
Bill Farrell Memorial — gold
Spanish Grand Prix — 8th
Lavrikov Memorial — bronze
Haparanda Cup — 8th
Haavisto Cup — 5th
2019
Dave Schultz Memorial — gold
Armed Forces Championships — gold
US Open — gold
Wladyslaw Pytlasinski Memorial — bronze
World Championships — 12th
Haparanda Cup — bronze
Baker & Sheridan
In his brief Q&A released last week, Baker said of his growing confidence, "So as long as I'm in good condition and have trained hard, I know that I have the potential to pin anybody."
He didn't say tech anybody or even beat anybody, he said "pin"…anybody.
Sure enough, that's exactly how Baker managed to nail down his two wins en-route to bronze on Saturday. He is now pinning opponents at a rate hovering near 70%. These opponents, should a reminder be necessary, are high quality. US National Team member Jamel Johnson (Marines) is Baker's latest domestic victim. Johnson was seemingly on his way to cruising to either a lopsided decision or a tech fall, when in the second period, Baker wailed one of his signature headlocks. It was all over soon after.
Haparanda was Baker's first medal earned on foreign soil, and it was the same thing for National Teamer Sheridan. Another prolific headlocker, Sheridan whammed US rival Daniel Miller (Marines) in the opening round before going on to destroy Loic Saman (FRA) and Anestis Zarifes (GRE), respectively. After getting decked by Sheridan in the bronze round, Zarifes could be seen talking to Army/WCAP coach Spencer Mango and chuckling as if to say, I didn't even see it coming. 
They never do.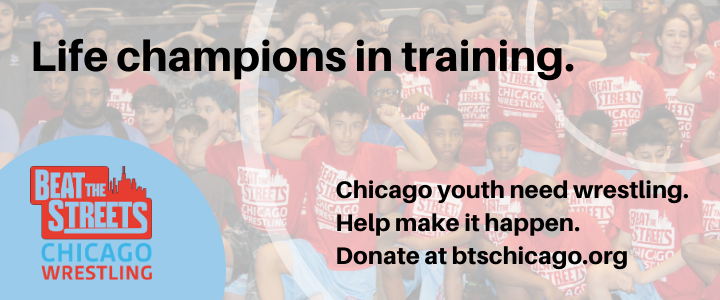 US on US Violence
When there are 22 US wrestlers spread across seven weight classes at a foreign event, the likelihood for domestic matchups is pretty high. But even with that, there were way too many at Haparanda, particularly in the first round (be it qualification, round-of-16, or pool draw).
First round 
Michael Hooker (Army/WCAP) def. Morgan Flaharty (NYAC) 5-2
Jamel Johnson (Marines) def. Xavier Johnson (Marines) 5-4
Corey Hope (NYAC) def. Nick Tarpley (NYAC) 10-1, TF
Spencer Woods (NYAC/OTS) def. Alex Mossing (Air Force) 8-4
John Stefanowicz (Marines) def. Vaughn Monreal-Berner (Marines) 7-5
Lucas Sheridan (Army/WCAP) def. Daniel Miller (Marines) via fall
Second round
Jamel Johnson (Marines) def. Michael Hooker (Army/WCAP) 6-4
Medal round
Nolan Baker (Unattached/USOPTC) def. Jamel Johnson (Marines) via fall
In the case of Hope/Tarpley, the matchup itself as well as the result is subject to immediate dismissal. Tarpley is set to compete at 67 kilos this season, not 77 (which was really 79 kilos in Sweden).
US Haavisto Cup Roster
Seven holdovers from the Haparanda Cup plus one new athlete are suiting up for the Haavisto Cup this coming Saturday in Ilmajoki, Finland.
67 kg
Nolan Baker (Unattached/USOPTC)
Morgan Flaharty (NYAC)
72 kg
Chris Rodgers (Unattached/USOPTC)
Nick Tarpley (NYAC)
77 kg
Corey Hope (NYAC)
Alex Mossing (Air Force)
Brandon Mueller (Air Force)
97 kg
Diante Cooper (Unattached)
The Haavisto Cup traditionally does not offer a live stream but efforts are underway to determine whether or not this year's event will be different.
Is the World Cup Going to Happen?
Last week, United World Wrestling announced that the 2019 Greco-Roman World Cup, which was scheduled for November 28-29 in Tehran, Iran, had been postponed due to security concerns. In their official statement, UWW noted that "that two teams had already withdrawn their participation due to the recommendations of their nations", before going on to add "the situation has not reached a satisfactory degree of stability for the holding of such an international event; and with a concern for avoiding any risk on our athletes, the Executive Committee has decided to postpone the holding of the World Cup GR until further notice."
For its part, Iran responded swiftly. According to the Mehr News Agency, IRI National Olympic Committee president Reza Salehi characterized UWW's decision as "hasty, sensational, and under the influence of incorrect propaganda by western states against Iran." Behind the scenes, Iran apparently worked to save the event by assuring eligible nations that the situation in the region was indeed suitably safe and stable to keep the World Cup in Tehran.
On Thursday, which was to be the first day of competition in Tehran, Iranian sports outlet Varzesh3 cited words from Iran's Minister of Sport and Youth Massoud Soltanifar declaring that the annual event will stay put and that a new date is going to be scheduled. "Finally, with the efforts made by the National Olympic Committee, the Wrestling Federation, President of the Russian Wrestling Federation, and the Ministry of Foreign Affairs, and the use of the capacity of the Georgian, Japanese and Russian ambassadors to Tehran, it was decided to change the dates of The World of Wrestling Championships in Tehran," read the statement.
If the World Cup is going to be rescheduled, time is of the essence. January is filled with international Senior Greco tournaments, including the Matteo Pellicone Memorial, the first UWW "Ranking Series event of the season — and a week later, Iran's hallmark Takhti Cup in Shiraz. Come February, both the European and Asian Championships arrive on the calendar, and a short time later, the continental Olympic qualifiers.
In related news, Russia did release their roster for the World Cup. Barring any potential scheduling conflicts, it will look like this:
55 kg: Vitali Kabaloev — 2018 U23 World runner-up, two-time Russian National Champion
55 kg: Victor Vedernikov — 2014 Cadet World Champion, '19 U23 European Championships bronze
60 kg: Zhambolat Lokyaev — Two-time Military World gold
60 kg: Artur Petrosyan — 2019 U23 World bronze
63 kg: Stepan Maryanyan — 2018 World Champion, '19 World runner-up, '17 World bronze
63 kg: Marat Garipov — 2019 Russian National Champion, '19 Haparanda Cup gold
67 kg: Alexey Kiyankin — Two-time Russian National Champion
67 kg: Alain Mirzoyan — 2017 U23 World silver, '18 U23 World bronze
72 kg: Adam Kurak — 2015 World bronze, two-time Military World gold
72 kg: Magomed Yarbilov — 2018 Junior World bronze
77 kg: Alexander Chekhirkin — 2018 World Champion, '14 European Championships gold
77 kg: Islam Opiev — 2019 U23 World Champion, '18 Junior World Champion
82 kg: Adlan Akiev — 2017 European Championships gold
82 kg: Milad Alirzaev — 2019 U23 World Champion
87 kg: Davit Chakvetadze — 2016 Olympic Champion, '15 European Games gold
87 kg: Sosruko Kodzokov — 2017 Russian National Champion
97 kg: Alexander Golovin — 2018 U23 World Champion
97 kg: Kantemir Magomedov — Three-time Russian National bronze
130 kg: Zurabi Gedehauri — 2011 Cadet World silver, two-time Russian National bronze
130 kg: Lom-Ali Akaev — Two-time Russian National bronze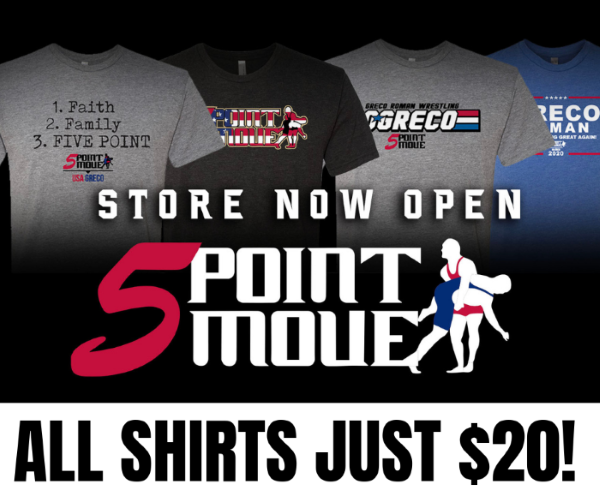 Listen to "5PM31: Happy Thanksgiving with Dennis Hall" on Spreaker.
SUBSCRIBE TO THE FIVE POINT MOVE PODCAST
iTunes | Stitcher | Spreaker | Google Play Music | RSS
Notice
: Trying to get property 'term_id' of non-object in
/home/fivepointwp/webapps/fivepointwp/wp-content/themes/flex-mag/functions.php
on line
999