What transpires in Belgrade, Serbia from now until Monday is different from a typical World event — though for the most part, the results coming out of Saturday's action were, indeed, typical. That's because the Russian Federation has a finalist in four of the first five contested weight categories, and Hungary's Balint Korpasi (72 kg, world #5) has once again guaranteed himself a spot on a major podium.
Day 1 of the 2020 United World Wrestling Individual World Cup began at 11:00am local time (5:00am EST) and streamed live on Trackwrestling.
Sefershaev Leads Russia; Vlasov Controversy
At 55 kilograms, Emin Sefershaev — a Junior World champ last year after scoring silver and bronze, respectively — stared down a tough draw on his way to tomorrow's final. Sefershaev struggled with Armenian elder Rudik Mkrtchyan in the opening round but gained serious momentum in his next bout. Standing across Sefershaev in the quarterfinal was '18 World Champ/'19 bronze Eldaniz Azizli (AZE). This was not the close battle most might have anticipated. Azizli received the first passivity and entered the second period up 1-0 — which represented the only point he would score. In the second period, Sefershaev blitzed, racking up points from the mat en-route to a 9-1 tech.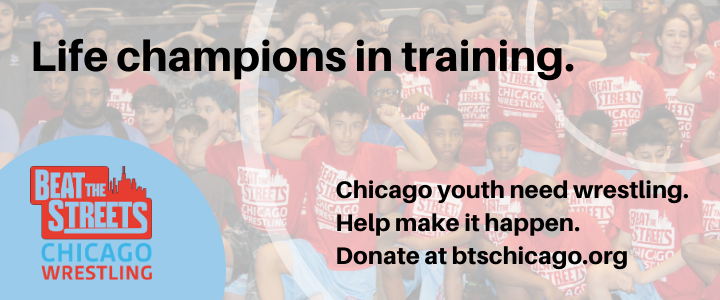 To earn his spot in the gold-medal round, the Russian had one more stout opponent offering a sizable test: '18 U23 World bronze Balbai Dordokov (KGZ). This time, Sefershaev got going quickly, getting behind on a takedown early in the first before coming up empty with a lift attempt. Back standing, they traded prodding tie-ups with Sefershaev mining for a two-on-one. It wasn't doing, but passivity entered the discussion. Dordokov held his ground in defending another lift try, yet Sefershaev was able to net a step-out. One more reset. Sefershaev intently stalked to negotiate some playback. The strategy worked in an eyeblink. First, he unfurled a snappy two-point arm throw; then, he locked for a lift and waterfalled it for four more, thus ending the match. An striking tournament for Sefershaev already as he looks to hit in the finish line in style when he takes on Serif Kilic (TUR) in tomorrow's final.
The narrative did not deviate for global power in the proceeding weight classes, outside of Narek Oganian's defeat to Cengiz Arslan (TUR). Nasir Abdullaev (67 kg), one of a select few Russians in Serbia not considered a "#1" on their current depth chart, dismantled '16 Olympic/'14 World Champion Davor Stefanek (SRB) in the midst of his own march to Sunday evening's festivities. At 77 kilos, superstar Roman Vlasov (world #16) overcame a points-happy showdown against '17 World bronze Pascal Eisele (GER) and survived two more difficult bouts against top-flight opposition.
In the quarters, Vlasov edged Karapet Chalyan (ARM) 3-1; in the semis, his victory over '17 World champ Viktor Nemes (SRB) was shrouded in controversy. Vlasov benefited from a passive in the first, Nemes in the second. With under a minute remaining, Vlasov was awarded with his second passivity point, much to the dismay of the Serbian corner, who wanted to challenge despite the rules indicating that challenges are unavailable for passivities. A yellow card, then a red card. It was a mess. When the dust cleared, Vlasov had secured the 2-1 decision with a chance to come away victorious tomorrow evening, when he will greet '20 Euopean Championships silver Zoltan Levai of Hungary.
Maskevich
Russia's other Olympic champ from '16, Davit Chakevetadze, is back in a marquee international final following three wins on Saturday. Chakvetadze, still only 28 years of age, has struggled on and off since Rio due to a knee injury that required surgery but is thought to be rounding back into form. However, he is not the main development this weekend at 87 kilograms. That distinction belongs to his opponent tomorrow night, Kiril Maskevich (BLR). A bronze at the U23 Worlds last year, Maskevich has become Belarus' most noteworthy prospect thanks in large part to an unpretentious, attacking approach. Those who tuned in on Saturday got to see that for themselves. Maskevich walked over everyone, including two-time Olympian Zurabi Datunashvili (SRB) in the semis.
Another Medal In the Books
Korpasi, whether he finds a way to make 67 kilograms for the European Olympic Games Qualifier in March or not, will end the Tokyo cycle as one of the sport's most consistent performers. He won the non-Olympic weight Worlds in '16, earned bronze in '17, and was the runner-up in '18. It is true that the Individual World Cup this year cannot be seen as a substitute for a verifiable World competition due to change in format as well as the absence of more than several prominent Greco-Roman nations; therefore, should Korpasi prevail Sunday night against decorated former age-grouper Malkhas Amoyan (ARM), he will not be called a "World Champion" or "World silver". This is a stand-alone event. Unless another Individual World Cup is scheduled for next or year or sometime in the near future, it is also anomalous.
But tournament labels notwithstanding, Korpasi's continued excellence deserves mention, especially on the heels of how he competed on Saturday. Each of his three matches provided a severe challenge — a 2-1 decision over Ruslan Tsarev (KGZ) was followed by a 3-0 shutout of Maksym Yevtushenko (UKR); in the semifinal, Korpasi outlasted two-time World bronze Aik Mnatsakanian (BUL) 3-1, a victory made possible when Korpasi hipped over on a Mnatsakanian gutwrench midway through the second period. There is something to be said for a wrestler who simply knows how to find ways to win, which adequately describes Korpasi over the past four years and he has kept that conversation going this weekend.
The finals for the first five contested weight categories begin tomorrow at 7:00pm local time (1:00pm EST) and can be viewed live in the US on Trackwrestling.
2020 UWW Individual World Cup
December 12-14 — Belgrade, SRB
Sunday Finals Pairings
55 kg: Emin Sefershaev (RUS) vs. Serif Kilic (TUR)
67 kg: Nasir Abdullaev (RUS) vs. Islambek Dadov (AZE)
72 kg: Balint Korpasi (HUN) vs. Malkhas Amoyan (ARM)
77 kg: Roman Vlasov (RUS) vs. Zoltan Levai (HUN)
87 kg: Davit Chakvetadze (RUS) vs. Kiril Maskevich (BLR)
2020 Individual World Cup Schedule
Sunday, December 13
11:00am-3:00pm — Qualification rounds (60 kg, 63 kg, 82 kg, 97 kg, 130 kg)
11:00am-3:00pm — Repechage (55 kg, 67 kg, 72 kg, 77 kg, 87 kg)
6:00pm-6:45pm — Semifinals (60 kg, 63 kg, 82 kg, 97 kg, 130 kg)
7:00pm-10:00pm — Finals & Bronze rounds (55 kg, 67 kg, 72 kg, 77 kg, 87 kg)
Monday, December 14
11:00am-2:00pm — Repechage (60 kg, 63 kg, 82 kg, 97 kg, 130 kg)
6:00pm-8:30pm — Finals & Bronze rounds (60 kg, 63 kg, 82 kg, 97 kg, 130 kg)


Listen to "5PM42: A Dennis Hall Thanksgiving" on Spreaker.
SUBSCRIBE TO THE FIVE POINT MOVE PODCAST
iTunes | Stitcher | Spreaker | Google Play Music
Notice
: Trying to get property 'term_id' of non-object in
/home/fivepointwp/webapps/fivepointwp/wp-content/themes/flex-mag/functions.php
on line
999