Belarus might not have planned on Kiril Maskevich becoming a center of attention so soon, though after this weekend, it is likely the Eastern European program will smile widely knowing they have a nice problem on their hands heading into the 2020ne Tokyo Olympics.
The final round on Day 2 of the 2020 Individual World Cup in Belgrade, Serbia began at 7:00pm local time (1:00pm EST) and aired live in the US on Trackwrestling.
'19 U23 World bronze Maskevich had strung three eyebrow-raising victories on Saturday, including a mesmerizing tech of veteran two-time Olympian Zurabi Datunashvli (SRB), to set himself up for a finals appearance opposite Davit Chakvetadze (RUS). Chakvetadze, who surged to Olympic gold in '16, has struggled on and off throughout this lustrum, thanks in large part to a surgically-repaired knee along with a few minor injuries. Nevertheless, he has still shown flashes of brilliance on occasion; and at only 28-years-old, is still very much considered a potent World-level threat.
One match won't change how Chakvetadze is viewed. But it will change how Maskevich is, both in his own country and among competitive counterparts.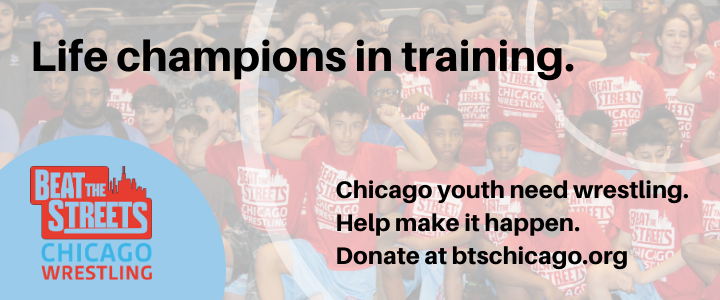 A stubborn, if not suffocating, latchkey two-on-one from Maskevich marked the dawn of this joust, with Chakevetadze properly stuck and working to pummel and pry towards freedom. The tables turned slightly more than a minute in, as the Russian committed to a left-side underhook that he used to weave his right hand inside and lock on Maskevich's outer wrist. The position dissolved organically, and shortly thereafter, Maskevich was awarded with the bout's first passivity chance. A mental error on the part of Chakvetadze then gave way to the most spectacular finish of the day, and the tournament thus far.
Chakvetadze had jump-started from par terre bottom twice in a row, resulting in a caution-and-two, as well as a 3-0 deficit.
He would only return to his feet to shake hands.
At the whistle, Maskevich locked, lifted, and set sail on a side lift that netted five — and just as Chakvetadze's body made impact, Belarus was there with a quick lefty gut to put a jarring end to the proceedings. The Individual World Cup title is Maskevich's first in a major Senior event, which will now lead to some interesting conversation over the next seven months since Belarus already qualified 87 kilograms for Tokyo 2020one at the '19 World Championships due to the fifth-place effort from elder statesman Nikolai Stadub.
Vlasov Downs Levai; Korpasi Grinds to Criteria Win
Maskevich was not the only winner to nail a five — two-time Olympic champ Roman Vlasov (77 kg, RUS) had launched '20 European Championships silver Zoltan Levai (HUN) approximately a half-hour prior. Although, Vlasov's rocket ship side-lift was a little different; for him, it was the difference in the match.
Vlasov appeared fresh with extra juice in his legs throughout the preamble, actively wading his hips in and out of tie-ups and letting his footwork do the talking. It was enough for the officials to prefer his methodology over Levai's early on, hence, passivity/PT. For a moment, Vlasov seemed to hit a snag as he loaded Levai torso-high. Looks can be deceiving. In one motion, there went Levai, victimized by a cascading lift that would be his undoing. There was no letdown from Levai in the conclusive frame. He chipped and worked, and stayed in Vlasov's face as much as one possibly can. But the living Russian legend was too confident, too sophisticated in his unraveling of tenous positions to wind up in a perilous situation. Other than a passive knock, Vlasov went untouched to come away with a 6-1 decision.
Sometimes, '16 World Champion Balint Korpasi (HUN) wins and makes it look easy. Exceedingly often, the regal Korpasi brawls and butchers without much offense of which to speak — and yet, outcomes tend to fall in his favor. Consistency is Korpasi's superpower, as Malkhas Amoyan (ARM) found out again on Sunday. Amoyan kept a driving pace to kick off their 72-kilogram final but was stymied whenever he came close to workable positions. A steady diet of fleeting short drags were employed to move Korpasi's feet, but still, no openings. Amoyan did check in with the first-period passive and nearly secured a booming lift that would have immediately altered the complexion of the contest. Instead, Korpasi staunchly defended by staying glued to Amoyan's torso.
The second period flipped the script. Korpasi increased his output and benefited from his own passivity point. Nothing was doing on the tarp, but the 1-1 criteria edge was all his. That thinnest of margins would not be relinquished, giving the 32-year-old Hungarian the top spot at the inaugural Cup.
Russian Lightweight Duo Close Strong
Emin Sefershaev — one of Russia's new breed of age-group superstars similar to Alexander Komarov (82 kg) — finished what he started on Saturday by turning back Serif Kilic (TUR) 8-0. Sefershaev was up 1-0 in the first when a lift attempt that came awfully close to a correct hold wasn't scored by the officials. Midway through the second, Kilic was dinged again for passivity and, this time, Sefershaev landed a two-point lift. With under :30 to go, Kilic fell apart. Sefershaev scored a takedown off an arm-drag to go up 6-0; after the very next reset, he was there with another drag, ultimately sealing the deal with just :18 remaining in the bout.
At 67 kilograms, Nasir Abdullaev had a match similar to Sefershaev's final, minus the bevy of offensive points. A passive for Abdullaev, one for Islambek Dadov (AZE), and then a hard-fought, clutch step-out just as time became a factor were responsible for the boxscore.
2020 Individual World Cup
December 12-14 — Belgrade, SRB
FINALS RESULTS
55 kg: Emin Sefershaev (RUS) def. Serif Kilic (TUR) 8-0, TF
67 kg: Nasir Abdullaev (RUS) def. Islambek Dadov (AZE) 2-1
72 kg: Balint Korpasi (HUN) def. Malkhas Amoyan (ARM) 1-1 (criteria)
77 kg: Roman Vlasov (RUS) def. Zoltan Levai (HUN) 6-1
87 kg: Kiril Maskevich (BLR) def. Davit Chakvetadze (RUS) vs. 10-0, TF
PLACEWINNERS
55 kg
GOLD: Emin Sefershaev (RUS)
SILVER: Serif Kilic (TUR)
BRONZE: Eldaniz Azizili (AZE)
BRONZE: Abdelkerim Fergat (ALG)
67 kg
GOLD: Nasir Abdullaev (RUS)
SILVER: Islambek Dadov (AZE)
BRONZE: Slavik Galstyan (ARM)
BRONZE: Roman Pacurkowski (POL)
72 kg
GOLD: Balint Korpasi (HUN)
SILVER: Malkhas Amoyan (ARM)
BRONZE: Ruslan Tsarev (KGZ)
BRONZE: Cengiz Arslan (TUR)
77 kg
GOLD: Roman Vlasov (RUS)
SILVER: Zoltan Levai (HUN)
BRONZE: Alexandrin Gutu (MDA)
BRONZE: Viktor Nemes (SRB)
87 kg
GOLD: Kiril Maskevich (BLR)
SILVER: Davit Chakvetadze (RUS)
BRONZE: Zurabi Datunashvili (SRB)
BRONZE: Semen Novikov (UKR)
DAY 2 FINALS PAIRINGS
60 kg: Zholaman Sharshenbekov (KGZ) vs. Stepan Maryanyan (RUS)
63 kg: Erik Torba (HUN) vs. Zhambolat Lokyaev (RUS)
82 kg: Milad Alirzaev (RUS) vs. Salih Aydin (TUR)
97 kg: Alex Szoeke (HUN) vs. Musa Evloev (RUS)
130 kg: Sergey Semenov (RUS) vs. Osman Yilidrim (TUR)
Monday, December 14
All times +6 hours EST
Stream available in the US on Trackwrestling
11:00am-2:00pm — Repechage (60 kg, 63 kg, 82 kg, 97 kg, 130 kg)
6:00pm-8:30pm — Finals & Bronze rounds (60 kg, 63 kg, 82 kg, 97 kg, 130 kg)


Listen to "5PM42: A Dennis Hall Thanksgiving" on Spreaker.
SUBSCRIBE TO THE FIVE POINT MOVE PODCAST
iTunes | Stitcher | Spreaker | Google Play Music