Even if it is premature to declare that Roman Vlasov (77 kg, RUS) has now reclaimed the throne in his home country, he sure took a big step in that regard on Saturday.
Vlasov, who turns 31 early next month, was methodical and poised throughout his march to gold, though he also did not earn a single victory via technical superiority. He had begun the morning with a pair of decisions over Sergey Stepanov and Aleksa Illic (SRB). Amin Yavar Kaviyaninejad (IRI) was third in line, and Vlasov prevailed 7-2, thus putting him in the semifinal opposite '20 European Championships silver — and the man many feel was responsible for Vlasov's exclusion from the Tokyo Olympics — Tamas Levai (HUN).
Unlike their meeting in June, Vlasov did not struggle to engineer points from par terre. The first passivity was directed towards Levai, and it wound up his undoing. Vlasov quickly found his lock upon the whistle and settled for a turn after initially stepping to lift. He repeated the sequence for another two points, and then hoisted a side lift that yielded two more and a 7-0 lead. Levai got on the board in the second period thanks to a passive point, but was otherwise shut down by the two-time Olympic champ the rest of the way.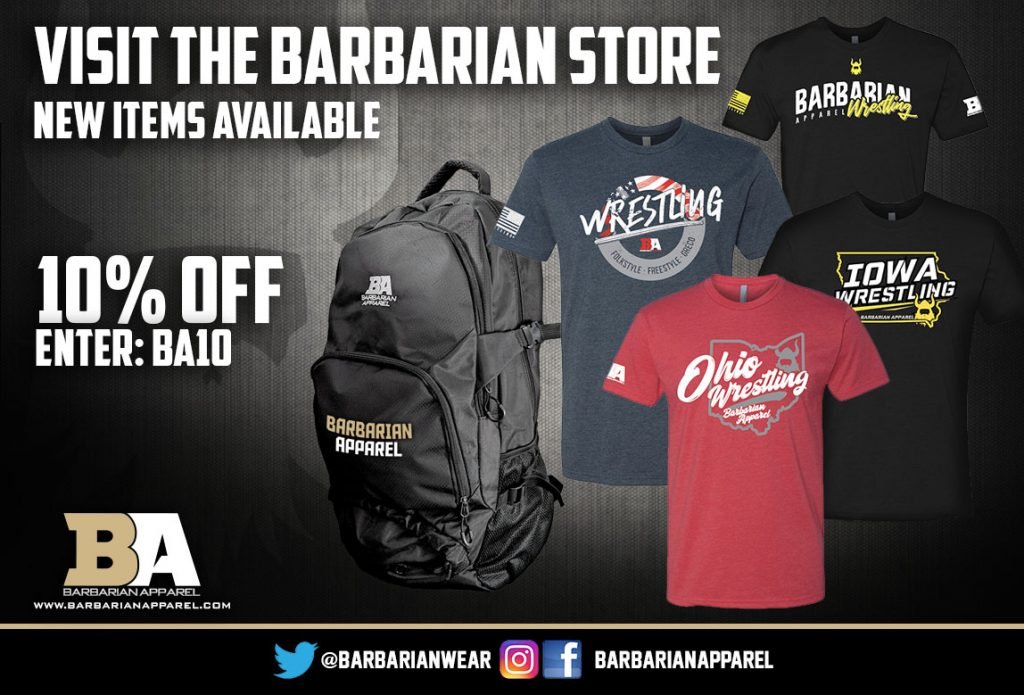 Levai is at least partially credited with ending Vlasov's streak of Olympiads. Some of the ownership belongs to '19 World gold Abuyazid Mantsigov (RUS), as well, for it is Mantsigov who ousted Levai in Poland ahead of outright commandeering 77 on behalf of Russia in Tokyo. A tinge of tension could be detected just prior to first whistle, even if it was forgotten about as soon as contact was made. Mantsigov poured forward, immediately working on Vlasov's left forearm whilst chugging his legs in earnest. He was busier, Mantisgov, but passivity went in his direction nonetheless, likely influenced by Vlasov's still-outstanding ability to effortlessly weave angles through incoming fire and force opponents to compromise their posture.
Vlasov's par terre chance indeed netted points, but in a bizarre manner. When the whistle blew, Mantsigov brought his left elbow into his own rib cage as a blocking mechanism. An exceedingly common tactic for wrestlers in the defensive position, as they look to buy a few extra seconds before finally capitulating. Mantsigov almost assuredly would have "cleared" his elbows as per the rules; but before he could, Vlasov reeled in Mantsigov's arm, which did not allow for clearing to transpire. Still, the on-the-mat referee gave a warning, and in very quick succession another one. Mantsigov was then promptly cautioned, providing Vlasov with two points along with a restart from par terre top. On his second try, Vlasov managed to cinch a side lift — but Mantsigov timed the attempt for a land-on-top that delivered two exposure points.
The second period offered one more curious sequence. Vlasov was dinged midway through the frame, making the score 3-3 although he still held criteria. And Mantsigov, apparently, opted to remain standing rather than take his shot from par terre. Despite an unmistakable effort anchored by a hectic tempo, he was unable to inch closer. Vlasov stymied Mantisgov's advances through the waning stages of the period to earn a 3-3 criteria decision that is likely to send him to Oslo next month for his seventh World Championships appearance.
Takacs Goes Over Alirzaev
The final at 87 kilograms featuring '20 Individual World Cup winner Milad Alirzaev (RUS) and '19 Junior World Champion Istvan Takacs (HUN) drew intense interest due to the participants' perceived career trajectories. Russia is well-stocked in the weight category, as per usual, but Alirzaev has surged over the past season and is receiving more opportunities to shine despite the presence of Aleksandr Komarov (who wound up with bronze on Saturday). Takacs, on the other hand, might have to wait a touch longer presuming Viktor Lorincz is sticking around until Paris '24. However, if Takacs continues to perform to the level he has recently, the pecking order in Hungary may become altogether quite complicated (just as it was pertaining to 97 prior to the Olympic qualifying in the spring).
Alirzaev was gifted the bout's first passivity/PT and hastily worked for a lock. Takacs held strong, even as Alirzaev's follow-up try for a lift fell apart with his outside leg inadvertently nudging Takacs in the dome. The official did not call for a restart right away, instead choosing to allow Alirzaev another chance to gutwremch. It did not matter. Takacs was pasted to the tarp and a reset was on the way.
The beginning of the second period unveiled a heightened tempo for Takacs, who dragged behind Alirzaev for a near-miss on a takedown. Alirzaev pivoted back inside and extended his arms to create some room, with an accidental hands-to-the-face the result. A warning was levied, action continued, and Takacs started gaining increasing ground in the ties. An arm throw good for correct-throw points instantly put the Hungarian ahead 2-1. Shortly after Alirzaev bounded back to his feet, Takacs used an arm drag to snag a takedown that doubled his margin. Heavy pummeling thus unfolded. Both checked hard on the wrists to wedge their clutches inside one another, but Alirzaev's footing was consistently compromised as he leaned into the trenches. That reason, among others, is why Takacs was never in peril through the remainder en-route to an impressive 4-1 victory that was accompanied by gold.
55 & 67 kg
The outcome for the sport's lightest weight category included two athletes who could make sizable impacts at the '21 Worlds. Gold went to Iranian Poya Dad Marz, who electrified at Junior in '17 and is really only just starting his Senior career. Dad Marz had to grind it out against Emin Sefershaev (RUS) in Round 3, which served as the de-facto final. Sefershaev is already considered a stout contender. After flirting with Olympic 60 last season, the '20 Individual World gold medalist's move back down to 55 automatically elevates his chances in the eyes of many. Sefershaev earned a passive-friendly 2-1 nod over Mohammadhadi Shaabanibnavi (IRI) before decking Sabolc Losonc (SRB) to sew up silver. 
Nasir Abdullaev (RUS) ran the table at 67, though his only searing victory came against Hungarian Erik Torba, which was earned via tech. Abdullaev's other two wins were 5-3 decisions over countryman Aslan Asvaitov and Mohammad Rezaei (IRI), respectively. Azamat Akhmedov (RUS) forfeited due to injury prior to the final after going 2-0 on the day. 
RUS = 5, IRI =4
As reported in the first update on Gedza, only six nations participated, leaving plenty of room for Russia and Iran to dominate the medal count. Russia piled on with five champs. four runner-ups and two bronze; Iran finished with four golds and two bronze. The team standings reflected such dominance. Russia led the way with 220 points, well in front of Iran's tally of 131. Home country Serbia, which had five bronze, came in third with 116 points.
2021 Ljubomir Ivanovic Gedza Memorial
September 4 — Mladenovac, SRB
FINAL RESULTS
55 kg
GOLD: Poya Dad Marz (IRI)
SILVER: Emin Sefershaev (RUS)
BRONZE: Mohammadhadi Shaabanibnavi (IRI)
60 kg
GOLD: Omid Hossein Arami (IRI)
SILVER: Anvar Allakhiarov (RUS)
BRONZE: Zolt Zonia (SRB)
63 kg
GOLD: Ibragim Labazanov (RUS)
SILVER: Roman Ivanov (RUS)
67 kg
GOLD: Nazir Abdullaev (RUS)
SILVER: Azamat Akhmedov (RUS)
BRONZE: Sebastian Nadj (SRB)
BRONZE: Mohammad Rezaei (IRI)
72 kg
GOLD: Ali Nail Arslan (IRI)
SILVER: Stanislav Zaitsev (RUS)
BRONZE: Oliver Kajtan (HUN)
BRONZE: Robert Fritsch (HUN)
77 kg
GOLD: Roman Vlasov (RUS)
SILVER: Abuyazid Mantsigov (RUS)
BRONZE: Tamas Levai (HUN)
82 kg
GOLD: Adlan Akiev (RUS)
SILVER: Karlo Kondric (CRO)
BRONZE: Branko Kovacevic (SRB)
BRONZE: Laszlo Szabo (HUN)
87 kg
GOLD: Istvan Takacs (HUN)
SILVER: Milad Alirzaev (RUS)
BRONZE: Zarko Dickov (SRB)
BRONZE: Aleksandr Komarov (RUS)
97 kg
GOLD: Artur Sargsian (RUS)
SILVER: Aleksandr Golovin (RUS)
BRONZE: Michail Isoifidis (GRE)
130 kg
GOLD: Yousofiahmadchali Aliakbar (IRI)
SILVER: Darius Vitek (HUN)
BRONZE: Ilija Petrovic (SRB)
BRONZE: Zurabi Gedekhauri (RUS)




Listen to "5PM50: Mr. Fantastic Benji Peak" on Spreaker.
Listen to "5PM49: Robby Smith on coaching, fatherhood and mentors" on Spreaker.
Listen to "5PM48: Austin Morrow and Gary Mayabb" on Spreaker.
SUBSCRIBE TO THE FIVE POINT MOVE PODCAST
iTunes | Stitcher | Spreaker | Google Play Music
Notice
: Trying to get property 'term_id' of non-object in
/home/fivepointwp/webapps/fivepointwp/wp-content/themes/flex-mag/functions.php
on line
999