Five Point Move is proud to host USA Greco-Roman National Team head coach Matt Lindland each week for Coach Lindland's Report. Here is where you will find detailed perspectives from Coach Lindland pertaining to recent results, upcoming events, training plans, and other Greco-related news that isn't available anywhere else. ALSO — if you would like to donate directly to the US Greco-Roman program, just click here. Your support is appreciated!
It is now over a month since Greco-Roman wrestling was front and center at the Olympic Games. The United States did not leave Tokyo with the type of overall showing for which most had hoped — and four out of the six matches featuring American competitors saw questionable calls from an officiating standpoint. A thorough analysis of the US performance, at this stage, is no longer warranted, but Coach Lindland provides a general overview of the main issues still hanging in the air some four weeks later.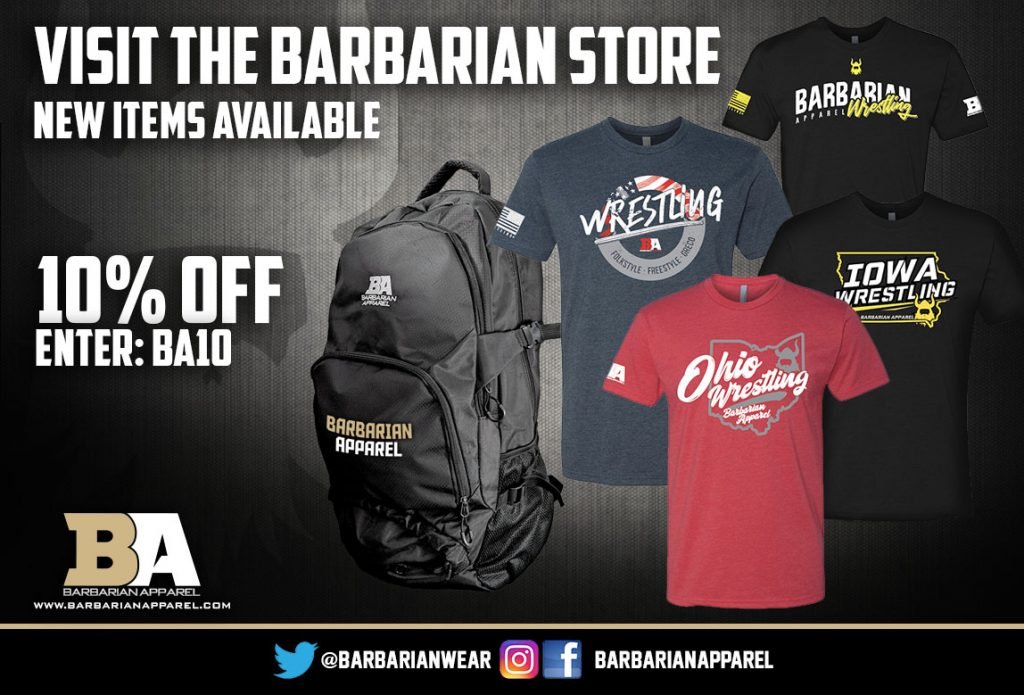 Two pertinent items of note are available in the aftermath of Tokyo, however. The first is Braxton Amos (97 kg, Sunkist/Wisconsin RTC), who powered his way to bronze at the Junior World Championships last month after earning gold in legs. Amos' stellar effort did shine a light on one topic of interest outside of his own wrestling ability: the contrasting nature of Greco as it pertains to both domestic and international competition. Last but not least is the 2021 Senior World Team Trials, which is set to take place this coming weekend live from Lincoln, Nebraska. The tournament itself is not the concern. Rather, it is what the US program plans to do with the short turnaround, and where they plan to do it. Originally, a trip to Denmark was on the table. But the national governing body has insisted that all three Senior World Teams converge on Edge in Hoboken, New Jersey for their pre-Oslo training camps, and Lindland discusses how the Greco squad is aiming to turn the change of direction into a net positive.
5PM: Did the Olympics feel like "The OLYMPICS"?
Coach Matt Lindland: It absolutely did not feel like the Olympics until you were in the arena competing. Nothing was normal. There was no opening ceremony for the athletes to attend, there was no village for the athletes to go to. Their bags got dropped off, they didn't even go to processing (to receive team-branded gear). This pandemic that we have been dealing with now for almost two years has really hurt this sport, and the sporting world as a whole. It was interesting. I try to follow a little bit of pop culture and I've noticed that the football stadiums are filled and people are really excited about getting back to sports. Hopefully, we are trending in that direction. But when you look at our event in Lincoln that is coming up, it is indoor masks. We are still dealing with the confoundment of what is a pretty normal thing. Humans have always dealt with pandemics and pestilence, diseases, and what have you. And as a species, we have done pretty well. We have overcome. It just goes to show you that we are tougher than the leaders of this country, as well as leaders from a lot of other nations, believe that we are. We are a pretty strong species, and we will figure this out and survive.
But it was refreshing to see people excited about live sports again and getting to watch athletes compete at the highest level. I think by the time we got in the warm-up area and it was time to compete — despite no fans in the stands — that part felt like the Olympics. But outside of that, nothing felt like the Olympics.
5PM: I already know that you're not going to lean on any excuses here, but four of the six matches with US guys included what I at least felt were awful calls that were also game-changing for those involved. Everyone understands that bad calls need to be overcome in order to win. That isn't as easy as it sounds, so how do you overcome calls, no-calls, and just plain bad officiating when the competition is extremely elite as is the case with an Olympiad?
Coach Matt Lindland: I mean, you did mention that there was some poor officiating, and I definitely felt there were momentum-shifting calls on the mat, on the field of play, that were challengeable, or potentially weren't challengeable. I think about stuff like John Stefanowicz's stand-up. I went through every single match from the Olympic Games on film and looked at every stand-up. His was really clean, really good, and his was the only one to get put back down. There were momentum-shifting calls.
To answer your question, how do we overcome those? Well, it's simple math: we have to score more points. More offensive attempts, more offensive attacks, equals more scores. If we are dominating the push, the pace, and the center of the mat — but we're not making legitimate attempts, we are not going to score more points. We have to really go out there with a sense of bravery and courage. I've talked about this before. There is this fine line where you have to really care about your performance and preparation, even down to your pre-match warm-up. Everything you do to prepare up until the moment you step on the mat and shake hands. After that, you literally cannot care what is going to happen. You just have to go out and compete with joy. And it is so hard, because we want to win. Well, everyone wants to win. Your opponent wants to win as badly as you do.
I keep going over this, trying to figure out how we are going to be better. We have to take more chances. We have to really attempt to score. When that happens, we put guys out of position and something may present itself. And if that second attack or third attack doesn't work, then maybe we are getting a step-out. Then that could change the pace and the dynamics of the match. Now, your opponent is going to come at you and he has to take some more risks, too.
Everyone is closed down right now. The Olympics were really tight. There was a lot of tight wrestling. There were very few guys who were wrestling with a lot of openness and freedom out there, maybe just because of the stakes. It is the Olympics, it only happens every four years, or in this case five. Honestly, I really believe we have really good athletes. The guys we brought to the Olympic Games are incredible athletes and they were well-prepared. They needed to make more offensive attacks and not wait for the one ideal attack. It's not going to be beautiful, it's not going to be perfect. Scores are scores. They can be ugly. Just make it an ugly match by going out there and putting points on the board — and it doesn't matter how you get those points sometimes.
5PM: If there was any kind of premier takeaway, what is the biggest thing that popped in your mind or that which you were most encouraged by just given the process that it took to get to this tournament given everything else that has transpired?
ML: Obviously, I am very impressed by the athletes we took. And we have a lot of talented athletes who didn't make the Team, or didn't qualify those two weight classes. But we have very good guys. At the top of the Greco ladder are excellent athletes who know how to compete, how to train and prepare. And sometimes, like you said earlier, it comes down to those momentum-shifting calls, and we have to overcome those. But I am very encouraged. We have some very strong competitors who are coming up. We have some young talent coming up on our U23 Team, but those are Senior athletes now, as well as guys who have won World medals at Junior. And we have a new World medalist coming up with Braxton Amos.
The future isn't super-bright, but it also isn't bleak at all because of the guys we have coming up. They just have to score more points, and they are capable of doing that. I am looking forward to watching them do that at the World Championships next month in Oslo. I don't know who is going to be on that Team yet, which I think is exciting, as well. It will be a completely new Trials, we don't have anyone sitting out. I am looking forward to the event this week in Nebraska.
5PM: Speaking of Braxton Amos, what did his bronze say about the differences between styles, both domestically and internationally?
ML: I think I know where you're going there, and I think you're right — but I also don't think that's the point. The point is that in our country, we focus on attacking legs. Our base doesn't start with Greco-Roman wrestling. We have to coerce guys into trying Greco-Roman; and once they do, guys like Braxton who are incredible wrestlers, they do great. But it's not easy. It's not easy on the World level. We saw that at Cadets this year. My goodness, we saw that at Cadets. It is very tough. And typically, we do better at Cadets because some of our Cadets focus more on the international styles. They have a little more time to do international wrestling. But folkstyle is so big in our country that we have such great talent and depth in freestyle and folkstyle because of it, but it definitely hinders our Greco because their best guys realize how tough Greco is and what it is going to take to earn a World medal at that level.
Then here's Braxton, who is tough enough to do it in both styles? I thought he was utterly out of his mind just to even attempt this (laughs). But what a stud. What an incredible guy to be able to pull that off. He is the third guy in history to ever do that, and the first two were heavyweights. I think it was Gary Albright, who was silver and bronze; and Adam Coon, who was bronze and bronze. And for Braxton, this too was upper-weight. Fortunately, he had four days in between for recovery. He just wins a World title and he is asking me about guys in his Greco weight class via text (laughs). I was like, Why don't you just relax for a couple of days and rest? When the bracket comes out, I'll do a little scouting report for you when I see the draws. We don't have to wrestle everyone in the bracket, so let's wait until we see the draws. He is just such a pleasurable guy to work with. He's fun. He loves this.
Braxton is someone I really hope we can keep into Greco. He is really good at it, and he is someone we know is capable. Even winning a Greco medal in the Junior ranks is on the right track to Senior success. Unfortunately, we are not going to get our hands on Braxton full-time because of his college aspirations. That is his path, that's what he wants to do, and we will support him at every opportunity we have to keep him involved with Greco as much as we can.
5PM: What is the plan for dealing with the short turnaround between the Trials and Oslo? As a second part to that, how is the Greco World Team to make the most out being unable to train internationally prior to departure?
Coach Matt Lindland: How we make the most out of this short turnaround is the guys who make this Team will be the best-prepared. That is what this Trials is going to prove out in Lincoln, Nebraska. Who has been doing the work? We only had four Olympians and we're taking ten to the Worlds. So, there are guys who have had opportunities to stay focused, to stay training, and to keep their eyes on the prize of getting into the World Championships and coming home with a medal. It is really going to come down to what the athletes have been doing back home. Everyone has their own plan in that regard.
We would have certainly loved to have taken our Team over to Europe, at least for some training. The Trials were originally scheduled for a week earlier and we were going to have an opportunity to have two weeks in-between the Trials and Thor Masters. Our plan was to participate in Thor Masters and stick around to get some training. Also, to be only an hour-long flight away without even having to worry about crossing borders and showing passports. I think as much as it is important for the Greco-Roman program to be training with international competition, it just didn't work out for this trip. So, we are going to Hoboken. I hope we don't getter at riding time and what not since it is a folkstyle part of the country.
But, Mohamed (Abdelfatah) has done a good job of reaching out to some Egyptian athletes who live in town. We'll have some workout partners and we're bringing four training partners with us. I think we are probably positioned the best because all three Teams are going in on the 22nd. I think freestyle is leaving two days later and the women five days later. We'll have a full eight-day training camp with our guys. They will be ready. They will be prepared. I think there are other opportunities and other ways to do it, but this is what we're doing. We're going to make the most of it. It is what it is. We're going to do everything we can to help these guys perform the best they can for when it comes time to compete at the World Championships in Oslo.




Listen to "5PM50: Mr. Fantastic Benji Peak" on Spreaker.
Listen to "5PM49: Robby Smith on coaching, fatherhood and mentors" on Spreaker.
Listen to "5PM48: Austin Morrow and Gary Mayabb" on Spreaker.
SUBSCRIBE TO THE FIVE POINT MOVE PODCAST
iTunes | Stitcher | Spreaker | Google Play Music
Notice
: Trying to get property 'term_id' of non-object in
/home/fivepointwp/webapps/fivepointwp/wp-content/themes/flex-mag/functions.php
on line
999