29 competitors at a United World Wrestling "Ranking Series" event should be construed as a disappointment. The Zouhaier Sghaier in Tunls, Tunisia — which hosted Greco-Roman action this past Thursday and Friday — offered the sport's top athletes one last chance to acquire coveted ranking points prior to September's World Championships. Alas, it wasn't enough. Even with UWW poised to use their system to drill down seeds from #1 through #8 in Belgrade, the possibility of inching further ahead in a bracket simply did not provide all too attractive of an incentive for most high-caliber wrestlers (or their national federations).
Between the location and its place on the schedule, Zouhaier Sghaier was always going to fall far short of expectations. However, one of Greco-Roman's brightest stars still managed to shine as he prepares to try for his third piece of World hardware in four years.
Bulgaria's Aik Mnatsakanian (77 kg, world #17) found little difficulty in running the table through his round-robin bracket on Friday, in the process outgunning three opponents by a combined score of 23-1 with two technical falls.
Two of Mnatsakanian's opponents were of considerable quality. In the opening round resided Joilson De Brito Ramos (BRA), an athlete with whom USA fans might be familiar. De Brito Ramos has been a steady performer at Pan-American Championships, and owns a continental gold from '18. The Brazilian has increased in size over the past two years. Previously a 67-kilogram competitor with sporadic appearances at 71/72, De Brito Ramos moved up to 77 last season and wears the weight gain well.
He also managed to test the brutish Mnatsakanian in the hand-fight during the early stages of their bout before passivity changed the complexion of the contest. Mnatsakanian assumed a high lock for his gutwrench and garnered two turns for a 5-0 lead. The end had already drawn near. After the reset, Mnatsakanian muscled behind De Brito Ramos for a takedown and quickly seized a trap-arm gut to put this one on ice at 9-0.
A stiffer test awaited in the form of Furkan Bayrak (TUR). Bayrak, 26, was a Junior Word Champion in '14 and has since become a solid Senior competitor — but is often excluded from high-ticket events due to sitting behind Yunus Basar on Turkey's depth chart.
In Tunisia, Bayrak was simply outhustled.
Mnatsakanian, beholden to a constantly-revving motor, waded through the slog in the first period and took the initial passivity/par terre chance. Bayrak defended, resulting in a restart. Though there was a clear intent to advance position on Mntasakanian's part, attempts were scarce. What had begun as a hand-fighting chess match was soon in danger of evolving into a pummel-fest. The score remained 1-0 for BUL entering the second frame until passivity went in the other direction.
Bayrak came up empty, but the criteria lead was his with less than two minutes left on the clock. Mnatsakanian betrayed a sense of urgency by immediately elevating his pace accordingly. He poured inside on Bayrak, flinging away fleeting wrist grabs and plowing forward with his legs. Eventually, the pressure started to mount. Bayrak was fading. A step-out point for Mnatsakanian erased his criteria deficit, and momentum was on his side. Except, Bayrak did not rise to his feet. He was not only winded, he was also bleeding from the nose. The blood time threatened to create a lull, or at least disrupt Mnatsakanian's charge. More attacks were desired. Displeased with the forced respite, he yelled towards Bayrak "Hey, let's go!" and clapped his hands.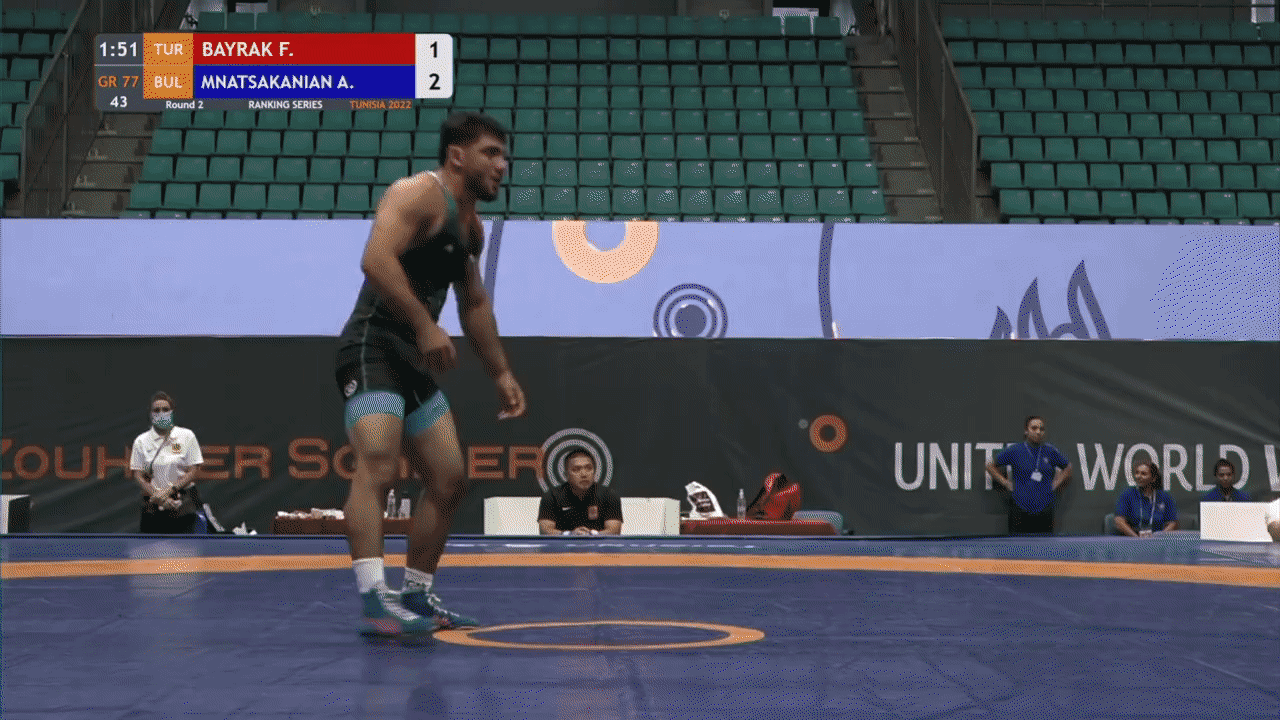 Wrestling eventually resumed featuring a depleted Bayrak. He reluctantly re-engaged and succumbed to a snap on which Mnatsakanian pounced but found wanting. Another reset and, in short order, another snap. This time, Mnatsakanian punched forward to put Bayrak down and off the edge. Two points were awarded for the action, followed by two more for a caution on Bayrak for taking too long to reset. The dust had finally settled. Mnatsakanian emerged with the 6-1 decision, thus making his third match of the day the de-facto gold-medal round.
Both De Brito Ramos and Bayrak had earned VSU victories over Tunisian Belhasan Azaouzi. It would be no different for the youngster with Mnatsakanian standing across the line. After unfurling a four-point arm throw, Mnatsakanian grabbed a takedown and opted for a side lift to deliver an emphatic 8-0 drubbing that was accompanied by the Zouhaier Sghaier title.
Mnatsakanian was a World bronze medalist at 72 kilograms in '18 and '19 before moving up to 77 last year in an effort to qualify for the Olympics. He finished 12th in Tokyo but was thought of as a primary contender heading into the '21 Oslo Worlds until a loss to bronze Mohammadali Geraei (IRI) in the qualification round cut short his run. This season, Mnatsakanian has thus far won his home country's Nikola Petrov Memorial, earned his second-career European bronze, and placed first at the Muhamet Malo Tournament in Albania. Due to 77 kilograms only fielding four competitors at Zouhaier Sghaier, the point values per medal are reduced by half. Currently ranked #17 with 21,700 points, Mnatsakanian may need as many as four wrestlers who are ranked above him to miss the '22 World Championships in order to receive a top-8 seed.
Notes:
Turkey won the Zouhaier Sghaier team race with 160 points (five golds, one silver, one bronze) over India (150 points) and home country Tunisia (135 points).
Mnatsakanian was not the only World medalist to win Zouhaier Sghaier. Also taking first place was '19 World silver/'13 bronze Emrah Kus (82 kg, TUR).
55 kilograms was without entrants in the tournament. 63 and 87 kg both had two competitors, while the remaining eight weight categories were formatted as round-robin brackets.
Mnatsakanian was Bulgaria's lone athlete at the '22 Zouhaier Sghaier. BUL recently held a National camp in Tetven.




Listen to "5PM52: Two-Time Olympian Jim Gruenwald" on Spreaker.
Listen to "5PM51: Lining up with Tanner Farmer" on Spreaker.
Listen to "5PM50: Mr. Fantastic Benji Peak" on Spreaker.
SUBSCRIBE TO THE FIVE POINT MOVE PODCAST
iTunes | Stitcher | Spreaker | Google Play Music
Notice
: Trying to get property 'term_id' of non-object in
/home/fivepointwp/webapps/fivepointwp/wp-content/themes/flex-mag/functions.php
on line
999