The Hungarian Wrestling Federation announced last week that one of its star athletes, two-time World Champion Peter Bacsi, has officially stepped away from competition and will take on an administrative role for the nation's program.
Bacsi, 36, won his second World title last year in an impressive run that wound up serving as a storybook ending most wrestlers dream about. Wrestling on his home turf in Budapest, Bacsi earned a crucial early-round win over Viktar Sasunouski (BLR) and finished up by defeating Emrah Kus (TUR) in the final. Like the Hungarian, Sasunouski and Kus entered the tournament as former medalists, and to his credit, Sasunouski emerged out of the repechage to score his second bronze.
In addition to his pair of World golds, Bacsi boasts a long list of other accomplishments. He is a three-time Olympian (2008, '12, and '16), a three-time Golden Grand Prix champ, and owns one tournament win apiece from the European Championships and his home nation's Grand Prix.


Following the '18 Worlds, Bacsi was absent from international competition but did continue to participate in Ringer Bundesliga, the professional European wrestling league. However, there were hints of Bacsi's impending retirement last summer, and going by his words to the Hungarian Wrestling Federation's news outlet, it appears the 2019-20 Olympic year — along with his victory last fall in Budapest and mounting injuries — were enough to convince him that the time is right to move onto something else.
"Meanwhile, I knew that everything at us (in wrestling) and, of course, in many other sports, everything is measured in the Olympics, and that under and above me, at 77 and 87 kilos, I would have to compete in world class for Tokyo, not to mention the international field," Bacsi said. "I couldn't have wished better to finish at the top, like the World Cup in Budapest. The title of the Olympics Championship can only be compared to the World Championship gold achieved in the domestic environment, and the latter was awarded to me. It was a difficult decision to retire, but I had to make it, and my permanent injuries, my cervical spine, and elbow pain were all about, not to mention my family and my business."
Bacsi now becomes the Professional Director of the Hungarian Wrestling Association, a position that was created specifically to accommodate his value to their program.
A handful of US athletes have had their experiences competing against Bacsi with 2018 World Team member Geordan Speiller (Florida Jets) standing as the most prolific example. Speiller earned an 8-2 decision at the '16 Hungarian GP to crack open their mini rivalry, with Bacsi taking the next two bouts; first in the '17 Hungarian GP finals, and then again last summer at the Grand Prix of Germany.
(A Few) World Rosters
The 2019 World Championships kick off on September 14 from Nur-Sultan, Kazakhstan (12 days, if you're counting), and more and more national federations are revealing their personnel. Both Russia and Iran are expected to publicize their rosters this week (with a yet-to-be-confirmed rumor that Stepan Maryanyan, RUS' World champ last year at 63 kilos, will be going 60; he and his wife also just welcomed in their second child, FYI), and some others are just starting to trickle in.
In the meantime, here are a few notable countries that (reportedly) have their lineups set, or close to it. United World Wrestling, the global sanctioning body, should have all of this information sorted out by sometime next week but we will add/edit/update, as well.
Bulgaria (BUL)
55 kg: Nedyalko Petrov
60 kg: Ivo Angelov (2013 World Champion, '11 World bronze), or Augustin Spasov, or Ivo Iliev (2019 U23 European Championships bronze)
63 kg: Nikolay Vichev (2012 Junior World bronze)
67 kg: David Dimitrov
72 kg: Aik Mnatsakanian (2018 World bronze)
77 kg: Daniel Aleksandrov (2014 University World silver)
82 kg: Rosian Dermansky
87 kg: Tarek Abdelslam Mohamed (2017 European Championships gold, '13 Junior World bronze)
97 kg: Kiril Milov (2018 World silver, '19 European Championships silver)
130 kg: Miloslav Metodyev
Denmark (DEN)
67 kg: Fredrik Bjerrehuus (Two-time Nordic Championships gold)
82 kg: Rajbek Bisultanov (2018 U23 World silver, '19 European Championships gold)
97 kg: Mathias Bak (2015 Thor Masters silver
Germany (GER)
55 kg: Fabian Schmitt (2019 Thor Masters gold)
60 kg: Etienne Kinsinger (2013 Cadet World Champion, '16 Junior World silver, '16 U23 European Championships bronze)
67 kg: Frank Stäbler (Three-time World Champion, two-time Olympian)
72 kg: Michael Widmayer (2019 Thor Masters bronze)
77 kg: Roland Schwarz (2019 European Championships silver)
82 kg: Pascal Eisele (2017 World bronze)
87 kg: Denis Kudla (2016 Olympic bronze, '17 World silver, '11 Cadet World Champion, '14 Junior World silver)
97 kg: Peter Öhler (2012 Junior World silver)
130 kg: Eduard Popp (2016 Military World Champion, '16 Olympian)
Japan (JPN)
55 kg: Shota Ogawa
60 kg: Kenichiro Fumita (2017 World Champion, '18 U23 World Champion)
63 kg: Shinobu Ota (2016 Olympic silver, '18 Asian Championships gold, '18 Asian Games gold)
67 kg: Shogo Takahashi (2019 Asian Championships bronze)
72 kg: Tomohiro Inoue (Two-time Asian Championships bronze)
77 kg: Shohei Yabiku (2013 Junior World bronze)
82 kg: Yuya Okajima
87 kg: Masato Sumi (2018 Asian Championships silver)
97 kg: Yuta Nara
130 kg: Shinoda Sonoda (2018 Asian Games bronze)
Questions? Concerns? Feel like reaching out? Do so on Twitter, Facebook, and Instagram!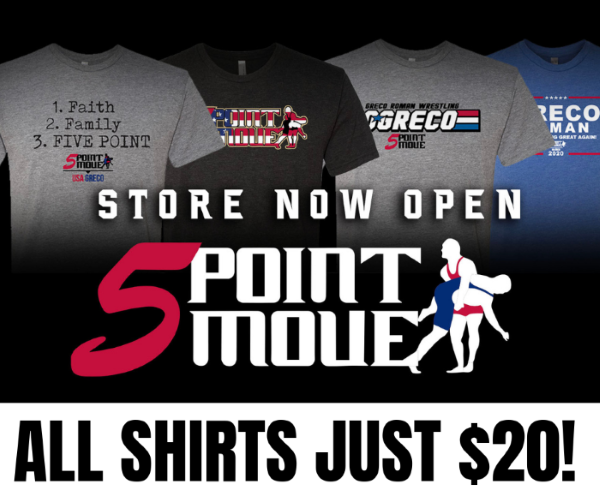 Listen to "5PM27: World Team Member Ellis Coleman" on Spreaker.
SUBSCRIBE TO THE FIVE POINT MOVE PODCAST
iTunes | Stitcher | Spreaker | Google Play Music | RSS
Notice
: Trying to get property 'term_id' of non-object in
/home/fivepointwp/webapps/fivepointwp/wp-content/themes/flex-mag/functions.php
on line
999